6 Lovely Desserts To Bake Because Winter Is Coming (Recipes)
category:
By Cooking Panda
Since it is so cold these days, all I want to do is snuggle into some warm pajamas and bake something delicious that will send a sweet, festive aroma wafting throughout the whole house.
It's definitely baking season, and you should totally make the most of it if you have some spare time. Plus, these pastries can potentially double as excellent, heartfelt gifts.

What makes this cake a magic one? Combining beaten eggs yolks, sugar and whipped egg whites creates a curd-like batter that then separates as you bake it, giving you a custardy base and a cakey top for the same amount of work you'd put in for a single-layer treat. Go ahead, pretend you labored over this one for hours. It'll be our little secret.
Wine donuts? You've got to be kidding me!! And gosh, they are stunningly delicious, too. With just 153 calories per cookie (thanks in part to some sneaky yogurt!) and a baking method that turns out perfectly textured rings every time, you just might be able to munch on these without messing up your diet. If, however, you prefer that slightly greasy crunch, you can fry them as outlined in the recipe here.
Yep, that's right: after this simple dough rises, you get to just leave it in the fridge for hours until you are ready for a delicious breakfast or dessert, at which time you just plop it in the oven while you finish making the coffee. Plus, there's a secret ingredient — eggnog, a surprisingly awesome baking ingredient — that ensures that the bread stays rich and moist.
If you happen to get tired of your standard — though delicious — peppermint bark, toffee and peanut brittle, you'll be delighted to know that you can switch things up this year. Try this deeply bittersweet, sophisticated snack that combines crispy, buttery Ritz crackers, dark chocolate, cacao nibs, roasted hazelnuts (or your favorite nut), dried berries and crushed coffee beans.
I think it's pretty obvious that anything called "Butter Cake" is going to be rich, moist and delicious beyond belief, so what are you waiting for? Plus, you can take a shortcut by using a box of yellow cake mix, just to make things even easier. Don't have maple syrup? Feel free to use honey instead (the same amount — ¼ cup — should work just fine) or ⅓ cup brown sugar.
You probably wouldn't know it, but these meringues actually have way fewer calories and more protein (egg whites!) than a traditional cookie, making it a reasonable choice to serve those who don't need the extra carbs or fat, though no one will feel cheated by these delicious desserts. Oh, and these minty cookies just so happen to gluten-free, too.
Featured Image: Pixabay
Tags:
baking
,
Christmas recipes
,
December cooking
,
weekend dessert recipe
,
winter desserts
8 Holiday Pastries That Are Almost Too Good To Be True (Recipes)
category:
By Cooking Panda
Looking for some interesting desserts to whip up this holiday season? We have just the thing.
December 9 is National Pastry Day, and we think it's the perfect time to fine tune your holiday menu. Plus, if your home is freezing, you might as well just turn on the oven and heat up your home with the smell of delectable holiday desserts. Feeling frisky? Whip up a batch of mulled wine while you work for the perfect pairing with winter pastries. Plus, it will make your home smell AMAZING.
​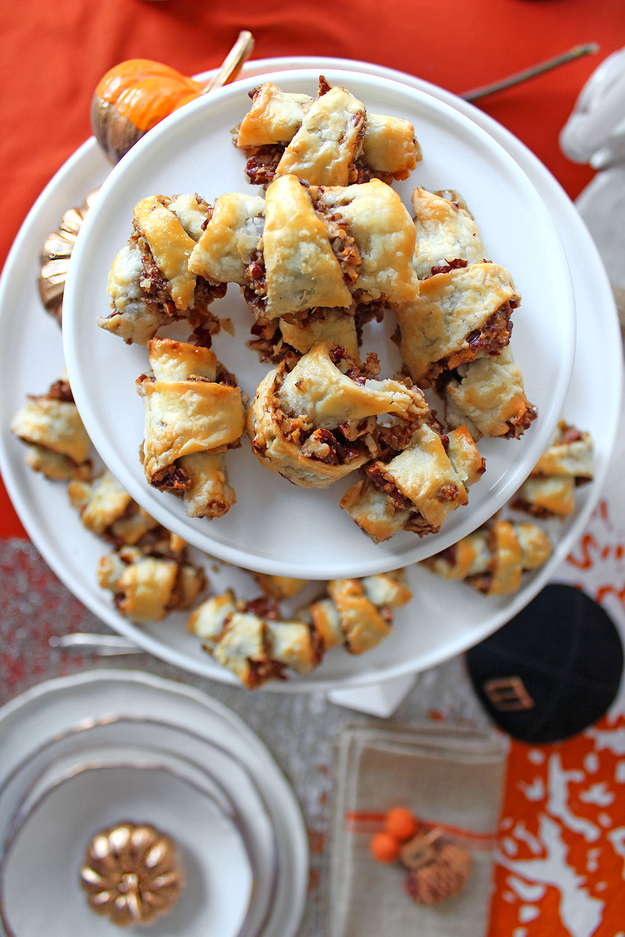 Pecan pie filling lives its best life when you roll it into buttery flaky pastry wheels. This one is a must.
Basically the sugar cookie version of cinnamon rolls. How can you go wrong?
Okay, these aren't actually pastries. You don't even need to bake them! But we don't think you'll complain at these no-bake treats when you see how simple they are to put together. By the way, if you don't feel like melting chocolate pieces, just coat the truffles in powdered sugar instead for an even easier shortcut.
Granny Smith apples, crescent rolls and … Mountain Dew? Yep. Seriously. And it's amazing.
If you don't have peppermint extract handy, you can crush up some candy canes and coat the biscotti in them immediately after dunking in the chocolate.
Brownies are always awesome, but if you've never had them with marshmallow cream, peanut butter and crispy rice cereal, then you should put down whatever you are doing, head to the kitchen, and make these heavenly things IMMEDIATELY.
Because even something as delicious as gingerbread can use a little caramel every now and again.
We'll put it differently: caramel-dipped pastry puffs filled with cream and piled high. YES. If you want to be extra in all things like Martha Stewart, cover the whole thing in a web spun from strands of sugar, because why not?
Featured Photo Credit: Ree Drummond/The Pioneer Woman
Tags:
Christmas desserts
,
dessert recipes
,
Holiday pastries
,
National Pastry Day
,
winter desserts
8 Incredible Loaded Cookies To Keep You Warm In Winter
category:
By Cooking Panda
Winter is coming!
One thing's for sure: whatever winter preparations you need to do — begrudgingly, for many who hate freezing temperatures — we can think of something that will help ease you into it. Warm, gooey, soft, freshly baked cookies! Bundle up in your warmest slippers, snuggle into your coziest blanket and turn that oven on, because we have some great ways to prepare for the chilly months ahead. Plus, Dec. 4 is National Cookie Day, so you might as well celebrate with some truly outrageous loaded cookies, right?
Do you love crispy, buttery, flaky pie crust even more than the filling? Well then, you might as well cut out the middleman entirely and get right to the good part. Alternately, you can load your pie cookies full of apple shavings or another fruit filling (recipe here), if you're so inclined.

Sure, chocolate chip is awesome, but why stop there? Why not swap out the predictable stuff for coconut, M&M's (or another favorite candy of yours) and crunchy salty pretzels? If you love sweet and salty, this one is for you.
Ever had a cake-flavored brownie-cookie hybrid before? They are scrumptious as heck, especially served warm and melty with a big scoop of ice cream. Bonus: the red color makes these desserts bright and festive, so they're visually perfect to serve over the holidays.
You've got to be kidding me, right? Surprisingly not. If you're looking to lighten up your cookies, you can't go wrong with this odd but delicious little hidden veggie recipe. You can grate your asparagus or blitz it in the food processor. Alternately, this dessert is a great way to use up that pulp from your juicer that you usually throw out.
We can't think of any valid reasons why you shouldn't stuff Oreos (or similar sandwich cookies) into your chocolate chip dough. Can you? If you want to be extra festive, use peppermint sandwich cookies and top the whole affair with crushed peppermint candies. If, however, you want to be extra lazy, use whatever store-bought cookie dough you have on hand.
How can we say no to impossibly creamy hazelnut mascarpone filling sandwiched between two decadent peanut butter cookies (here's how to make them from scratch if you are so inclined) and topped with semi-sweet chocolate and crushed hazelnuts? This is a Nutella lover's dream come to life.
It sounds a little odd to mix basil and Parmesan cheese into your cookies (no garlic, we promise), but if you want something bright, satisfying and earthy, go ahead and try these delightful cookies, which have the most divinely balanced, zippy flavors, thanks to the orange zest and walnuts that artfully complement the basil.
Some days, regular chocolate chip cookies are just not quite enough. Sometimes you crave something even more rich, chocolaty and gooey. And that's exactly when you should stuff a gob of Nutella right into the middle of your cookie dough.
Featured Photo Credit: Ashton/Something Swanky
Tags:
cookie recipes
,
cookies
,
loaded cookies
,
weekend dessert recipes
,
winter desserts