5 Beautiful White Chocolate Desserts Everyone Will Love (Recipes)
category:
By Cooking Panda
I don't know why people sleep on white chocolate, but the creamy, thick dessert has a tendency to go unnoticed — perhaps because some of us tend to associate it with cloying sweetness.
While you can certainly get that typical sugary sweet flavor if you like, there are also a ton of exciting recipes that use the underrated, understated ingredient in ways that please your palate, whether you like it super sweet or enjoy the cocoa butter-rich flavor to accentuate deeper, complex flavors like tart fruit or bitter, strong coffee. Give it a try!
This bright and sweet dessert is just fabulous with Meyer lemons, although they can be tough to find. If you don't have them on hand, no problem! You can approximate the flavor with half regular lemon juice and half fresh-squeezed orange juice.
Just so you know, you can make this incredibly tasty yet simple mousse in the microwave if you want. I think that's all that needs to be said here … (*runs to kitchen*).
A soft, fluffy brioche-based dough jammed full of rich white chocolate, creamy mascarpone, bold dark chocolate and slightly bitter coffee liqueur makes for an incredibly decadent way to wake up in the morning or indulge after dinner. So good!
These cookies take a little while to make, only because you have a fair bit of downtime waiting for them to chill, bake and cool off, but beside that they're really not that much more work than any other cookie recipe. Plus, they taste AMAZING, and you can get creative with the toppings, like rolling the freshly dipped halves in some chopped nuts or sprinkles, for instance. You can also rainbow-marble your dipping chocolate like so. (If you go this route, be careful not to over-mix, and consider doing several batches of melted chocolate to keep the dipped cookies from muddying the color.)
This tart bark is a little sweet but not terrible so, since it only uses a tablespoon of honey for added sweetener. Of course, if you'd like you can always increase that or even add a bit of regular sugar for that expected white chocolate sweetness. Either way, this rich, fudgy bark is absolutely delightful with the mix of thick, smooth white chocolate and tangy pomegranate seeds that pop in your mouth with every bite.
Featured Image: Pexels
Tags:
microwave dessert recipe
,
weekend dessert
,
White Chocolate
,
white chocolate desserts
,
white chocolate winter recipe
Class Up Your Table With 7 Tea-Infused Desserts (Recipes)
category:
By Cooking Panda
Calling all tea fiends! (Tea haters can come too!)
Want a fun way to level up your dessert-making? Change the flavors around on your favorite sweet treats by adding the subtly earthy, bright hues of tea. It is easy, affordable and, above all, delicious.
These unique desserts will sure make you look forward to tea time!
Soothing chamomile and zippy lemon bring a little something extra to these delicate, yummy cookies. If you like something with a little more of an in-your-face tea flavor, consider using Earl Grey leaves and vanilla instead of the chamomile.
If you aren't into the sweet, strong and earthy quality of oolong, you can use green or black tea, or even orange-colored Thai tea. Any of these make for a satisfying way to eat your favorite flavor of milk tea in donut form.
Ready for fall? Bake these spiced, individual-portioned pies, which stay plenty rich and moist on account of the evaporated milk and unflavored pumpkin puree.
The molasses-tinged brown sugar and softly floral green tea play delightfully with the richly dark, nutty flavors you know and love in gooey caramel. This recipe is a keeper!
This delicate, fluffy Japanese green tea powder cake gets rolled up with light, sweet whipped cream and summery strawberries for a gorgeous way to end a lunch or brunch.
Craving something lighter to stave off your sweet tooth? Grab some apricots (peaches or pears will work too, though apricots are particularly harmonious with this recipe!) and simmer them in sauce that brings an easy, light sweetness to the tart fruits. These are so good served warm over ice cream …
If you want to add some richness and depth to blackberry pie filling, you can't do much better than pairing it with floral Earl Grey syrup. These divine mini pies are perfect for breakfast or dessert!
Featured Image: Pixabay
Tags:
cooking with tea
,
dessert recipe
,
tea desserts
,
weekend dessert
,
weekend recipe
6 Sparkly Desserts To Bring More Whimsy Into Your Life (Recipes)
category:
By Cooking Panda
Need a little more pizzazz in your life?
I know just the cure — eat something sparkly!
Whether you're looking to break some monotony, impress kids and adults at a get-together or just have a little bit of bright fun by yourself, these shimmery desserts are perfect ways to let a little magic into your life.
Check out these stunningly whimsical desserts!
These bright, moist and glitzy lemon and vanilla cake pops bring the perfect summer flavor!
All I know is that if I show up at a party that has these, I might never leave. They are so gorgeous and sparkly!
You might not realize it, but candy floss is actually not too hard to make! Once you master the technique, you'll be hooked on spinning your own stunning and delicious gold stuff. It's not as cloudlike as the machine-made cotton candy, but the unique texture takes on a life of its own. Plus, it doubles as a festive decoration. Can't complain.
You might not think it, but these luster dust-brushed cones are as easy as they come — you can even make them with store-bought ice cream cones. Alternately, you can make a slightly different version like so.
Obviously, you can use just about any donut recipe you like. If, for example, you love gluten and hate mint — this is a great basic donut recipe too.
Pink champagne, peach preserves, vanilla buttercream and a ton of edible glitter — it's the perfect summery cake for any occasion!
Featured Image: Julie Gibbons/Flickr
Tags:
dessert recipes
,
edible glitter
,
glittery recipe
,
sparkly dessert
,
weekend dessert
10 Deliciously Fresh Berry Desserts (Recipes)
category:
By Cooking Panda
Get your fresh berries while you can! Many of those antioxidant-rich, tart, juicy fruits are in season during the warmer months, so enjoy them!
As the weather continues heating up, and the flowers keep blooming, spring is the perfect time to whip up a delicious dessert using brightly colored berries. From cakes to pies and everything in between, here are some fabulous treats you should make as soon as possible:
Keep this classic on hand for when you need it. It won't let you down. P.S.: You can use whatever kind of berry you want.
Scrumptious, fresh and bright. If you can't find lemon basil, feel free to substitute regular basil and add a teaspoon of lemon zest.
You don't even need a pie tin to make pie! This is particularly great recipe to use if you're serving a bunch of people. A bulk pie, if you will.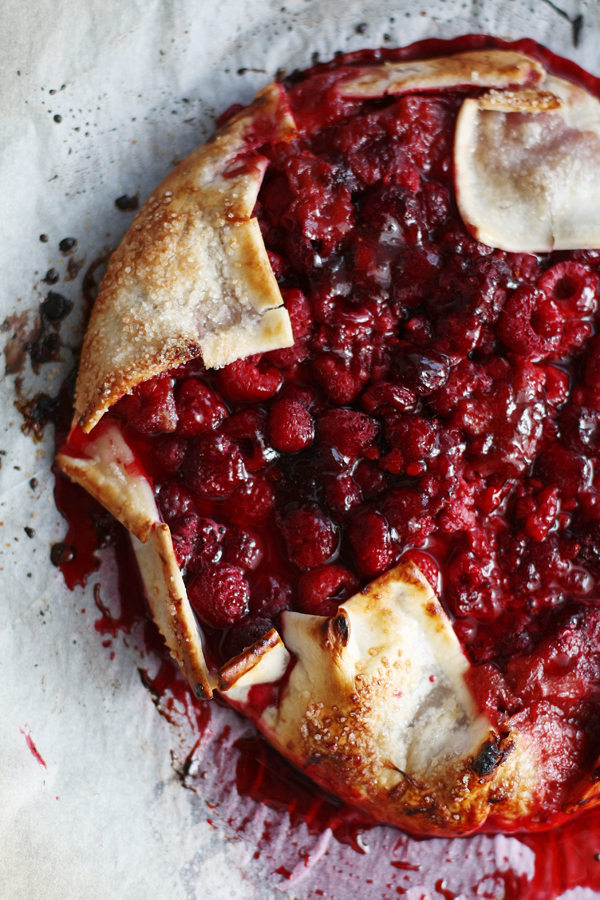 A galette is basically an easier way to make pie, in case you were wondering. You get to use store-bought pastry, so you don't need to spend ages kneading your dough and making a big floury mess. You can use this same recipe with any pie filling you like.
Blueberries and peaches play nicely together in this outstanding pie that gets topped with a decadent, buttery crumb topping. Peaches aren't quite in season yet, so if you're having trouble getting your hands on fresh ones, frozen or canned ones work fine, though keep in mind you'll want to reduce the amount of sugar in the recipe if you use peaches packed in syrup.
"Phew, I've been working all day on this!" *Wipes brow.* *Only spent a few minutes on it*
WOW. If you're feeling lazy, you can totally use a can of blueberry pie filling, or even a jar of preserves, and pretend you made everything from scratch. No one will know!
Whoa, so much flavor in one dish! The trick to getting just-right flavor? Roast your fruit/whiskey filling separately before you top it with the delicious, sweet candied-ginger cobblestones.
Why is it that miniature pies taste better? They're also cool, because you can make only a few if needed, and they even freeze well.
Not only does this eliminate the need to pick between two of the best desserts ever, it also combines the best of both worlds for one super-cookie (or super-pie?), because teamwork is important. And cute.
Featured Photo Credit: elizaraxi/Flickr
Tags:
berry cookies
,
berry dessert
,
berry recipe
,
Blueberry Pie
,
weekend dessert
10 Desserts You Can't Believe Take Only 5 Minutes
category:
By Cooking Panda
In a rush? Let's be real, sometimes you NEED dessert, but it's just not worth laboring away for hours (or even minutes, at times) to come up with the perfect concoction, when you could easily just run to the bakery across the street. We got you, though!
Even if all you have to spare is five minutes, that alone is enough to make a super scrumptious treat to enjoy over the weekend, whether your intention is to share with loved ones or gobble it all up yourself while you curl up with your cat to watch Netflix. Either way, we are confident that you'll fall in love with one of these treats that only takes FIVE MINUTES to whip up!
S'mores are pretty much everyone's favorite dessert, and we sure can't blame them. There's just something completely irresistible about the way all the different flavors and textures mingle in our classic childhood treat that makes it simply irresistible. But sadly, you can't be around a campfire all the time. Here's how to fix that.
This is also a perfect small-batch toaster-oven venture, if you are so inclined.
​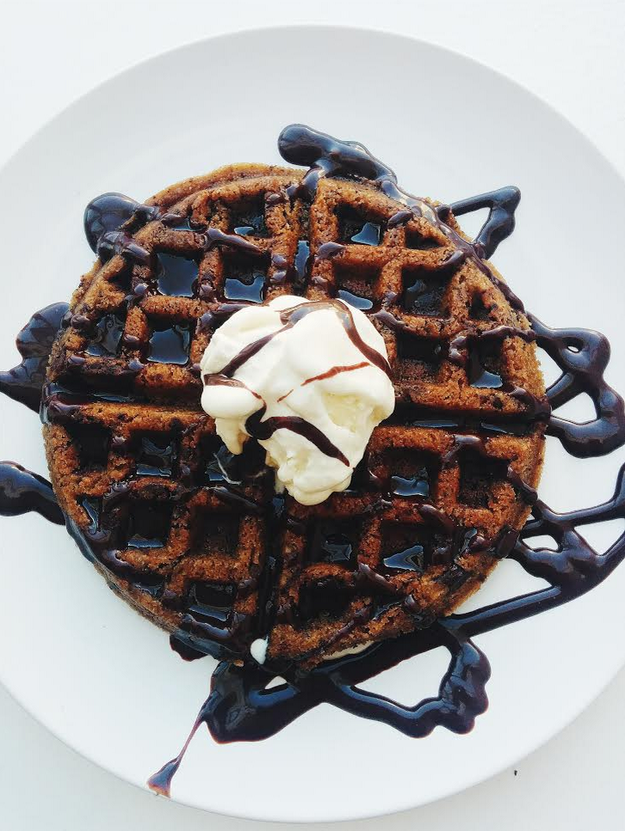 Too lazy to actually bake some cookies? Pull out that waffle maker and pretend like you're about to eat breakfast, when in reality you are about to enjoy a glorious, glorious pizookie type of thing. No regrets.
Love the sweet, salty and crunchy version from Trader Joe's? Here's how to make it at home, using a bunch of stuff you might even have already. Bonus: Swap out for your favorite kind of topping, like nuts or crushed-up peppermint candy, to make it feel super seasonal.
Feel free to use any type of fruit that tastes good in a cobbler, even frozen stuff. All you'll need to do to adjust for frozen fruit is to cook it a little longer and keep in mind that it will be a tad more watery. BUT you get a scrumptious, summery cobbler all for yourself in minutes, so we feel that it's worth it.
Craving cookie dough by the spoon? Make it in a totally safe-to-eat dip version! PS — if mint isn't your thing, you can leave it out, or swap it out for your flavoring of choice. Go bold with some candied pecans and cinnamon or maybe sprinkle in some mini marshmallows and dip with graham crackers for a delightful s'mores version!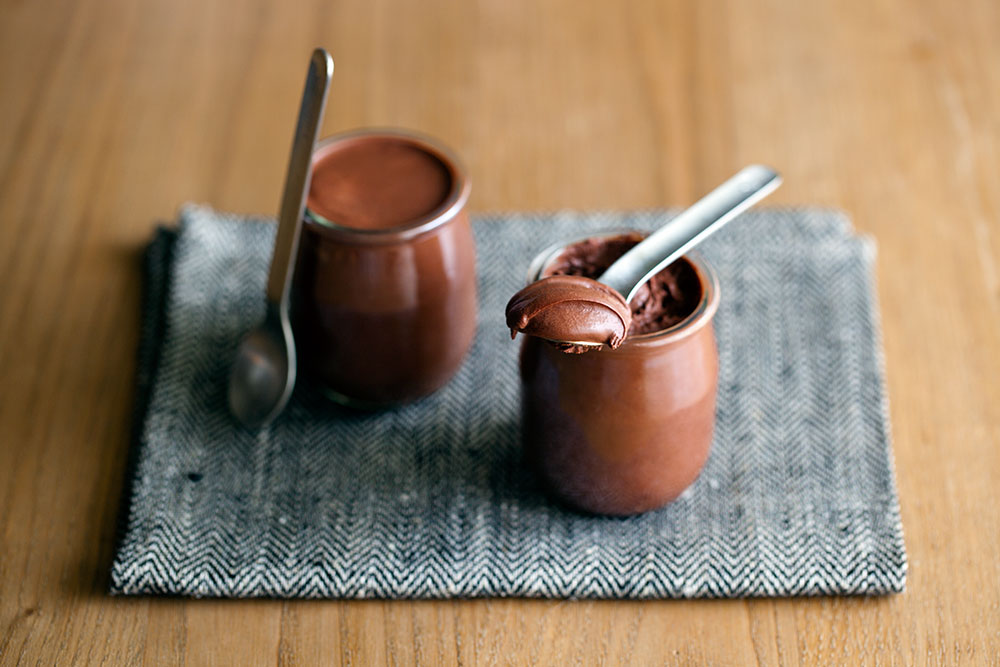 Hey, they said it, not us. But they might be right! All you need is chocolate and water — and maybe a little sugar or flavoring, if you feel so inclined LOL. This recipe was invented by a crazy French food scientist, so you know it must be good!
This one is particularly awesome if you want to make brownies but are afraid of your ability to eat the whole tray of them in one sitting. (Hey, no judgment here.) You can't do better than a five-minute rich, gooey and fluffy brownie to satisfy a craving.
Yes, really. No, there are no bananas involved. Yes, it takes more than five minutes, when you count freezing time. But we think you'll forgive us when you taste it and realize that it's the real deal.
Honestly, this should be your go-to "oh crap, people are coming over and I didn't make anything" dessert, because it tastes delicious and you can store the ingredients almost indefinitely. No one has to know that the fruity, light whipped indulgence only took you a few minutes to whip together. We certainly won't tell.
Did you know that cocoa powder is already cooked? That means that it's not completely essential to bake your brownies, if you're not feeling it. Instead, blitz a bunch of stuff in the food processor for a few minutes, mold it into the right shape and you're good to go. These are particularly great if you love your brownies rich, moist and dense, but pretty much anyone will be fawning over these amazing treats. We sure will.
Featured Photo Credit: Averie Sunshine/Averie Cooks
Tags:
5 minute recipe
,
dessert recipes
,
easy desserts
,
quick recipe
,
weekend dessert
8 Crave-Ably Perfect Salty-Sweet Pretzel Desserts
category:
By Cooking Panda
We're in the midst of a lifelong love affair with pretzels! There's just something so satisfying about that salty crunch in just about any form, but who can resist a nice sweet-salty combo?
If you love chocolate dipped pretzels as much as we do, put your beloved salty snacks to good use and mix them into delicious chocolate desserts. Here are some of our favorite ways to do it: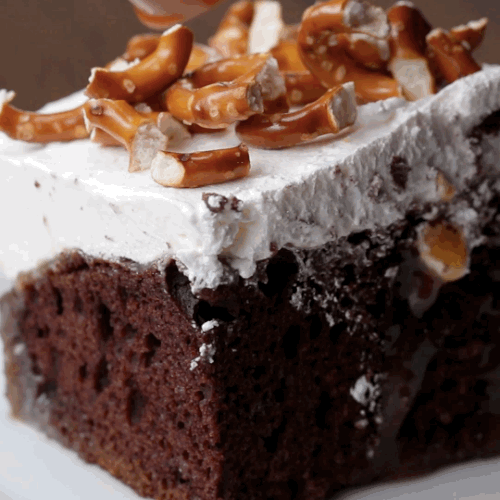 Caramel topping adds an extra beautiful layer of sweet-salty to the mix. Feeling ambitious? Try making your own caramel sauce from scratch (recipe here).
This is kind of just a super tasty, easy cheesecake recipe that doesn't involve a water bath or any of that mess. Plus, peanut butter and pretzels!
Don't forget about the underrated soft pretzel! Don't even think about going to the mall for it, either. Stay home and fold up these beauts for a real treat.
All your favorite things in one salty, sweet, crunchy sip. Feel free to customize it by adding or subtracting chocolate, swapping out the Nutella for peanut butter, or drizzling in some caramel sauce. Sky's the limit.
Yes, we said peanut butter pie. The coolest part about this one is that you can freeze it indefinitely until you *need* to eat it. Good luck.
Your favorite classic 'chips but with a little something-something extra to bring back that spark.
If you want to kick up the flavor a little more, add a tablespoon of instant coffee granules to really bring out the deep chocolate notes, and sprinkle a little extra salt over the top of your batter. You can even add a thin layer of cookie dough on top of the brownie batter if you want to go HAM.
Don't worry, this isn't really a salad. It's just strawberries, Jell-O and creamy filling atop a pretzel crust. But no one needs to know that if you want to tell them you're eating healthy.
Featured Photo Credit: Yammie's Noshery
Tags:
dessert recipe
,
peanut butter pretzel recipe
,
pretzel
,
salty dessert
,
weekend dessert
12 Delightfully Summery Cherry Banana Desserts You Should Make This Weekend
category:
By Cooking Panda
Looking for some super summery desserts to make this weekend? We've got your back!
Two of our favorite seasonal treats — cherries and bananas — have been on our minds a lot lately during these warmer months, and they are the perfect combination. Plus, August 26 is National Cherry Ice Pop Day and the 28th is Banana Lover's Day, so you might as well celebrate!
Yes, that's right! You can make this baby in the microwave and save yourself all kinds of trouble.
The cherry-amaretto combination is just perfect. Use either sour or sweet cherries for this, although you might want to use a little extra sugar (to taste) if you go sour.
Feel free to mix a little diced banana into the coconut milk layer if you want to add an extra fruity, creamy touch.
Just blend, freeze and devour. It's that easy!
Want something fluffy and light but totally indulgent? Look no further. Whip up this fruity cream pie for a perfect summer treat.
This dessert is healthy and vegan, but it 100% tastes like you're eating something bad for you. Seriously.
The most decadent healthy breakfast ever!
Take your bread pudding to the next level with creamy, delectable white chocolate. Want an extra special cherry twist? Scroll down to #9 and make some roasted cherry compote to top it.
Want something tart, refreshing and chilled? Mix up this complex and tasty fro-yo. The secret? Roasting the cherries with the pits intact gives them a super interesting nutty flavor — think amaretto. You'll love it!
Put a sweet spin on your favorite breakfast treat! Plus, this recipe uses a bit of Greek yogurt, which reduces the calorie count AND makes the loaf even more moist.
This uniquely flavored pair makes the perfect sorbet, and it goes swimmingly in a float with fancy lime soda. Don't have an ice cream maker? No problem! Freeze the blended mixture in an airtight container, and give it a stir every 30 minutes or so until it completely solidifies.
Use banana-flavored rum if you're feeling extra bold!
Featured Photo Credit: Mom on Timeout
Tags:
banana
,
cherry
,
sour cherries
,
summer fruit
,
weekend dessert
12 Decadent Cheesecake Recipes That Will Improve Your Life
category:
By Cooking Panda
Oh cheesecake, how we love thee! The rich, decadent and dense but creamy dessert is everything that is good in life. In honor of National Cheesecake Day on July 30, why not whip out your springform pan and make the perfect indulgence this weekend? Here is the list of decadent cheesecake recipes!
It's important to know the basics! All cheesecakes are delicious, but they can be pretty tricky. Read these tips and tricks and you'll be a pro in no time.
Because you should never have to choose between your two favorite desserts. Plus, the crunchy burnt sugar shell adds for a delightful textural contrast.
Chocoholics, rejoice! This cheesecake packs as much chocolate as possible in every ounce.
A smash hit any time of the year.
You know how red velvet usually has cream cheese frosting on top? That means that there is a 100 percent chance that this combo will taste amazing.
Need a pick-me-up? Try adding a little caffeine to your dessert for an incredibly decadent flavor.
Not only do you get awesome whiskey and Baileys flavors, but you also get a smooth, silky texture that's a little different from your dense New York cheesecake — plus, it's mind-blowingly awesome.
Perfect for the summer.
You really shouldn't eat this whole cheesecake by yourself, but if you did, we wouldn't judge you at all.
A decadent, creamy treat with a tangy summer twist.
We are big fans of any recipe that involves vigorous stabbing with a wooden spoon. Plus, this blueberry cake is delicious, even if it's not quite cheesecake.
If you don't have the patience or springform pan for a full-on cheesecake, no worries. Make these bars instead.
Featured Photo Credit:
Boulder Locavore
Tags:
cheesecake
,
cheesecake bars
,
decadent cheesecake
,
dessert recipes
,
ultimate cheesecake
,
weekend dessert
8 Fun Gummy Worm Desserts For Kids And Adults
category:
By Cooking Panda
Let's do something a little fun, shall we? July 15 is National Gummy Bear Day, and we thought we'd get in touch with our inner child and see what cool stuff we can make with our favorite kid dessert. Let's check gummy worm dessert recipes.
You can absolutely pick up a bag from the store, but these are pretty fun and easy to make if you're in the mood. Here's how to make them a little healthier. (Obviously if you are going for worms, you'll cut them into strips instead of using the gummy bear mold.)
2. Dirt cups
We're still not tired of this classic and tasty gummy bear dessert.
Optional: Dump in a respectable amount of vodka for a good time.
All you need to add is lemonade or soda for this refreshing summer treat.
You can use actual cake mix instead of the brownie for a more traditional ice cream cake if you want. You can also replace it with your favorite cookie dough, frozen pound cake – whatever you're in the mood for.
Ok, this isn't so much a recipe as an outfit, but it's a really cool and fun way to wear your food, so we thought we'd spread the good news.
More proof that Gummy worms aren't just for kids.
For anyone who is a kid at heart and has an appreciation for fun novelty desserts. In other words, everyone.
Featured Photo Credit: 1 Fine Cookie/
Yummly
Tags:
dessert
,
food holiday
,
gummy worms
,
kid dessert
,
weekend dessert
,
worm dessert
13 Irresistible Ice Cream Cakes To Make This Weekend
category:
By Cooking Panda
You should never have to choose between cake and ice cream! The pair go so well together that they somehow taste better combined in a cake than they do separate. In honor of National Ice Cream Month, here are some of our favorite ice cream cake desserts:
This frozen treat is simply stunning, and it's deceptively easy to make.
Pretty much all of our favorite things combined into a cake – with ice cream!
If you have any of these cookies left over, smash up a box of them and throw them in this awesome cake.
Healthy, vegan and full of fresh fruit.
What's the best way to improve on everyone's favorite cake? Add ice cream, of course!
Three ingredients, and one of them is cookie butter. You cannot go wrong here.
Ingenious and totally refreshing on a hot summer day!
There's a good reason we love the creamy decadence of chocolate paired with sweet, tangy strawberries. Now go put it in a cake.
Swap out cake for brownies for an easy and tasty treat. Want something even more decadent? Try this version with Oreos and cookie dough.
Because you can never go wrong with dulce de leche and our favorite breakfast cereal.
If you love strawberry milkshakes, you'll love them even more in cake form!
Don't feel like baking a cake? Use cookies and candy instead.
Layer drumsticks, caramel and pretzels between freshly baked brownies for the ultimate sweet-salty treat.
Featured Photo Credit: Cherry Tea Cakes
Tags:
dessert recipes
,
ice cream cake
,
ice cream cake list
,
summer desserts
,
weekend dessert
Have A Party In Your Mouth With These 14 Divine Apple Desserts
category:
By Cooking Panda
Looking for some tasty desserts to make this weekend? It's Apple Strudel Day, and we are totally craving warm, gooey spiced apple desserts – so we decided to go to town with this warm, satisfying apple dessert recipe roundup.
It's always more delicious and healthy to cook from scratch when possible, but if you want to cut corners, we won't judge you. If you use canned apple pie filling, it'll work pretty well in a lot of these recipes.
There's a reason apple strudel has been popular for so long! The best part? It's super easy to make.
Apple pie filling blended smooth with vanilla ice cream and drizzled with heavenly caramel sauce? How can we resist?
We love cobblers, especially in the summer. Feel free to use whatever fruit you have on hand.
Easy as pie, as they say. And every bit as tasty.
Deep fried apple-donut hybrid? We're so down.
Cinnamon rolls are great. How about branching out a little with a fun new twist?
This recipe is super easy and delicious to boot. We love our crisps, cobblers and crumbles, but we've never thought to add caramel to them.
We are obsessed with thick, fudgy blondies – add a delicious twist with soft apples and crunchy streusel for a really cool texture that you'll love!
Ditch the raisins. Apples and pecans will seriously bring your bread pudding to the next level.
Love those fast food fried apple pies? These taste very similar, but they are homemade! If you want to go a little healthier, skip the frying pan, brush them lightly with melted butter and bake on 375 until golden and crispy.
You don't need any fancy utensils to make this semi-healthy but completely decadent frozen yogurt. All you need is a freezer and the ability to stir a couple times.
This sweet, gooey spread is a real treat. It's super easy to make in the slow cooker, too. You'll get addicted in no time.
You'll go nuts for these decadent homemade caramel-dunked apples topped with a hearty smattering of chocolate drizzle, buttery toasted pecans and flaky sea salt.
Don't underestimate how heavenly baked apples are! They become so soft and tender, and they are the perfect home for bourbon pecan pie stuffing and ice cream! What could be better?
Featured Photo Credit: Bake Eat Repeat
Tags:
apple dessert
,
Apple pie
,
apple strudel
,
dessert recipes
,
weekend dessert
12 Amazing Cheesy Desserts To Try This Weekend
category:
By Cooking Panda
Allow us to get cheesy for a moment.
We know that creamy, gooey, stretchy cheese is uniquely addictive – even scientists say so!
So we figured, why deprive yourself? Think about it – you love cheesecake, right? There's something about the rich, decadent and ever so slightly sharp, savory flavor that really jazzes up your palate, right? Well, don't limit yourself. There are so many delicious cheesy desserts out there. Try some of our favorites:
This luscious custard is creamy, soft and smooth, with crazy good sweet, sour and tangy flavors. If you're not into strawberries, blackberries or raspberries are great too.
If you've never baked cheese before, you absolutely must give this a try. The walnuts and honey absorb into the cheese and caramelize slightly for a truly rich and unique treat.
Add a little goat cheese to make that tangy flavor shine. Top with vanilla pineapple rum compote to take this to the next level.
As American as apple pie… and… cheddar cheese?
This slightly-sweet tart is bursting with perfectly complementary flavors. Give it a try.
Got some mascarpone? Whip up some brownies with it! You'll be amazed by the rich, creamy texture.
Light, floral, and creamy, this cheesecake is a real crowd-pleaser and is a great change of pace if you want to switch up your cheesecake. Add a little lemon zest if you want to highlight the floral flavors even more.
There's a right way to eat cheese for dessert, and there's a right way. We won't judge you – but here's how to dish up the ultimate dessert cheese plate to turn your favorite sweet, soft or stinky cheese into an after-dinner treat.
This popular Filipino dessert consists of a soft, light cake topped with buttercream frosting and lots of cheddar cheese. You'll love it!
The classic sweet, savory, salty caramel-cheddar combo, turned into a cheddar cupcake topped with caramel buttercream. Yum!
They are equally gorgeous and delicious whether you serve them as an appetizer or dessert.
Blueberry compote, melted brie and crispy buttermilk waffles – you truly cannot go wrong, whether you make this grilled cheese for breakfast, lunch, dinner or dessert.
Go forth and have a cheesy weekend!
Featured Photo Credit: Sugar Hero
Tags:
cheese recipe
,
cheesecake recipe
,
creamy dessert recipe
,
dessert recipe
,
weekend dessert