Tag: weekend dessert recipes
6 Super Chill Peppermint Desserts (Recipes)
category:
By Cooking Panda
Are you ready for winter?
Fall is winding down, and the cool, crisp weather is getting colder and wetter. And depending on where you live, you might even have some snow coming in.
The holidays are fast approaching, and that pumpkin spice and apple cider are giving way to more wintry flavors.
My personal favorite is sweet, cool, sinus-clearing peppermint — it just brings that lovely extra little hint of winter to so many classic creamy or chocolaty desserts.
Here are some of the most deliciously seasonal minty desserts out there:
It's easy to get hooked on this simple sweet and salty bark, which gets a delicate wafery crunch from saltine crackers. This recipe calls for dark chocolate, which is absolutely sublime with the gentle mint, but milk or white chocolate would work well too.
Who doesn't love cracking into the crispy, sweet caramelized topping and digging into the thick vanilla custard underneath? Well, guess what! Crushed candy canes bring the most delightful extra seasonal crunch! Who would have thought?
The perfect addition to your spiked hot chocolate! If you've never made your own marshmallows, you are in for a major treat. If you can find it, a tablespoon or so of marshmallow root powder will improve on the perfection that is this dessert. Yum!
Whether you use creme de menthe or peppermint extract, these delicious, rich brownies are going to remind you of those smooth Andes mints in a cakier, fudgier format.
Between the cookie base, the rich peppermint ice cream (or flavor of your choice) and your favorite meltable chocolate, this crunchy treat is flavor heaven. Fun, festive and fast!
If you love mint chip, these cakey frosting sandwiches will definitely win you over.
Featured Image: Rachel Tayse/Flickr
Tags:
Christmas food
,
December desserts
,
peppermint dessert
,
weekend dessert recipes
,
winter recipes
7 Thanksgiving Desserts That Aren't Pumpkin Or Pecan Pie (Recipes)
category:
By Cooking Panda
Pumpkin pie is easily up there as one of my all-time favorite desserts, closely followed by pecan pie. This makes me a natural fan of the usual Thanksgiving spread, and you'll never catch me complaining when I see my faves there!
That being said, some folks might get bored with having the same old thing year after year — not to mention that pumpkin spice can be pretty hit or miss with a lot of people. So if you're hosting a holiday dinner, you might want to have a few options guaranteed to impress those who are all pumpkined out.
Plus, if you're bringing dessert to a gathering, the last thing you want is to show up with the exact same thing as somebody else! Leave the standard stuff to the rest of your family and try something a little more exciting!
Do you tend to run out of space in your oven on Thanksgiving? Do you always end up with what seems like gallons of cranberry sauce that nobody ever finishes? This pie is the perfect solution, and you can make it, along with your cranberry sauce, days in advance of the holiday. Easy!
These tasty, incredibly easy apple pie desserts are perfect for last-minute offerings, sweet appetizers or just round three of dessert!
This recipe is awesome, not only because it is super tasty, but also because it's incredibly versatile. Got too many desserts but running low on sides? Easy! Serve it hot with a little extra bacon for a sweet-savory turkey accompaniment. It's great warm or chilled for dessert, too, and you can even spoon it into a pie crust if you'd like an ever-so-slightly different alternative to the usual pumpkin or sweet potato pie.
Talk about a crowd-pleaser! With a graham cracker crust, sweet-tart green apple filling, caramel sauce (adults might enjoy this salted caramel bourbon iteration), chopped mini snickers and a rich creamy topping almost reminiscent of cheesecake, this pie sure is hard to pass up!
There's no denying that pecan pie is awesome. But if you want to really turn things up this year, try this malty, complexly sweet and ever-so-slightly bitter version that will satisfy those who love the classic pecan version while bringing a little bit of oomph.
If you're family is split between mega pumpkin fans and those who think it's just kind of meh, fear not! There's a solution! It's hard to imagine that there's anyone who will pass up on this rich superstar of a cake.
If you aren't making pecan pie this year, you can still make a little something crispy, spiced and buttery that will ensure that nobody misses the traditional dessert. Just be sure to make extra, because these are going to disappear rapidly!
Featured Image: Pixabay
Tags:
pie recipe holidays
,
Thanksgiving cheesecake
,
Thanksgiving dessert
,
Thanksgiving recipe
,
weekend dessert recipes
6 Amazing Coffee Desserts That Will Get You Wired (Recipes)
category:
By Cooking Panda
October 1 is National Coffee Day! Let's celebrate.
Beyond scoring a ton of freebies and discounts on this exciting holiday (find out how you can do that here), coffee lovers can observe this delightful occasion by whipping up some bold, buzzworthy desserts jam-packed with a huge jolt of coffee.
Here are some of the best ways to do that:
​
Don't have a brulee torch? No problem. Fire up your oven broiler instead and follow the instructions outlined here to get that perfectly crunchy shell.
You certainly don't have to cut the easy-to-make dough with mug-shaped cookie cutters, but you totally should, because they are adorable!
The classic combo! Add a pinch of cinnamon to the cream before churning if you want an extra zing reminiscent of churros.
If you've never had an affogato — a shot or two of espresso poured over a heaping scoop of ice cream — you're going to love this. Unfortunately, many of us don't have espresso makers on hand, which makes this regular brewed joe recipe perfect for a quick at-home treat. Want to make it boozy? Grab amaretto liqueur instead of syrup!
If you've never added coffee to your brownies, you'll be amazed at how much deeper and richer a spoonful or two makes them. Load them up with nearly a cup of strong Kona coffee and a hearty glug of booze for a bold, sweet treat.
If you use store-bought ice cream like the recipe suggests, these two-ingredient pops whip up in a flash, but if you want bonus points, here's how to make your own. Oh, and if you want to sweeten things up even more, consider using candied bacon.
Featured Image: Pixabay
Tags:
coffee day
,
coffee desserts
,
cooking with coffee
,
National Coffee Day
,
weekend dessert recipes
8 Gooey Lava Cakes That Are Beyond Scrumptious (Recipes)
category:
By Cooking Panda
Like the chocolate chip cookie and many other fabulous desserts, the chocolate lava cake was said to be invented by accident. The story goes that a chef made a ton of mini cakes for a big event and realized at the last second that, to his horror, all of the cakes were still runny in the middle — yikes!
So what did he do? Rather than throw them all back in the oven and delay things, he told everyone that the molten "lava" center was there on purpose.
From there, it's been a huge hit, and I can scarcely imagine a dessert menu without the gooey, warm cake.
I have to say, it was a pretty genius move. Celebrate the quirky history of this tasty treat and whip one up today! They're not as hard to make as you might think.
The classic version — for traditionalists and everyone who enjoys a luscious, moist chocolate dessert.
A really easy (and tasty!) shortcut getting that classic chocolate ooze with a nutty twist!
​
WHOA. I'm drooling here. This stunning treat seems like it would take hours, but if you buy yourself some dulce de leche sauce, all you need to do is mix together a few ingredients in one bowl, bake and voila!
Ooh! A tangy, bright summery take on the classic dessert. If you want, you can experiment with different citrus fruits, like Meyer lemons, for instance. Just keep in mind that you might need to reduce the sugar a little if you're using something on the sweeter side.
Healthy, gluten-free and surprisingly moist and delicious. It's a win-win-win situation.
CHEESECAKE LAVA CAKE!?!?!?!?!? YESSSSS!
Fancy! With the bright kick that this darkly decadent cake gets from orange zest and thyme, I can't think of a better dessert to serve for a hot summer date.
Featured Photo Credit: Andrea Goh/Flickr
Tags:
easy dessert recipe
,
gooey dessert
,
lava cake recipes
,
lava cakes
,
weekend dessert recipes
7 Lovely Desserts You Can Make In The Slow Cooker (Recipes)
category:
By Cooking Panda
Desserts are the crowning glory that help finish off a great meal, but there's a bit of a hot weather problem — outside of ice cream, frozen stuff and fresh fruit, a lot of delicious recipes require you to fire up your oven or spend a ton of time you don't have laboring over the stove.
Fortunately, you can have super amazing desserts without needing to do any of this. All you need to do is pull out an old standby for busy people: a slow cooker.
With a little early planning, you can dump a bunch of stuff in there and let it cook while you enjoy your dinner and kick your feet up and relax. Next thing you know, you're all ready to satisfy your sweet tooth.
Cinnamon rolls are super tasty, but they can be a ton of work to prepare. Not so with this gorgeously tender, buttery crescent dough-based dish that takes only five minutes to prep and slow cooks for two hours.
A whole CAKE in the Crock Pot? Am I insane??? Maybe, but that's beside the point! This dessert comes out incredibly moist, and there's no way anyone will believe that you didn't bake it, honest. Oh, and it's also fairly low-cal, too. This oil- and butter-free cake is packed with applesauce, pineapple, shredded carrots and chopped nuts, but it still tastes amazingly rich. How is that so??
You know those honking huge, oozy warm cookies, topped with mounds of ice cream that you can get at some restaurants? Save yourself a ton of money and make that in the slow cooker. It is as good, if not better, with crispy edges and a soft, tender center, although you can always adjust the cooking time if you prefer it more or less doughy.
Lava cake sounds a little finicky, doesn't it? Well, it isn't!! Using a slow cooker takes out all the guesswork, plus you can totally serve this one to guests topped with vanilla (or your favorite flavor) ice cream for an irresistible mix of warm, cool, gooey, melty and cakey. Yum!
In the heat of summer, you might debate whether it's worth it to heat up the house to make seasonally appropriate cobbler. Don't. You can make a super delicious set-it-and-forget-it version in the Crock Pot too! Feel free to use any cobbler-friendly fruit (like berries or stone fruit) that you have on hand, fresh or frozen.
Soft, rich and oozing with a ridiculously easy caramel sauce, these gooey treats are hard to resist. If you want, you can add a spoonful or two of whiskey to the sugar glaze for an extra zing of complexity.
This surprisingly healthy (but it really doesn't taste it, honestly) spin on your favorite dessert is so moist and indulgent! Top with a few maraschino cherries or fresh berries at the end for a strikingly tasty, lovely garnish.
Featured Photo Credit: Andy Nguyen/Flickr
Tags:
Crock Pot recipe
,
slow cooker
,
summer desserts
,
summer recipe
,
weekend dessert recipes
8 Ways To Breathe Glorious New Life Into Leftover Cake (Recipes)
category:
By Cooking Panda
CAKE. It's that wonderful thing no one can ever seem to get enough of — except when you have a little too much of it!
Because few things are as sad as the disappointment of finding stale cake in the fridge, I'd here to save you from that fate. With these outstanding ways to use leftover cake, you'll be thrilled the next time you have some extra to spare.
Tender, moist and sweet bread pudding is always delicious, but here's the best part about making it with leftover cake: Bread pudding is actually best when the bread is a little dried out, so the more stale the better in this case.
Keep it simple, and crumble in a small slice of cake (including the frosting!) that gets blended with ice cream and a little milk, or go super extravagant and get some ideas from the over-the-top shakes linked above.
Because there's absolutely no way that crunchy, butter-fried cake crumbs could possibly be anything but amazing sprinkled over your favorite brownie recipe, right? RIGHT!?
The recipe calls for pound cake, but you can really use anything you want, though you might want to scrape off any frosting and reapply it at the end so it doesn't melt off.
This recipe recommends using pound cake, but you can use any type of cake you want, provided that it's minimally frosted and sturdy enough — stale cake works great here. Knock yourself out.
Zesty orange dark chocolate truffles? Don't mind if I do. With leftover or pre-made cake, orange dark chocolate (or just get regular chocolate plus either orange zest or orange extract), ever-so-slightly boozy Cointreau/Triple Sec (optional but delicious!) and creamy melted chocolate, these cake pops will never let you down.
If you only know trifle as that thing that Rachel doesn't know how to make, you are totally missing out, my friend. This sweet, creamy layered dessert recipe recommends using "a ruined cake, because rescuing a cake disaster and turning it into a trifle adds the sweet taste of victory to your dessert," but you can really use anything you want, even store-bought pound cake.
This recipe uses cookies as its base, but you can absolutely use cake instead. Crumble it up with the food processor or squish it with your hands. The frosting will bind it, though you'll likely want to bake it for a few minutes until it's just about crispy. These would be delicious with your favorite custard or cream pie — more filling ideas here.
Featured Photo Credit: Dave Gammon/Flickr
Tags:
cake bread pudding
,
easy leftover cake recipe
,
leftover cake
,
leftover dessert
,
weekend dessert recipes
You'll Love These 9 Rich Pecan Desserts (Recipes)
category:
By Cooking Panda
I'm obsessed with the rich, buttery taste of pecans! The crunchy, delicate nuts are incredible raw, roasted, plain or candied, and I love every variety, especially when they find their way into a sweet, sticky dessert.
Softy, chewy, sweet non-chocolate fudge benefits tremendously from the excellent texture of the slightly crunchy pecans. If you want to elevate this further, you can always replace some of the sugar with a lovely maple syrup.
Pie slice + ice cream + milk + bourbon + blender = AMAZING. Even lazy chefs can make this one!
To be fair, I've never met a cheesecake I didn't like, but even so, there is just something really special about topping your favorite cheesecake bars with a layer of crunchy, sweet pecan pie. Amazing!
Not that anyone should be expected to have "leftover pecan pie" on hand (is that really a thing? I don't think so), but if you are able to spare half a pie and want to make something unique out of it, pulse it in the food processor with a bit of chocolate and bourbon and form it into the most decadent truffles ever.
A few minutes are all you need to assemble this tender, addicting and smooth dish. If you've never had cobbler without fruit, you'll want to try this.
This recipe would have had me at the brown sugar cupcakes. Once you factor in silky pecan pie buttercream and sprinkle some toasted pecans on top, you are in for something truly unforgettable.
What the heck is a sticky wedge? I'm glad you asked. A sticky wedge is basically a giant sticky bun rolled up into log, so that it can pass for a cake or simply an excuse to do a little less work. Plus, you get more gooey innards this way, which is always a bonus.
These easy, fluffy bars get even more exciting when you realize that you can cut out a lot of the work by making and freezing the crust in advance, so that you always have an easy dessert at the ready for when you need it.
The bourbon mostly cooks out to leave little alcohol but tons of deep richness, although you can certainly omit it if you'd prefer. Either way, this moist, fluffy and ever so slightly tangy delight will tantalize your tastebuds.
Featured Photo Credit: Paula/Call Me PMC
Tags:
cooking with pecans
,
pecan desserts
,
pecan recipes
,
sticky bun recipe
,
weekend dessert recipes
8 Fantastic Beer Desserts You Need To Try (Recipes)
category:
By Cooking Panda
BEER.
We love our yeasty, malty, crisp alcohol friend that can be light, dark, heavy, sweet, sour, bitter and/or refreshing, depending on your selection. There's nothing quite like a thirst-quenching lager, pilsner or pale ale on a hot day — except perhaps for a thick, dark cask-matured stout on a cold day.
There's a brew for just about every occasion — and every meal, from pizza to ice cream — and we will sing beer's praises forever. Plus, cooking with it is nearly guaranteed to immediately improve whatever dish you are making, especially if it's a dessert.
Don't believe us? Make one of these recipes and you'll be a beer dessert convert in no time:
Not only does swapping out the yeast for beer cut down on time, but it also infuses your dough with a nice, deep maltiness. If you want to double up on flavor, feel free to use a dessert-flavored ale.
Beer, bacon and pretzels team up for an absolutely delicious sweet spin on your usual pub staples.
Looking for a little bit of a different way to add an exciting, bright twist to your cupcakes? Dump in a little bit of shandy — half beer, half lemonade — for a subtle zesty complexity to these fluffy treats.
If you've never made your donuts with beer, you should absolutely start. The rich, yeasty flavors are absolutely brilliant in fried cakey donuts, and citrus-packed IPA is the perfect complement to the thick lemon curd filling.
Mild yet full-bodied and sometimes even a little sweet, a few spoonfuls of your favorite saison go stunningly well with that complex peach flavor for the most sophisticated tart-like creation you've ever made.
Ok, if you have a barrel-aged stout, the last thing you might want to do with it is donate half a cup to making a dessert, but it really is worth it. If you can't get your hands on a barrel-aged beer, feel free to use the same amount of any sweet, thick and rich stout. If you want the bourbon flavor, you can add a spoonful of actual booze.
Grilled stone fruit is always just perfect! It gets this excellent caramelization going, which gives it a unique texture and makes your dessert look stunning. If you don't have apricots handy, swap them out for peaches, pears, apples, plums or nectarines.
Really, what more can you want than a hybrid oatmeal cream pie and alcoholic ice cream sandwich? Top it with a little warm butterscotch sauce and you'll be in heaven.
Featured Photo Credit: The Bojon Gourmet
Tags:
beer dessert
,
cooking with beer
,
dessert recipe
,
unique dessert
,
weekend dessert recipes
9 Adorable, Craveable Cake Pop Recipes
category:
By Cooking Panda
We just can't get enough of cake pops! Sweet, moist and rich, decadent and tiny, these adorable treats make the perfect single-serving dessert that works amazingly well as an easy dessert when you're having company over and want to free up the kitchen.
Then again, we also think they are a great dinner to accompany your night in and Netflix marathon. They're perfect for any occasion!
Cake pops are incredibly easy to make! Go ahead and use this recipe as your base and switch around the flavors and textures as much as your heart desires.
We think these count as cake pops as long as you put them on a stick, but it's hard to know for sure. One thing we do know is that there is absolutely no way that you're going to complain after you try these fried pieces of heaven.
​
Decorating cake pops can be tricky as a normal human, but these adorable yet simple Quidditch pops are honestly as easy as it gets. You can't mess these up.
If you're looking for a cake pop that is festive and sweet yet sophisticated and complex, champagne cake is the way to go! You'll just love the light, crisp flavor they have.
If there is a better excuse to eat cake pops for dinner than dressing them up as corn dogs, we can't think of it.
Can't get enough of those cinnamon sugar cakey flavors? We don't blame you one bit.
The rainbow trend is very real! Your guests will be nothing if not impressed when they bite into these and notice the stunning interior, too.
It's a pretty well-known fact that everybody loves cookie dough, and you really can't go wrong here. But what really makes these treats worthwhile is that you don't need to bake a single thing! That's right, you can make cake pops while totally eliminating the seemingly necessary hassle of baking a cake.
Alternately, if you're looking for another hassle-free cake pop option, consider this Oreo version. You can adapt these to your taste using any flavor you want — Golden Oreos will make a great base for "yellow cake" pops, for example.
Featured Photo Credit: Kelly Senyei/Just A Taste
Tags:
Cake Pops
,
easy dessert
,
no bake dessert
,
quick dessert recipe
,
weekend dessert recipes
Satisfy Your Sweet Tooth With 12 Dreamy Cream Pies (Recipes)
category:
By Cooking Panda
Would you care for some dessert?
Let's make something silky smooth, sweet and EASY. How about a luscious cream pie? If you've ever had one before, you know how addicting and amazing they are!
If you want to keep things super easy, you can always grab some Cool Whip and a store-bought pie crust for a real cinch of a recipe, or you can spend a few extra minutes crafting an absolute masterpiece. Either way, we see this as a win-win situation.

We love this easy cookie crust! By the way, if you don't have time to make your own brittle, you can buy it, leave it out, or just use any type of toffee-esque candy you like. The options are limitless!

You can't go wrong with this classic! If you want it to be nice and rich, swap out the two eggs for four egg yolks, and make sure you give the filling plenty of time to thicken. Delicious!

A little ground red pepper and espresso powder take this chocolate cream pie to new and exciting flavor-packed territory, but if you prefer a more classic version, feel free to omit.

If you are a fan of Earl Grey, you will LOVE this pie, which is complemented perfectly by earthy, bright pistachios and sweet vanilla.

Pretty much all you need to know is in the title. If you're a canned (or fresh) peach addict who goes nuts over summer cobblers, consider branching out to this delectable pie for a welcome change of pace.

Anything made by Grammy is automatically 10 times better than any other recipe. Sorry, other recipes.
​

The boiled-down beer adds a nice deep, malty, chocolaty complexity to this all-over stupendous pie. Why didn't we think of that?
​

What makes this creamy dessert extra special? It gets topped with chunks of pound cake. It's pretty hard to go wrong with that!

Did you say Oreo crust and chocolate cream??? We are so there.

If you're looking for a refreshing, fruity dessert to throw together in a matter of minutes, thaw a bag of frozen strawberries, and grab some cookie crumbs, instant pudding mix and cream cheese. Oh, and don't forget the crucial last step, which is to serve it with a tired smile and pretend that you spent HOURS making this thing. Nobody will be able to tell the difference.

We love that the filling and crust come together in minutes and only require a handful of ingredients! Feel free to swap out the hazelnut spread for your favorite smooth peanut butter or cookie butter though, if you're more in that kind of mood.

We love this super-easy recipe because CARAMEL (hello gorgeous!) and also because it uses a bunch of delicious shortcut ingredients, like marshmallow cream, condensed milk and an easy graham cracker crust. Still tastes like a million bucks though!
Featured Photo Credit: Tablespoon
Tags:
chocolate cream pie
,
cream pie recipe
,
creme pie recipe
,
dessert recipe
,
weekend dessert recipes
9 Of The Best Brownie Recipes You'll Ever Taste
category:
By Cooking Panda
Who can resist a gooey batch of chocolate brownies? We just love the way they somehow defy all logic and manage to taste both dense and fluffy at the same time; and let's face it, sometimes brownies are a MUST. And when we say sometimes, we mean always. So dig in!
When you swap out the cocoa powder in your brownie recipe for Nutella, some very wonderful things happen… But we probably don't need to tell you twice. Just do it.
Four of your favorite things, all fused into one perfect little silky concoction. Does it get any better?
Can't get enough of everyone's favorite Girl Scout cookie? May we introduce a new (delicious!) way to eat it? If you're a Thin Mint fan, you might have a difficult time going back to classic brownies after these, honestly.
Sweet, salty and fudgy for the win. If you're a fan of sweet and salty desserts and you haven't tried chocolate and potato chips, you need to make this recipe ASAP!
We could use a little sunshine right now! What better way than by baking a truly indulgent dessert that instantly makes you feel like you are sitting around a campfire?
Perfect for Valentine's Day but also literally any other day ever, because they are so good.
If you're not sure what these are, we'll break it down for you: Grab a handful of your favorite snacks and candies and melt them on top of a scrumptious batch of brownies. Use any chocolate candy you like. You're welcome and also sorry.
Thick, fudgy brownies with tangy, creamy cheesecake swirled with tart blueberries — does it get any more delicious? The best part is that they look super ornate and gourmet, even though they require just a tiny bit more effort than your average brownie. Score!
Start with your favorite brownie recipe, then top them with a deliciously simple no-bake tiramisu recipe. Serve this to anyone on Earth and they will love you forever.
Featured Photo Credit: Sarah/Broma Bakery
Tags:
brownie fusion
,
brownie recipes
,
chocolate desserts
,
creative brownies
,
weekend dessert recipes
Win The Superbowl With These 9 Amazing Dessert Snacks (Recipes)
category:
By Cooking Panda
Ready for Superbowl Sunday?
Whether you're a diehard football fan eager to see the yearly ultimate showdown or you simply enjoy having a party with your friends and family, there's one thing we can all agree on: The snacks ROCK.
Superbowl Sunday is one day where calories definitely don't count. If you're looking for some delicious savory apps, you can find some awesome ones here. But you'll want to make sure you have some solid desserts as well. Bring any of these bite-sized, easy-to-eat sweet treats to your game-day party, and walk around telling everyone you won the Superbowl. They will agree.
Looking for a fudgy, gooey sweet and salty combo? Toss some caramel, pecans and pretzels into your brownies to cover all your snack bases.
Gooey chocolate and peanut butter, plus some crispy candies? We are all in.
No matter how you decorate these cupcakes, they will still be super adorable — especially if you adorn them in the colors of your favorite team.
How could anyone not love this giant football cookie? The peanut butter provides a deep flavor and rich, chewy texture, plus it's super cute.
Surround balls of the best dessert snack known to mankind with a thin, crispy batter and deep fry the whole thing to win everyone's hearts. How can you pass this one up?
This luscious dessert pizza has all the delicious flavors of a cinnamon roll with half the work. Plus, the novelty of a dessert pizza is just too exciting to pass up. A crowd pleaser for sure!
This dip is stunningly gorgeous and looks like it's a lot of trouble, but all you need are a few extra bowls, a box of Funfetti cake mix, a couple other ingredients you probably have on hand, and you're all set to score a touchdown with this gorgeous and tasty foolproof dip.
Everyone loves a good cheese ball. Sweeten the deal with a dessert version that tastes just like peanut butter cheesecake. The only downside is that this one is so tasty, it might not even make it out the door.
Just like the real thing! Of course, if you're not in the mood for these tasty little pretzel balls, you can totally just make the sweet, fluffy dipping sauce and serve it with anything you want — mini cinnamon rolls, cookies, vanilla wafers … you can't go wrong here!
This delectable dip gets extra bulk from rich peanut butter, creamy, textured oats, crunchy, sweet M&Ms and classic chocolate chips that will make your team's victory even sweeter.
Featured Photo Credit: Cooking Classy
Tags:
dessert appetizers
,
dessert recipes
,
Superbowl dessert
,
Superbowl snacks
,
weekend dessert recipes
10 Outstanding Chocolate Cake-Inspired Desserts (Recipes)
category:
By Cooking Panda
January 27, 2017, is a very special day!
It's Chocolate Cake Day! No matter how you feel about gratuitous food holidays, I'm pretty sure we can all agree that this is a very wonderful occasion and something that everyone should celebrate.
From light, fluffy cakes to rich, moist, heavy dark chocolate ones and everything in between, chocolate cake has always been there for us. We're going to go all out celebrating this one. Here are some of our favorite chocolate cake-inspired dessert recipes:

People swear by this super easy recipe. What's the secret? A sprinkle of espresso powder to elevate and deepen the taste. Shh! Don't tell!
We can never decide if the best thing about poke cake is that you get to stab your cake repeatedly with the end of a spoon or the incredibly moist, delicious results you get with minimal effort. We'll stick with both. Both are good.
This milkshake is pretty simple but super easy to change around and customize as you see fit. Any of the following mix-ins would be just smashing: caramel sauce, flavored vodka, a pinch of sea salt and/or your favorite crushed-up candy bar. Go wild!
Cake is perfect. Cake is life. But sometimes making it is just too much work, and you want something a little easier. Right? Enter the simple, perfect truffle that will send you straight to heaven any time you are craving something rich and smooth.
Follow all the other recipes to your heart's content, but if you need to take a shortcut with your ganache, this is 100% the way to do it. With only two ingredients, this really doesn't get any easier. Save all that time mixing up the perfect batter … or just make ganache by itself and eat it straight out of the bowl.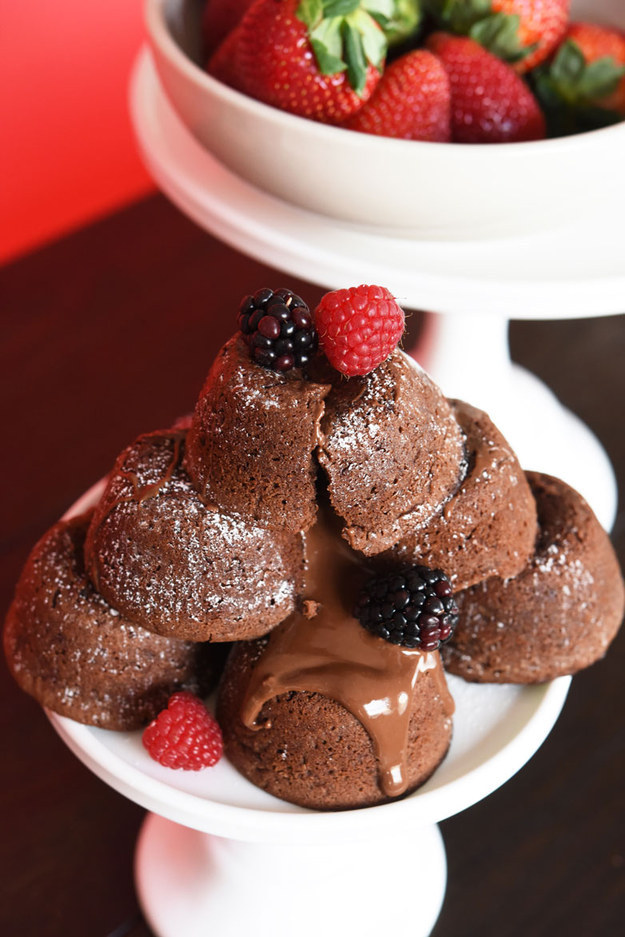 Seriously, what's better than a chocolate lava cake? Who can resist that gooey center that oozes out when you jab your fork in? This is probably the easiest but also most foolproof/delicious version out there, so you have no reason not to get moving on this one.
Ok, you can leave out the edible gold dust if you must, but that's half the fun! Do try to find chestnuts, though. The sweet, starchy, earthy flavors they bring complement the cake just perfectly.
It might sound weird, but sour cream brings the perfect zippy, rich tang to this recipe, kind of like cheesecake. Once you add generous portions of thick, dark, sweet fudge and crumbled, buttery toffee, you have the perfect flavor harmony.
Cake cookies? Yep! This is not a drill. You seriously can make cookies (super easy ones at that) with a box of devil's food cake mix and just a few other ingredients. Bookmark these the next time you need a super quick dessert!
Obviously, if you have leftover cake, this is what you need to do with it. Obviously.
Featured Photo Credit: Speedo Foods & Flavours
Tags:
cake recipes
,
chocolate cake
,
easy chocolate desserts
,
easy dessert recipe
,
weekend dessert recipes
8 Incredible Loaded Cookies To Keep You Warm In Winter
category:
By Cooking Panda
Winter is coming!
One thing's for sure: whatever winter preparations you need to do — begrudgingly, for many who hate freezing temperatures — we can think of something that will help ease you into it. Warm, gooey, soft, freshly baked cookies! Bundle up in your warmest slippers, snuggle into your coziest blanket and turn that oven on, because we have some great ways to prepare for the chilly months ahead. Plus, Dec. 4 is National Cookie Day, so you might as well celebrate with some truly outrageous loaded cookies, right?
Do you love crispy, buttery, flaky pie crust even more than the filling? Well then, you might as well cut out the middleman entirely and get right to the good part. Alternately, you can load your pie cookies full of apple shavings or another fruit filling (recipe here), if you're so inclined.

Sure, chocolate chip is awesome, but why stop there? Why not swap out the predictable stuff for coconut, M&M's (or another favorite candy of yours) and crunchy salty pretzels? If you love sweet and salty, this one is for you.
Ever had a cake-flavored brownie-cookie hybrid before? They are scrumptious as heck, especially served warm and melty with a big scoop of ice cream. Bonus: the red color makes these desserts bright and festive, so they're visually perfect to serve over the holidays.
You've got to be kidding me, right? Surprisingly not. If you're looking to lighten up your cookies, you can't go wrong with this odd but delicious little hidden veggie recipe. You can grate your asparagus or blitz it in the food processor. Alternately, this dessert is a great way to use up that pulp from your juicer that you usually throw out.
We can't think of any valid reasons why you shouldn't stuff Oreos (or similar sandwich cookies) into your chocolate chip dough. Can you? If you want to be extra festive, use peppermint sandwich cookies and top the whole affair with crushed peppermint candies. If, however, you want to be extra lazy, use whatever store-bought cookie dough you have on hand.
How can we say no to impossibly creamy hazelnut mascarpone filling sandwiched between two decadent peanut butter cookies (here's how to make them from scratch if you are so inclined) and topped with semi-sweet chocolate and crushed hazelnuts? This is a Nutella lover's dream come to life.
It sounds a little odd to mix basil and Parmesan cheese into your cookies (no garlic, we promise), but if you want something bright, satisfying and earthy, go ahead and try these delightful cookies, which have the most divinely balanced, zippy flavors, thanks to the orange zest and walnuts that artfully complement the basil.
Some days, regular chocolate chip cookies are just not quite enough. Sometimes you crave something even more rich, chocolaty and gooey. And that's exactly when you should stuff a gob of Nutella right into the middle of your cookie dough.
Featured Photo Credit: Ashton/Something Swanky
Tags:
cookie recipes
,
cookies
,
loaded cookies
,
weekend dessert recipes
,
winter desserts