Tag:
weekend dessert recipe
6 Lovely Desserts To Bake Because Winter Is Coming (Recipes)
category:
By Cooking Panda
Since it is so cold these days, all I want to do is snuggle into some warm pajamas and bake something delicious that will send a sweet, festive aroma wafting throughout the whole house.
It's definitely baking season, and you should totally make the most of it if you have some spare time. Plus, these pastries can potentially double as excellent, heartfelt gifts.

What makes this cake a magic one? Combining beaten eggs yolks, sugar and whipped egg whites creates a curd-like batter that then separates as you bake it, giving you a custardy base and a cakey top for the same amount of work you'd put in for a single-layer treat. Go ahead, pretend you labored over this one for hours. It'll be our little secret.
Wine donuts? You've got to be kidding me!! And gosh, they are stunningly delicious, too. With just 153 calories per cookie (thanks in part to some sneaky yogurt!) and a baking method that turns out perfectly textured rings every time, you just might be able to munch on these without messing up your diet. If, however, you prefer that slightly greasy crunch, you can fry them as outlined in the recipe here.
Yep, that's right: after this simple dough rises, you get to just leave it in the fridge for hours until you are ready for a delicious breakfast or dessert, at which time you just plop it in the oven while you finish making the coffee. Plus, there's a secret ingredient — eggnog, a surprisingly awesome baking ingredient — that ensures that the bread stays rich and moist.
If you happen to get tired of your standard — though delicious — peppermint bark, toffee and peanut brittle, you'll be delighted to know that you can switch things up this year. Try this deeply bittersweet, sophisticated snack that combines crispy, buttery Ritz crackers, dark chocolate, cacao nibs, roasted hazelnuts (or your favorite nut), dried berries and crushed coffee beans.
I think it's pretty obvious that anything called "Butter Cake" is going to be rich, moist and delicious beyond belief, so what are you waiting for? Plus, you can take a shortcut by using a box of yellow cake mix, just to make things even easier. Don't have maple syrup? Feel free to use honey instead (the same amount — ¼ cup — should work just fine) or ⅓ cup brown sugar.
You probably wouldn't know it, but these meringues actually have way fewer calories and more protein (egg whites!) than a traditional cookie, making it a reasonable choice to serve those who don't need the extra carbs or fat, though no one will feel cheated by these delicious desserts. Oh, and these minty cookies just so happen to gluten-free, too.
Featured Image: Pixabay
Tags:
baking
,
Christmas recipes
,
December cooking
,
weekend dessert recipe
,
winter desserts
7 Skinny/Clean Desserts That Won't Derail Your Diet (Recipes)
category:
By Cooking Panda
I don't care if I'm on a diet or not. Just because I might choose to restrict myself to an assortment of leaves and other boring food items does not mean that my sweet tooth is going to magically ride off into the sunset without me.
If anything, it's going to taunt me, vengefully reminding me of all the sweet things I'm not supposed to be eating.
Fortunately, there are a ton of absolutely magical desserts out there that are healthy and/or low calorie enough that you can sneak them into the self-imposed suffering that is food restriction, and they will save you.
Let's live it up with these diet-friendly delights:
You might think that brownies are absolutely not clean-eating friendly, but you'll be surprised how tasty these are, considering that they are devoid of flour, refined white sugar, butter and eggs. Alternately, you can also give these black bean brownies a try.
These popsicles are pretty much magic, considering that they have nothing but watermelon and ginger in them, plus a little bit of booze if you're in the mood to spike them. Ideally, you'll want to make these with pretty sweet watermelon, but if your melon is lacking or you just like it a bit less tart, you're welcome to add in your favorite sweetener.
With almond butter, pumpkin puree and a bit of honey, this sweet treat is as good as it gets. If pumpkin isn't your thing, you can nix it in favor of extra nut butter like almond, hazelnut or peanut. You'll have a bit more calories this way, but the added dose of healthy fat and protein will keep you full for a good while.
This eggless, flourless delight only has 80 calories per serving, but the oats and peanut butter powder keep it nice and gooey while still providing a fair bit of nutrition. If you prefer your cookie dough inside of a cupcake, try this recipe instead.
Zucchini for dessert? Are you joking?? Surprisingly, the squash is a fabulous filler for tender whole wheat chocolate cupcakes, as it ensures that they stay nice and moist while not betraying any type of vegetable flavor. No one has to know …
If you use light butter, each serving of this colorful treat is only 159 calories — not bad for a white chocolate blondie!
You wouldn't think that cheesecake and brownies would somehow be low-cal, but with applesauce, egg whites and wheat flour, you don't need to feel guilty about eating this wildly delicious dessert.
Featured Image: Anne Meadows/Flickr
Tags:
diet dessert
,
healthy dessert
,
low calorie dessert
,
skinny sweets
,
weekend dessert recipe
7 Ravishingly Tasty Sweet Loaves To Bake This Fall (Recipes)
category:
By Cooking Panda
One of the most delicious parts of fall cooking, in my opinion, is getting to bake those flavorful, moist, sweet loaves of goodness known as quick breads.
From pumpkin bread to banana bread and beyond, these dense yet somehow still fluffy little slices work equally well as indulgent breakfasts as they do desserts, especially when you top them with a drizzle of caramel sauce or cream cheese icing and served alongside a scoop or two or your favorite ice cream.
Here are some outstanding quick breads you can make this fall:
How this bread manages to be so dang moist, rich and sweet while staying healthy and low-fat is honestly beyond me, but the proof is in the pudding. Whether you are watching your calories or not, you'll love this bread to pieces.
This apple bread is beyond delicious, but the cinnamon sugar topping really sends this over the edge into a whole new level of amazingness. Want to make this low cal? Use applesauce to keep it rich while cutting out a bunch of the fat like so.
Can't get enough of those sweet dried cranberries? Mix them into this outstanding loaf that features a double dose of bright orange zest and juice as well as a fun crunch from walnuts, pecans or whatever similar type of nut you have lying around. I can't imagine that chopped pistachios would be too bad here!
A classic! If you like to keep things simple yet delicious, this pumpkin bread recipe is a keeper for years to come.
Creamy, sweet bananas and warm, bold spices are a natural fit for each other. Obviously this is best served fresh out of the oven with a nice milky black cuppa.
You've heard of apple bread, so why not swap out the popular fruit for pear and enjoy a slightly different flavor with every bit as dense and moist of a texture? Try it!
Do you love pumpkin-pecan pie? The two contrasting textures go beautifully together, especially when they are in loaf form. The pumpkin ensures that you get a creamy richness that won't dry out in the oven, while the pecans add a lovely crunch and extra depth of flavor.
Featured Image: Vegan Feast Catering/Flickr
Tags:
apple bread
,
fall desserts
,
loaf recipes
,
pumpkin bread
,
weekend dessert recipe
10 Stupidly Delicious Kinds Of Fudge You Should Make (Recipes)
category:
By Cooking Panda
Do you find yourself wondering what on earth to make for dessert this weekend?
Pies and cakes are great, but it can be a bit of hassle getting them to look just-so. Plus, what if you want to sneak a slice? What do you do then?
Well, if you're craving something thick, rich and easy to present, why not make something that works equally well for a Netflix weekend as it does for a big party? Cook up some smooth, versatile fudge and watch the magic happen.
Note: Fudge doesn't do well when overcooked — it can tend to get crumbly. To avoid this, make sure to take it out just when (or a minute before) you think it is done and err on the side of undercooking it.
No, that title is not making baseless claims. This back-to-basics recipe is a perfect foundation you can use to mix in all your favorite additions, if you want. Or just keep it simple and marvel in the fabulous texture that comes from using creamy condensed milk instead of granulated sugar. You'll love this one!
A spoonful of bourbon, a bit of butter and a beautiful scoop of dulce de leche make this easy fudge absolutely glorious. (Leave the bourbon out if you want, but it's quite tasty!) Plus, this recipe includes a helpful how-to when it comes to keeping your fudge from sticking to the pan.
You can leave out the sea salt if you want, or top with some finely chopped dark chocolate and/or hazelnut pieces. Either way, you have a fabulously easy, dense fudge that just about makes itself.
As if this eggless cookie dough wasn't enough of a draw, you get to make your white chocolate fudge (or milk, or dark, if you'd rather) with a glorious tub of marshmallow fluff that surprisingly ensures that everything stays fluffy and smooth.
Who doesn't love this delightful sweet and salty combination? Crunchy pretzels are an absolutely spellbinding addition to a classic, gooey chocolate treat.
Craving something a little fruitier? Try this fresh version that's tasty with just about any dried fruit. Blueberries? Mango chunks? They are all a perfect match!
Only five ingredients, and two of them are different-flavored candy chips. Note: If you don't have rum extract, you can sub it out for vanilla extract, actual rum (or cook it down a little to let out the harsh alcohol taste if you prefer) or whiskey.
Crushed sandwich cookies make just about every dessert better, don't they? This recipe only requires three ingredients, and it really couldn't get any easier. So go ahead and knock yourself out with this one, especially if you forgot to go grocery shopping but need something to serve to guests pronto!
Want something a little darker? With velvety dark chocolate, crunchy buttery toffee and flaked sea salt, you'll adore this easy five-ingredient fudge that would be just fabulous with a nice coffee.
The best sandwich ever, back to life as a fabulous dessert that will please kids and adults alike! Not into jelly? You can use chocolate (or similar) ganache or even a dollop of Nutella instead.
Featured Photo Credit: Katie/Flickr
Tags:
dessert recipe
,
easy dessert
,
easy fudge
,
fudge recipes
,
weekend dessert recipe
10 Crowd-Pleasing, Delicious Twists On A Lemon Bar (Recipes)
category:
By Cooking Panda
When I think of lemon bars, I think of summer. The bright, zippy sweetness immediately transports me to warm, sunny days.
First off, let's start with the basics. Here is how to make an awesome classic lemon bar. Got it? Good. Now let's muck that recipe up a little and play with it, shall we?
Tropical, meaty toasted coconut slivers go stupendously with sweet, gooey lemon treats to bring a bit of extra flavor and a crunchier texture for more contrast.
Love classic lemon bars but want to add just a little extra oomph? This is the recipe for you. Grab a handful of those fresh blueberries that are just about in season and go to town.
What better match is there for this tart, acidic treat than creamy, thick and sweet white chocolate? They are the perfect contrast for each other.
Why not make these bars with a different, gentler type of citrus? Feel free to use tangerines or any similar fruit instead of blood oranges, but you'll need to adjust the sugar levels based on how sweet your citrus is, so take it slow until you figure exactly how naturally sweet your oranges are.
You know how pink lemonade is so much better than the regular stuff, for some unknown reason? Well, I'm still not sure what that X factor is, but it's the very same thing that makes these raspberry iterations so delightful.
Pie is phenomenal. Nobody can say anything bad about pie. But what if you want an easier, more manageable bite-sized dessert? Enter this divine pie-bar hybrid that has an almost cheesecakey creamy tartness. Divine!
These heavenly bars are pretty similar to the original, but they involve one crucial change — swap out lemons for another bitter, tart, bright citrus fruit for a sweet change of pace.
This recipe suggests using Meyer lemons — which will get you a much more mild, less-sour flavor — but you can certainly use either kind. If you want to get that softer flavor but can't find Meyers, use half lemon juice and half fresh-squeezed orange juice to get a similar effect.
Look, if there is something that can make lemon bars even better it's creamy, tangy, rich cheesecake. Obviously.
A lemon bar that has the texture of a brownie and is gluten-free? You better believe it. These moist, light and tender fudgy treats topped with a decadent lemon glaze are almost too good to be true. Almost.
Featured Photo Credit: Sugarcrafter/Flickr
Tags:
baked dessert
,
lemon bars
,
lemon brownies
,
lemon cheesecake bars
,
weekend dessert recipe
11 Stupendous Citrus Desserts To Usher In Spring (Recipes)
category:
By Cooking Panda
Spring is here in full force, and we are loving it!
We can't think of a better way to celebrate a lovely spring weekend than by enjoying a nice, indulgent dessert, can you?
Usher in the season by whipping your favorite creamy treats and adding bright, zippy citrus flavors to them. You and your guests (if they are so lucky that you feel like sharing) will adore how much these desserts taste of spring.
Usually cakes are a lot of work, but this fluffy, creamy, refreshing version is actually so simple that you can mix up the batter with a bowl and spoon, bake it, and then plop your marshmallow frosting on top. By the way, if you want to keep it extra simple, just replace the frosting with marshmallow fluff and you're good to go.
If you're addicted to Arnold Palmers — or at least refreshing, never-too-sweet tea and crisp, zippy lemonade, you absolutely must combine them into the best dessert ever. You can even substitute a couple of tablespoons of vodka or bourbon for the lemon juice in the frosting, if you're feeling a little wild.
The soft yet pungent orange flavor is the perfect way to cut through the perfectly sweet, dense cake.
Lemon on lemon! We are so down. Shortcuts: Use a box of yellow cake mix (add a half teaspoon of vanilla extract, if you'd like) and a store-bought jar of lemon curd. Nobody has to know!
This elegantly spiced dessert is a touch lighter and easier to make than your average cheesecake, thanks to the ingenious addition of Cool Whip.
Orange and chocolate really are a perfect combination, but the pairing often flies under the radar, and we forget to make use of it. If you want to make brownies with an extra spring zing, a generous punch of orange zest and orange extract is the way to go.
This dessert is great year round, but it's especially perfect to get you through those unexpectedly cold, rainy spring nights that pop up so often in April.
We absolutely adore the strong flavors and smooth textures of sweet and sour key lime pie. Take it to the next level by swirling in a couple spoonfuls of luscious raspberry jam for a perfectly bright dessert.
The cake is amazing on its own — it is soft and fluffy, and it melts in your mouth. Add in the gooey, creamy molten white-chocolate lemon center, and you'll be transported to another dimension of delicious.
​
Your favorite childhood popsicle is now a bite-sized fudgy treat. Talk about a blast from the past!
The chocolate/orange combo lends an unexpected yet elegant profile to these perfectly tender, fluffy and never dry breakfast indulgences.
Featured Photo Credit: Show Me The Yummy
Tags:
citrus desserts
,
lemon cake
,
orange cake dessert
,
spring recipes
,
weekend dessert recipe
Celebrate St. Patrick's Day With 12 Yummy Desserts (Recipes)
category:
By Cooking Panda
Happy St. Patrick's Day! Are you ready to celebrate? I sure am!
Fear not if you are having a party tonight and have no idea what to make!! I've got you covered.
Here's how to make mains for a lovely Irish dinner.
Wash it down with some cocktails. Here are some classy drinks you can make with Irish whiskey, like Jameson, Powers, Bushmills, etc. And if you want to have a little more fun with it, here are some festive drinks you can make, like green cocktails and baby Guinness Jell-O shots.
And finally, you'll want to make sure that your guests are not only fed and watered but that they have all the sweets they could want as well. From traditional Irish desserts to tasty five-ingredient sweets, you can absolutely have it all! Read on for some favorite festive treats:
Ah, the humble root beer float, one of the most underrated desserts out there. Not that it isn't delicious enough on its own, but if you really want to live it up, why not add an excitingly flavorful, boozy twist and a dash of cinnamon to it? If you want to make this alcohol free, all you have to do is swap out the Baileys for Irish cream-flavored coffee creamer.
Ever had a Baileys cheesecake? Adding a bit of Irish cream to the dessert makes it so incredibly creamy and rich, with an extra depth of flavor, that you'll be totally amazed at how delicious it all is. I'm not sure if I need an excuse to eat this, but St. Patrick's Day sure is a good one.
Beer in your cupcakes? YES! A bit of stout and a drop of coffee will not only keep your cupcakes moist yet fluffy, but it will also bring the most delightful complexity to them. Trust me!
If you came here looking for either 1) an actually Irish dessert, or 2) something that is out of this world DELICIOUS, moist and gooey, you have absolutely come to the right place. WARNING: Sticky toffee pudding is super addictive, and I can't promise you won't get hooked on it.
One bite of this stunning comfort dish, and you'll see why it's so popular during Irish winters. With the moist, buttery brioche bread, homemade vanilla custard — mixed with raisins or chocolate chips if that's your thing — and crunchy bruleed sugar topping, you might get hooked rather quickly.
These melt-in-your-mouth buttery, golden crispy and just slightly nutty cookies will be gone before you know it, so be sure to make extra.
Everybody's favorite milkshake just got fudgefied, and it's GOOD.
Because why would you ever bake them if you don't have to?
Tender, moist and packed with just barely al-dente apples, you'd think this cake is perfect as is. But then you top it with that warm custard sauce, and you are transported to another universe of decadence. One thing's for sure: Irish people know what they're doing when it comes to sweets!
This is about as boozy and rich as it gets for a cake, so you really can't go wrong here if that's your thing.
These adorable and tasty cream cheese, coconut and cinnamon treats don't originate in Ireland. They actually come from Irish immigrants in Philadelphia back in the day, making them the perfect Irish-American treat to celebrate Irish-American heritage.
Can't get enough of that boozy Irish cream? We're right there with you. Whether you make these with alcohol or not, your guests won't be able to get enough.
Featured Photo Credit: Holly/Spend With Pennies
Tags:
green recipes
,
holiday desserts
,
St. Paddy's Day
,
St. Patrick's Day
,
weekend dessert recipe
8 Adorably Delicious Mini Desserts (Recipes)
category:
By Cooking Panda
Mini desserts just mean you can eat more of them, right?
Seriously, why does everything taste better when it is bite-sized? Little desserts are super adorable, and the best part is that nobody will know how many you make, so it's a lot easier to sneak a bite on your way to a party than, say, a big cake.
We can see no reason why you shouldn't make all of these delicious treats:
With just four ingredients and a microwave, desserts don't get much easier than this. Or tasty.
​
Make the most of your muffin tin! These little cakes are so stunning with a slice of clementine on top that makes for an effortlessly awesome (and delicious) presentation.
Only a few minutes of work and you'll have mini versions of your favorite full-sized desserts! It's like magic!
​
Everybody loves a good apple pie — and the bite-sized versions are no exception … but have you ever tried crumbling a bit of bacon into the pie filling for a bit of added smoky, savory richness? If not, do so immediately. Warning: this might change your life.
Basically, these are like cinnamon rolls but way easier to make, using … well, whatever type of bready dough you have on hand, really. These muffins aren't picky!
Mini pies are adorable perfection, and the best part is that there really are no rules when it comes to adding your favorite fillings. It can be a little tricky though, but that recipe will give you all the tips and tricks you need to help you figure out the easiest way to make adorable little lattices or whatever else tickles your fancy.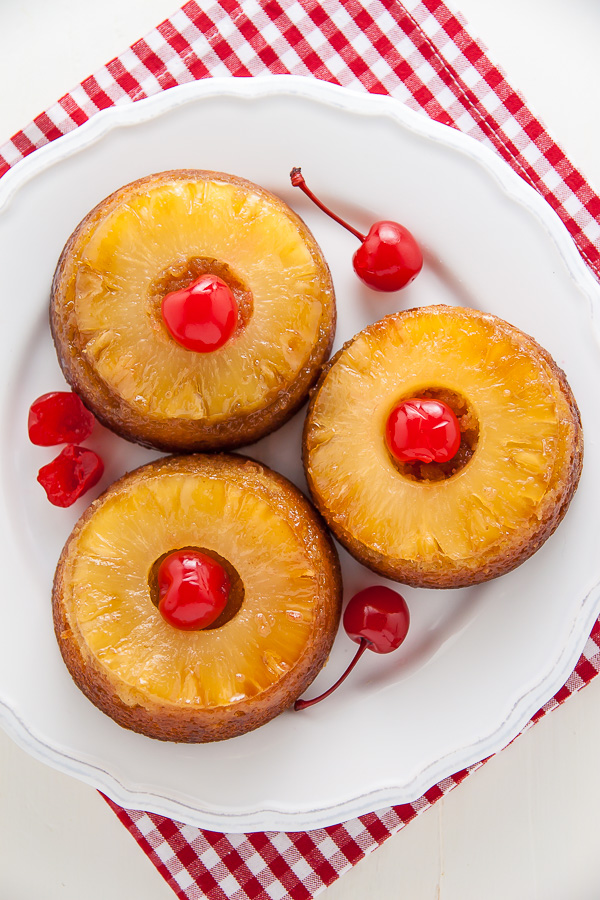 What else would you possibly use a can of pineapple rings for???? And why would you possibly make anything else when this recipe exists?
We have a feeling that you could dredge anything in brown sugar whiskey caramel sauce and it would come out fabulous. But pair that magic sauce with crusty-on-the-outside, moist-on-the-inside bread pudding and we're in heaven.
Featured Photo Credit: Drizzle and Dip
Tags:
bite sized dessert
,
dessert recipes
,
easy dessert
,
mini desserts
,
weekend dessert recipe
Scare Away Your Guests With 7 Spooky Halloween Treats
category:
By Cooking Panda
Brace yourselves!! Halloween is just around the corner, and it's time to get freaky and make some super spooky desserts. But you don't have to wait until the 31st to have your Werewolf bar mitzvah. Start the party early this weekend on Oct. 28 — it's National Chocolate Day! And if there is a better excuse to eat a ton of dessert besides a weekend bookended by two sweet-centric holidays, we don't know it!
Any time is the right time for a zombie brain Jell-O shot, whether you want to add the booze or leave it out for a kid-friendly, gory treat.
Honestly, what is tastier than sweet, flaky baklava? Adding red food coloring is optional but can transform your dessert into horrifyingly delicious slashed up, bloody skin.
These are gorgeous, delicious (seriously, why would you not want jam in your cupcakes?) and, best of all, really easy to pipe on those brains. If you don't have a piping bag/nozzle, just use a Ziploc bag and cut the corner off.
These look spooky, but they are easy to make, and super versatile too — make them sweet or savory (sausages? heck yes!) depending on what you're feeling.
Are those miniature knives not the cutest things ever?? Is that weird?
Not exactly Halloween-themed (though you can certainly turn the caramel into blood with a little food coloring), but we have to celebrate National Chocolate Day with the most delicious chocolate dessert ever. It's a momentous occasion!
Same. I mean, how can you say no to something that is both a s'more and a truffle at the same time? Plus, you can throw them right in with your Halloween spread for some quick bite-sized desserts.
Featured Photo Credit: Not Quite Nigella
Tags:
chocolate desserts
,
desserts
,
Halloween
,
Halloween cupcakes
,
weekend dessert recipe
10 Heavenly Pumpkin Cheesecake Desserts To Make ASAP
category:
By Cooking Panda
Warning: if you aren't a fan of pumpkin cheesecake, scroll right on out of here, because this article is definitely not for you.
Oct. 22 is National Pumpkin Cheesecake Day! If you are a fiend for either pumpkin pie, cheesecake or, ideally, both, you'll love the creamy, nutty, tangy and subtly spiced desserts we have in store for you. Fix yourself up a nice chai latte or a bourbon and Bailey's cocktail for the perfect pumpkin cheesecake pairing.
What are you waiting for? Let's celebrate!
Some kind of magic happens when you mix together creamy, just slightly sour cheesecake batter and rich, fluffy pumpkin. Here's our favorite way to do it.
If you or someone you know has cut out dairy, consider serving this version that tastes creamy and smooth, thanks to the ingenuity of silken tofu. Honestly one of our favorite vegan desserts. Bonus: Crush up some gingersnaps for an extra-spiced crust.
Pumpkin snickerdoodles are amazing, obviously, but have you tried stuffing them with cream cheese?
Pumpkin. Cheesecake. Brownies. Not only are they scrumptious, but with those colors, they are the perfect Halloween treat!
Alternately, if you want to make the cake version, go for it! Brownie batter makes for an excellent cheesecake crust, if you were wondering.
Every kind of pie that you love, all swirled together to make one super pie. Pro-tip: swap out regular grahams for cinnamon or chocolate ones for an extra delicious treat.
If you don't quite have the time, energy or patience for a proper cheesecake, make these instead. They're cuter anyway.
At this point, we are convinced that everything in the world tastes better with caramel. Prove us wrong, we dare you!
If you're craving a super easy but decadent way to get your pumpkin cheesecake fix, blend some ice cream, cream cheese and pumpkin puree and guzzle it by the glass. Feeling like an alcoholic drink? Dump in some whipped cream vodka, chocolate vodka, bourbon, Bailey's or any other of your favorite dessert liquors and liqueurs for the ultimate adult shake.
Three gorgeous layers of soft, thick brownie, silky smooth pumpkin cream cheese pudding and light whipped frosting. We. Need. These. Now.
Featured Photo Credit: Crumb Blog
Tags:
dessert
,
pumpkin cheesecake
,
pumpkin recipe
,
seasonal dessert
,
weekend dessert recipe
Step Up Your Snacking With 8 Sweet Popcorn Upgrades
category:
By Cooking Panda
Buttered, salted popcorn is a classic, and it will always have a place in our hearts. Seriously, it's always so hard to pass up splurging on movie theater popcorn; the buttery, savory aroma hits you all at once.
But don't let that limit you! Popcorn is not only super delicious, but it's also incredibly versatile and lends itself amazingly to a bunch of desserts that are pretty easy to make and will challenge you not to eat the whole dang bowl by yourself.
Kick your feet up this weekend and lay off the extensive baking — instead, drizzle some goodness right on top of your favorite popped snack and go to town.
This recipe uses melted white vanilla almond bark to bind the crushed cookies to the popcorn, but feel free to use your favorite fudgy flavor.
Can't get enough pumpkin spice in your life? Make sure it's not for lack of trying.
This craveworthy recipe is the perfect use for the unprecedented event that you ever have a couple slices of leftover red velvet cake…though we aren't totally sure that "leftover red velvet cake" is actually a real thing that exists. Let us know if you get to the bottom of this mystery.
Ohhh yeah… It's every bit as good as it sounds, too. Plus, there's a pretty easy basic caramel recipe on here that you might want to keep around for other purposes.
We'd never dream of badmouthing Rice Crispy Treats, but we do have to admit that it's nice to have a change of pace. Plus, the earthy chopped walnuts and smooth, deep sweetness of maple syrup are a divine combination with butter and marshmallows, and they are super cute, too!
We love caramel, we love hazelnut chocolate spread, and just like that, they were married.
Yes, this is real, and it's no bake! Just mix up popcorn, candy, pretzels and melted marshmallows and mold it into your favorite cakey shape.
If you are in the mood for a little more intensive baking, try this yellow cake topped with SALTED CARAMEL ITALIAN MERINGUE BUTTERCREAM (yes, that needed to be SHOUTED in all caps because it is THAT GOOD) and salted caramel corn. Feeling lazy? Just make the salted caramel corn and skip the middle man. No judgment here.
Featured Photo Credit: Cookies and Cups
Tags:
easy dessert
,
healthy dessert
,
National Popcorn Month
,
Popcorn
,
weekend dessert recipe
Dessert Guacamole And 11 Other Surprisingly Tasty Sweet Avocado Recipes
category:
By Cooking Panda
Love guacamole? We're pretty sure you aren't the only one!
It's National Guacamole Day, and we are determined to celebrate the crap out of it. But we thought we'd mix things up a little for you. Most likely, you already know how to mash up ripe avocados with lime, salt, hot sauce and whatever else floats your boat, so we won't go into that.
Instead, we're going to switch it up and throw you out of your usual avocado routine. We've scoured the Internet for the best sweet guacamole-type dips that will shock you with how good they are, plus some other mindblowingly delicious desserts. Are you ready?
It might sound weird, but cream cheese, guac and sugar with pie crust chips (or anything else, if you want — vanilla wafers, sweet pita chips or even just regular tortilla chips would all be great here) taste just like cheesecake together. Swap out the sugar for a little sweetened condensed milk if you want to add extra creamy richness.
Love sweet and spicy combos? Go ahead and make this dip, complete with hot sauce-doused chips. If you don't have any great hot sauce lying around, feel free to toss your favorite chips (tortilla or pita) in butter or oil and sprinkle with cinnamon sugar and cayenne pepper. Warm them in the oven for extra goodness.
Strawberries, cinnamon and cream guacamole is the dessert you never knew you needed.
If you prefer your guacamole chunky, try this dessert version with diced strawberries, mangoes, jicama, maple syrup and mint for a perfectly-textured, fruity sweet treat.
The best part of this recipe, besides the amazing pistachio flavors, is that the avocado adds an extra delightful creaminess to the mix, making the no-churn setup even more successful.
Looking for a non-dairy option? Try out this version that uses avocado, coconut milk and maple syrup for a healthier but just as tasty twist.
Creamy, rich and fruity, these truffles get their silkiness from that little bit of avocado you are blending in. Delicious and way healthier than anything store-bought.
The rich, nutty and bright flavors from the olive oil, ricotta and lemon zest are the perfect match for creamy avocado (which won't taste that strong anyway).
You might not think avocado and fudge should be in the same sentence, but they are actually perfect for each other, as avocado lends a beautifully creamy richness to it.
This cake is so rich, it's ridiculous!
In case this cheesecake wasn't stunningly gorgeous enough for you, you'll fall in love with its bright, tangy and tart flavors.
Featured Photo Credit:
Chef Sheila
Tags:
avocado dessert
,
dessert guacamole
,
national guacamole day
,
sweet avocado
,
sweet guacamole
,
weekend dessert recipe
These 11 Bourbon-Inspired Desserts Are What Dreams Are Made Of
category:
By Cooking Panda
We're celebrating Bourbon Heritage Month all throughout September!
What better way to celebrate the quintessentially American spirit than by making it live its best life by baking it into a dessert and adding rich, complex notes to your favorite sweet treats? Here are some of our favorite ways to boozify your desserts:
Everyone knows it's all about that bourbon caramel sauce. Make this vanilla-infused version to add an extra sweet kick to all your favorite desserts.
Love sweet and salty? You'll lose it for this spiked chocolate pie.
Make the most of your summer blackberries by mixing them up with bourbon and baking them into a cobbler. This is also delicious with amaretto and probably all kinds of other liqueurs that work with fruit.
Buttery, rich and fluffy cake, complete with sweet, tender caramelized apples — even better, the easy baking method here shows exactly how to get a perfectly flaky crust. Delicious!
Bourbon lovers will be in heaven with these yummy, sweet brownies with an adult kick.
Salty caramel bread pudding? This one is a must. Plus, you can totally deep fry it (or not?) if you want to.
Kind of like a fruitcake, but way better. Plus, you get to dump bourbon caramel glaze over the top, so there's no way that can't be amazing.

These cupcakes are flavorful, sweet and super moist.
Fall is fast approaching, meaning that pumpkin is now officially allowed on your plate. Make the most of it.
Throwing a Kentucky Derby party? Or maybe you just want super boozy frozen yogurt that will get you drunk if you eat enough of it? (Who doesn't?) MAKE THIS.
It may sound weird to you, but you have to try making a chocolate cake with stout. It's incredibly moist, and the flavors, the flavors! Just try this one.
Featured Photo Credit: Maker's Mark
Tags:
Bourbon
,
Bourbon Heritage Month
,
dessert
,
weekend dessert recipe
,
whiskey dessert