Fresh Fruit Listeria Recall at Walmart, Aldi, and Costco
category:
By Cooking Panda
Thousands of cartons of peaches, nectarines, and plums have been recalled in stores across the country – including Walmart, Costco, and Aldi – due to a possible listeria contamination. The FDA reports that the recall was a result of a routine sampling that showed fruit produced by Jac. Vanderberg, Inc. or Yonkers, New York contained the bacteria. The company is recalling 1,727 cartons of fresh peaches, 1,207 cartons of fresh nectarines, and 365 cartons of fresh plums. The fruit was sold at six different grocery stores: Aldi, Costco, Fairway Market, Hannaford, Market Basket, and Walmart across eighteen states.
The fruit was distributed in Alabama, California, Georgia, Illinois, Kentucky, Maine, Massachusetts, Michigan, Mississippi, New Jersey, New York, North Carolina, Ohio, Pennsylvania, South Carolina, Tennessee, West Virginia and Virginia. No illnesses have been reported to date. For more information, a complete list of products can be found on the Food and Drug Administration website.
While the listeria bacteria usually only causes fever, headache, stiffness, nausea, abdominal pain, and diarrhea, it can be very dangerous for children, the elderly, or those with weakened immune systems. It is also particularly dangerous for pregnant women, who are 10 times more likely to become infected. It can cause stillbirths or miscarriages and can also be passed on to the developing fetus. Again, no illnesses have been confirmed to date. If you are concerned, please return these items to the place of purchase or contact the company directly. Recalls are concerning, but there are ways to keep you and your family safe. For more info, read What To Do After A Food Recall.
This article originally appeared on 12Tomatoes, written by Kristy Norrell.
Tags:
Fresh Fruit
,
recall
,
Walmart
Walmart Knows If Your State Loves Hot Dogs Or Burgers (Photo)
category:
By Cooking Panda
Between elections, politics, statistics and more, we've seen plenty of divides among states. Now it's time to talk about one that's especially interesting (and relevant during grilling season): our great nation's inclinations for hamburgers versus hot dogs.
Walmart has rung in the summer with an interesting state-by-state study of meat preferences, tracking its nationwide sales of burgers and dogs for one month. The results show that only 11 states prefer wieners to patties, according to Brand Eating.
Among those states who pledged allegiance to the dog were Alaska, Hawaii, Michigan and Alabama.
Out of 39 burger-loving states, Texas (unsurprisingly) bought the most hamburger and hot dog buns for its meaty endeavors. Florida came in a close second.
Hawaii showed the most equal preference out of all the states for hamburgers and hot dogs, but the condiment battle was not nearly as close. Across the country, ketchup clearly beat mustard for America's favorite spread.
Walmart also kept an eye on side-dish sales and found that each state likes to pile plenty of potato salad and coleslaw onto their plates of grilled goods.
The store did not provide much commentary with their study, so I'll contemplate some of the underlying implications of these results.
It makes sense that burgers lead the nation in grilling purchases, as the burger is an even more versatile palette than the hot dog. While hot dogs can be piled to the sky with kraut, relish, chili and more, burgers have the luxury of being much more malleable. For one, their flavor profiles can be completely changed with various types of seasoning, cheese, vegetables, proteins and breads. You can stack meat, avocado, red onion, bacon, lettuce, tomato, an egg and mayo on a burger, but you just can't do the same for a dog.
It's only fitting that ketchup trumps mustard, as only a brave minority can tolerate the horseradish quality of the yellow condiment. And coleslaw and potato salad are refreshing yet indulgent, so it's no surprise they're two favorites.
If this post has you yearning for the grill, check out this recipe for bacon-wrapped hot dogs and cheeseburger sliders, and have a happy and safe Fourth of July.
Source: Brand Eating / Photo credit: Pixabay, Walmart via Brand Eating
Tags:
hamburgers
,
hot dogs
,
states
,
surveys
,
Walmart
Would You Try Walmart's Croissant-Tortilla Hybrid?
category:
By Cooking Panda
Food hybrids are really all the rage these days; if you can dream of smashing two foods together into one new dish, you can probably find it.
Take the cronut, for example; the donut-croissant mashup that has stolen the hearts of many pastry lovers worldwide.
And how about the Burger King Chicken Fries? Sure, they're essentially just elongated chicken strips plopped into a french fry box, but people seem to adore them.
And now, Walmart is joining the food hybrid party with its very own contribution: the Crotilla!
According to Delish, the Crotilla, which can be found in the bakery section at Walmart, is part "cro" (as in croissant) and part "tilla" (as in flour tortilla), and is pronounced like "Crow-Tee-Ah"!
I'm not sure why this needed to exist, exactly, but I'm not totally against it. True, flour tortillas have always served me well for burritos, wraps and tacos; and croissants have often been my go-to choice if I'm really craving some sort of indulgent carb before lunchtime.
However, perhaps I'm just getting too caught up in trying to marry the two different bread products together, and thinking how perfect they are on their own. Maybe I need to expand my imagination enough to envision what a combination of the two could become.
For instance, naan, injera and pita all serve distinct purposes, and all have special places in my heart. Perhaps the new Crotilla, which is said by Delish to be pillowy, flaky and buttery, will prove itself to be the perfect accompaniment for a new dish I haven't even dreamed of yet.
The Crotilla has been available in around 800 Walmart stores nationwide since April 17, and retails at $3.98 for an 8-pack.
Have you picked up a pack of Crotillas yet? And if you have, I'm super curious: What makes it distinct and do you think it stands out from all the other popular bread-based products out there? How have you been using your Crotillas?
Source: Delish / Photo Credit: Walmart via Delish
Tags:
Cronut
,
Crotilla
,
food hybrid
,
tortilla
,
Walmart
These Poor People Found A Dead Bat In Their Salad!
category:
By Cooking Panda
Salads are freaking great, ya'll, and I'm tired of hearing they're only fit for rabbits.
Seriously; they make you feel great (when fresh and done right) and are often chock full of healthy ingredients that taste amazing when all combined in a big bowl and mixed with a dressing.
Plus, salads can be customized to fit everybody's preference: Vegetarians, vegans, gluten-intolerant folk and people who don't really want a salad but just want some lettuce with their toppings (chef's salad, anybody?) can typically find a salad to suit their needs.
However, there's nothing worse than buying a prepackaged spring mix salad and beginning to devour it only to discover a decomposing bat lurking inside of it!
Oh my gosh.
According to USA Today, The CDC reports that two Floridian diners made the mistake of digging into a salad they bought at Walmart only to find a dead bat tucked within all those supposedly healthy greens.
They sent the dead bat to a CDC lab to test for rabies; additionally, Fresh Express recalled the entirety of its Organic Marketside Spring Mixes that had a "best if used by" date of April 14 to try to ensure this didn't happen again.
"Fresh Express takes matters of food safety very seriously and rigorously complies with all food safety regulations including the proscribed Good Agricultural Practices," they said in a statement, per USA Today.
Walmart officials also got right to work to make sure anybody who bought one of the mixes in the southeastern U.S. was refunded pronto, but seriously — those two poor people must be so upset!
The CDC is checking the victims for rabies, which are sometimes found in bats, but at the moment the two seem to be all right, although probably distressed.
Source: USA Today / Photo Credit: Martin Legeza/Instagram
Tags:
bat
,
fresh express
,
rabies
,
salad
,
Walmart
Walmart Is Giving Away Free Cupcakes On March 12!
category:
By Cooking Panda
Sometimes big companies seem like the bad guy, yet every so often one of them will do something that temporarily makes them seem like heroes.
Let's face it — it's been a long week, right? Heck, it's been a long year, and it's only the beginning of March. Even though 2017 is still young, plenty of you out there could really use a break, or at least some sort of sweet gesture to help you refuel, recharge, and get ready to face tomorrow head on with your spirits high.
Walmart, this time, is here to help you do just that.
The company has decided to spread some happiness with their latest incentive: a huge birthday celebration for everyone in the form of free cupcakes.
So, if you find yourself in the mood for a cupcake on March 12 — either because it's your birthday, or you just want something sweet, or for any reason at all — Walmart wants to give you one. For free.
Yes, seriously.
On Sunday, March 12, from noon to 4 p.m., if you show up at a Supercenter location Walmart, you can choose between vanilla and chocolate cupcakes with either white buttercream or whipped icing, and receive your choice of cupcake for free.
"In total, the company expects to giveaway nearly 3 million cupcakes in one single day," a Walmart spokesperson wrote in an email to Popsugar.
We hope you all go enjoy this sweet opportunity!
Source: Popsugar / Photo Credit: Valentina Castro A/Instagram
Tags:
cupcake
,
free dessert
,
march 12
,
supercenter
,
Walmart
M&M's Newest Limited Edition Flavor Is Strawberry Nut
category:
By Cooking Panda
What in the world would we do without the magnificent candy sleuth Instagram account called Candy Hunting?
Without them we would not even know that there is, in fact, big news out in the chocolate world, folks — namely that M&M's has just released a brand spanking new flavor that looks absolutely delicious and is available at both Walmart and RiteAid.
Heck yes!
Introducing: The Strawberry Nut M&M's, which is similar to last year's limited-time Chocolate Covered Strawberry M&M's flavor, only now has had an update and comes stuffed with peanuts.
"There's a new addition to the flavored Peanut M&M's lineup! Found these new Strawberry Nut M&M's at Walmart!" reads the Candy Hunting Instagram post, which has received more than 3,700 likes as of March 7, 2017.
"Looks yummy, do they have a pb&j vibe?" one user asked, which is honestly our question too. M&M's is constantly coming out with new flavors to appeal to the masses, and sometimes they are a hit, while other times they are a huge flop.
The thing is, nobody knows just how long these babies are going to stay on shelves. We can see by the packaging that the Strawberry Nut M&M's are a limited-edition flavor, so head on over to a RiteAid or a Walmart near you ASAP in order to taste test the new flavor before they're all sold out or potentially no longer sold at all!
Are you excited for the newest addition in the already illustrious M&M's lineup? And if you've tried the new M&M's, what is your opinion on the flavor? Let us know!
Source: Candy Hunting/Instagram / Photo Credit: Candy Hunting/Instagram
Tags:
candy
,
limited edition
,
M&Ms
,
strawberry nut
,
Walmart
Walmart Just Got Busted For Selling Fake Craft Beer
category:
By Cooking Panda
Now we don't pretend to know everything, but we can say with fair certainty that the first thing most people think of when they hear the word "Walmart" isn't craft beer.
Actually, we're willing to bet that a lot of Walmart shoppers out there probably buy their craft beers from different stores, only choosing to buy big-name brews from the chain.
However, as it turns out, Walmart actually was selling its very own line of craft beers — and it just got sued over them.
FoodBeast reports that the giant retailer sold a line of private-label "craft beers" and is now getting sued because customers feel deceived, saying that the craft beers really weren't craft beers at all.
Essentially, Walmart claims that it partnered up with a craft brewing company called Trouble Brewing; only the company that shows up in Walmart's paperwork for the "craft beer" alcohol is actually called WX Brands. What's more, even though WX Brands definitely develops an area of different alcohols internationally, it actually doesn't fit into the legal definition of craft beer, which requires less than 6 million barrels of beer to be crafted per year, as well as less than 25 percent of a non-craft brewer to own it.
Whoopsie.
Additionally, the only Trouble Brewing company that actually exists is an Irish Brewery and totally doesn't match up with any of the info Walmart gave about its partner!
So Walmart was being super shady by putting its "craft beers" next to other real craft beers in the stores, and then hiking up their fake "craft beer" prices — that includes Walmart's Cat's Away IPA, After Party Pale Ale, Round Midnight Belgian White and Red Flag Amber beers.
FoodBeast reports that consequently, a group of residents from Ohio has brought a class-action lawsuit against Walmart, and is seeking compensatory and punitive damages, as well as an injunction that seeks to prevent the chain from labeling their beers as craft.
We guess we'll stick to purchasing all of our craft beers from more reputable and established retailers from now on!
What do you think of Walmart's deception?
Source: FoodBeast / Photo Credit: Amanda/Instagram
Tags:
craft beer
,
Lawsuit
,
trouble brewing
,
Walmart
,
wx brands
Patti LaBelle's Banana Pudding Looks Amazing
category:
By Cooking Panda
If you love Patti LaBelle's cakes, pies and cobblers as much as you love her singing, you're in luck!
Brand Eating reports that LaBelle is releasing a new Banana Pudding dessert exclusively available at Walmart. The dessert comes in a 36-ounce tub, and features banana pudding mousse and crumbled vanilla wafer cookies, with 12 whole wafers on top, along with a sprinkling of even more crumbled wafers, making for a nice crunchy vanilla crust topping.
The new pudding will be available at Walmart stores nationwide for $9.98. While you're shopping for this new dessert, make sure and try some of her others, too. That is, if you haven't already. Her other hits include sweet potato pecan pie, peach and apple cobblers, sweet potato pound cake, caramel cake, vanilla pound cake, berry cobbler and sweet potato pie.
According to Walmart, LaBelle's 1-pound, 15-ounce apple cobbler is baked with two crusts and packed full of Fuji apples. The berry cobbler is filled with raspberries, blueberries, blackberries and boysenberries for a sweet and tangy pie treat, and an authentic berry taste. The peach cobbler was reportedly inspired by one of her most popular recipes; it has a top and bottom crust and, of course, it's packed full of delicious cooked peaches!
The caramel cake consists of three layers of yellow cake filled with caramel buttercream, and is topped off with caramel icing. The 21-ounce sweet potato pie is made with California-grown sweet potatoes, and a healthy serving of butter and spices. Yum! The vanilla pound cake comes in bundt form and is topped with poured vanilla icing. This one is perfectly and scrumptiously simple!
I could go on all day describing each of the delicious-sounding desserts in Patti LaBelle's line, but descriptions won't do them justice. You'll have to actually go and taste them for yourself! You'll be able to find the Patti LaBelle selection in the bakery section of your local Walmart. Go and see what you think!
Sources: Brand Eating, Walmart (2) / Photo Credit: Walmart
Tags:
Banana Pudding
,
desserts
,
Patti LaBelle
,
Walmart
How Irresistible Do These Valentine's Day Treats Look?
category:
By Cooking Panda
It's that time of year again folks!
The end of January 2017 is upon us, which means the next big holiday slated to hit calendars — Valentine's Day — is fast arriving.
Whether you choose to participate in the festivities or not, plenty of companies globally decide to unleash new products in honor of the celebration (and likely trying to capitalize on one of the many "Hallmark Holidays" designed to get us to spend money).
One such chain that is pumping out a slew of Valentine's Day-themed treats is Walmart, and if we're being totally honest, we're pretty excited about some of the items slated to hit the shelves.
For example, do these white chocolate cheesecake-flavored M&M's look delicious or what?
Described by Brand Eating as a blend of both graham cracker and cheesecake flavors mixed in with a white chocolate center, and all encased in a delicious candy shell. The 8-ounce bags retail for $2.88 and come in shades of red and pink for Valentine's Day.
Next, Hershey's is debuting some Conversation Kisses that come in a record-and-play box that will help you record a message to your Valentine, which is ultra-sweet. The milk chocolate candies inside the Conversation Kisses Recordable Message Heart box are wrapped in foil and have classic messages printed on them like "XOXO", "UR SWEET" and "Hug Me". A 10-ounce box will run you $14.98.
Lastly, check out this adorable Skittles Valentine's Heart Box; they're just your typical Skittles candy, although the packaging is hard to resist. Two heart-shaped boxes come in each 8-ounce package, which you can buy for $5 at Walmart.
What do you think? Are you excited for Valentine's Day?
Sources: Brand Eating / Photo Credit: Walmart via Brand Eating
Tags:
Hershey's
,
M&Ms
,
Skittles
,
valentines day
,
Walmart
You Can Get Award-Winning Wine At Walmart For $7 (Photo)
category:
By Cooking Panda
You might not think of Walmart as the hot place to go when you need to pick up wine that doesn't come in a box or isn't nicknamed "Chuck," but then again, you probably haven't tried their Malbec yet.
In the event that you need trash bags, kids' toys and a bottle of wine that tastes better than your average $5.00 water and vinegar mix, consider dropping $7.00 on La Moneda Reserva Malbec, which is now exclusively available at more than 500 Walmart stores across the country, according to Thrillist.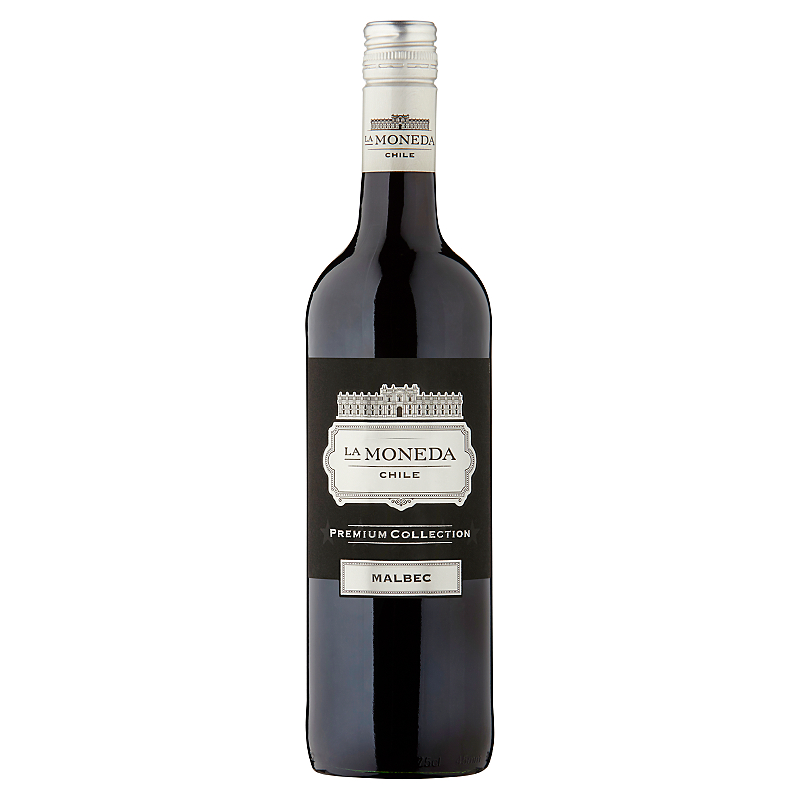 The bargain bottle was named "platinum best in show" at the 2016 Decanter World Wine Awards earlier in the year and also won a blind taste test in a separate competition to find the best sub-$18.00 wine out of some 16,000 entries.
What can you expect if you have a sip? According to Walmart, you'll find "a deep purple color with violet tints, rounded and velvety tannins, complex plum and fig spice flavors with an excellent lengthy finish." And the company said it pairs great with dark chocolate or barbecued meats like pork and lamb.
If finding good wine in the sub-$10.00 price range is novel to you but you don't have big bucks to drop on grape juice, it turns out that a few simple tricks (and of course, trial and error) will help you sort through the endless bottles to find some true stunners that taste like they are worth a bit more than their price tag. Consider buying wine that comes from countries like Spain, Chile and Portugal — rather than hyped regions like France and the U.S., recommends Wine Folly. Oh, and learn your grapes, too. Wines like Carmenere, Primitivo, Tannat, Bobal, Nero d'Avola and Petite Sirah are going to give you a lot more bang for your buck than something you hear about all the time like Cabernet Sauvignon. Or just, you know, stick to the Walmart stuff.
Sources: Thrillist, Wine Folly / Photo Credit: wine_islove/Instagram, ASDA
Tags:
award-winning wine at Walmart
,
cheap wine
,
Malbec
,
Walmart
,
where to get good cheap wine
Pringles Goes Sweet For The Holidays
category:
By Cooking Panda
These days, it feels like every brand out there is subscribing to the more-is-more ideology when it comes to expansion; just look at all the different sizes and flavors of Oreos that exist, if you need an example.
Last autumn, Pringles — which already boasts a spanning array of different savory flavor varieties — decided to incorporate sweet chips into its already impressive lineup. For those of us who were fans of Pringles' original flavor combos, the idea seemed gratuitous, but time has shown that the white chocolate, salted caramel, and pecan pie flavors have actually sold very well.
Now, Delish reports that Pringles is adding yet another seasonally sweet flavor, and it's a personal favorite: Sugar Cookie!
Take a second to appreciate how genius this idea is, solely because of its simplicity. Sugar cookies work because they are simple and sweet; they don't require balancing a complex and large amount of spices to work. They're sugary and buttery, and a true crowd pleaser. Basically, the sugar cookie is a sweet counterpart to the original Pringles flavor. They just work.
At the very least, it's a bold move on Pringles' end to resist pumpkin-spicing up its iconic, sturdy chip for the holiday season, like so many other chains and companies have decided to do. We gotta commend them for trying something new.
The Pringles Holiday 2016 limited-edition flavors will be available nationwide soon; if you're interested in trying out the Sugar Cookie flavor, it will be available exclusively at Walmart. The other two flavors, however, are more widely available at Dollar General stores. All of the cans will retail for $1.69 in early November.
P.S. — how cute are those limited-edition Pringles cans? They're wearing actual sweaters!
Source: Delish / Photo credits: Pringles via Delish, Pringles/Instagram
Tags:
holiday flavors
,
limited edition
,
pringles
,
sugar cookie
,
Walmart
Walmart Disgusts Customers With Disgusting 9/11-Themed Soda Display
category:
By Cooking Panda
How on earth did anybody think this was an appropriate idea?
Shoppers are horrified by Walmart's supreme lack of tact once again after the chain unleashed one of its most disgusting marketing fails to date: several hundred 12-packs of Coke products stacked into a Ground Zero diorama.
Above the display, a banner bearing both Coca-Cola and Walmart's logos hangs, while printed over an image of the pre-9/11 New York City skyline the words "We Will Never Forget," are written in a bold white font. The top right corner brings home the point: "9-11-01."
Then, underneath the banner, a sign announcing that Coca-Cola 12 packs are on sale for $3.33.
"Rollback," reads the sign.
A man named Shawn Richard noticed the gross tribute on Sept. 6, while on vacation in Florida with his girlfriend.
"We stopped and stared at it like, oh my god," Richard told BuzzFeed News. "Nobody seemed to be noticing it, it wasn't very crowded, and I got the feeling that it had just been assembled. So we took some pics and went on our way."
After tweeting the photo of the display — soda boxes mounted to resemble the Twin Towers — the post immediately went viral, with thousands retweeting it in just two days.
Florida c'mon man pic.twitter.com/HU4y2rxgFG

— Shawn (@online_shawn) September 6, 2016
It should come as no surprise that countless people were outraged.
This year make Walmart your 9/11 party supply headquarters! https://t.co/ZL63qVVaC0

— Adam Tod Brown (@adamtodbrown) September 8, 2016
i mean actually this is the most american thing i have ever seen, and it makes me want to die slow and painful https://t.co/kzcLvnjFjh

— debbie down n out (@_mxdean) September 7, 2016
what is this headassery https://t.co/HZnDDgQFyW

— charlie (@marlboro54s) September 7, 2016
Per BuzzFeed, a Walmart spokesperson told the Orlando Weekly that the display is being taken down, noting that the Coca-Cola company is usually the mind behind the display ideas; Walmart then chooses whether or not to approve.
Clearly, it chose wrong this time.
Sources: BuzzFeed / Photo credit: Shawn Richard/Twitter
Tags:
Coca-Cola
,
marketing fail
,
Walmart