Chocolate Cheesecake Waffles
category:
By Cooking Panda
Pumpkin Pie Waffles
category:
By Cooking Panda
Cherry Chocolate Chip Waffles
category:
By Cooking Panda
Leggo Those Eggos! Kellogg Recalls Eggo Waffles Across 25 States
category:
By Cooking Panda
Bad news for all the Stranger Things fans out there: If you were planning on dressing up as Eleven for Halloween, you might want to think twice.
On Sept. 19, Kellogg Company issued a voluntary recall on approximately 10,000 of its Kellogg's Eggo Nutri-Grain Whole Wheat Waffles due to potential health risks.
So, you know, yeah: Leggo my Eggo! But then do me a favor and throw it in the trash.
The recalled Eggo waffles are said to have the potential to be contaminated with Listeria monocytogenes, which can cause serious and sometimes fatal infections in young children, frail or elderly people, and individuals with weakened immune systems. While the company has received no reports of illness as of its Sept. 19 press release, it's reassuring to know that it's not taking any chances with its consumers' health and safety.
Now, onto the formalities:
The recalled product was distributed to customers and retailers in 25 states (CO, CT, DE, GA, IA, IL, IN, KS, MA, MD, ME, MI, MN, MO, ND, NE, NH, NJ, NY, OH, PA, VA, VT, WI, WY). The affected product's UPC code is 38000 40370, and it's "Better If Used Before Date" is Nov. 21 and 22, 2017.
I guess we're all having pancakes for breakfast.
Sources: Kellogg Company Newsroom / Photo credit: Leggo My Eggo
Tags:
eggo
,
kellogg
,
recall
,
stranger things
,
waffles
Chicken And Waffle Cupcakes
category:
By Cooking Panda
17 Mouthwatering Gifs Worthy Of The Glory That Is National Waffle Day
category:
By Cooking Panda
On this momentous August 24, we have an extra special message for you:
That's right, it is National Waffle Day, and we are ready to turn up!
We love waffles so much, we'd bathe in them if we could.
We're pretty much always mentally prepared to dump a gallon of syrup onto a sky-high pile of pillowy, crunchy waffles at a moment's notice.
Because waffles are just so…
Incredibly…
Perfect!
If you are a true waffle lover, you fondly remember that landmark moment in your life when you got a waffle maker and realized that you are an adult now.
Which means that you can make all your syrup-pocketed dreams come true in a matter of minutes.
Or even seconds!
Whether those dreams are sweet and topped with chocolate and strawberries…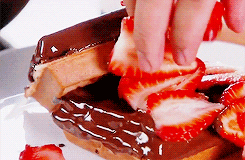 And maybe a little ice cream…
Or savory like these divine pizza waffles…
Or shameless like this ramen waffle breakfast sandwich, because why on earth not?
Get as crazy as you want — we won't shame you for your waffley desires.
But one thing's for sure — there's nothing like a good old tried and true classic.
You know what you need to do now.
Need waffles now? So do we. Here's what we're making right now. Feel free to join us!
Jalapeno Cornbread Waffles
Monte Cristo Waffle Sandwich
Featured Photo Credit: Cesar Gonzalez Cocinero​/Instagram
Tags:
food gifs
,
foodporn
,
Hump Day
,
National Waffle Day
,
waffles
Jalapeno Cornbread Waffles
category:
By Cooking Panda
Monte Cristo Waffle Sandwich
category:
By Cooking Panda
Neapolitan Waffles
category:
By Cooking Panda
This Fried Chicken N' Waffles Sandwich Is Mind-Blowingly Decadent
category:
By Cooking Panda
Get ready for a sandwich the likes of which you've never seen before. This a the fried chicken n' waffle sandwich — a decadent, flavorful meal consisting of delicious spicy fried chicken and crispy bacon sandwiched between two beer waffles. Yes, you read that right. Beer. Waffles.
The fluffy waffles are made using nonalcoholic beer and classic waffle mix. And in case you didn't think that was good enough, the whole thing is topped with maple bourbon butter syrup for a sweet finish to a rich, satisfying sandwich that will leave you wanting more.
Ingredients:
12 slices bacon
1 tablespoon butter
4 slices onion (from 1 medium onion)
Spicy Fried Chicken:
4 boneless skinless chicken breasts (4 oz each)
1/4 teaspoon salt
1/8 teaspoon freshly ground black pepper
3/4 cup Original Bisquick® mix
1/2 teaspoon chipotle chile powder
1 egg
1/2 teaspoon chipotle chile powder
1/4 cup vegetable oil
Maple-Bourbon-Butter Syrup:
3/4 cup pure maple syrup
2 tablespoons butter
1 tablespoon bourbon whiskey
Beer Waffles:
2 cups Original Bisquick® mix
1 egg
1 1/2 cups regular or nonalcoholic beer (12 oz)
2 tablespoons vegetable oil
Directions:
In 12-inch skillet, cook bacon over low heat 8 to 10 minutes, turning occasionally, until crisp. Drain on paper towels. Set aside.
2. In 6-inch skillet, melt 1 tablespoon butter over medium heat. Cook onion in butter about 10 minutes, stirring frequently, until golden brown. Set aside.
3. Between pieces of waxed paper or plastic wrap, place each chicken breast smooth side down; gently pound with flat side of a meat mallet or rolling pin until about 1/2 inch thick. Season chicken with salt and pepper.
4. In shallow bowl, mix 3/4 cup Bisquick mix and 1/2 teaspoon chipotle powder. In another bowl, beat egg and remaining 1/2 teaspoon chipotle powder with fork. Dip chicken into egg mixture; coat with Bisquick mixture.
5. In 12-inch nonstick skillet, heat 1/4 cup oil over medium heat. Add chicken; cook 8 to 10 minutes, turning once, until chicken is no longer pink in center and coating is golden brown. Meanwhile, in 1-quart saucepan, heat maple syrup and 2 tablespoons butter to boiling. Remove from heat; stir in bourbon. Set aside.
6. In medium bowl, stir waffle ingredients until blended. Pour slightly less than 2/3 cup batter onto center of hot waffle iron. Close lid of waffle iron. Bake about 5 minutes or until steaming stops. Carefully remove waffle. Repeat with remaining batter, making 8 waffle sections.
7. To assemble: Place waffle section on plate; top with 3 slices bacon, 1 piece chicken, onion slices and another waffle section. Cut each sandwich in half, serve with syrup for dipping.
Source: Betty Crocker Recipes via Flickr / Photo credit: Betty Crocker Recipes via Flickr
Tags:
fried chicken
,
prepare
,
sandwich
,
waffles