KFC Makes Scratch-And-Sniff Cards For Valentine's Day (Photos)
category:
By Cooking Panda
KFC is a big player among fast-food companies that regularly execute absurd promotional stunts for the sake of marketing gimmickry and a good laugh. Of the company's comprehensive playbook, we've seen a finger-lickin'-good sunscreen (to protect your epidermis from looking like crispy chicken thighs), a "chicken couture" fashion line that included mustard yellow sweaters, bright fried-chicken socks, chicken sandwich jewelry, and a creepy, Bioshock-esque VR game teaching Colonel Sanders' famous chicken recipe to would-be chicken fryers.
The marketing masterminds at KFC's corporate headquarters are a team of wildcards.
So, in the spirit of Valentine's Day, the fried-chicken chain pulled more tricks out of the hat by joining tender love with tender chicken. From February 12 through 14, KFC will be giving away free scratch 'n' sniff Valentine's Day cards with any purchase of a $10 Chicken Share.
These odorous chicken-grams, marketed as a kind of a greasy aphrodisiac, are scented with the "heavenly aroma of the Colonel's 11 herbs and spices," according to a press release, a clever ploy to lure last-minute planners to go straight for the fried-chicken bucket. Couples can share their love of fried chicken together in an all-in-one excursion; no reservations needed.
This marketing schtick will ostensibly work on couples who want little to do with Valentine's Day pageantry minus the cheesy sentimental cards. Each heavily scented Valentine's Day card features a Colonel Sanders one-liner that any KFC-lover will appreciate.
"You have the secret recipe to my heart," reads one sappy love line along with "I'd be with you all the time if only I could. You make me feel so finger-lickin' good."
The best Valentine's Day gifts are the quirkiest and this one comes out on top. Romantic? Far from it. However, Colonel Sanders makes an excellent point about convenience and gives us a perfect reason to embrace the brand's finger-lickin'-good chicken on this obligatory holiday.
Set the mood, light a candle, spread out some Chicken Pattern Pillows, and fill the air with bouillon cubes and freshly fried chicken.
Source: PR Newswire / Featured Image: Terence Ong/Wikimedia Commons
Tags:
KFC
,
Scratch 'n' Sniff cards
,
valentines day
10 Over-The-Top Desserts To Win Over Your Valentine (Recipes)
category:
By Cooking Panda
Happy Valentine's Day!
Whether you are looking for a way to impress your date, or you are spending the evening alone, there's really no situation that can't be improved by a super over-the-top decadent dessert, right? Make one of these loaded dishes for your Valentine, even if that person happens to be you — these sweet treats are great company.
Soft pretzels are delicious, but they can be a lot of work to boil and bake. Fortunately, this super simple recipe for fluffy pretzels topped with chocolate chips, roasty toasty marshmallows and to-die-for chocolate sauce is as easy as it gets.
What better way to say "I love you" than by frying sweet dough into a heart shape?
The rich cheesecake filling is surrounded by silky chocolate mousse, creamy chocolate ganache and a thick Oreo crust, all combined to make the most glorious cheesecake you will ever taste.
This stunningly festive, bright red cake takes a few shortcuts, using red velvet cake mix, instant pudding mix and evaporated milk, but you'll never know it with these rich, sweet results.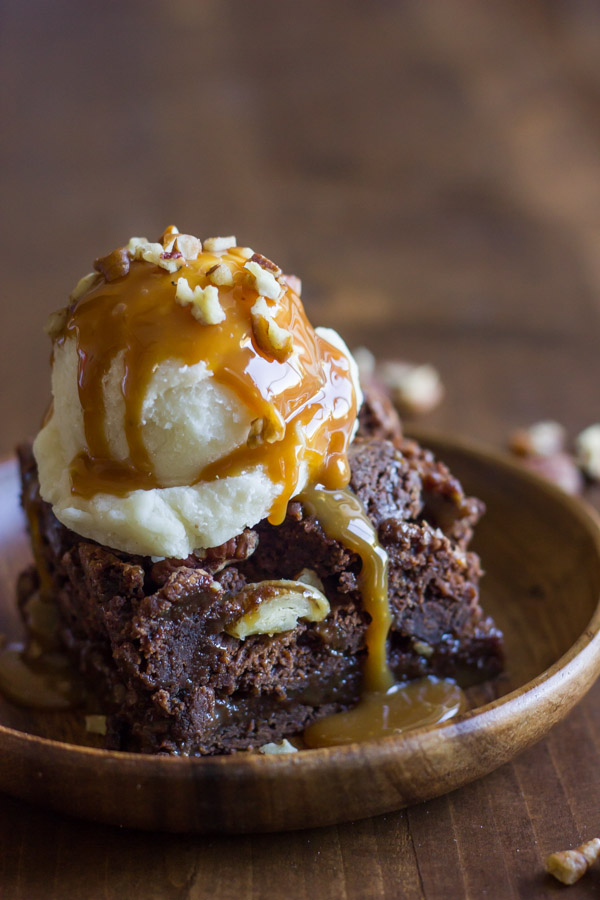 Craving something rich and fudgy? These brownies get layered with caramel and pecans. The only downside is that you might have to share with someone.
We love red velvet on Valentine's Day — not only is the color perfect, but you also get that rich, luxurious chocolate that's perfectly romantic. If you want to make it even MORE red velvety, swap out the brownies for chunks of red velvet cake … or even red velvet brownies!
If you're obsessed with dunking your Oreos in peanut butter ala "The Parent Trap," you'll fall in love with these easy-to-make cookies stuffed with marshmallow fluff and peanut butter and covered in chocolate and sprinkles. What's not to love about this easy dessert?
This heavenly fried dessert takes only 10 minutes to make, so if you want to focus your evening on your Valentine, you'll have plenty of time to spend eating these together.
Cut out the work of baking a cheesecake by turning it into a sweet yet ever-so-slightly tart, sensual and luxurious way to plunk your pretzels or cookies. The best part? That unexpectedly perfect thin layer of jam between the cheesecake and fruit.
If these savory-sweet masterpieces don't elicit an on-the-spot proposal, we don't know what will …
Featured Photo Credit: Courtney/Pizzazzerie
Tags:
date night desserts
,
dessert recipes
,
loaded desserts
,
Tasty Tuesday
,
valentines day
6 Weeknight-Approved Dinners To Make For Your Valentine
category:
By Cooking Panda
Going out for Valentine's Day dinner is a real treat (plus, you can score some cool deals), but what if you're not in the mood to battle crowds, spend a bunch of money and stay out late on a weeknight?
If you want to impress your Valentine, consider forgoing a needlessly expensive night out and making the meal at home — you'll save a pretty penny, it will be just as delicious, and you'll have the extra "I did it myself" factor that will score you a lot of points.
You could spend a TON of money at a fancy restaurant, or you can grab a ribeye and lobster tail from the store and realize that these fancy foods are two of the easiest to make. They hardly require any seasonings, and all you have to do is sear one and steam the other. Enjoy with a dry red wine like Cabernet Sauvignon or Merlot to stand up to the beef, or get cute with some Champagne.
Sweet, pink and a little spicy, this light yet delicious dinner is particularly great if you want to spruce up a night in without derailing your weeknight healthy-eating goals. Serve this stunning fish with some easy roasted veggies and your favorite grain for the perfect compromise between a fancy evening and a routine dinner.
These lamb chops are not nearly as much work as they look. You can have the whole thing done in about 40 minutes, and most of that is oven time anyway. The delicious, buttery, herbed lamb is totally doable on a weeknight, and it will be sure to impress your date. Score!
If you're looking for something cute, festive and PINK, this is the way to go. In order to get that vibrant color, all the noodles need is a quick toss in the pan with beet puree and you'll be in business. Serve with a nice glass of rose wine or a cosmopolitan cocktail to complete the look!
Pulling that dough into the perfect heart shape is actually way easier than you'd think. Take additional shortcuts by buying or pre-making your dough. Serve with one of these unexpectedly great cocktail combos.
Scallops are super easy and pretty difficult to mess up — if you want to give them a little flavor, you can add a glug of white wine (make sure to cook out the alcohol), garlic and/or lemon, and feel free to swap out the ghee for butter if needed. However you do it, they'll be delicious! Consider making them heart-shaped for added effect, with only a tiny bit more effort.
Featured Photo Credit: Donna/Dang That's Delicious
Tags:
date night recipe
,
easy romantic dinner
,
easy Valentine's recipe
,
night in recipe
,
valentines day
11 Hot Deals You Can Score On Valentine's Day
category:
By Cooking Panda
Valentine's Day might be a polarizing holiday, but there's one thing that we can agree brings everyone together: food. Whether you love V-Day or hate it, you can totally score some sweet deals on Feb. 14 that absolutely won't break the bank.
So save a little dough and take your BF, GF, BFF, S/O, BGF, GH, DW, another chosen acronym or just yourself out to chow down on the big day of romance. Lucky for you, we've scoured the web for the best deals at restaurant chains, courtesy of People Food and Delish.
Auntie Anne's — Download the My Pretzel Perks app on your mobile device and get a BOGO free heart-shaped pretzel in either original or cinnamon sugar flavors.
California Pizza Kitchen — Craving pizza? On V-Day, you and bae can enjoy an appetizer, two entrees and dessert for just $35. Plus, enter a sweepstakes for a $100 gift card to sweeten the deal even more.
Fogo de Chao — Enjoy a meal for two at the Brazilian eatery and receive a voucher for a complimentary meal of up to $62.95, good through April.
Hooters — You can get a free order of wings! All you need to do is bring in a photo of your ex and destroy said photo on the premises, which is funny because we were planning on doing this anyway.
Macaroni Grill — $24 per person gets you both an appetizer, entree and dessert each. Not bad!
Qdoba — You can get a free entree at this fast-casual food joint — all you need to do is give somebody (anybody, including yourself for some weird reason) a smooch at the cash register.
Shoney's — Buy anything from their freshly prepared food bar and score a free hot fudge cake.
Schlotzsky's — Show up to one of their locations nationwide and receive a free 3-ounce bottle of their special hot sauce. No purchase required.
TGI Fridays — Enjoy their half-priced bottles of wine as well as their two-for-$30 deal that gets you two premium entrees and a dessert.
Waffle House — This breakfast chain is turning into a romantic sit-down restaurant for the night, complete with fancy tablecloths and ambient candles. While they aren't offering any discounts we know of, a date at Waffle House over a fancier place is sure to save you a ton of cash. Make reservations now!
White Castle — The burger joint is doing something similar to Waffle House by offering a sit-down dinner with table service and a special Valentine's menu. You can also make a reservation to this one, so get moving!
Sources: People Food, Delish / Photo Credit: Waffle House/Twitter
Tags:
deals
,
food deals
,
free food
,
Freebies
,
valentines day
This Valentine's, Snap A Pic Of Your Food, Not Your Bae
category:
By Cooking Panda
Now this is a trend I'm sure we can all get behind!
With Valentine's Day on the horizon, plenty of people are preparing for a special day that is made specifically to allow them to honor their significant others.
But for single folks, a-romantic folks, or folks in relationships who just don't want to celebrate the holiday for political, personal or other reasons, sometimes seeing all of the love plastered around social media on Valentine's Day can get a bit grating.
Here's the good news, though: Nobody gets tired of checking out delicious looking meals on their social media feeds!
Right? Right? Or have we been totally annoying all of our Facebook and Instagram friends?
As it happens, this year food pictures are slated to be more widely circulated around the web on Valentine's Day than are sappy romantic pictures between couples, according to a study by Co-op, per Metro.
Apparently, only 8 percent of couples are planning on posting photos of their #bae online on Feb. 14, whereas 20 percent of people are super pumped about posting a drool-worthy food snap instead.
That definitely makes the holiday media presence more inclusive, considering that even though not all of us are into Valentine's Day, pretty much everybody needs to eat.
Additionally, Co-op found that many of the most popular pastimes for couples involve food — we're talking what you snack on for Netflix and Chill, where you go (out for a romantic dinner), how you show your boo you care (breakfast in bed) and more.
How are you planning on spending your Valentine's Day? Are you going out, or staying in?
But most importantly of all — will you be uploading a sexy food photo to the web? Let us know in the comments!
Source: Metro / Photo Credit: CandyK.byKarolina/Instagram
Tags:
food pics
,
food trends
,
holiday
,
romantic
,
valentines day
Valentine's Day Food Bouquets Are Better Than Flowers (Photos, Video)
category:
By Cooking Panda
Flowers are so predictable.
Sure, they look and smell fantastic, but we've seen it all before. Spring is coming — let's be honest, a floral arrangement in your house will just make everyone's allergies go wild, and really what use is a bouquet? It's not like you can eat it.
Unless your date gets you a chicken nugget bouquet, that is.
Just think, you too can be as romantic as the couple of the year and their love story for the ages:
I told him I didn't like flowers, so he got me a bouquet of chicken nuggets, and I pretty much became the happiest girl on the planet pic.twitter.com/H6zLpud8wW

— Annika Aguinaldo (@AnnikaAgs) January 22, 2017
Is this story calling to you? Is there someone in your life that would enjoy an arrangement made out of fried chicken pieces? Then hop on board the hottest, tastiest trend of the year and put together something delicious.
But just in case your Valentine has seen the viral story about the chicken nugget couple, you might want to put your own spin on things.
Maybe add some bacon.
There are SO many awesome ways to give your date a bouquet that they can devour with gusto.
Want to make things look a little more traditional? Get some prosciutto or carpaccio or whatever your preferred sheet of tender meat happens to be, hold it down flat on a surface, and twist it into a rose. Below is the video of the slightly NSFW way to do it:
Once you master the technique, you can make something as absolutely gorgeous and romantic as this meat bouquet:
Looking for more inspiration? Here are some amazing ways you can forget about fruit and flowers and get some seriously awesome edible bouquets:
This one is particularly awesome if your valentine is a fan of real (or fake) flowers, as you can simply mix it in with candy for a double-win.
If somebody offers you this one, you should marry them on the spot. Just saying.
Or maybe just keep it sweet.
Let's face it: this person knows what their date really wants. Booze
The most romantic Lunchable ever…
Everybody knows the sweet-savory combination is where it's at.
You can even keep it simple and not even unwrap the food. It still looks amazing!
Whatever route you choose to take, we hope you have a deliciously romantic Feb. 14!
Featured Photo Credit: Annika Aguinaldo/Twitter
Tags:
edible bouquet
,
Food Bouquets
,
food gift
,
unique bouquet
,
valentines day
Starbucks' Valentine's Day Drinks Look Delicious!
category:
By Cooking Panda
Remember last year's molten chocolate lava drinks from Starbucks? They were introduced around Valentine's Day and were a major hit. Due to their popularity, Starbucks has decided to bring them back again this year!
Delish reports that the drinks will be available from Feb. 7 to Feb. 14, 2017, and will be available in latte, hot chocolate and frozen Frappuccino versions. The drinks debuted during Valentine's week of 2016, and it's no wonder they were such a hit. The actual dessert became a classic after its own debut in 1991. My only question is, why can't we have this drink all year 'round? Just make it red and sprinkle some red sugar crystals or something on top for V-Day, so that we can enjoy the taste of molten chocolate lava cake in drink form any time we'd like!
In case you'd like to make it at home, the Molten Chocolate Latte is made by melting chocolate chips, then stirring them with espresso and pouring steamed milk on top. Add a chocolate mocha drizzle to finish the dessert-in-drink-form.
The hot chocolate is similar; just remove the espresso, basically. Melt the mocha sauce along with the chocolate chips and mix that with steamed milk and you'll get the result you're after. Be warned though, you can only get that amazing espresso-mocha whipped cream on your drink at Starbucks. That is, unless you want to put forth a lot of extra effort to try and make that yourself. You're on your own in that venture, I'm afraid.
Finally, the Molten Chocolate Frappuccino is made by mixing coffee with the mocha sauce and chocolate chips and then blending that combination with milk ice. Pretty straightforward for a Frappuccino.
If you don't think you can make it to Starbucks during the week of the Molten Chocolate promotion, or if you aren't a big fan of chocolate, there are a couple of other seasonal treats you can try. For example, Starbucks reports that its first new drink of 2017 is the Cascara Latte. It's made with the taste of the coffee cherry, a sort of fruit that acts as the husk of the coffee bean as we know it. The latte is made with cascara syrup and topped with cascara extract and cane sugar.
You can also try the Smoked Butterscotch latte, also available as a Frappuccino. It's very sweet and extra delicious (I know, I tried it!). Both drinks are available while supplies last, so go and try them out!
Sources: Delish, Starbucks / Photo Credit: Starbucks via Delish
Tags:
coffee
,
espresso
,
limited edition
,
Starbucks
,
valentines day
Shred Your Ex's Photo For Free Valentine's Day Wings
category:
By Cooking Panda
If you're sad about being alone this Valentine's Day, perk up for free wings. All you have to do to enjoy yourself is bring a picture of your ex and shred it at Hooters.
Thrillist reports that the restaurant is offering this deal with a purchase of 10 boneless wings. Basically, you order the wings, shred the picture and then get another 10 boneless wings free of charge. Because, well, treat yourself! There's no need to hate Valentine's Day when there can be something in it for everyone. And who doesn't love free wings? There's an added satisfaction to taking the picture into Hooters and shredding it, since they put it through an actual shredder for you. I imagine that something about watching that happen just feels right.
For those who wish to stay in on Valentine's Day, you can even shred the picture virtually and print the coupon and get your wings to go. Who says eating wings at home alone can't be a good time? I mean, it's not what I prefer but maybe that's the right choice for some.
You have to go in on Feb. 14, 2017, to get the deal, according to Maxim, and you can get your free wings in any of the 17 sauces or any of the dry rubs your heart desires. You'll even get help from the Hooters girls, to make it a more lively and spunky event, rather than pitiful and heartbreaking.
The same deal has been enjoyed in the past, and last year over 25,000 single and lonely people took advantage of the online version of this deal on Valentine's Day.
And hey, if ripping your ex's picture to shreds isn't quite harsh enough for you, the deal offers the option to burn it as well. So don't knock the promo before you've tried it. Who knows what demons are still lurking under your calm exterior. I bet burning the picture might feel pretty nice.
The only catch to this (that I can imagine) is there are probably many people who would burn a picture of a current S.O., or an ex before an ex or something in order just to get free wings. Whatever the case, I guess the point is to enjoy your V-Day.
Sources: Thrillist, Maxim / Photo Credit: Hooters
Tags:
free food
,
free wings
,
hooters
,
valentines day
,
Wings
Fall In Love With Krispy Kreme's Valentine's Day Doughnuts
category:
By Cooking Panda
Roses are red
Violets are blue
Krispy Kreme has some cute
Valentine's treats for you!
If you are somebody who enjoys celebrating Valentine's Day with an assortment of red- and pink-colored snacks at your disposal, you're in luck. Krispy Kreme has just rolled out its new doughnuts for the Valentine's Day season, and they are everything you would expect: heart shaped, super sugary and sure to put you into a sweet, sweet doughnut-coma.
Sign us up!
The doughnuts are available now through Feb. 14, 2017, at participating shops in the U.S. and Canada, and the offerings include the Red Happy Heart Doughnut, the Pink Happy Heart Doughnut and the Sprinkled Heart Doughnut, which all look adorable and delicious.
The Red Happy Heart Doughnut and the Pink Happy Heart Doughnut are both in the shape of your standard heart, and come filled with Kreme. Additionally, they are unique in that they both come adorned with sort-of-creepy but sort-of-cute chocolate smiles and candy eyes.
D'aw.
The Sprinkled Heart Doughnut is similarly in a heart shape, but is dipped in white icing and then topped off with a generous heap of festive Valentine's Day sprinkles.
What do you think? Will you be heading over to a participating store and sampling these romantic, sugary treats?
Sources: Krispy Kreme / Photo Credit: Krispy Kreme Doughnuts/Facebook
Tags:
doughnuts
,
heart shaped
,
krispy kreme
,
seasonal
,
valentines day
Dunkin' Donuts' New Coffee Tastes Like A Brownie
category:
By Cooking Panda
What's your favorite thing about Valentine's Day? Mine's embracing my love of all things chocolate. Dunkin' Donuts is making the holiday even more exciting with the release of new chocolatey drinks and heart-shaped donuts.
According to Delish, America's donut chain is now pumping up its lattes with brownie and vanilla cupcake flavorings. Don't worry if you want the flavor, but not in a latte. You can get it in coffee and macchiatos too! Still yet, you can get them hot or cold, according to your preference.
The brownie flavoring is said to bring a richer, bolder flavor to coffee than the regular chocolate syrup adds. The Delish team says that the taste reminds them of ice cream. Yum!
Aside from new dessert beverages, Dunkin' is also coming out with some fun new donut varieties for Valentine's Day. Two types of chocolate-covered heart donuts will debut: one with raspberry filling and drizzled with strawberry icing, and the other with brownie-flavored buttercream filling and topped with chocolate icing and brownie crumbles. I know many would see this as a chocolate overload, but I bet these new treats taste phenomenal with vanilla cupcake iced coffee to wash them down.
Chewboom reports that there is also a fudge-croissant donut, made from a regular glazed croissant donut with fudge filling and white icing on top.
Some of Dunkin' Donuts' regular menu items already scream holiday spirit, like the many varieties of pastries (particularly the chocolatey ones), and the specialty drinks, like Oreo Creme-flavored lattes. However, if you're really looking for limited-edition specials only, then you might like to know that these new donuts and pastry-inspired drinks are only available until Feb. 14, 2017. While I'm sure they'll probably return next year or the year after, why wait? Whether you have a valentine this year or not, don't be afraid to treat yourself! The holiday is about love, so you can show your taste buds some love, too. We all deserve it from time to time.
Sources: Delish, Chewboom / Photo Credit: Dunkin' Donuts
Tags:
Dunkin' Donuts
,
limited time only
,
New Donuts
,
New Lattes
,
Special Edition
,
valentines day
How Irresistible Do These Valentine's Day Treats Look?
category:
By Cooking Panda
It's that time of year again folks!
The end of January 2017 is upon us, which means the next big holiday slated to hit calendars — Valentine's Day — is fast arriving.
Whether you choose to participate in the festivities or not, plenty of companies globally decide to unleash new products in honor of the celebration (and likely trying to capitalize on one of the many "Hallmark Holidays" designed to get us to spend money).
One such chain that is pumping out a slew of Valentine's Day-themed treats is Walmart, and if we're being totally honest, we're pretty excited about some of the items slated to hit the shelves.
For example, do these white chocolate cheesecake-flavored M&M's look delicious or what?
Described by Brand Eating as a blend of both graham cracker and cheesecake flavors mixed in with a white chocolate center, and all encased in a delicious candy shell. The 8-ounce bags retail for $2.88 and come in shades of red and pink for Valentine's Day.
Next, Hershey's is debuting some Conversation Kisses that come in a record-and-play box that will help you record a message to your Valentine, which is ultra-sweet. The milk chocolate candies inside the Conversation Kisses Recordable Message Heart box are wrapped in foil and have classic messages printed on them like "XOXO", "UR SWEET" and "Hug Me". A 10-ounce box will run you $14.98.
Lastly, check out this adorable Skittles Valentine's Heart Box; they're just your typical Skittles candy, although the packaging is hard to resist. Two heart-shaped boxes come in each 8-ounce package, which you can buy for $5 at Walmart.
What do you think? Are you excited for Valentine's Day?
Sources: Brand Eating / Photo Credit: Walmart via Brand Eating
Tags:
Hershey's
,
M&Ms
,
Skittles
,
valentines day
,
Walmart
New Start-Up Uses Lasers To Engrave Chocolate
category:
By Cooking Panda
Roses are red
Violets are blue
I don't have a card
Will chocolate do?
Here's hoping all you romantics out there are better poets than I am, because there's a new Kickstarter campaign for a start-up that wants to help you deliver heartfelt messages to your loved ones — on chocolate.
Founded by Michael and Jennifer Sauvageau, Noteworthy Chocolates is a "chocolate stationery" company that uses lasers to engrave writing on slabs of Fair Trade Certified™ chocolate sustainably sourced from Ecuador, according to their Kickstarter page. The "stationery" will be available in dark, milk and white chocolate varieties.
According to News Times, the sweet idea came to Michael last fall on his 45th birthday when, as he was leaving an events expo at the Javits Center, he realized that everyone there appeared to be handing out chocolate.
"I started wondering what kind of novel things we could do with chocolate and what we could do to personalize it," he told News Times.
And thus began the Sauvageaus' joint foray into the world of chocolate and lasers.
After months of research, the couple was able to test the feasibility of their idea at the Innovation Center, where they mastered a method that allows them to engrave their chocolates via laser without compromising their quality.
"It was really amazing to watch the whole process as it unfolded," Jennifer told News Times.
According to the start-up's Kickstarter, Jennifer is allergic to seven of the eight major allergens, which spurred the couple to consider carefully what kind of chocolate they felt was appropriate for the company. So, sourcing "premium soy-free chocolate" was a priority.
"[Our chocolate is] crafted in small batches in the French artisan tradition in the US with only the finest non-GMO ingredients," Noteworthy Chocolates' Kickstarter page explains. "The dark chocolate shares equipment with milk and white chocolate. Their facility is free of peanuts, eggs, wheat, shellfish and fish and the chocolate is soy, peanut and gluten-free."
As of April 28, their Kickstarter campaign to help fund the endeavor has raised nearly $14,000 of its $27,000 goal. There are 17 days left to donate.
"So far, everything has been improvised, so we're excited for what we can do with more space and professional equipment," the Kickstarter reads. "With your backing, we will create a certified kitchen and laser lab, purchase lasers and other equipment, order professional chocolate molds, develop the website, and then make and send all the yummy rewards!"
The Noteworthy Chocolates Kickstarter page can be found here, if you'd like to donate. And even if the recipient of your edible sentiments rejects you, you can rest assured that, at the very least, "no chocolate is harmed in the laser engraving process."
Sources: Noteworthy Chocolates/Kickstarter, News Times / Photo credit: Noteworthy Chocolates/Kickstarter
Tags:
chocolate
,
Kickstarter
,
start-up
,
valentines day