These 13 Tea GIFs Will Make You Feel Warm And Toasty
category:
By Cooking Panda
Care for a cup of tea?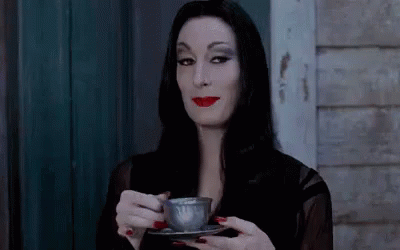 If you're looking for the perfect cold weather pick-me-up, you can't do much better than a piping hot cuppa.
Prepared just the way you like it, of course.
My throat feels soothed just looking at this stuff.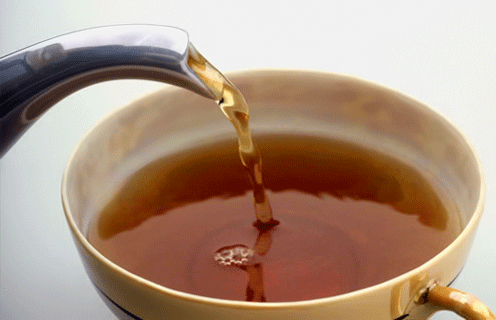 Seriously, I want to just breathe in this steam.
How is it that it both calms me down and gives me energy at the same time? Tea is magical, and it always knows just what I need.
Nothing beats that moment when you pour in the hot water and see that blossom of color mixing in the cup as your bag of dried leaves steeps.
Mesmerizing!
And then of course there's that moment when you add milk (if you're into that sort of thing!) and you get to stare as it billows out and mixes with the hot liquid.
It's so beautiful …
Make sure you get every last drop!
Go on, have another cup.
Ah, that's more like it. Drink up!
Featured Image: Pixabay
Tags:
food gifs
,
foodporn
,
Hump Day
,
Tea
,
tea gifs
You Need To Try Starbucks' New Pina Colada Drink (Photo)
category:
By Cooking Panda
You probably want a vacation right about now, but maybe you don't have the time. What if I told you that you can get a tropical trip in a cup for less than $5 and only 80 calories — and you can carry it into work with you?
You can, and it's called Starbucks' new Teavana Iced Pina Colada Tea Infusion.
The pleasantly peach-colored, summery beverage is made with Teavana pineapple black tea and coconut milk, finished with ice for a refreshingly cool drink. It's now on the permanent menu across the country.
With just 80 calories in a grande serving, the drink is a guilt-free alternative to a boozy pina colada. But since alcohol makes everything more fun, the tea infusion can always be used as a base for something a little stronger.
"It needs rum," one Reddit user determined. Rum it can have, indeed. Add a shot of your favorite brand to the Starbucks beverage, then throw the mixture into a blender with ice for a low-calorie cocktail. A cherry on top certainly won't hurt.
​Some fans suggest using other Starbucks drinks to heighten the flavor of the tea infusion. One smartie with a sweet tooth says to ask for the drink to be combined with the store's toasted coconut syrup and a vanilla Frappuccino for a creamy, dessert-like treat.
"It's delicious," they wrote.
Starbucks itself is urging customers to customize the drink with other teas, according to Delish. It can be mixed with any Teavana iced tea, like strawberry white tea or pineapple green tea, for a fruity caffeine fix. If you're into citrus, try it with lemonade for a tart Arnold Palmer situation.
The chain's coconut milk craze goes beyond tea infusions. Their new Iced Cascara Coconutmilk Latte combines the milk with espresso and cascara, the brown-sugary dried fruit from the coffee plant. Coconut milk is mixed with ice, a white chocolate mocha and espresso in the returning Iced Coconutmilk Mocha Macchiato — an alternative to the caramel macchiato for coconut lovers.
Suddenly craving coconut? We've got you covered. Get your fix with this coconut butter pecan praline sheet cake, coconut beer-battered shrimp or coconut banana cream pie.
Source: Delish / Featured image credit: Pixabay
Tags:
Coconut
,
Coconut Milk
,
pina colada
,
Starbucks
,
Tea
This Tea Maker Costs $400, And People Are Buying It
category:
By Cooking Panda
I don't know about you, but in my day, making tea was as cheap and simple as boiling water and pouring it into a mug.
In today's age of touch-screen, robot-powered, military-grade coffee makers and juicers, though, making a humble cuppa can require a tea-infusing machine that costs $400 and a full square foot of precious counter space.
Such is the case with Teforia's brand new brewing device, the Teforia Leaf. A so-called "personal tea master," it wants to take everything you thought you knew about tea and toss it to the wayside.
It is somehow cheaper than the "Classic" version, which will set you back $1,000. (???)
How does it work? Pour tea leaves into the device's "infusion globe," press a start button and watch in unprecedented awe as the tea goes through "several micro-infusions" that "pull the smoothest, most delightful flavors from the leaves" in four to seven minutes, according to an instructional video on Teforia's site.
If you've spent any part of your life worrying that you've never truly known a tea, the Leaf's "intelligent infuser" technology "unlocks each tea's true character," boasts the product description on Williams Sonoma.
Aside from the fact that the device costs as much as, like, six single-serve Keurigs (and likely does not qualify as a kitchen necessity), it also requires that you purchase and use only Teforia brand tea pods, or "Sips." Those don't come cheap, either, ranging from $1 to $6.50 each.
But I shan't lie, the Leaf's smart technology does look exceptionally cool. Each time you make a serving of tea, you scan the Sip's lid on the machine's leaf icon. The machine then recognizes the type of tea and prepares it with the ideal water temperature and brewing time, programmed by "tea masters and artisan growers."
I may be a somewhat intelligent person, but I know I don't know the exact degree at which I should heat water for my favorite Teavana Youthberry tea.
As far as being green, Teforia earns some applause. The Sips are completely recyclable and 90 percent compostable. But there's a catch! You must separate the pod into three parts, mail only the lid back to Teforia, throw the liner in the recycling and give the container to some eco-friendly neighbor who composts. Whew. I can already feel my tea-induced caffeine high wearing off at the thought of all that work.
Is it at least dishwasher safe? No! The carafe is made of borosilicate glass, for Pete's sake, and must be cleaned with a special microfiber cloth.
The Teforia claims to brew perfect tea, but not all who use it are impressed — even those who really know their tea. A "literal British person" did a blind taste test and thought Tazo Earl Grey was significantly better than the Earl Grey Sip, she wrote in a Gizmodo article.
If you're convinced that your trusty kettle is a thing of the past, purchase the Teforia Leaf here for $399. The deal includes the machine, a variety box of 15 Sips, a water filter and cleaning supplies.
Render Media is a participant in the Amazon Services LLC Associates Program, an affiliate advertising program designed to provide a means for sites to earn advertising fees by linking to Amazon. Our product recommendations are guided solely by our editors. We have no relationship with manufacturers.
Sources: Teforia (2), Williams Sonoma, Gizmodo / Photo credit: Pixabay
Tags:
expensive products
,
Tea
,
tea maker
,
Technology
,
teforia
Here's Why You Need To Start Microwaving Your Tea
category:
By Cooking Panda
For some reason, I grew up believing that microwaving your food and beverages wasn't quite as healthy for you as preparing them via some other cooking appliance. I was taught to boil water in a kettle rather than zapping it in the microwave, for example, and that steamed or stir-fried veggies not only tasted better but were more nutritious than if they were microwaved.
However, when it comes to tea, one food scientist named Dr. Quan Vuong believes that putting your tea in the microwave and heating it up that way actually unlocks the health benefits of your chosen brew better than any other way.
As a scientist at the University of Newcastle on the New South Wales Central Coast, Dr. Vuong's 2012 research focused on extracting compounds in tea and trying to isolate and purify the important components of both black and green tea that generated not only the best taste but the most antioxidant capacities.
Here's the method he found that worked best, as per ABC:
1) First, put hot water in your teacup with your preferred tea bag.
2) Next, heat in the microwave for 30 seconds or so on half-power.
3) Let your tea sit for one minute (you don't want a burnt tongue!)
4) Enjoy!
Dr. Vuong does say that you'll get the best health benefits if you're consuming at least three or more cups of the microwaved tea a day, but as long as it tastes good, any additional benefits are good benefits, right?
For those who enjoy adding lemon to their tea, he recommends that you also microwave the pomace of the lemon (the leftover pulp, skin and seeds after you've juiced a lemon) for five minutes. It apparently brings out the flavonoids, proanthocyanins, total antioxidant activity, and total phenolic content.
So get to zapping!
Source: ABC / Photo Credit: ABC (1)
Tags:
antioxidant
,
flavonoids
,
lemon
,
microwave
,
Tea
Tea 101: An Introduction To Tea
category:
By Cooking Panda
Tea dazzles us with its diversity. One plant, many dimensions. While the teas of the world reveal endless complexities and variations, all tea springs from a singular plant species: Camellia sinensis. The four varieties of tea include:
Average caffeine content is 50mg per 6-ounce cup.

Black tea is produced when withered tea leaves are rolled and oxidized, causing the leaves to turn dark. Once the desired color and pungency is reached, the tea is dried. A robust cup with bright or lively notes is produced.
Average caffeine content is midway between green and black tea.

Oolong gains its alluring character by withering and briefly oxidizing the tea leaves in direct sunlight. As soon as the leaves give off a distinctive fragrance — often compared to apples, orchids or peaches — this stage is halted. The leaves are rolled and then fired to halt oxidation when it is about halfway between black and green tea.
Average caffeine content is 25mg per 6-ounce cup.

Green tea is produced when tea leaves are exposed to heat, stopping the oxidation process just after harvest. This allows the leaf to retain its emerald hue. Next, the leaves are rolled or twisted and fired. A bright cup is produced with fresh grassy/vegetal notes.
Only trace amounts of caffeine.

100% white tea is the most minimally processed of all tea varietals. The fragile tea buds are neither rolled nor oxidized and must be carefully monitored as they are dried. This precise and subtle technique produces a subtle cup with mellow, sweet notes.
We invite you to explore The Republic of Tea and discover the many types of teas readily available to our Citizens. Steep in your favorite teapot or cup, then sip slowly. Find your smile and repeat.
Tags:
Black Tea
,
Green Tea
,
Oolong Tea
,
Tea
,
The Republic Of Tea
,
White Tea
How To Steep Iced Tea
category:
By Cooking Panda
You will extract the most pleasure from fine tea, steeped with care. The Republic of Tea's Minister of Fire & Water suggests the following step-by-step ritual for infusing hot tea before cooling and icing it:
1. Heat Your Water
It begins with the water, the element that brings tea to its full potential. Fresh water yields a better cup. We recommend using filtered, spring or bottled water.
Fill your kettle with fresh, cold water and heat to a rolling boil — unless you're making green or 100% White Tea. In that case, stop short of boiling to avoid "cooking" the delicate tea.
Iced tea requires a double-strength infusion (compared to hot tea). So plan on about two teaspoons of tea or herbs or two tea bags per 6-ounce cup. If using whole-leaf tea, place in a tea-infusing basket or teapot.
2. Time Your Steeping
Pour the water over the tea, cover if in a pot, and infuse to taste. Different teas take well to different infusing times. Experiment to find your ideal time, but take care — don't steep for too long, or you'll find your tea has gone bitter or acidic.
3. Enjoy Your Homemade Iced Tea
Remove the tea bag or infuser, or use a strainer for the leaves. Allow the tea to come to room temperature.
Serve in an iced tea pitcher and sweeten to your liking. Pour into an iced tea glass or cup served over ice. Now you can enjoy real bottled iced tea flavor by making it yourself at home. Sip and savor the nuances, the complexity and character. This is refreshment.
Tags:
iced tea
,
Tea
,
The Republic Of Tea
What Is Matcha?
category:
By Cooking Panda
Overview
Matcha is a special form of green tea where premium green tea leaves are stone-ground into a fine powder. Traditionally used in Japanese Tea Ceremonies, matcha has seen a recent growth in popularity due to its health benefits, distinct taste and versatility in healthy recipes.
History
Matcha has a long history that dates back as far as the 11th century in Japan. It is thought that a Zen Monk by the name of Eisai brought green tea seeds from China and began planting the tea in monasteries. Believing the tea leaves had the ability to promote longevity and to cure certain ailments, Eisai would crush the leaves into a rough powder and drink them blended in water. This first form of matcha was considered a precious medicine and was only consumed by a select few.
By the late 12th century, matcha was incorporated into Buddhist ceremonies, and by the 13th century, Samurai warriors had begun preparing and drinking matcha before battle. The Samurai warriors' tea traditions evolved into what is today known as the Japanese tea ceremony.
Caffeine Content
Unlike other teas, which use tea bags or tea leaves that are removed from the hot water after steeping, matcha preparation involves consuming the ground tea leaves themselves. Because you are ingesting the entire green tea leaf, the caffeine content is much greater than green tea that is steeped.
The caffeine content in matcha varies depending on the quality of tea leaves and whether you are making thick (koicha) matcha or thin (usucha) matcha. On average, matcha contains less than half the amount of caffeine per cup than in a similar-sized cup of coffee.
Health Benefits
Because matcha is prepared using the entire green tea leaf, it is thought to have as much as 10 times the antioxidants and health benefits of regular green tea. In addition, matcha is packed with catechin, or EGCg, which is one of the most powerful forms of antioxidants, known to help prevent and fight cancer. Other benefits of matcha include boosting metabolism, burning fat, and improving memory and concentration.*
How to Steep
Matcha is prepared by adding hot water to matcha green tea powder. To make your own matcha at home, we recommend adding about 1 teaspoon of matcha powder to a cup of hot, steaming water. Whisk vigorously with either a bamboo matcha whisk or electric frother until foamy on top. Matcha is traditionally served in a tea bowl. To make a matcha green tea latte, simply add some steamed milk and a drizzle of honey.
Recipes
Matcha powder is versatile in that it can be used in various recipes including smoothies, muffins, energy balls, puddings and soups. For over a dozen ways to enjoy, see our matcha tea recipes.
* These statements have not been evaluated by the Food and Drug Administration. This product is not intended to diagnose, treat, cure or prevent any disease.
Tags:
Matcha
,
Tea
,
The Republic Of Tea
Meet Elderflower
category:
By Cooking Panda
Ginkgo Biloba In Tea
category:
By Cooking Panda
You Thought You Knew Lavender
category:
By Cooking Panda
3 Crazy Things You Did Not Know About Cinnamon
category:
By Cooking Panda
Are You Steeping Green Tea Correctly?
category:
By Cooking Panda
4 Facts You May Not Know About Green Tea
category:
By Cooking Panda
Why Is Matcha So Trendy?
category:
By Cooking Panda
10 Things You Did Not Know About The Republic Of Tea
category:
By Cooking Panda
Food Expert Says: Pair Your Cheese With Tea, Not Wine
category:
By Cooking Panda
Oh what fools we've been!
When we decide we want to treat ourselves nicely, and get a little fancy just for fun, usually the first dinner idea we think of — because we're basic, maybe, but also because we love ourselves — is the classic charcuterie board. That means cheese and wine, ya'll. Can't go wrong, right?
Wrong.
According to Rachel Safko, a food and drink expert, we've all been total bozos for pairing our cheese — delicious, fragrant, addictive cheese — with dumb old wine.
The true magic, Safko told Forbes per Metro, is the pairing of cheese with — wait for it:
Tea.
"Most people, in my experience, think of tea as a drink for rainy days, grandmas, or as a little sister to coffee," Safko says, which sounds about right to us. Don't get us wrong, we love (adore, even) a soothing cup of tea in the morning. Some days we actually favor green tea for its caffeine and health benefits over a cup of coffee to get our mornings off to a bright and energetic start. However, we don't think of it as a huge treat or fancy, fun beverage.
"All of the above can be true," Safko continues, "But there's much more versatility to tea — it's the chameleon of beverages."
The chameleon, you say?
Basically, because teas have varying degrees of tannin, and because they are naturally astringent, Safko claims that the drink is actually super well-suited to being enjoyed with a cheesy snack.
Additionally, wine is usually served chilled or at room temperature. But Safko says that the heat from a hot cup of tea can actually coax out any flavors that are hiding, just waiting to be unleashed in a block of cheese, as it melts.
If you're convinced and want to try it out, Safko recommends pairing white and green teas with fresh goat cheese, due to the drinks' similarities to champagne and white wine.
Black teas go with goudas, as do earthy Puerhs; Lapsang Souchound goes with a strong blue cheese.
We're just dying to try out this new combo. What do you think of the cheesy idea?
Source: Metro / Photo Credit: Cabot Creamy Co-Operative/Instagram
Tags:
charcuterie
,
cheese
,
food pairings
,
Tea
,
wine
DIY Stamped Tea Towels
category:
By Cooking Panda