Sushi Served So Fresh, It Dances (Video)
category:
By Cooking Panda
Understandably, there is a certain "ick" factor that comes with eating raw seafood. "Raw" food is seen as a precursor to the final dish. Where cooked food, like chicken parmesan, looks far from the cluck-clucking animal it once was, sushi is often prepared to look, smell, and taste exactly like the ocean swimmers.
Raw is welcomed. But just how raw is too raw?
In the video below, patrons of a sushi chain in Japan are surprised to find one of their hokkigai (surf clam) sushi dancing around on their plate!
It seems to wave feebly from the plate it sits on and nearly squirms off the rice ball when the customer pokes it with his chopsticks; so fresh, it's still moving!
The patrons dining at Sushiro, one of Japan's popular and inexpensive kaitenzushi chains — a type of sushi dining that serves sushi on a conveyor belt — had other reasons to be caught off guard.
The viral video, which has gathered over 4 million views, sparked some debate on Twitter about the preparation of the fish. Users have pointed out that the dancing movements can be a sign of improper sushi preparation techniques, rather than a sign of freshness.
However, others have refuted saying if the nerves are still intact, the surf clam must have been fresh. The clam sushi ordered was a "ikizukuri," meaning it was prepared on the premises using live seafood, which suggests that the customer's sushi was extremely fresh.
While others are not fully convinced, it is reasonable to doubt that a conveyor-belt sushi chain serving budget-conscious diners would serve such fresh sushi typically found in business casual and upscale restaurants.
There is no conclusive way to tell whether the customer's sushi was just super fresh or prepared poorly, but either way the diner ate it anyway and said it was "extremely delicious."
Sources: Foodbeast, SoraNews24 / Featured Image: Max Pixel
Tags:
sushi
This Sushi Story Might Put You Off Raw Fish Forever
category:
By Cooking Panda
Be wary of indulging in too much of a good thing. A self-proclaimed sushi lover experienced what he will probably recall as the single most traumatizing experience to ever unfold by reason of his insatiable appetite for raw salmon sushi. If you're a curious health consumer, continue reading. If you're eating, continue reading … but at your own risk.
A Fresno, California, man was treated at the gentle hands of emergency physician Dr. Kenny Banh at Community Regional Medical Center. On the podcast "This Won't Hurt A Bit," the doctor retold a disturbing tale about the Fresno man, his patient, who came in complaining of bloody diarrhea — far from unusual to a busy ER staff.
The patient handed Banh a grocery bag saying, "I really want to get treated for worms." Inside the bag, the doctor found a toilet paper roll, wrapped around it was a 5-foot-6-inch tapeworm.
"Just my height," Banh remarked.
As you could probably surmise from this disturbing scenario, the man discovered the massive tapeworm when he was sitting on the toilet, but mistook the worm for his intestines. The patient continued to pull, considerably relieved to see it was wiggling and moving about; not intestines, a tapeworm.
Banh asked the patient about his travel history, if perhaps he had been traveling to a country where public waters may be infested with worms, but the patient did confess that he ate raw salmon almost every single day.
The CDC's 2017 monthly journal "Emerging Infectious Diseases" says that wild Alaskan-caught salmon had likely been affected by a Japanese tapeworm. If fish has not been properly handled (usually flash-frozen), it may contain small tapeworms. Presumably, one of those parasites found its way into the man's stomach.
The Fresno man's tapeworm was a topic of intrigue in the ER, but it wasn't record-breaking. Dr. Jessica Mason, the CRMC emergency room physician and co-host of the podcast, explained tapeworms ability to grow to impressive lengths (up to 40 feet!). If left untreated, tapeworms can result in a sudden drop in weight and anemia, although they can grow to great lengths without noticeable symptoms.
As for the patient, he swore off his favorite sushi, vowing never to touch it again.
Sources: The Fresno Bee, Grub Street / Featured Image: Alexander Baxevanis/Flickr
Tags:
sushi
,
tapeworm
These College Guys Had A Sushi Restaurant In Their Dorm (Photos)
category:
By Cooking Panda
While classmates were heating up Easy Mac and pouring bowls of cereal in their dorm rooms, Boston University students Jarrett Deutsch and Ethan Cole were using the space to make and sell high-end sushi dishes.
They called their restaurant The 803, a four-seat table serving sushi for $35 a meal. It began with the roommates making too much sushi and selling the extras to fraternity boys, and it soon evolved into a full-fledged restaurant, where they prepared fish on desks and served nigiri to 30 visitors a night.
How did two college boys get into sushi making? Believe it or not, it was when they were trying to be more economical.
Unimpressed by their school's dining options, the 19-year-old friends began their freshman year subsisting on restaurant meals.
"My dad was getting pissed that I was spending a couple thousand every month on food," Deutsch told the New York Post.
The boys took a more affordable approach to food by cooking their own, like chicken and lamb shank — and then, Japanese cuisine. Cole had learned basic sushi skills from his family, and he and Deutsch are good improvisers.
After two days of preparation, they were ready to provide a six-hour sushi dinner service once or twice a week, and they "were booked every night."
We're not talking grocery-store level sushi, either. Their menu was free of California rolls and instead included things like seared salmon nigiri and soy-glazed tuna with tofu puree.
Even though they're not in school over the summer, Cole and Deutsch are stepping up their sushi game in a big way; they're holding a three-day pop-up restaurant in their hometown of Manhattan.
They're also growing with New York chef Pecko Zantilaveevan as an adviser and a recent high school graduate to handle marketing. They told the New York Post they're hoping to expand further.
The 803 pop-up will be located at the popular beer bar Clancey and will seat 35 to 40 people from Aug. 17 to 19. Customers can reserve a table to eat lunch for $45 to $65 or splurge on dinner for $95 to $125.
Source: New York Post / Featured Image: Max Pixel
Tags:
803
,
boston university
,
dorm room
,
entrepreneurs
,
New York
,
restaurant
,
sushi
Would You Try Sushi-Flavored KIND Bars? (Photo)
category:
By Cooking Panda
KIND bars are an awesome snack bar that offer a healthy alternative to snacking on, say, chips or candy. They usually feature healthy ingredients such as almonds, oats and just a little bit of dark chocolate. They come in an array of flavors, and many of them are sweet, but what do you think of a sushi-inspired snack bar?
According to Delish, KIND is going there. The snack company is working on developing a few new flavors alongside celebrity chef Daphne Oz. The flavors sound pretty good … mostly. You have the Sangria flavor idea, the Pistachio Cardamom Fig (yum!), Sweet Pretzel Crunch and Sesame Seaweed Wasabi. Can you pick out the one that's not like the others?
This bar is apparently inspired by sushi. Sure, it's a major food favorite, but does that mean we should have a granola bar trying to resemble it? Count me out.
These flavors are part of a competition KIND is calling "Raise the Bar." It will be running from May 9 to May 31, and fans can vote on which of the four flavors should be made by KIND. Once the winning flavor is chosen, all who voted will get a free box of the limited time flavor sent to their homes. Sounds like a pretty good deal unless you're getting a free box of sushi-flavored granola bars.
Snack Food & Wholesale Bakery reports that the "Raise the Bar" campaign was kicked off with a public service announcement that was run through the Onion. It features Daphne Oz describing the "Restless Palate Syndrome" epidemic in which consumers are growing bored, or otherwise unsatisfied, with the lack of good flavored mashup options on the market. Just think about it … we're getting sushi burritos and Unicorn Frappuccinos. What gives?
This flavor-choosing contest is the first one KIND has done to empower its fans to choose flavors nationwide. Personally, I have a feeling the Sangria flavor is going to out-win the rest, simply because it's the tastiest sounding innovative flavor. As much as I love the idea of having a Pistachio Cardamom Fig flavor, or a Sweet Pretzel Crunch, those aren't too different from what's already out there.
As for the sushi flavor? Just no.
Sources: Delish, Snack Food & Wholesale Bakery / Photo Credit: kartynas/Pixabay, KIND via Delish
Tags:
Flavor Competition
,
Kind Bars
,
limited time
,
Raise the Bar
,
Snack Bars
,
sushi
These 18 Mesmerizing Sushi Gifs Are Making Us Hungry
category:
By Cooking Panda
SUSHI!!!
Sushi is AMAZING. Let's take a moment to appreciate how beautiful and tasty it is.
From traditional stuff to the more wild variety, we love it all.
But there's really nothing like a nice slab of top-quality, fresh, raw, buttery fish placed so artfully atop a sticky pillow of rice.
This combination of melt-in-your-mouth salmon with a perfect pile of rice is perfection, and these hands are truly the hands of an artist.
Pure delicious art.
But as much as we want to admire this gorgeous nigiri, we warn you that it'll be gone in seconds.
Because it's just that delicious.
And seriously, why does this stuff look just as good — if not better — in animated form? How is that possible?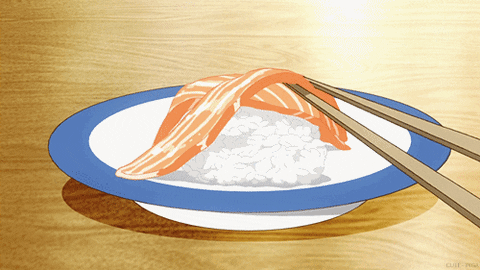 This is also not real sushi, but still. WANT.
And don't forget about maki, those lovely rolls that are so addicting…
Whether you like to keep it simple…
Or a little more wild:
These rolls are just delicious!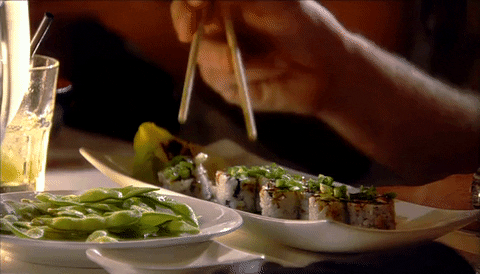 Grab a lovely sushi disc with your chopsticks!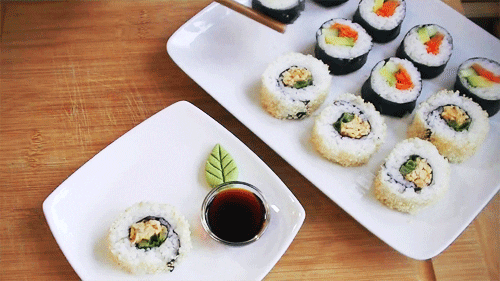 Dunk it in soy sauce! Dunk! Dunk!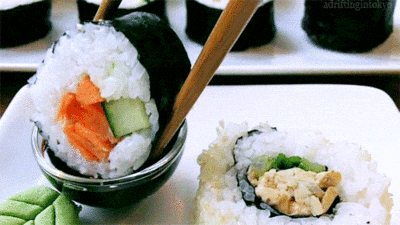 Allow yourself to be mesmerized by this temaki hand-rolling itself.
Here, have a bite! We know you can't resist the loving siren call of sushi.
Featured Photo Credit: Couch Potato Cook via Nerdist
Tags:
food gif
,
foodporn
,
Hump Day
,
sushi
,
sushi gif
Would You Pay For This Gold Covered Sushi Roll?
category:
By Cooking Panda
This sushi roll is $96, and for a reason. It's covered in gold. Do you think you'd pay for it? Are you curious about whether the taste is worth that price tag? I certainly am.
Rocket News 24 reports that Japan has recently celebrated a holiday in which participants throw beans to ward off evil and welcome good fortune into their homes. That celebration is apparently becoming outdated, and is being replaced by a much tastier tradition of indulging in giant sushi rolls.
These sushi rolls are called ehomaki (lucky direction sushi roll), and the most expensive one is wrapped in gold. This roll is called Tokusen Kaisen Jyuni Hitoe Maki, and the name describes the contents of this extravagant roll. There are 12 main ingredients in the roll, chosen from all different areas of Japan. These ingredients are as follows:
Tuna from Oma, Aomori
Japanese puffer fish from Hyogo
Red sea bream from Nagasaki
Longtooth Grouper from Nagasaki
Oval squid from Nagasaki
Kuruma prawn from Ehime
Steamed abalone from Miyazaki
Boiled conger eel from Miyazaki
Boiled horsehair crab from Hokkaido
Salted herring roe from Hokkaido
Salmon roe pickled in soy sauce from Hokkaido
Raw sea urchin from Hokkaido
Whew. I don't know if the golden wrapper is the only thing that makes this intense roll so expensive. There's a lot to taste there. The wrapper is gold leaf, said to have no taste, but who can really say unless you've tried it?
One of Rocket News' own staff members had the opportunity to taste-test the roll, and of course he said it was delicious. What's not to love there? It's a bouquet of delicious seafood specialties all wrapped up in rice and gold.
Now, is it actually lucky? I'm not sure anyone can say for certain, but I would consider myself lucky to have gotten to try it, so you tell me. Next stop, a basement cafe in Japan!
Source: Rocket News 24 / Photo Credit: Trend Hunter
Tags:
Gold Covered Sushi Roll
,
japan
,
sushi
Would You Eat These Sushi-Inspired Kit Kats? (Photos)
category:
By Cooking Panda
There are some pairings that work so well together, we're sure the first person who thought to combine them knew they'd come up with an instant classic.
We're talking the fusing of peanut butter with jelly; dipping cookies into milk; cheese and macaroni; coffee dunked into donuts; pita bread dipped in hummus.
But we're struggling to think of how anybody could think that sushi and Kit Kat bars combining forces would be a good idea.
However, we're not the boss of Kit Kat Japan, so its decision to launch a limited-edition range of sushi-flavored bars is beyond our control.
If you're interested in trying out one of these new concoctions, you'll have your pick between tuna, sea urchin and egg sushi-flavored Kit Kats at your disposal.
Yummy?
Actually, maybe. It turns out the Kit Kats in question aren't actually infused with, like, essence of tuna, or dusted with any actual fish parts at all.
Rather, the new Kit Kats are inspired rather aesthetically by the sea.
For example, the tuna Kit Kat? It's nothing but a raspberry Kit Kat placed upon some decadent-sounding white chocolate puffed rice.
Next comes the egg variety, which is really pumpkin pudding flavored (yes!) also atop some white chocolate-covered rice.
Last but not least is the sea urchin flavor, which actually uses Hokkaido melon and mascarpone cheese-flavored Kit Kats.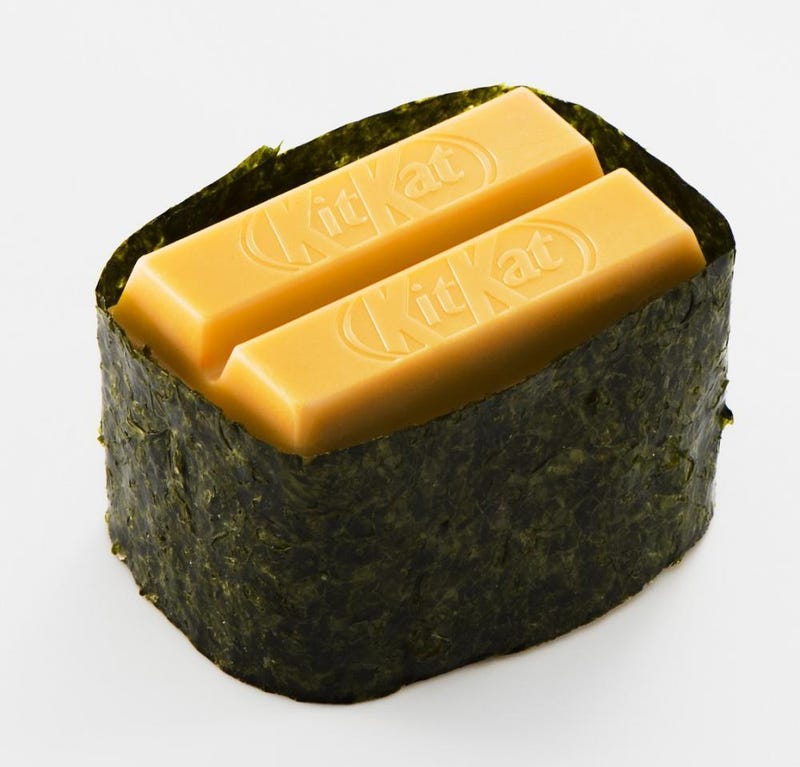 The Kit Kats can be purchased, per Kotaku, at about $26 per set at the Ginza shop in Tokyo between Feb. 2 and Feb. 4, 2017.
They are limited edition, though, so if you're in Tokyo, get there early, because these novelties will probably fly off the shelves!
Source: Kotaku / Photo Credit: Kit Kat Japan via Kotaku
Tags:
japan
,
kit kat
,
kit kat sushi
,
limited offering
,
sushi
Would You Try This Bakery's Sushi Croissants?
category:
By Cooking Panda
The Cali Croissant is not what you'd think. There is now a sushi-croissant hybrid and it is not going over well with the locals.
Metro UK reports that the LA bakery, Mr. Holmes Bakehouse, has named this new brunch (?) item the "Cali Croissant" and it combines sushi with the French croissant. If that combination sounds a little weird to you, you're not alone. People are taking to social media to express their dismay at what some would call a food abomination. Others are feeling inspired by the idea.
The Cali Croissant consists of seaweed, smoked salmon, ginger and wasabi all rolled up inside of a croissant, and it comes with soy sauce for dipping. I bet you never thought you'd get a side of soy sauce with your morning croissant.
Ry Stephen is a chef and partner of the Bakehouse, and he's the mastermind behind the new menu item. He told The Bold Italic: "The idea for the Cali Croissy came from simply browsing the aisles at the grocery store one day. I believe that inspiration can be found anywhere in our daily lives if we are open to it. I looked at the nori, then the pickled ginger, and thought they could be used some way. A moment later I had the idea for the Cali Croissy."
He says he chose the smoked salmon because it's his favorite California roll filling. Although he says it adds a nice layer of flavor, Stephen says he does expect to play around with different flavor ideas in the future.
Stephen even had to change his croissant recipe in order to make this croissant work. He says it was this recipe that shaped the plain croissant at the Bakehouse.
I'm sure this won't be the last sushi croissant, although it's almost definitely the first (I've never heard of one before, at least), but it sounds like a new variety of ideas as far as croissant dough recipes might be coming soon as well. Maybe eventually there will be a whole croissant-sushi box. Would you try it?
Sources: Metro UK, The Bold Italic / Photo Credit: Mr. Holmes Bakehouse via Metro UK
Tags:
Cali Croissant
,
California Roll
,
Croissant
,
lunch
,
Mr. Holmes Bakehouse
,
sushi
Buying Sushi In LA? You Might Not Get The Fish You Want
category:
By Cooking Panda
According to a new study, sushi in Los Angeles is being mislabeled on a staggeringly high basis. If you're in the market for sushi in LA, this news is for you.
The UCLA has published a press release alerting the public to this shocking new issue. Researchers at UCLA and Loyola Marymount University conducted a study in which they tested the DNA of the sushi ordered in 26 different LA restaurants from the years 2012 to 2015. What they found was a bit disturbing. Forty-seven percent of that sushi ended up being mislabeled. Most of the fish that were mislabeled were supposed to be halibut or red snapper, so buyers beware. For the most part, the tuna was labeled correctly, and the salmon was only mislabeled one in 10 times.
According to Southern California news source 89.3 KPCC, Paul Barber, a senior author of the study, said that the apparent fraud undermines environmental regulations on overfishing. That means, not only do consumers not always know what they're eating (a health risk in itself), but threatened fish populations are also affected.
"Half of what we're buying isn't what we think it is," Barber said. "Fish fraud could be accidental, but I suspect that in some cases the mislabeling is very much intentional. […] I suspected we would find some mislabeling, but I didn't think it would be as high as we found in some species."
I guess if you're having a real hankering for fish in LA, at least choose tuna or salmon to fulfill that urge. If you choose halibut or red snapper, you're probably going to be served something different. The sad part is that it could even be something endangered. The study showed that although tuna buyers were getting tuna, they weren't always getting the right kind of tuna. The researchers said that out of nine orders of yellowfin tuna, seven would be a different type, usually bigeye, which is a vulnerable and overexploited species.
Likewise, those who ordered halibut were often served flounder, and about four in 10 of those flounder were overfished or near threatened. Clearly, there is a need for more oversight in this market. I'm only glad that these researchers have brought this to light.
Sources: UCLA Press Release, 89.3 KPCC / Photo Credit: Sushi Shop/Instagram
Tags:
fish
,
Food Labeling
,
LA
,
sushi
Would You Eat This Sushi Burger?
category:
By Cooking Panda
Japanese restaurant Sushiro has decided to try something very new and very interesting: the Saba Burger.
Saba means mackerel, so basically it's a mackerel burger, but the mackerel is in sushi form, and the burger includes rice and wasabi, so you'll feel like you're eating sushi on a bun. This would be especially fun for the sushi-loving carbo-loaders, right?
According to Kotaku, "it's shime-saba nigirizushi, or cured mackerel hand-pressed sushi, slapped between two buns and slathered with mayo-wasabi sauce." Sound appetizing? Personally, I think it looks a little too much like a fish (see photo below).
【20RT】【スシロー】新メニューの鯖バーガーがマズそうwww https://t.co/9Zci99rtwS pic.twitter.com/GJ8jkcW44q

— オタコム (@otakomu) November 3, 2016
Then again, I'm no sushi fan, so that's probably a biased opinion. As we know the Japanese love their sushi, and that they are better at making healthier food choices, the sushi burger honestly should have hit sooner.
CNet reports that this burger (can it really be called a burger, or would you consider it more of a sushi sandwich?) is only available for a limited time, so if you're in Japan and happen to be in Sushiro's vicinity, I'd recommend at least stopping by to try the new sandwich. Sushi fan or not, at least you can say you gave it a chance.
It's available throughout November, but if you are dying to try one and you know you won't make it to Japan any time soon, you can always try making one yourself. Sure, you have to be pretty skilled to make sushi from home, but if you're a big fan, having that skill can only help you. Then again, you could probably buy the sushi and put it on a bun with your sticky white rice and mayo-wasabi, and voila!
Maybe you can even tweak the recipe some to suit your personal tastes. Personally, I might prefer not to see the skin, or maybe I'd rather just have a sandwich with cooked fish. But, I guess you can't knock it til you've tried it!
Sources: Kotaku, CNet / Photo Credit: Tomaki/Twitter
Tags:
japan
,
sushi
,
Sushi Burger
Sushi Spot In Trouble For Giving Guests Too Much Wasabi
category:
By Cooking Panda
A sushi restaurant in Osaka, Japan, is in hot water over giving out extra wasabi to foreign guests.
Rocket News reports that an outlet of the Ichibazushi restaurant chain, located in Osaka's Namba District, has been getting a lot of negative attention lately, especially online. Foreigners, many from South Korea, who've visited this restaurant and ordered the sushi, complain that they are getting nearly twice as much wasabi as Japanese guests on a regular basis.
Many took their complaints to Twitter, showcasing pictures of the wasabi offense. For those of us who can't read the script, I think the picture speaks for itself. Way too much of that nose-stinging, eye-watering, spicy green wasabi.
@yuki7979seoul デマとか誤解かも知らないと思ってちょっとしらべてみましたが、尋常じゃないかずの体験談があるってことはたしかにおかしいと思います。今時の韓国人がわさびの辛さになれてないことでもないですし、十分あやしいと考えます。 pic.twitter.com/RgMkCx3082

— 페리 (@AdmPerry) October 1, 2016
Following all of this criticism, Fujii Shokuhin Co., operator of the restaurant chain, made a public statement to dispel rumors of racism and anti-Korean sentiments. According to The Japan Times, the gist of that statement was that yes, workers were a little too liberal with the wasabi, but no, there was no racism behind these actions.
"There was no discriminatory intent involved here," the statement reads.
Wasabi was simply added by chefs of their own accord, and so any additional wasabi was through over-generosity based on what they thought customers might like. Of course, this didn't go over all that well, as you can probably imagine. Again, criticism came in the form of Twitter, and also in the form of harsh reviews via TripAdvisor and Google.
Fujii Shokuhin, however, says it will take measures to ensure that this kind of thing stops happening, and that employees will be put through a training program to teach better service. As angry as everyone is, Japanese observers included, it's likely this will take a while to blow over.
Sources: Rocket News 24, The Japan Times / Photo credit: Charlene Cabailh/Instagram
Tags:
japan
,
Osaka
,
sushi
,
Wasabi
Just When You Thought Sushi Couldn't Get Any Prettier, Chefs Turned It Into Mosaics
category:
By Cooking Panda
Sushi is indisputably a gorgeous food. There's the balance of colors from refreshing vegetables and bright pieces of fish, the sheen of Omega-3s on fresh hunks of salmon, the comforting symmetry of each slice of sushi roll. How could it get any prettier?
The Japanese figured it out: It's by transforming sushi into mosaics.
Foodies and Instagrammers are going nuts over the trend, which is pulled off by meticulously slicing, positioning and decorating pieces of sushi until they resemble the intricate tiles of a mosaic.
Here are a few examples of the art to tickle your fancy.
Check out the basket-weaved cucumbers on this square number. It would make the perfect lunch on a busy Monday, when only delicious and aesthetically pleasing food can numb the pain of the weekend you left behind.
Photos like these confirm our belief that Instagram's new zoom feature was made for food. This artist's intricate garnishes show that a little leaf goes a long way.
Here's a more approachable yet attractive mosaic, just in case you want to try your hand at creating a sushi craft at home.
No words, only wows.
Art has no rules, and neither do sushi mosaics. This is beautiful, but all we want to do is pluck off a round sushi ball for ourselves.
Nothing says "I love you" like a heart-shaped arrangement of fish, rice and veggies, am I right?
Sushi mosaics aren't limited to single plates; in fact, it's best if they fill an entire table and are served buffet-style.
Interested in trying out some sushi mosaics with creative recipes at home? Give it a shot with our takes on sushi here and here.
Featured Photo Credit: tsukicook/Instagram via Foodbeast
Tags:
food art
,
instagram
,
japanese food
,
mosaic
,
sushi
BBQ Bacon Sushi
category:
By Cooking Panda