8 Cocktails You Should Drink This Summer (Recipes)
category:
By Cooking Panda
It's hot out there!
You're going to want to stay properly hydrated, so it's important to make sure your drinks are ice cold, refreshing and boozy to boot!
Add some fruit, herbs and maybe a few floral flavors and you're good to go — you'll have the most deliciously summery, buzzed beverages that are sure to be a hit with guests.
The melon balls are a gorgeous, scrumptious addition to the classic drink. Rose makes it decidedly more summery, but you're encouraged to use whatever cheap wine you have on hand — even better if it's a reject that you had a taste of and didn't care for. You're adding soda, fruity flavors and more booze to it anyway.
Mint juleps are nice, but they can be a bit strong when you're trying to whet your whistle. Adding some juicy fresh watermelon gives you a little extra hydration, plus watermelon and mint are always fabulous together!
There's a secret ingredient that makes this sparkling lemonade cocktail absolutely wonderful, but you probably wouldn't guess it: cherry (or any other berry) preserves! It's lightly sweet and just so delicious!
Sounds a little weird, but the fizzy earthiness of kombucha (preferably a plain or floral flavor) is just perfect for this cocktail. If you're not feeling it, you're more than welcome to use a dry cider for a similar effect.
This one is delicious if you make it virgin, too! Palomas are usually made with tart, bittersweet grapefruit juice, but this recipe swaps it out for light, floral chamomile and bright, summery strawberries.
Besides the optional herbal garnish, all you need are three ingredients: grapefruit soda, peach ice cream and Campari. This is really versatile, and you can use just about any soda that's not overly sweet — like ginger beer, apple soda, pear soda or even hard cider — just about any kind of ice cream — vanilla or any fruit flavor are particularly fabulous — and your booze of choice — sweet vermouth, bourbon or brandy would be nice. Follow your heart.
Botanical gin + malty, floral Earl Grey syrup are meant to be together. Top with ginger ale or a similar mild soda to brighten it up even more.
This is about as light and refreshing as it gets! If you don't have thyme available, you're more than welcome to swap it out for a similar herb like rosemary, sage or basil, or you could even use lavender.
Featured Photo Credit: Pexels
Tags:
cocktail recipe
,
refreshing cocktail recipe
,
summer cocktails
,
Summer drinks
,
Thirsty Thursday
8 Phenomenal Cocktails Perfect For June (Recipes)
category:
By Cooking Panda
May is gone, June is here and summer is fast approaching.
Aack! What do we drink? Don't worry, friends, I've got it all sorted out for you. Whip up any of these lovely, refreshing cocktails to usher in the new season, whether you're by yourself or throwing a huge party.
These crowd-pleasers are always a big hit, so sit back, relax and enjoy!
Why not kick off the summer months with a classic, intensely strong, rummy sweet/bitter drink?
​
Few things feel as summery as easy-to-mix rum. Combine that with fresh watermelon juice, lemon juice, simple syrup and an optional (but outstanding) cracked pepper garnish for a crisp libation. Want to get even more festive? Make it in a big batch and serve in a watermelon keg.
It's easy to think of all summery drinks as being sweet and crammed full of fruit, but that doesn't have to be the case. Refreshing cocktails can be simple too, like this classic fizzy sweet and sour gin number.
If you've never had a gimlet before, you might think of it as an outdated old person drink. Try it and you'll realize how wrong you were — the perfectly balanced sweet and sour cocktail is a refreshing delight. Add cucumber and gin and you'll be completely amazed at the smooth green summer perfection that is this drink.
This slightly bitter yet bright drink is absolutely popping with citrus. The activated charcoal brings the "gloom" to this riff on a margarita, but you can absolutely leave it out if you'd prefer.
A number of unexpected flavor combos come together to bring an exciting complexity to this unusually interesting and deliciously beachy drink. You'll be amazed at how smooth this mix of rum, rose hip, pineapple, mint, brandied cherries and a splash of rye whiskey is.
This ever-so-slightly earthy, deep and sweet drink has everything you want, all rolled into one. The ingredient list is a bit long but well worth it. Looking for something simpler? Here are 10 different ways you can riff on a mint julep.
With coconut water, soft white rum, lime juice and simple syrup to sweeten the deal, this hydrating cocktail will cool you off on even the hottest of days. Considering the nourishing aspect of coconut water, this might also be a good one to drink if you're nursing a hangover and looking for some hair of the dog.
Featured Photo Credit: Pexels
Tags:
June cocktails
,
light summery cocktails
,
Summer drinks
,
Thirsty Thursday
,
what to drink in June
When Life Gives You Lemons, Make These 8 Cocktails (Recipes)
category:
By Cooking Panda
Looking for something tangy and refreshing to drink? Fortunately, you can mix up your usual Thirsty Thursday fare with something pretty inexpensive and easy to find — a lemon.
Grab a handful of the bright, zippy citrus fruit, your favorite type of booze (lemon-based cocktails are pretty forgiving, so feel free to substitute whiskey for vodka, or whatever you prefer) and let's mix up some tasty libations.
Sweet white vermouth and floral gin goes perfectly with herbaceous basil. Add some thick and boozy limoncello and a squeeze of fresh lemon juice and you are in business!
This bitter, lemony, zesty rye drink is as drinkable as its name is delightful blind lemon Jefferson cocktail.
Mint juleps are awesome, but sometimes they are just a little strong for a warm afternoon, when you're looking for a bit of hydration and refreshment. Enter the lemon julep, which adds tart lemons and a bit of lemonade to really sweeten the deal.
This fragrant, tart cocktail gets an unexpected, subtle touch of complexity from a few dashes of bitters that really sends it over the edge of perfection.
Almost everybody loves a glass of cool, refreshing lemonade. Kick it up a notch with some gorgeous, fragrant thyme (you can also use rosemary or basil if you'd prefer) and pour in a splash of vodka (gin would also be tasty).
Mojitos are awesome. Add some sweet strawberries and fresh lemon juice for a fruity, refreshing spin on the classic.
​
Since Meyer lemons are sweeter and have a little more of a delicate taste than regular ones, if you can't find the Meyer variety, I recommend cutting your fresh regular lemon juice with half fresh orange or tangerine juice for a pretty darn close and tasty substitution.
This classic is sweet and tart when made correctly. Rim the glass with sugar or crushed up Lemonhead candies if you want to pretend you are a kid again.
Featured Photo Credit: 
Krista/Flickr
Tags:
citrus cocktails
,
Jefferson cocktail
,
lemon cocktails
,
spring cocktails
,
Summer drinks
,
Thirsty Thursday
11 Supremely Refreshing Cocktails To Drink On The Beach
category:
By Cooking Panda
How many times have you been relaxing on the beach wishing you had a nice cold cocktail in your hand?
We want to help you achieve your dreams! Bringing booze to the beach is totally do-able if you plan ahead and know what you're doing. Make sure you bring a cooler that works well, and make sure to keep at least some of your ice clean — nobody wants a lukewarm cocktail. If you want, you can dump half of the ice loose in the cooler and keep your cocktail ice in a bag on top of the loose ice.
To make these drinks, we recommend mixing them up in big batches and transporting in big bottles or whatever you have that works. If you're adding something fizzy, like club soda, bring that separately and top each individual drink with it, after it's poured.
Be careful about bringing soft fresh herbs like mint or basil. They might work a little better if you're putting them in loose (like for a garnish) at the end, but anything muddled might brown by the time you drink it.
We recommend either skipping the herbs or infusing them into syrup. We've included a recipe or two below.
Note: Make sure you follow the rules of the beach you visit. A lot of them don't allow glass!
Tangy and fruity, this classic boozy drink is the perfect refreshment for a hot day on the sand. Transport in a wide-mouthed container and serve with a ladle, so that everyone gets enough fruit.
Is there really anything more refreshing in the summer heat? To make this drink transportable, we recommend making a big batch of the mix first and slicing up the limes. Bring a Tupperware with celery salt in it so you can easily salt the rims without hassle.
Did you know that "Mai Tai" means "the best — out of this world"? You probably did if you've ever tasted one. Mai Tais are pretty much designed to be sipped on the beach — get to it.
We can't think of anything that can cool you off faster on a hot day than cucumber and lemongrass. So refreshing!
Looking for something boozeless to refresh you all day? Jazz up some water (regular or sparkling works) with cilantro (try basil or mint if you're a cilantro hater), lemon juice and simple syrup. So delicious!
Here's how to make cilantro simple syrup if you're worried that your herbs will spoil.
The combo of peach, apple, basil and vodka is completely incredible. Since you'll be drinking this on the beach, we suggest making your own basil simple syrup (recipe here) instead of the fresh stuff.
The fruity, tart and herbaceous flavors make an unexpectedly delicious combination. Skip the muddling and make it with this basil syrup.
Red velvet vodka and cream soda is an amazing combo. if you can't find red velvet vodka, go ahead and use plain vodka and red velvet coffee flavor, or just replace with any other flavor you like. Strawberry would be delicious too.
The yuzu's sweet tanginess perfectly complements the spicy jalapeno. We could sip it all day long, if alcohol worked that way.
Rosemary should keep a little better than softer, leafier herbs, so we'll go ahead and sign off on muddling this one, especially since you're going to strain it out anyway. But if you want, here's how to make rosemary simple syrup.
Bringing classic margaritas to the beach is a tried and true method, but if you want to branch out a little, you should totally go for it. Serve everything on the rocks and remember our rules about not muddling in soft herbs.
Cheers!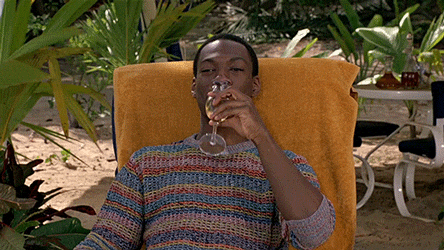 Featured Photo Credit: CD Kitchen
Tags:
beach cocktails
,
drink at the beach
,
summer cocktails
,
Summer drinks
,
Thirsty Thursday
Unwind And Relax With These 11 Summery Blueberry Cocktails
category:
By Cooking Panda
Blueberry season is upon us! In honor of National Blueberry Month, we thought that we'd take full advantage of sales on the sweet superfruit and stock up. What better way to unwind than with a refreshing, slightly-sweet, antioxidant-rich cocktail?
​
If you love refreshing, fizzy cocktails, you'll love this Caipirinha with fresh blueberries muddled right in.

Bourbon and blueberry preserves are an unexpected match made in heaven. You have to try this!
Blueberry vodka works great in a Cosmopolitan, although any berry or citrus vodka will go great, too. If you want to go full blueberry, you can use blueberry juice in place of cranberry for an even sweeter treat.
Sweet, tart, herbal and refreshing.
If you like sweet martinis, this blueberry-mango juice one will be right up your alley.
What goes best with moonshine and brandy? Blueberry preserves and mint, of course!
If you prefer using fresh blueberries to preserves but love the berry-mint combination, this vodka and St. Germain drink might be more up your alley.
We love our margaritas, and it's always great to try a new spin on them. The fresh blueberries and orange bitters really elevate this drink.
Want something with a little more of a kick? Try this smoky-sweet version with pineapple juice and chipotle.
Simple. Light. Delicious.
Peach preserves and blueberry syrup take the already-delicious mojito to a new level of deliciousness. Perfect for a hot summer day.
Featured Photo Credit: Matt Taylor-Gross/Saveur
Tags:
blueberry
,
cocktail recipes
,
cocktails
,
Summer drinks
,
Thirsty Thursday
9 Fruity Milkshakes To Cool You Down This Summer
category:
By Cooking Panda
Refreshing, creamy milkshakes to cool you down on a scorching summer day. Does it get much better than that?
Actually, it does! As various fruits are in season during the summer, many of the milkshakes on this list will not only be delicious, but inexpensive to prepare, as well. Furthermore, some of the shakes on this list are vegan, or can be easily made into vegan, low-fat drinks.
A guilt-free pleasure for your waist and your wallet? See, told you it got better!
From citrus to berries, mixed with vanilla beans, caramel sauce, and even mascarpone cheese, there's something here for every milkshake lover!
In case you're in the mood for some chocolate milkshakes instead, here is a list of nine to choose from.
This healthy shake features non-dairy milk and only two to three ingredients! A simple, refreshing treat for those brutally hot days.
Strawberry Mascarpone Milkshake
The mix of mascarpone, vanilla bean, and strawberries will soothe your taste buds.
In order to create the optimal Creamsicle flavor, use orange sherbet. In a "Creamsicle emergency," orange juice concentrate will do.
Delicious and easy-to-make, with a dash of cinnamon!
For those who like to welcome autumn a little early!
Key Lime Marshmallow Milkshake
Try this with your favorite marshmallows!
Although this is best with homemade caramel recipe, your favorite store-bought brand will also work.
Raspberry, Ginger, and Coconut Shake
Enjoy this vegan shake with fresh ginger and coconut milk!
Grab some in-season cherries, or other berries, for this versatile shake!
Featured Photo Credit: Belle of the Kitchen
Tags:
cold drinks
,
Fruit
,
fruit milkshakes
,
ice cream
,
milkshakes
,
Summer drinks
11 Sometimes-Fruity, Always-Refreshing Iced Tea Recipes
category:
By Cooking Panda
Looking for a cool drink to enjoy on a hot day? Whip up one of these refreshing iced teas. Whether you're in the mood for berries, citrus, mint, herbs, or a mixture of the above, you will surely find something that will quench your thirst.
This deep-purple drink can be made with fresh or frozen blackberries. Mint is optional.
The blend of watermelon and fresh basil add a nice touch to this easy-to-prepare beverage.
Enjoy this beverage all year 'round, either as a refreshing, fruit drink or a cure for an upset stomach!
Almond and vanilla extract add an irresistible touch. For a richer flavor, use brewed tea instead of instant tea powder.
Can't go wrong with a bit of pomegranate juice!
This simple mixture of tea, mint, sugar, and orange and lemon juices will have everybody begging for more!
Even the kids will be able to enjoy this mock tea sangria, as it uses grape juice instead of red wine.
For those days when you want to stick with the classics…
Feel free to substitute nectarines and mandarin oranges for the peaches and clementines used in this tasty beverage.
Chamomile-Strawberry-Orange Cold-Brewed Tea
Herbs, berries, citrus, a little bit of everything goes into this refreshing drink. Raspberries can be substituted for the strawberries.
Fresh lime juice ensures that this drink is not too sweet, yet not too tart.
Sources: My Recipes, All Recipes / Featured Image Credit: Peach Orange Iced Tea/All Recipes
Tags:
drink recipes
,
iced tea
,
recipes
,
Summer drinks
,
Tea
9 Decadent Chocolate Milkshakes For Chocolate Lovers Everywhere!
category:
By Cooking Panda
Milkshakes. One of the most enjoyable, refreshing, and delicious aspects of every summer.
While preparing this post, I gathered tons of milkshake recipes that were decadent, creative, and perfect for a hot summer day. However, in the process of doing so, I noticed that so many of them included chocolate.
Therefore, you will have several milkshake posts to look forward to reading. To begin, here's a post dedicated to chocolate milkshakes, for the chocolate lovers among us.
Cookies And Cream Mocha Milkshake
Oreo cookies and coffee, a guaranteed crowd-pleaser!
Salted Caramel Brownie Milkshake
Salted caramel and brownies, perfect for the kid inside of us…who has adult tastes!
This blend of Nutella and pumpkin will soothe even the harshest critic. Whip up a batch for your next cookout!
Roasted Strawberry Hot Fudge Milkshake
Like drinking chocolate-dipped strawberries! Mmm…
Better Than Snickers Milkshake
A Snickers bar in a glass, perfect for all ages!
Chocolate Chip Cookie Dough Milkshake
Chocolate chip cookies and ice cream, melting in your mouth. Heavy cream can be used instead of the coffee creamer. Feel free to add a dollop of hot fudge, turn it into a milkshake sundae!
A classic campfire treat! Complete with toasted marshmallows!
Chocolate Mint Brownie Milkshake
Mint and chocolate, can't go wrong!
Last, but certainly not least, butter pecan ice cream adds an extra nutty kick to this treat!
Featured Photo Credit: Autumn Giles/Serious Eats
Tags:
chocolate
,
chocolate milkshake
,
ice cream
,
milkshake
,
Summer drinks
Forget The Ice! Why 1.3 Billion People Think You Should Be Drinking Hot Water
category:
By Cooking Panda
This summer, as temperatures rise and millions of Americans put away their winter coats in favor of shorts and sundresses, you might want to think twice before grabbing a refreshing glass of ice cold water.
Nicole Liu, a reporter for the Los Angeles Times, recently exposed the ancient Chinese practice of drinking hot water. Liu writes that in China, cold water is considered bizarre, and even unhealthy. Instead, Chinese citizens prefer to drink plain hot water, regardless of the season or temperature outside.
While this may seem strange to Americans, the practice is supported by ancient Chinese medicine. As reported in Yahoo News, Mee Lain Ling, a practitioner of Chinese medicine, explains, "In regards to the body, cold blocks the meridian channels, slows and even congeals blood circulation and diminishes organ functioning to less than optimal ability."
Liu echoes this sentiment, writing that while "[cold] water gives you cramps," hot water "is believed to promote blood circulation and toxin release."
In addition to the supposed medical benefits, however, there is also a historical basis for China's water preferences. Scholars believe that the trend originated after the 1949 communist revolution, when China's tap water became infested with diseases and parasites. Because the act of boiling water kills dangerous microbes, it quickly became standard practice across China to drink hot water, rather than cold.
Despite the fact that Americans still prefer their water cold, evidence suggests that China's hot water trend is catching on around the globe. Flight attendants for several major airlines have become accustomed to customers' requests for plain hot water, and other Asian countries have adopted China's penchant for steaming refreshments. Nevertheless, many Chinese tourists still travel with a teakettle, just in case the countries they visit are unused to their beverage preferences.
So, while you may not be ready to pack your teakettle along with your swimsuit and sunglasses for your next trip to the beach, consider forgoing the ice cubes and pouring yourself a steaming glass of hot water next time thirst strikes!
Sources: Los Angeles Times, Yahoo News / Photo Credit: kpgolfpro/pixabay
Tags:
Chinese Medicine
,
Hot water
,
Summer drinks