Would You Try A Spaghetti Pizza?
category:
By Cooking Panda
While most of us are still disagreeing on whether or not pineapple belongs on pizza, some are making much worse topping choices. For instance, imagine a tin can of spaghetti poured onto your pizza and baked in as a topping. For those of you pineapple haters, this will be a double-whammy, since this particular pizza sports both topping items.
According to Huffington Post, New Zealand's Prime Minister, Bill English, puts tinned spaghetti on pizza. He makes homemade pizzas at home and actually uses a can of spaghetti as a topping … almost like the pasta is his sauce. When he posted his creation to Facebook, he received a lot of mixed reviews (as can be expected). Some followers supported the bizarre decision, while others threatened to vote against him because of how appalled they were.
What we do know, is that The Guardian tested out the pizza, so as to be a fair judge of its validity. The pizza was made by starting with what looks like a hand-tossed thin (ish) crust, and putting a basic layer of tomato sauce on it. Pineapple comes next, then ham … then a tin can of spaghetti. The cheese comes next, followed by a few minutes in the pizza oven.
Once the pizza was made this way (feel free to try it on your own as well), The Guardian's reporter sat down to try it, and seemed to be pleasantly surprised. She called it The PM's Pizza. According to her, the pizza tastes like a toasted cheese sandwich, which honestly doesn't sound half bad.
The Guardian did note, however, that the pizza was too soggy after they'd forgotten to drain the sauce (as the Prime Minister had done). It was reported that the pizza was good. "Really good. Good in the way straightforward crowdpleasers often are. Unpretentious, with immediate, uncomplicated [flavors] and a surprising 'yum' factor."
There you have it, straight from someone who has tried it herself. What do you think, would you try it?
Sources: The Huffington Post, The Guardian / Photo Credit: Bill English/Facebook
Tags:
Bill English
,
Pizza
,
Pizza Toppings
,
spaghetti
,
Spaghetti Pizza
These 12 Spaghetti Gifs Will Make Your Heart Flutter
category:
By Cooking Panda
January 4, 2017, is National Spaghetti Day and we are ecstatic!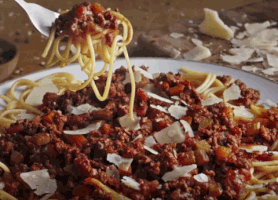 ECSTATIC. We could munch on spaghetti noodles all day, honestly. Couldn't you?
And when you top it with a nice marinara or Bolognese sauce? YUM.
It all starts with this beautiful sight, when you toss those dried noodles in boiling water.
Or, if you are blessed, when you make them from scratch. EVEN BETTER.
Give us a huge, heaping scoopful of spaghetti in red sauce, please!
And DOUSE that with grated Parmesan cheese. Grate that cheese until your arm gets tired. And then keep going.
Of course, there's also that heavenly wonder that is Carbonara. Rich, creamy, cheesy and bacony. We could never forget about something so delicious.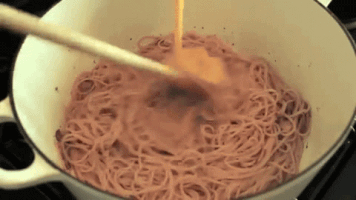 We'll twirl that on our forks for SURE.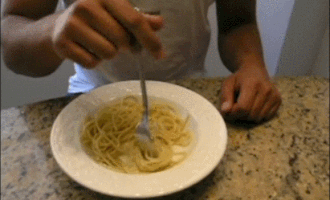 TWIRL IT! TWIRL IT!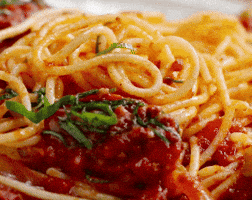 And where can we get such a fancy fork??
One thing's for sure. We are in love with spaghetti, and that will never, ever change.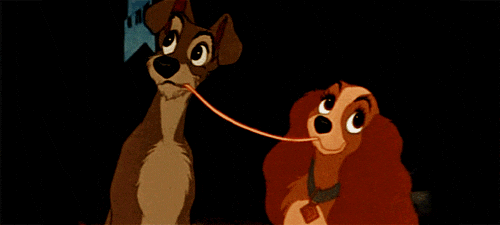 Featured Photo Credit: The Feed Feed/Instagram
Tags:
foodporn
,
Hump Day
,
pasta gifs
,
spaghetti
,
spaghetti gifs
By Cooking Panda
Devil's Spaghetti
category:
By Cooking Panda
Truck Spills 45,000 Pounds Of Bolognese Sauce In A Delicious But Tragic Accident
category:
By Cooking Panda
On Sept. 12, in Shopshire, England, a large truck, or lorry, created a food mess of meaty proportions.
The truck appears to have been hauling at least 22 tons, or about 45,000 pounds of spaghetti Bolognese. The Shropshire Star reports that police aren't sure what caused the accident, and that the driver declined to comment.
A police spokesman said, "There were around 20 tonnes of spaghetti Bolognese and it was just loose, the incident happened at about 11 a.m. and it appears no one was hurt which is the main thing."
I'm always glad to learn that no one was hurt in these kinds of ordeals, but what was this driver doing with so much spaghetti? The road behind him is covered in orange pasta and sauce…
As he has declined to comment, we can only speculate. Was all of this premade for a restaurant? Perhaps the driver's conscience kicked in while on his way to deliver, and he thought: "This Italian staple should only be enjoyed fresh and homemade!"
Probably…not. But it really should be enjoyed fresh and homemade.
Unfortunately for other drivers on the road, traffic was severely slowed and detoured in other directions.
The saddest part of this whole thing, to me, is the giant waste of such a tasty food. Seeing it strewn all over the highway and the truck almost makes me want to cry! And whoever was meant to receive that delivery is undoubtedly upset on a much larger scale. Also, I hate to think of the feelings of those who cooked all of that food!
Even worse…They're going to have to roll up their sleeves and start all over again. How tragic!
Sources: Eater, Shropshire Star / Photo credit: Shropshire Star
Tags:
bolognese sauce
,
spaghetti
,
Weird News
By Cooking Panda
Amazing Spaghetti Hack
category:
By Cooking Panda
This Spaghetti Hack Is Going To Blow Your Mind And Give You Perfect Portions
category:
By Cooking Panda
You might want to sit down for this.
It turns out that there is an incredibly simple way to determine how much spaghetti you should cook—and the answer is probably lying dormant in your kitchen drawers at this very moment.
If you've ever cooked spaghetti, (and chances are that you have), you probably know how hard it is to determine the right about of dried pasta to put in the pot. Personally, we always end up with enough starchy, sticky leftover pasta to feed a small village—not exactly the best way to budget resources or time.
Thanks to an incredible new hack, however, you'll never have to worry about cooking too much or too little spaghetti ever again!
According to Delish, a recent set of photographs posted on Imgur has gone viral, demonstrating an ingenious use for that ubiquitous hole in your spaghetti spoon. Apparently, the hole can be used to determine the exact amount of dried spaghetti that you should cook per person—simultaneously explaining the hole's existence and simplifying every dinner party that you will ever host.
Simply measure your dried pasta using the spoon's hole before cooking and prepare for a leftover-free meal—without running the risk of underfeeding yourself or your guests!
Based on the difficulty of determining the correct amount of dried pasta to cook for a crowd, we suggest that you check out your spaghetti spoon immediately. If it doesn't contain a hole, grab this one from Amazon — we promise that the purchase will pay off big time!
We don't know about you, but there's something incredibly exciting about learning a new use for everyday items. In celebration of this genius hack, we'll be cooking spaghetti for dinner tonight, topped with classic marinara, flavorful primavera, or even a hearty Bolognese sauce!
Source: Delish / Photo credit: Imgur
Tags:
food hacks
,
spaghetti
,
Spoon
Spaghetti Meatball Pie
category:
By Cooking Panda
17 Enchanting Pasta Gifs For Hump Day
category:
By Cooking Panda
1. Pasta is basically the best thing in the world.
2. It comes in all shapes and sizes and sauce varieties, and that is pretty much the best part.
3. Carby strands are basically the perfect vehicle to get sauce and cheese into our mouths.
4. Whether you prefer to slurp your noodles…
5. Or twirl them…
6. You deserve a big heaping bowl of spaghetti.
7. Look at this endless cheese!
8. Keep grating that cheese until your arms give out or you run out of cheese. It's the only way.
9. Crank that pasta maker.
10. We've always wanted it to rain pasta. Dreams do come true.
11. Look at these noodles boiling sensuously! They are almost ready to eat.
12. Toss it with some sauce and you're good to go.
13. All spaghetti is beautiful.
14. Extra meatballs, please!
15. Maybe an egg on top?
16. Twirl that pasta baby!
17. Go ahead, have a bite.
Featured Photo Credit: lukysandra/Instagram
Tags:
food gifs
,
foodporn
,
Hump Day
,
pasta
,
spaghetti