4 Unexpected Uses For Ziplock Bags
category:
By Cooking Panda
Storing Ice Cream
Want ice cream that is scoop-able, but still frozen? Store your ice cream in a ziplock bag!
Orange Slush
Ingredients And Materials
Orange juice
1 cup ice
1 tablespoon salt
Ziplock bags
Directions
1) Pour juice in a sandwich ziplock bag. Pour ice in a quart-sized ziplock bag.
2) Place juice in ziplock with ice. Add salt. Seal. Wrap in a towel and shake for 5 minutes, or until orange juice becomes frozen and slushy.
3) Serve immediately and enjoy!
Cleaning Stovetop Grate
Materials
Removable grate
Ziplock bag
Ammonia
Directions
1) Place grate in quart-sized ziplock. Spray inside the bag lightly with ammonia. Soak overnight.
2) The next morning, remove grate from bag and voila! It's clean!
DIY Cold Packs
Materials
Sponges
Ziplock
Directions
1) Wet sponges with water and place in Ziplock. Seal tightly and freeze.
2) Use in lunch boxes, coolers or anywhere you need a few extra cold packs!
Tags:
cleaning
,
Directions
,
hacks
,
recipes
,
snacks
,
Ziplock Bag
Get The Recipes: 4 Halloween Snack Hacks
category:
By Cooking Panda
Severed Fingers Pigs In A Blanket
Ingredients
1 package beef cocktail franks
Almond slices
1 package crescent rolls
1 egg, beaten (for egg wash)
Ketchup, for serving
Directions
1) Heat oven to 450 degrees Fahrenheit. Line a baking sheet with parchment paper.
2) Roll out crescent roll dough and cut into thin strips.
3) Cut a small slit in the top of the beef franks and stick an almond slice inside. Wrap with crescent dough.
4) Place on baking sheet and brush with egg wash. Bake for 10 minutes, or until dough is golden brown. Serve with ketchup and enjoy!
Zombie Pretzels
Ingredients
Green candy melts
Yellow candy melts
Red candy melts
Black icing
Mini pretzels
Directions
1) Melt candy melts in separate bowls in the microwave on 30 second intervals, stirring each time, until melted and smooth.
2) Scoop yellow and red candy melts into ziplock bags with a corner cut off.
3) Dip pretzels in green candy melt. Tap off excess chocolate and place on a parchment lined baking sheet.
4) Fill the top corner holes with yellow candy melts to make eyes. Top with a small circle of black icing to make the pupils. Fill the larger hole with red candy melts, having it go all over the bottom part of the pretzel to make a mouth.
5) Set aside until candy melts are completely set. If necessary, refrigerate. Serve and enjoy!
Caramel Apple Crips
Ingredients
Large green apples
Melted chocolate
Caramel sauce
Purple candy melts
Orange and black sprinkles
Directions
1) Cut apple slices, about 3/4 of an inch thick. Skewer with a lollipop stick.
2) Melt chocolate and candy melts in separate bowls in the microwave on 30 second intervals, stirring each time, until completely melted and smooth.
3) Lay skewered apples down on a parchment lined baking sheet. Drizzle with melted chocolate, caramel sauce and purple candy melts. Top with sprinkles.
4) Refrigerate until completely set. Serve and enjoy!
Vampire Teeth
Ingredients
1 package cookies of choice
White frosting + red food coloring, or red cookie icing
1 package mini marshmallows
Almond slivers
Directions
1) Cut cookies in half. Dye white frosting red with food coloring, or use red cookie icing.
2) Ice both halves of the cookie with red icing. Place marshmallows around the curve of the cookie to create teeth. To help support the cookie, place a few more marshmallows in the back. Top with second iced cookie half.
3) Insert two almond slivers in between the teeth to create fangs. If necessary, use frosting to make them stick.
4) Refrigerate until fully set, serve and enjoy!
Tags:
hacks
,
Halloween
,
kids
,
recipes
,
snacks
Get The Recipes: 3 Kids Snack Hacks
category:
By Cooking Panda
Yogurt Bites
Ingredients And Materials
Yogurt flavors of choice
Ziplock bag
Parchment paper
Directions
1) Line a baking tray with parchment paper.
2) Fill a ziplock bag with your yogurt of choice. Cut off one corner and pipe yogurt onto parchment paper. You can make bite-sized circles, of even fun shapes!
3) Freeze for at least 1 hour, or until yogurt bites are completely frozen. Remove from freezer, serve and enjoy!
Snack Packs
Ingredients And Materials
Clothes pins
Googly eyes
Pipe cleaners
Small ziplock bags
Snacks, we used grapes and fish crackers
Directions
1) Glue eyes to the tops of the clothespins. Allow to dry completely.
2) Add grapes to one side of the ziplock bag and fish crackers to the other. Pinch the bag together in the middle and seal with clothespin, this keeps the foods separate.
3) Cut a pipe cleaner in half and stick into the top of the clothespin. Fold like an antenna.
4) Pack in either a lunch bag or keep around the house for a midday snack. Enjoy!
Apple Mouth
Ingredients
Sliced apples
Peanut butter
Mini marshmallows
Directions
1) Spread peanut butter on two slices of apples. Line one apple with marshmallows. Top with the second apple, peanut butter side down. it's a smile!
2) Serve, enjoy and make sure to smile back!
Tags:
hack
,
Kid Recipes
,
kids
,
recipes
,
snacks
5 Snacks You Can Make With Only 3 Ingredients (Recipes)
category:
By Cooking Panda
Hungry? Lazy? Busy?
Don't let that stop you from cooking! You can still whip up some fabulously tasty snacks with almost no effort at all. In fact, you really don't need more than three ingredients!
The best part about three-ingredient recipes? There's a good chance that you can find at least one that doesn't even require you to go to the store, since you might already have everything on hand. So easy!
Nothing against the iconic pre-made frozen ones, but why would you buy them when it's so ridiculously easy to DIY it? If you'd like, you can also add pizza sauce and/or herbs like oregano or basil to make things even fancier.
If you happen to have a jar of chocolate hazelnut spread and a can of crescent roll dough, you're all set! It's super easy to braid this sweet treat, although you can also just roll it up like normal crescents if you'd prefer.
Who knew that all you need for a healthy and delicious dessert is fresh melon and yogurt? I sure didn't. This is life changing!
Making your own bread always seems like a lot of work, but this low-carb version is as easy as it gets — plus it stays dense, moist and tender even if you overcook it a tad. Want to kick things up? Add a bit of minced garlic or garlic powder, Italian seasoning and/or chili flakes to your dough. You'll love it!
If you're hooked on eating cereal bars in the morning, then you should totally start making your own! They are delectable, healthy, easy to customize and they will save you a ton of money in the long run.
Featured Image: PX Here
Tags:
3 ingredient
,
easy recipe
,
fast appetizers
,
snacks
,
Tasty Tuesday
Treat Yourself To New Cadbury Chocolate-Covered Oreos (Photos)
category:
By Cooking Panda
Oreos and Cadbury have teamed up for a smooth, crunchy treat you'll want to devour as soon as you see it: Oreo cookies enrobed in creamy Cadbury milk chocolate.
Needless to say, social media users are quite pleased.
Today the world became a better place @Oreo coated in @Cadbury_SA #oreoenrobed pic.twitter.com/yUmRDJ7sXg

— Mike Said (@mike_said_what) July 7, 2017
We did the hard work & we're pleased to report that Oreos covered in Cadbury chocolate are as delicious as they sound #OreoEnrobed pic.twitter.com/N3X28q86CE

— Essentials magazine (@essentialsmagSA) July 7, 2017
The catch? At the moment, Cadbury Coated Oreos are only available in Australia, according to PopSugar. If you live in the States, you'll have to live vicariously through those Down Under with photos of the double-chocolate dessert. It's cruel and unjust, but luckily there are ways to satisfy your craving for extra-indulgent chocolate sandwich cookies.
You could make your own Cadbury Coated Oreo dupes, so long as you melt your own Cadbury milk chocolate bars and dip Oreos, fondue-style, into the silky liquid. Even better, you can add custom designs with melted white chocolate or colorful icing. Here's how to achieve perfect chocolate-dipped Oreos at home.
Thankfully, you are also free to order other ultra-chocolaty Oreo goods online, as this isn't the first time Oreos and chocolate brands have created beautiful things together.
There's the Milka Oreo Big Crunch Chocolate Candy Bar, available here. Crunchy Oreos are enrobed in luscious vanilla cream, then encased in a layer of milk chocolate.
Then there are Oreo Cadbury Creme Eggs, which are, you guessed it, familiar milk-chocolate eggs containing a true treasure: velvety cookies and cream filling. Snag a mini version here.
There is also the truly insane Cadbury Dairy Milk Egg 'n' Spoon with Oreo. The sugary contents are intended to be devoured with an included spoon until the consumer is left with a sweet egg to be eaten then or later. Order them immediately here.
More of a baker than a buyer? You've got plenty of homemade, Oreo-rich dessert options, like our frozen Oreo peanut butter pie, featuring an Oreo crust with a peanut butter cream cheese filling that is sinfully bursting with peanut butter cups and chocolate chips. It's chilled until set and finished with as much peanut butter as you dare to drizzle.
You can also get a head start on warming up for winter with our gooey Oreo lava cake. It's made extra mouthwatering with Oreo pudding and an entire cup of chocolate chips.
Source: PopSugar / Featured Image: Kelly Bailey/Wikimedia Commons
Tags:
Australia
,
cadbury
,
candy
,
chocolate oreos
,
cookies
,
oreo
,
snacks
These 5 Cheesy, Melty Pizza Appetizers Reign Supreme (Recipes)
category:
By Cooking Panda
It's no secret that pizza is one of the greatest foods on the planet.
The savory, cheesy, filling dinner is as easy to find or make on the cheap as it is with a super gourmet touch, and it's one of the few meals beloved equally by kids and adults alike.
That makes it pretty much perfect for any occasion — especially when you want something to snack on. Adding a pizza flair to your favorite apps puts a completely new spin on them. You'll love these!

Pizza fillings INSIDE TATER TOTS. That's right, you get to stuff crispy, Italian-spiced tender tots full of melty mozzarella cheese and savory, spicy pepperoni. Oh, and you get to dip them in marinara sauce, of course. So good!
Nothing to see here, just all my favorite food baked into one easy, crunchy snack form! These are perfect for kids and for on-the-go activities, or you can just chow down right out of the muffin tin …
Potato skins are fun — crunchy, cheesy, starchy and delicious — so it's a completely and irresistibly natural extension to add some marinara sauce, Italian seasoning, pepperoni and mozzarella cheese to the mix.
Have you ever wanted to just chow down on the gooey, cheesy saucy part of the pizza without the dough? I know I have, and I know I'm definitely going to be whipping up this easily gluten-free recipe in the near future.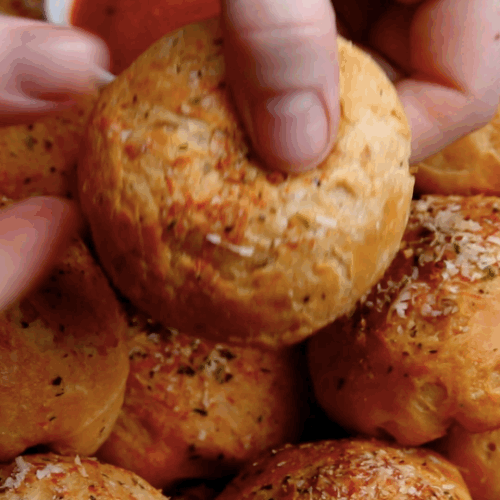 Sorry, garlic knots, you've got some competition! Biscuit dough with pizza fixings stuffed inside, coated in rich garlic butter — does it get any better? I think not!
Featured Image: Pixabay
Tags:
pepperoni appetizers
,
Pizza
,
pizza appetizers
,
pizza dip
,
snacks
Step Aside, Pizza Rolls, Because Pizza Buns Are In Town
category:
By Cooking Panda
Totino's Pizza Rolls and Ore-Ida Bagel Bites have been around for years, and DiGiorno finally has an answer: Pizza Buns.
Soft, golden brown and bubbling with rich cheese and zesty sauce are the company's new snack, rolled up into miniature buns, cinnamon-roll-style, to be eaten by hand. The doughy snacks are brushed with pizza sauce and toppings, baked and eaten while hot, and they're available in four varieties.
First is a standard yet bold pepperoni flavor, stuffed with pepperoni pieces, mozzarella cheese and DiGiorno's chunky tomato sauce. I'd suggest dipping the bites in Ranch for a cooling contrast.
Bachelorette number two is a five-cheese variety, sporting Asiago, Romano, parmesan, mozzarella and ricotta cheeses in one convenient bite of crust. Share these with your cheese connoisseur friends.
Then we have spinach-artichoke buns, reminiscent of the popular dip and flavored with the green veggies and a three-cheese blend. They'd make a scrumptious gamed-day snack.
Last is an option for meat lovers only: the Italian-style supreme bun. Those bad boys pack Italian sausage, pepperoni, onions, black olives, mozzarella, and green and red peppers into hearty dough bites. Sounds like dinner.
Pizza Buns mark DiGiorno's first foray into the bite-size pizza market, and the online reviews are mixed. Some say the buns skimp on flavor, while others say the cheese and tomato sauce taste pretty pleasant. Some complain that the cheese isn't gooey and melty enough, but that means, fortunately, that the sauce won't burst and burn your mouth with every bite. Some say they're not a very filling snack, but they're easy to make and turn out well both baked and microwaved.
As for how much you might like them? It sounds like that's something you'll have to determine for yourself.
You can snag Pizza Buns in boxes of six for around $4 at your local supermarket. If you think you can master them better on your own, here's a recipe for homemade pizza buns.
Looking for more creatively delicious ways to enjoy the marvelous flavors of pizza? Try our pepperoni pizza braid, pizza waffles or pizza wonton triangles.
Photo credit: Pixabay
Tags:
digiorno
,
frozen food
,
italian
,
Pizza
,
pizza buns
,
Pizza Rolls
,
snacks