Twinkie Ice Cream Is Real And We Need It!
category:
By Cooking Panda
If your New Year's resolution involved dieting then Hostess and Nestle have other plans for you. The snack food brands are teaming up to bring us the flavor combo that will melt your will power (pun intended). Finally, we can enjoy our Twinkies in ice cream form!
Remember in 2012 when we were told that Hostess was shutting down and we'd never enjoy Twinkies ever again? Thank goodness that was a false alarm; otherwise we wouldn't be blessed with the amazing invention of Twinkie ice cream. Uproxx reports that Hostess has teamed up with Nestle to bring us not one, but at least four new ice cream flavors inspired by Hostess snack cakes: Twinkie (of course), CupCakes, SnoBalls and DingDongs.
These ice creams are limited edition, and although we were told they'd be out in February 2017, some lucky shoppers are already finding them on the shelves in random local convenience stores in the U.S., so keep a sharp eye out.
The Twinkie ice cream features buttercream ice cream with chunks of Twinkie and a swirl of vanilla icing. The other flavors? Well, you'll have to wait and see.
According to Elite Daily, Hostess' near-bankruptcy was due to the latest trend in healthy eating. Hostess just couldn't market its snack cakes to an audience who was watching their sugar and calorie intake. However, things change and we couldn't be more excited to ruin our resolutions with some good old-fashioned Twinkies, especially when they come in the form of ice cream.
Twinkies made their debut back in 1930, and no health trend should be able to tear them away from us. Don't get me wrong — SnoBalls and DingDongs are great, too, but there's just something special about a Twinkie.
So far, we're only aware of Dollar General carrying these limited edition treats. If you have one nearby, go check it out (and perhaps stock up while you have the chance). See if you can find the DingDongs and SnoBalls flavors as well, so you can let us know how they taste!
Sources: Uproxx, Elite Daily / Photo Credit: Hostess Snacks/Instagram
Tags:
Hostess
,
ice cream
,
nestle
,
Snack Cakes
,
Twinkies
Did You Buy Peppermint Twinkies? They've Been Recalled!
category:
By Cooking Panda
Twinkie recall alert! If you bought any Hostess holiday Twinkies, you might want to double-check that they aren't contaminated with salmonella poisoning.
A CNBC report states that Hostess Brands issued this voluntary recall on Jan. 10, 2017, and it's specifically for the White Peppermint Twinkies. The ingredient provided for the sugary coating that separates these from regular Twinkies might possibly be contaminated with salmonella.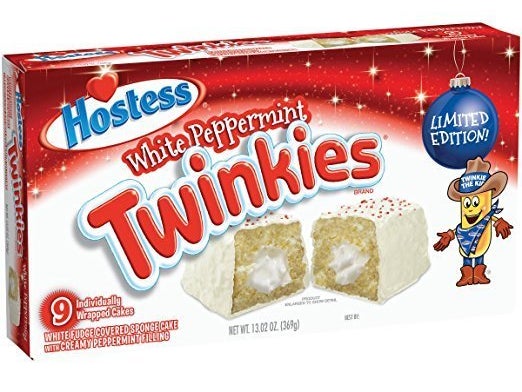 The offending ingredient is a milk powder that has been recalled by Valley Milk Products. They were the suppliers of the milk powder to the company that made the confectionary coating on the Twinkies, Blommer Chocolate Co., who then supplied the coating to Hostess. Luckily, this possible contamination was caught before anyone was reported sick, according to Huffington Post.
The recall is more of a "better safe than sorry" type of deal, which means you don't have to panic if you've been eating the cakes and haven't gotten sick yet. Just be wary.
You might remember our post from December about a mac and cheese recall because of the salmonella contaminate from the same company. It was also the powdered milk that was the culprit. During the last recall, the FDA raised concern over the cleanliness of the company. I can't imagine they haven't landed in hot water for having the same problem two months in a row.
The affected milk powder products were sold from Dec. 5, 2015, through July 10, 2016, but Valley Milk says that Virginia (the company's home state) did not identify salmonella in any of the products. Once again, the motto here is "better safe than sorry."
One company spokeswoman told The Huffington Post that "Valley Milk has notified all direct customers that received product under the recall. Our staff is working diligently with those direct customers to notify downstream customers of the recall."
If you or someone you know has purchased the holiday White Peppermint Twinkies, Hostess urges you to return the snack to where you purchased them for a refund. Hey, this could work in your favor if you have a weight-loss resolution for New Year's, right? Just looking on the bright side.
Sources: CNBC, Huffington Post / Photo Credit: Hostess Snacks/Instagram, Hostess Brands via CNBC
Tags:
food recall
,
Hostess
,
Salmonella
,
Snack Cakes
,
Twinkies
If You Bought Entenmann's Sweets Be Aware Of Plastic In Your Muffins
category:
By Cooking Panda
Entenmann's, a brownie and muffin brand, has voluntarily recalled brownies and muffins in 34 states. Check your box if you bought it within the dates of Aug. 12-23.
You may recognize the brand more in its fancy blue cursive writing, and by the mini bite-sized brownies and blueberry muffins that are so addictive. It turns out, according to a press release by owner Bimbo Bakeries, the product may have plastic in it, causing a choking or cutting hazard (Yuck!).
Food Safety News reports that at least one consumer reported an injury as a result of plastic in the product. The recall includes: Little Bites Fudge Brownies, Little Bites Chocolate Chip Muffins and Little Bites Variety packs with brownies, chocolate chip muffins and blueberry muffins.
You can determine whether or not your own boxes at home are contaminated by looking for the code number 3098 printed by the "Best By" date on the outside of your box. Also, as I mentioned above, these boxes were distributed during the weeks of Aug. 12 through Aug. 23.
As delicious and tempting as these little treats are, I wouldn't chance eating plastic if you can help it. That is, if you're not munching on them while reading this article. Don't take any chances; just throw out your potentially contaminated boxes and go out and get some post-recall to be on the safe side.
Then again, if you have a contaminated box, you can always return it for a full refund instead of throwing it out. Get your money back and get some new snack cakes!
You could also just go with homemade until this whole thing blows over. At least that way you know what's going in to your food. To me, the extra effort seems more than worth it. Plastic doesn't sound appealing as it is, but risking a cut while eating one of your favorite snacks? No thanks.
Sources: Food Safety News, Bimbo Bakeries Press Release / Photo credit: Hip2Save
Tags:
brownies
,
Entenmann's
,
Muffins
,
recall
,
Snack Cakes