Would You Try S'mores English Muffins? (Photos)
category:
By Cooking Panda
One of my favorite things about many brands of breakfast food is that they make it possible for us to get away with eating dessert for breakfast. Think about it. Pancakes, French toast, Pop-Tarts and lots of different cereal brands do it. Now, it's Thomas' turn.
Thomas' English Muffins now come in a S'mores flavor that I can't wait to try. According to Popsugar, the limited edition flavor is in stores now, so you'd better go and find them ASAP. It was Instagram user Junkbanter who clued the internet in on the new English muffin flavor, saying that he grabbed three boxes thanks to the smell alone.
As you can see in the picture, the muffins have little specks of chocolate and marshmallow in them. I always said my one problem with English muffins was that they weren't sweet enough. This is perfect.
According to Delish, this S'mores flavor is coming just after the Maple French Toast and Bacon Buttermilk Pancake flavors from Thomas'. Is this real life?
Somehow, Thomas' brand is still magically able to make their muffins — flavoring and all — low fat and cholesterol free, according to its website. The muffins even still have a decent amount of protein in them (5-6 grams). Thomas' is slowly becoming my new favorite breakfast food brand.
All flavors come in 6-pack sizes, so if you're feeling particularly desperate to make sure your supply lasts, you should probably grab all you can. I have a feeling, though, that you don't have to worry much if you miss these limited edition flavors. With the crazy food flavor trend that's happening right now, Thomas' is sure to come up with even more tantalizing flavors.
If English muffins aren't your thing, then just have a s'more for breakfast. I mean, are we really that far off, anyway? There are S'mores Pop Tarts, S'mores Krave Cereal and S'mores Toaster Strudels. Would it really be so bad just to make a couple of s'mores to start your day? I don't think so. Just remember that you won't get that nice nutrition label that comes on the Thomas' English Muffins package.
Sources: Popsugar, Delish, Thomas' / Photo Credit: Heather Katsoulis/Flickr
Tags:
breakfast
,
smores
,
Sweets
,
Thomas' English Muffins
S'mores Waffle Sandwich
category:
By Cooking Panda
S'mores Icebox Cake
category:
By Cooking Panda
By Cooking Panda
By Cooking Panda
Girl Scouts Debut An Amazing Vegan S'Mores Cookie
category:
By Cooking Panda
We can hardly believe it, but the best and most magical time of the year is already upon us, and it's only the first week of 2017!
You guessed it, folks — Girl Scout season is officially here, and they're getting ready to celebrate an impressive 100 years of selling cookies!
Yes, really. The Girl Scouts have been around for a century, as Time reports, and their first sales date all the way back to 1917 when the troops were selling delicious, addictive cookies out of their high school cafeterias.
Obviously, the Girl Scouts have gained massive popularity since then, and 100 years after their first sales, they now generate almost $800 million in sales annually — no small feat!
This year, the Girl Scouts will be debuting their newest and delicious sounding s'mores variety of cookie, and it comes in two separate iterations.
Time reports that the first type of s'mores cookie is a square graham cookie topped first with a layer of that classic creme icing, and then enrobed in a lush chocolatey coating.
Its counterpart has a graham cracker exterior instead, and hosts a gooey and marshmallowy filling of creme and chocolate.
If that doesn't sound tempting enough, here's yet another compassionate and humanitarian reason to support the s'mores flavor of Girl Scouts this year — the cookie is vegan!
Will you be celebrating the Girl Scouts' 100 year anniversary and enjoying a vegan s'mores cookie this year?
Sources: Time / Photo Credit: Chelsea Lupkin/Delish
Tags:
cookies
,
Girl Scouts
,
Graham Cracker
,
smores
,
vegan
Chocolate S'mores Pastries
category:
By Cooking Panda
Change Your S'mores, Change Your Life With These 14 Revolutionary Gifs
category:
By Cooking Panda
In honor of National S'more Day, we want to broaden your horizons a little.
We know, we know. S'mores are, like, the best dessert ever. They are 100 percent perfection, and they shouldn't ever change.
We could munch on these heavenly melty chocolate, toasted marshmallow and crunchy graham cracker sandwiches for the rest of our lives.
We're not saying you should abandon the classic treat, but here's the thing: You might be missing out on something really fun and lifechangingly delicious if you don't broaden your horizons a little and try the occasional treat in your s'mores.
Pretzels? Fruit? Candy? Bacon? Waffles? Cookie dough? Give it a try!
Take a look at some of the sexiest s'more variations out there.
How about these pumpkin spice (or any other flavor you like) marshmallow s'mores? Recipe here.
Then you have this tried and true champion — the Reese's S'more.
Try smashing this noble Snickers s'more together for a twist on the usual s'more textures.
This gorgeous s'more features a Milky Way for extra melty goodness.
Using a York Peppermint Patty instead of Hershey's milk chocolate tastes kind of like a melty, minty hot fudge sundae, if you're into that.
Like a little crunch? use a Krackel as your chocolate anchor:
Switching out milk chocolate for the dark stuff — or any other variety, like almond, caramel or toffee chocolate — keeps things fresh and exciting!
Or maybe you're more of a cookie person:
Try this incredibly creamy s'moreo for a warm, gooey chocolaty treat.
How about a little s'moreception? Swap out graham crackers for gently toasted s'more Pop-Tarts, and you're in business! Because too much ain't enough. (Recipe here.)
Moral of the story? Don't be afraid to venture outside of your comfort zone and try something new every now and again!
Or don't listen to us and stick to the classic tried and true combo. We won't tell you what to do.
Source: Huffington Post / Featured Photo Credit: Minimalist Baker
Tags:
National S'mores Day
,
s'moreo
,
s'mores recipe
,
s'mores twist
,
smores
12 Ooey Gooey S'more Gifs That Will Melt Away All Your Troubles
category:
By Cooking Panda
The week is halfway over, so we thought we'd give you an extra sweet treat today to help you get through your week.
That's right — everybody's favorite childhood dessert. Charred, melty gooey marshmallows infused with the smokiness from a campfire. How can you not want to shove your face full of them?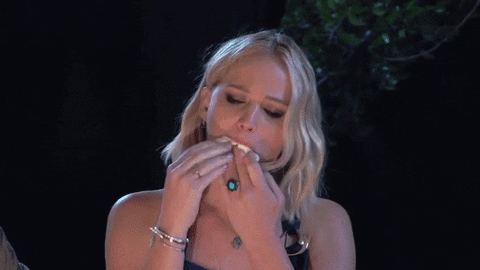 Probably the best thing about s'mores is that you get to eat them around a fire, which means you are by default somewhere awesome.
But we give props to anyone who figures out crafty ways to eat them indoors…
Whatever it takes to get that marshmallow good and toasted!
As long as it squishes into the middle of a crispy graham cracker-chocolate sandwich, we're all good.
I mean, seriously, look at how gorgeous and satisfying it is to construct a melty s'more sandwich:
You can even get creative and sandwich your roasted marshmallow between other delicious things, like cookies.
Or make beautiful brownies out of our favorite summer treat.
Or build a towering monument of an ice cream sundae.
Or keep it classic — it's all up to you.
Because whatever you do, you know s'mores always come with good memories that you'll have forever.
Live it up, enjoy your summer, and get yourself to a campfire as soon as possible!
Featured Photo Credit: miss_whisk/Instagram
Tags:
dessert
,
foodporn
,
Hump Day
,
smores
,
Wednesday gifs
S'mores Stuffed Cookies
category:
By Cooking Panda
Campfire S'more Cupcakes
category:
By Cooking Panda
How To S'more Your Favorite Desserts
category:
By Cooking Panda
S'mores are a classic childhood treat. Who can say no to warm, gooey toasted marshmallows and melted chocolate wedged between crunchy graham crackers.
If you love the comforting taste of s'mores but don't feel like wrangling a campfire, read on to find out how to s'more your favorite desserts via Mode.com:
1. S'mores Chocolate Cakes
Rich, moist chocolate cakes and roasted marshmallows melt together for an indulgent treat. The best part? This cake only has six ingredients.
2. Easiest Ever Thin Mint S'mores
Your favorite Girl Scout cookies and toasted marshmallows together in one tasty treat. Does it get easier?
3. Adult Caramel S'mores Milkshake
It is a win-win situation when you can turn a classic dessert into a cocktail. This tipsy milkshake combines caramel vodka, vanilla ice cream, chocolate, marshmallows, and graham cracker crumbs. You won't regret it.
4. Baked S'more Donuts
Chocolate donuts topped with marshmallow fluff icing and graham cracker crumbs. It's healthy because it's baked, right?
5. S'mores Popcorn
Mixing melted s'mores ingredients into popcorn makes for a slightly lighter but still decadent snack that's great for the whole family (or just for yourself).
6. S'mores Pie Pops
Like Pop Tarts, but better. Fold chocolate and mini marshmallows into mini pie crust rectangles and enjoy.
7. Skillet S'mores Dip
Marshmallows and chocolate melt together for a quick, comforting dip that is destined for graham crackers.
8. S'mores Pudding Pie
If you love pie, smores and pudding as much as we do, you need to try this s'more pudding pie. Fill a graham cracker crust with ready-made chocolate pudding pie, top it with a heavenly marshmallow meringue, and pop it under the broiler for a few minutes. Enjoy.
9. S'mores Cheesecake
This recipe is proof that you can improve upon perfection. Add melted chocolate and roasted marshmallows to your cheesecake to make two classic desserts even better.
10. S'mores Cupcakes
Moist chocolate cupcake. Graham cracker crust. Marshmallow frosting. Divine.
Tags:
dessert
,
recipes
,
smores