Banquet Chicken Nugget Meal Recalled Over Salmonella
category:
By Cooking Panda
If you don't want to risk contracting salmonella, then make sure to toss out this product if you have it in your freezer right now!
USDA's Food Safety and Inspection Service announced that Conagra Brands, Inc. has recalled a brownie mix dessert, which is included in frozen breaded chicken nugget meal trays, due to possible salmonella contamination.
Yuck!
The recall goes for a staggering 110,817 pounds of the 7.4-ounce vacuum-packed trays that contain "Banquet Chicken Nuggets with Mac & Cheese" with Code 3100080921 and a "best if used by" date of July 20, 2018. The FSIS establishment number "P-9" is printed on the side of the box.
The frozen meals were shipped to stores across the nation, and while no reports of illnesses have yet been linked with the recalled products, according to FSIS, that doesn't mean anybody who owns one of these products should risk it. Either toss out the recalled product, or return it to the place you purchased it for a full refund, to be on the safe side.
For more information, consumers can call Conagra Brands Consumer Affairs at 1-800-289-6014.
Source: Web MD / Photo Credit: Pixabay
Tags:
Banquet Chicken Nuggets with Mac & Cheese
,
Conagra Brands
,
fsis
,
Inc.
,
recall
,
Salmonella
This Girl Is Trolling The Internet With Her Raw Chicken
category:
By Cooking Panda
Ugh. This is so gross.
Pretty much everybody knows that while some meats are acceptable to be eaten raw — such as fish or cow — other meats really need to be cooked all the way through in order to ensure that they are safe to consume, not to mention tasty — like chicken, for example.
Everybody knew that, right? Right?
Wrong.
Apparently, Morgan Jane Gibbs missed the memo that raw chicken is bad chicken, because she posted her raw chicken recipe to Facebook, and didn't seem to be joking.
"Just made chicken medium rare chicken strips. They're so good can't believe I've never tried it like this before," she wrote on the post, adding:
"Can't wait to dig into this with my homemade salad and veges. #healthy #newyearsresolution #clean #cleaneating."
Oh boy.
Luckily, the post received comments that seemed to aim at educating Gibbs about the danger of consuming raw chicken.
"Haha I like my chicken with less salmonella," said one commenter.
"Good for food poisoning that's all," commented another.
"This post has made me feel really ill," concluded somebody else.
We can only hope that this was just an attempt on Gibbs' part to go viral in the new year, and that she did not actually consume the chicken as pictured. We also advise anybody reading to please refrain from consuming raw or undercooked chicken, as it could potentially be very dangerous!
Sources: Morgan Jane Gibbs/Facebook / Photo Credit: Morgan Jane Gibbs/Facebook
Tags:
Facebook Post
,
internet troll
,
raw chicken
,
Salmonella
,
Viral
Did You Buy Peppermint Twinkies? They've Been Recalled!
category:
By Cooking Panda
Twinkie recall alert! If you bought any Hostess holiday Twinkies, you might want to double-check that they aren't contaminated with salmonella poisoning.
A CNBC report states that Hostess Brands issued this voluntary recall on Jan. 10, 2017, and it's specifically for the White Peppermint Twinkies. The ingredient provided for the sugary coating that separates these from regular Twinkies might possibly be contaminated with salmonella.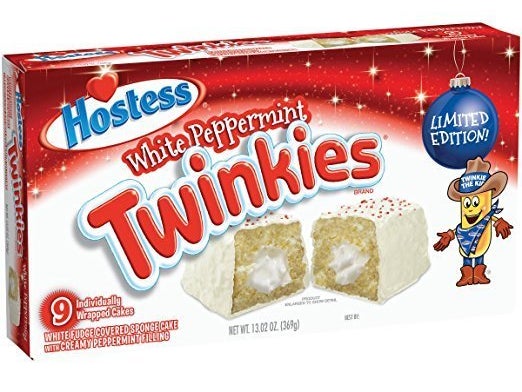 The offending ingredient is a milk powder that has been recalled by Valley Milk Products. They were the suppliers of the milk powder to the company that made the confectionary coating on the Twinkies, Blommer Chocolate Co., who then supplied the coating to Hostess. Luckily, this possible contamination was caught before anyone was reported sick, according to Huffington Post.
The recall is more of a "better safe than sorry" type of deal, which means you don't have to panic if you've been eating the cakes and haven't gotten sick yet. Just be wary.
You might remember our post from December about a mac and cheese recall because of the salmonella contaminate from the same company. It was also the powdered milk that was the culprit. During the last recall, the FDA raised concern over the cleanliness of the company. I can't imagine they haven't landed in hot water for having the same problem two months in a row.
The affected milk powder products were sold from Dec. 5, 2015, through July 10, 2016, but Valley Milk says that Virginia (the company's home state) did not identify salmonella in any of the products. Once again, the motto here is "better safe than sorry."
One company spokeswoman told The Huffington Post that "Valley Milk has notified all direct customers that received product under the recall. Our staff is working diligently with those direct customers to notify downstream customers of the recall."
If you or someone you know has purchased the holiday White Peppermint Twinkies, Hostess urges you to return the snack to where you purchased them for a refund. Hey, this could work in your favor if you have a weight-loss resolution for New Year's, right? Just looking on the bright side.
Sources: CNBC, Huffington Post / Photo Credit: Hostess Snacks/Instagram, Hostess Brands via CNBC
Tags:
food recall
,
Hostess
,
Salmonella
,
Snack Cakes
,
Twinkies
You Might Want To Throw Out That Bagged Salad
category:
By Cooking Panda
Bagged salads are highly convenient for when you need a quick lunch thrown together, but did you know that there are health risks associated with them?
According to Delish, bagged salads are susceptible to listeria and other pathogens, and for the fourth time this year Fresh Express salads are being recalled for undeclared allergens. I guess the great convenience is too good to be true.
Food Safety News reports that Chiquita International has recalled 480 cases of American Salad mix from six states because Caesar salad dressing packets were added to the bags. In case you didn't know, Caesar salad dressing includes egg, milk, wheat and anchovy, all of which can be considered allergens. Whoops. States that were included in the six were: Alabama, Florida, Georgia, North Carolina, South Carolina and Tennessee. If you're worried you might have a bag in your fridge, check that the use-by date is Oct. 5 to be sure.
Aside from the aforementioned health risks, Food Safety News has also found that the green juices released from the damaged leaves of bagged salads can "significantly encourage the growth of Salmonella enterica."
"We found that juices released from the cut-ends of the salad leaves enabled the Salmonella to grow in water, even when it was refrigerated — this was a surprise as Salmonella has a temperature preference of 37 C," the study states. It was also found that when left in the bag, even refrigerated, the pathogens attached so strongly to the leaves that they couldn't even be rinsed off in water.
Basically, the study lets us know that there's no increase of risk in eating our leafy greens (so don't consider that as an excuse to cut them out!), but that keeping them in a bag of salad mix in the refrigerator can increase the risk of sickness.
The take-away here is to make sure your salads are "stored, prepared and used according to the guidance on the pack — including refrigeration and use-by instructions. Avoid bags of salad with mushed-up leaves, any bags or salad containers that look swollen, store in the fridge and use the salad as quickly as possible after purchase to minimize the growth of any pathogens that might be present."
Sources: Delish, Food Safety News / Photo Credit: Lisa Nunez/Instagram
Tags:
Bagged Salad
,
salad
,
Salmonella