11 Steamy Ramen Gifs Sure To Whet Your Appetite
category:
By Cooking Panda
Sometimes when it's cold and dreary outside, there's only one thing that you need to warm you up and keep you happy. THIS: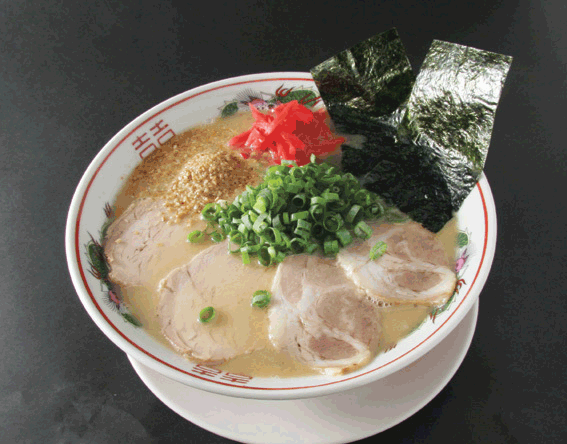 That's right. A sexy, steamy, inviting bowl of brothy noodles to make everything right with the world.
Let's have another look at this gorgeous bowl of perfection, shall we?
We could really dig our chopsticks into this incredible bowl of noodles right now.
Or maybe this one:
We'll be honest, sometimes we totally just crave the cheap instant stuff that boils up in minutes.
There's something nostalgic and comforting about watching a pot of these dried noodles boil and knowing that you're about to devour it.
Give us a bowl of noodles, and we'll make them disappear in seconds. We can't help ourselves.
Of course, if you have some fresh ones on hand, we envy you. Look at how delicious!
One thing's for sure: there's no substitute for a warm bowl of ramen noodle soup.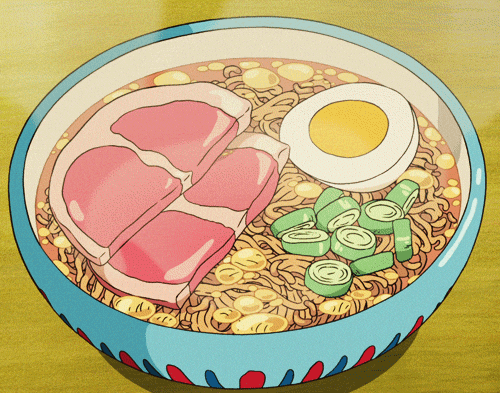 So slurp it up while it's hot and enjoy!
Featured Photo Credit: Wisely Fong/Instagram
Tags:
food gifs
,
foodporn
,
Hump Day
,
ramen
,
Soup
Japan Is Using Ramen To Make Roads Safer
category:
By Cooking Panda
Japan has thought up a new tactic for keeping unsafe drivers off the road. The idea is to sway drivers 75 and older to give up driving in exchange for cheap ramen. Points for creativity!
According to The Guardian, the new idea is in response to a rise in accidents involving older drivers in the country. How cheap are the noodles? About 15% off the normal cost, at 500 yen. The question is, will drivers feel that it's worth it?
Traffic accidents among the elderly have risen from 7.4% to 12.8% over recent years, even though accidents in general have been on a steady decline. What's worse, about 17 million of people ages 65 and over have driver's licenses, so it's probably safe to assume that most of them are on the roads. Accidents seem to be consistent with age-related problems, since many of them are a result of the driver mixing up which pedal is gas and which is the brake, and/or driving on the wrong side of the road.
The way the deal works is that these drivers can hand over their driver's licenses to police and get a driver's record certificate in exchange. Other perks include discounts at public baths, barbers and chemists and for taxi rides. Sounds like a pretty decent deal, especially if you know you aren't seeing or remembering as well as you're used to. According to Rocket News 24, the record exchange is what's considered a "Driving Graduation Certificate."
I hope they don't think they're fooling the elderly by calling it this. They probably know better. But, as long as the perks are worth it they probably don't mind, either. Discounts on buses and monorail stations can be up to 50%, after all. Talk about convenience.
Then again, it's tough to give up your car. Driving brings you a certain amount of independence, and you might have a hard time giving that up over a bowl of noodles, even if they are tasty. They were never really expensive to begin with. I guess we'll see how this plays out as the plan develops further.
Sources: The Guardian, Rocket News 24 / Photo Credit: Oppa Korean Kitchen/Instagram
Tags:
japan
,
ramen
In This Museum, You Create Your Own Cup Noodles Flavor (Video)
category:
By Cooking Panda
If you'll recall, we recently discussed the 45th birthday of Cup Noodles, and we talked all about its history. Most of that history is celebrated within the Ramen museum in Yokohama, Japan.
Also part of that museum is an exhibit where you can make your own Cup Noodles. As you'll see in the video below, it features a bar where you can take your cup and go through and add all of your favorite ingredients. If you loved Ramen as a kid (who didn't?) this could possibly be the yummiest trip down memory lane…ever.
According to Foodbeast, it costs only 300 yen ($2.89) to create your own Cup Noodles flavor. They'll even wrap it for you so that it looks like you just bought it right off the shelf.
According to Japan Guide, you can also make your own Ramen at the "My Chicken Ramen" station in the very same museum. This takes 90 minutes and requires reservations ahead of time. It costs 500 yen and I'm sure it's well worth it.
Also within the park is a Cup Noodles children's playground. I knew the noodles were versatile, but this is crazy!
Finally, another area of the museum worth mentioning is the Noodles Bazaar, set up to look like a night market, and allowing visitors to taste all kinds of noodle dishes for only 300 yen. It even comes complete with the sounds of hawkers and traffic so you can have an almost real experience of what it would actually be like to visit an Asian night market.
If I haven't said it before, this is definitely a place worth checking out if you're ever in Japan. And besides, everyone should travel out of their own country at least once. Why not make a trip just to see this place?
Sources: FoodBeast, Japan Guide, bcontrol/YouTube / Photo credit: Jackie Ako/Instagram
Tags:
cup noodles
,
japan
,
ramen
Ramen Ice Cream Is Real, And It Is Absolutely Gorgeous
category:
By Cooking Panda
I don't know what it is about ramen that inspires so much culinary creativity, but I hope it doesn't stop anytime soon.
While most of us are still reeling over the wild creation that is the ramen burger, the folks over at The Dessert Kitchen in New York have created ice cream ramen — and it actually looks delicious.
Per Metro, the dessert contains neither ice cream nor ramen; rather, the dessert is made with crushed ice mixed with condensed milk, which gives it a sort of ice cream-like consistency, and then jelly noodles, which look enough like ramen noodles (albeit neon blue ones) that the name gets a pass.
Additionally, ice cream ramen features mochi, balled melon, cubed mango and white peach syrup.
Does that make it healthy? No? Who cares when it's this pretty to look at.
Source: Metro / Photo credits: queenkwon/Instagram, Angeliki Jackson/Today
Tags:
food trend
,
ice cream
,
New York City
,
ramen
Happy 45th Birthday, Cup Noodles! Here's The History Of The Ramen Staple
category:
By Cooking Panda
Cup Noodles is turning 45 years old. You've probably eaten them throughout college, and maybe even into your later 20s…And honestly, they're still pretty tasty.
The creator's name was Momofuku Ando, and before he created the Cup Noodles, he created chicken Ramen in 1958, spending every day for one year trying to come up with the perfect instant Ramen creation. Cup Noodles, the natural next step, made its debut in 1971, according to the Cup Noodles Museum. That's right, there's a museum dedicated to these noodles. It is well-deserved.
Ando went on a fact-finding trip to America in 1971, and found grocery store managers breaking up his Ramen, putting it into a cup, microwaving it with water and enjoying it with a fork. That's when he realized if he made the Cup Noodles, it would go global. Not everyone eats this pasta fried with veggies and using chop sticks. The cup could help to diversify the noodle.
Obviously, we now know that he was right, since most of us have tried Cup Noodles at some point. According to National Public Radio, the museum that stands today is filled with tributes to the Ramen inventor, along with Ramen-inspired exhibits.
"This is the museum that really honors the creator of instant ramen and Cup Noodles," museum manager Yuya Ichikawa told NPR. "… He tried many many methods of drying the ramen, but he could never find anything that worked perfectly well. And then one day he was watching his wife make tempura and he realized, this is how it can be done," Ichikawa explained.
And so Ando made noodles instant by lightly frying them in oil for a few seconds, then drying and packaging them.
Visitors are able to make their own noodles in the museum, and even use ingredients from an ingredient bar to create their own noodle recipes.
Other exhibits include the Instant Noodles History Cube, where walls are decorated with all Ramen flavors from day one to now, from top to bottom, and Ando's actual work shed. If you ever find yourself in Yokohama, Japan, stop by and learn all about Ramen.
Sources: NPR, Cup Noodles Museum / Photo credits: Vivian Tong/Instagram, Japan Guide
Tags:
cup noodles
,
ramen
Cup Noodles Is The Latest Pantry Staple To Hop Aboard The Health Food Trend
category:
By Cooking Panda
If your college experience was anything like mine, then you have had your fair share of ramen-based meals (video below).
It all starts off with the simple cup o' noodles; standard, basic and cheap.
As time goes on (and income stays scant), you begin to discover new ways to elevate your staple meal: personally, I was thrilled when I thought to add egg and different spices/vegetables to mine, but brains more creative than mine have come up with such delights as the Ramen Burger, and more.
Now, however, the Nissin Foods pantry staple is undergoing a total upgrade. According to Delish, the company is responding to customer feedback and developing a new version of its famous Cup Noodles product with less sodium, no added MSG, and zero artificial flavors in honor of its 45th anniversary.
In order to make sure the product still stood up to its original glory, Nissin Foods enlisted the help of several blind taste-testers, who also happened to be big time fans of the OG Cup Noodles.
The verdict? Apparently, the consumers think that the improved product is totally on par with the sodium-laden original.
Here's the best part: Natural ingredients such as paprika, lime, and turmeric were added to boost the new flavor profiles, so they're sure to be just as satisfying and flavorful as their less-healthy (but oh-so-addictive) predecessors.
Check out the video about the change below:
Sources: Delish / Photo credits: Nissin Foods Inc. via Delish, Nissin Foods Inc. via The Inspiration Room
Tags:
cup noodles
,
health
,
low sodium
,
Nissin Foods
,
ramen
Would You Try Kylie Jenner's Instant Ramen Hack?
category:
By Cooking Panda
Kylie Jenner has shared with us how she prefers to eat her Ramen Noodles! Using Twitter, she urged fans to start doing the same, and we've learned all about the many different ways Ramen can be enjoyed.
I want to know what u guys put in ur ramen noodles !!

— Kylie Jenner (@KylieJenner) August 5, 2016
According to Refinery29, thousands of recipes started pouring in. Kylie reported via Snapchat that she likes to add butter, garlic powder and egg to her own Ramen dish.
Many of the responders were actually surprised that Kylie would eat Ramen Noodles at all, reports Teen Vogue. But doesn't that make her all the more relatable? Who hasn't enjoyed their fair share of this quick meal?
Well, now, thanks to Kylie, there are all sorts of Ramen recipe ideas floating around online. For example, some responses incorporated chili spices, hot sauce, proteins such as chicken or shrimp, and even cheese. This last one got some major attention from Kylie, who now feels she must try it.
Cheese ?!!! I must try https://t.co/wBFhZFxAwY

— Kylie Jenner (@KylieJenner) August 5, 2016
And now we must ask: What do you put in your Ramen Noodles?
Sources: Refinery29, Teen Vogue, Kylie Jenner/Twitter / Photo credit: Kylie Jenner/Instagram
Tags:
food hacks
,
Kylie Jenner
,
ramen
Watch: These Amazing Ramen Hacks Just Might Change Your Life (Video)
category:
By Cooking Panda
Ramen is incredibly cheap, surprisingly delicious, and available almost everywhere, from gas stations to grocery stores. If you're in college, ramen might just represent one of your main food groups, and if not, chances are that you've relied on ramen for a quick meal more than you'd like to admit (video below).
The problem with ramen, however, is that it gets old very quickly. There are only so many bowls of hot, salty noodles that you can consume before you start craving some variety. And, while it's easy to add Sriracha or fresh chives to your ramen in search of new flavor, we've found some much more exciting ways to spice up the budget staple.
We were blown away when we discovered the video below, which demonstrates how to turn everyday ramen into everything from Faux Pho to Canadian Poutine. Even better, the recipes are almost as easy and cheap as the noodles themselves, utilizing kitchen staples to transform your favorite college food into a gourmet feast. The hardest part will be deciding which variation you'll be cooking for dinner tonight!
Source: Tounsi.com/Youtube
Tags:
food hacks
,
ramen
How To Eat Ramen, Or: Slurping 101
category:
By Cooking Panda
One common belief held by Americans is that it is impolite to slurp one's food. However, when it comes to eating ramen, slurping is not only an acceptable practice — it's encouraged (video below).
In a video for the Dallas Morning News, chef Teiichi Sakurai has gifted us all with Slurping 101 — a beginners guide for how to "properly" consume a bowl of ramen.
The good news? There aren't any real rules.
"It's very simple," Sakurai tells the Dallas Morning News, explaining that most people sip the broth using the lenge (Asian soup spoon), and alternate with bites of ramen or garnish, which are eaten with chopsticks.
"Just one sip, then pick up a noodle and slurp it, and some vegetable or chashu. Eat the noodles enjoying different flavors, together, slurping for smoothness of the noodle or the soup's flavor. There are no rules, but I grew up that way."
As for garnishes, Sakurai tells the Dallas Morning News that it's up to you whether or not you want to mix them in or eat them on their own. The balance of noodles to garnishes is all that really matters.
"It's very, very free," he adds.
Check out Sakurai doing his thing in the video below:
Click here to LIKE Food Please on Facebook
Sources: Taste of Dallas/Guide Live, The Dallas Morning News/Youtube / Photo Sources: Taste of Dallas/Guide Live
Tags:
chef sakurai
,
ramen
,
slurping
'World's Most Expensive Ramen' Has Truffles, Wagyu Beef, And Gold
category:
By Cooking Panda
For those of you who have plentiful disposable income to spend on a classic budget meal, a New York restaurant claims to serve the "world's most expensive ramen," according to The Wall Street Journal.
Koa, a Japanese restaurant in the Flatiron District of Manhattan, now serves a bowl of ramen that costs $180. According to the restaurant's general manager, Charlie Garcia, ingredients such as truffles, Wagyu beef imported from Japan, and edible flakes of 24-karat gold make up this pricey dish.
Customers must order the gourmet dish a minimum of six hours in advance to give the chefs enough time to prepare its chicken-and-pork broth. The meal is served in a Japanese-imported handcrafted bowl along with a set of gold-colored chopsticks. As a bonus, customers get to keep the chopsticks.
Since the dish was introduced less than a month ago, only two diners have decided to order the gold encrusted meal. Nevertheless, the restaurant team believes such a decadent dish is a unique way to spread the word about what they have to offer. For those who wish to spend a bit less money on the Japanese street food, Koa also offers meals for as low as $10 for lunch and $14 for dinner.
Source: The Wall Street Journal via Market Watch / Photo credit: Charles Passy/Market Watch
Tags:
gold flakes
,
Japanese restaurant
,
Koa
,
ramen
,
Wagyu beef