Add A Pop Of Color To Your Life With 9 Sprinkle GIFs
category:
By Cooking Panda
Need a little extra excitement in your life?
A burst of brightness and whimsy to get you through the week?
Well, then it sounds like it's time to grab some sprinkles AND PUT THEM ON EVERYTHING.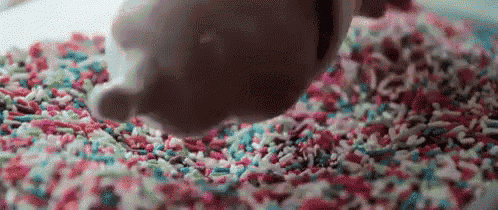 They make cupcakes even more fun:
And somehow donuts taste waaay better with them. you know it's true!
So if you're making donuts, make sure to smother them in some colorful, edible confetti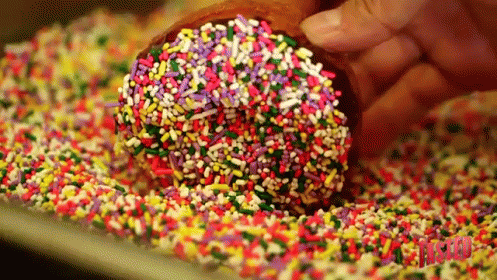 And then promptly scarf down said donut immediately. Obviously.
Oh yeah, baby. Make it rain!
This is truly mesmerizing, and it is a dream that I need to realize. Right. Now.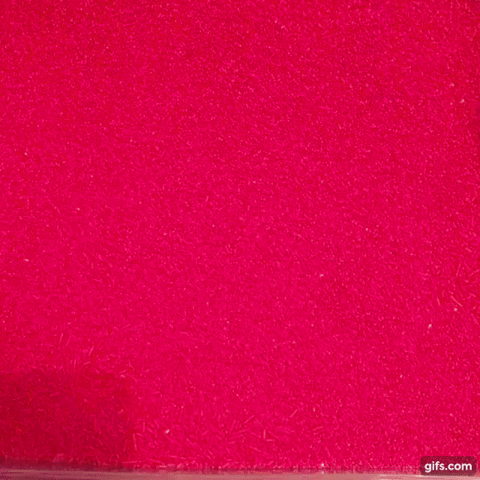 For the record, this is the correct amount of sprinkles to use as any topping.
Eat up!
Featured Image: D Sharon Pruitt/Flickr via Wikimedia Commons
Tags:
food gifs
,
foodporn
,
Hump Day
,
rainbow food
,
sprinkles gifs
These 9 Rainbow Treats Will Brighten Your Day (Recipes)
category:
By Cooking Panda
Need a little more magic and excitement in your life?
Don't worry, you don't need to light anything on fire. There's a much easier and better way to get a little more of that childish wonder in your day: Make some rainbow stuff!
Kids and adults alike will lose it over these beautiful sweet and savory brightly colored treats, plus there are some absolutely perfect veggie dishes for picky eaters of all ages.
Enjoy!
​
I've always been a huge fan of sweet chocolate Muddy Buddies, but I never dreamed they could look so gorgeous!
This recipe comes with natural food coloring suggestions, though you can also use regular food coloring if you'd prefer. Top this off with anything rainbow or shiny, like M&M's or edible pearl sprinkles, just to make it that much more fun.
If deli ham isn't your thing, you can replace it with whatever sandwich filling you want. This bright sandwich is particularly delightful with caramel braised pork belly or marinated seared tofu.
An easy but stunning way to impress your guests if you need a quick, classy and fun appetizer! You can also use a soft, spreadable cheese like brie, goat, ricotta or cream cheese, though the thick cashew cream is also fabulous.
Just when you thought Rice Krispies Treats couldn't get any better, right? These would be amazing with some M&M's or colorful star sprinkles on top!
How do you get such colorful eggs, you ask? Well, that's easy! Turmeric, beets and blueberry juice is all you need for such stunning colors. If you want to incorporate this into a warm dinner, you can apply this colorful approach to marinated ramen eggs for a soft-boiled, savory version too.
This (optionally) sour, creamy bark is great for kids, but it's so good that I think I'd rather keep it all to myself. Decorate it with whatever you like: candy, edible glitter, even some nuts or dried fruit. The sky's the limit!
I don't think vegetables have ever looked so good! You can totally make this tart all year long and just adjust the veggies based on whatever is seasonal, colorful and delicious, making it perfect for anyone who struggles to eat their vegetables.
The naturally colored rice is adorable and nutritious — use whatever ingredients you like. Sashimi-grade tuna, salmon or tomago/egg are great too.
Featured Image: alicia rae/Flickr via Wikimedia Commons
Tags:
fun kid friendly recipes
,
rainbow dessert
,
rainbow food
,
unicorn dessert
,
unicorn food
Life Is Better With These 14 Magical Rainbow Food Gifs
category:
By Cooking Panda
We here at Cooking Panda are obsessed with rainbow everything.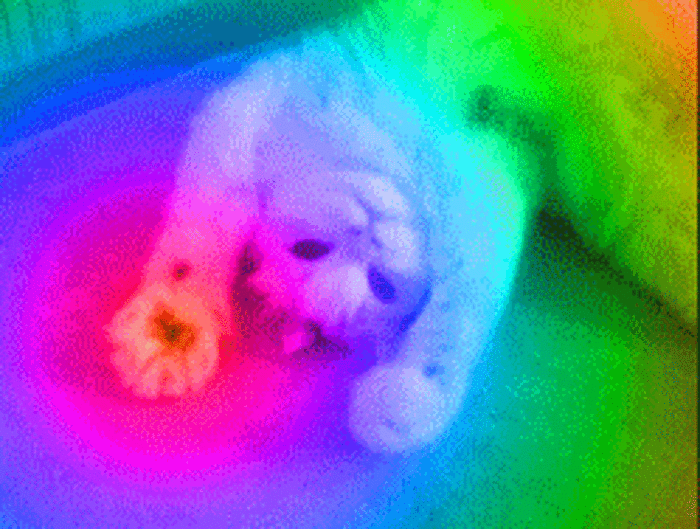 We have an extra pep in our step today, and it's all because of rainbow food! To get you on our level, here are some beautiful rainbow treats that are sure to put you in a great mood.
No doubt you've seen the many rainbow food sensations across the internet by now. You must have heard of the crazy famous rainbow bagels, at least? Did you know that they start as a smushed up giant dough ball?
And then they get rolled out into thin rings before taking their final form: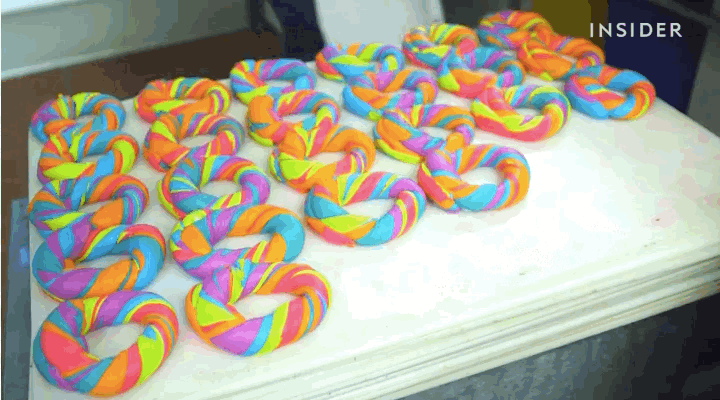 All things rainbow need to be topped with sprinkles to reach their maximum potential!
Maybe you'll settle instead for these scrumptious rainbow pancakes?
Or this insanely awesome pastel rainbow cake?
Complete with rainbow pearls on top, of course!
We can only imagine that it looks like this on the inside:
Need a latte to perk you up after that sugar rush?
We thought it might help. Here, have another.
And don't forget about delicious galaxy desserts, too!
Now go forth and enjoy all the rainbow things you can find!
Featured Photo Credit: raining.cookies/Instagram
Tags:
food gifs
,
foodporn
,
Hump Day
,
rainbow dessert
,
rainbow food
These Stunning Tie-Dye Pancakes Are What Dreams Are Made Of
category:
By Cooking Panda
The people have spoken, and there's one thing we want: rainbow everything!
From makeup to food, everything has been coming up rainbow lately, and we are totally into it.
Yes, those are rainbow bagels with cake-flavored cream cheese. If you live anywhere near The Bagel Store in Brooklyn, you are a lucky individual. And as it turns out, all you need to do to match your rainbow bagels is simply pop on over to Sambalette in Las Vegas for a rainbow coffee:
Ok, that's a little bit of a commute, but it's nice to have options.
Believe it or not, it gets even better. Did you know that tie-dye pancakes are now a thing?
They are absolutely beautiful.
That's right, tie-dye is no longer reserved for ugly t-shirts.
You can find these beauties at Diner By The Sea in Long Beach, New York, if you're lucky to live close enough. We're pretty sure rainbow pancakes are the best possible way to start your morning.
Unfortunately, not all of us live near Long Beach, New York, but fear not! There are many different ways to make tie-dye pancakes at home, and it's not too tricky! Our favorite way is to simply make your pancake batter, and divide it into equal bowls (however many colors you want to use). Mix one color per bowl of batter, and swirl a little bit of each colored batter onto the griddle. If that's too tough for you, you can always stick to making one color at a time and stacking them up in a rainbow, because that's gorgeous too.
Click here to LIKE Food Please on Facebook
Sources:
Elite Daily
, 
Better Recipes
 / Photo credits:
Instagram Via Elite Daily
 (
2
),
brittanyfaithh/Instagram via Elite Daily
,
totalfoodie/Instagram via Elite Daily
,
dinerbythesea/Instagram via Elite Daily
,
su.qu/Instagram via Elite Daily
,
newsday/Instagram via Elite Daily
Tags:
fun breakfast
,
pancake recipe
,
rainbow food
,
rainbow pancakes
,
tie-dye pancakes
This Stunning, Glass Gem Corn Is All Natural, And Bred From Heritage Seeds
category:
By Cooking Panda
In an age when we've been inundated with pictures of food manipulated to look polychromatic, sometimes we need to be reminded that hard work and nature can combine to produce the most naturally stunning (and, yes, instagram-worthy) fare of all.
Behold: Glass Gem Corn.
The Glass Gem Corn pictured above is completely natural — it truly is a unique strain of translucent, brilliantly-hued corn, grown by using some of Oklahoma's oldest strains, reports Mental Floss.
The story behind the jewel-toned kernels begins with an Oklahoma-based farmer named Carl Barnes. Barnes, who was half-Cherokee Native American, isolated heirloom corn seeds that had once been synonymous with Native American tribes. The tribes lost the seeds during their relocation in the 1800s, but Barnes relocated them, and subsequently harvested the seeds' corn as a way of reconnecting with his heritage.
His efforts resulted in these all natural, vivid ears called Glass Gem Corn:
Although Barnes — who passed away on April 16, 2016 — was the first to grow the rainbow corn in modern times, he is credited with enabling many Native tribes to recover and reunite with their sacred seeds. In fact, in 1994 Barnes gave fellow farmer Greg Schoen some of his seeds at a native-plant gathering in Oklahoma. Schoen went on to plant the rainbow corn next to traditional yellow varieties, thus creating even more new and shimmering hybrids.
Continuing on in Barnes's generous footsteps, Schoen has passed the seeds along to other farmers, like Bill McDorman, reports My Modern Net. McDorman used to own an Arizona company called Seed Trust, but he is now the Executive Director of Native Seeds/SEARCH. The non-profit conservation organization now sells the seeds online here. One packet costs $4.95, and all profits go toward helping conserve our nation's native crops.
Check out some more pictures of these dazzling, all-natural, gem-colored crops:
Click here to LIKE Food Please on Facebook
Sources: Mental Floss, Seed Broadcast, My Modern Net, Native Seeds / Photo credit: Seed Broadcast, Glass Gem Corn/Facebook
Tags:
all natural
,
glass gem corn
,
heritage seeds
,
rainbow food
There's A Scientific Reason Behind The Internet's Rainbow Food Obsession
category:
By Cooking Panda
It has been evident for some time now: The rainbow has made a comeback in the food community.
It all started in Brooklyn with the now ubiquitous rainbow-bagel; later, Hong Kong gave us its best psychedelic grilled cheese; next, a barista in Las Vegas introduced his multi-hued morning brews to Instagram — clearly, the demand for colorful consumables is at an all-time high.
But why?
As explained by the Washington Post, the rainbow phenomenon is all the more perplexing because today's shoppers claim to be more invested than ever in seeking out whole, natural foods.
A 2015 study by Consumer Reports shows that approximately 62 percent of shoppers seek out foods labeled "natural." Additionally, 48 percent marked that they thought it was "very important" to avoid artificial ingredients — that's 17-percentage points higher than the 2014 folks. These statistics seem to suggest that for many shoppers, natural foods are in, and artificially flavored and colored products are on their way out. So why does every new polychromatic food item end up going viral on the web?
Science Says: It all has to do with how our brains relate to color.
According to a 2015 study in the journal Flavour, people are apt to associate particular colors with different tastes. For example, a significant amount of the people surveyed associated reds, pinks and oranges with sweet tastes, but documented greens and yellows as having more sour tastes.
Therefore, it's possible that people are gravitating toward rainbow cuisine for the same reason people choose the everything bagel — for the potential flavor-bomb.
"More often than not, we taste what we see," Charles Spence, a professor of experimental psychology at Oxford, told Gizmodo over e-mail.
Another theory has to do with good ol' enchantment. As Eater reports, a 2014 scientific review in Appetite demonstrated that colorful foods stave off boredom — the more color you see on your plate, the more you are encouraged to continue chowing down. This suggests that for some people, consuming colorful foods provides a dose of entertainment, much like watching a good episode of television: it's just more fun to slurp down a multicolored shot of caffeine in the morning than a typical cup of brown.
In any case, enjoy the mass availability of rainbow edibles while you still can. In the end, it is just another food fad — albeit a very pretty one.
Sources: Washington Post, Consumer Reports, Flavor Journal, Gizmodo, Eater, Appetite via NIH.gov / Photo credits: Foodista, Eva Chen/Facebook via Eater, Instagram/ibrewcoffee, Instagram/hkfoodiexblogger, Andrew Kelsalldes
Tags:
food trend
,
rainbow food
,
science
,
Viral