Sriracha Pretzel Bites
category:
By Cooking Panda
Candy Bat Pretzel Fudge
category:
By Cooking Panda
Just Cookie Dough Peanut Butter Apple Pretzel Snacks
category:
By Cooking Panda
8 Crave-Ably Perfect Salty-Sweet Pretzel Desserts
category:
By Cooking Panda
We're in the midst of a lifelong love affair with pretzels! There's just something so satisfying about that salty crunch in just about any form, but who can resist a nice sweet-salty combo?
If you love chocolate dipped pretzels as much as we do, put your beloved salty snacks to good use and mix them into delicious chocolate desserts. Here are some of our favorite ways to do it: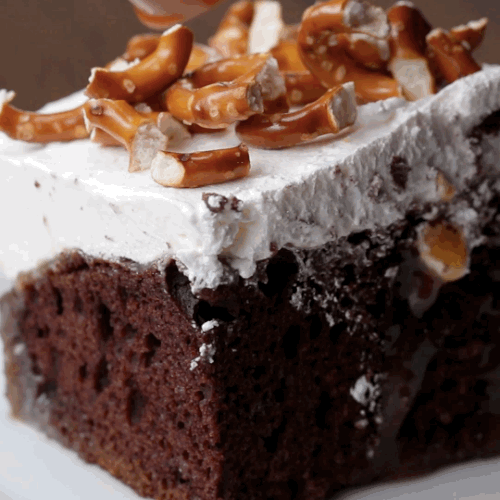 Caramel topping adds an extra beautiful layer of sweet-salty to the mix. Feeling ambitious? Try making your own caramel sauce from scratch (recipe here).
This is kind of just a super tasty, easy cheesecake recipe that doesn't involve a water bath or any of that mess. Plus, peanut butter and pretzels!
Don't forget about the underrated soft pretzel! Don't even think about going to the mall for it, either. Stay home and fold up these beauts for a real treat.
All your favorite things in one salty, sweet, crunchy sip. Feel free to customize it by adding or subtracting chocolate, swapping out the Nutella for peanut butter, or drizzling in some caramel sauce. Sky's the limit.
Yes, we said peanut butter pie. The coolest part about this one is that you can freeze it indefinitely until you *need* to eat it. Good luck.
Your favorite classic 'chips but with a little something-something extra to bring back that spark.
If you want to kick up the flavor a little more, add a tablespoon of instant coffee granules to really bring out the deep chocolate notes, and sprinkle a little extra salt over the top of your batter. You can even add a thin layer of cookie dough on top of the brownie batter if you want to go HAM.
Don't worry, this isn't really a salad. It's just strawberries, Jell-O and creamy filling atop a pretzel crust. But no one needs to know that if you want to tell them you're eating healthy.
Featured Photo Credit: Yammie's Noshery
Tags:
dessert recipe
,
peanut butter pretzel recipe
,
pretzel
,
salty dessert
,
weekend dessert
Buffalo Chicken Pretzel Bites
category:
By Cooking Panda
Ice Cream Truck Vendor Allegedly Beat Hot Dog Vendor With A Bat
category:
By Cooking Panda
This really gives the ol' "I scream, you scream, we all scream for ice cream" adage a new, sinister meaning.
For many New Yorkers, the end of cold weather can be identified — at least in part — as the moment the fleets of ice cream trucks begin traversing the roads. That sweet, bell-jingle cutting through the humid air means one thing: summer is coming.
However, it turns out that behind the cheery, frozen facade of the ice-cream truck lurks a menacing secret: according to a report in The New York Times, a renegade group of former Mister Softee vendors (known as the New York Ice Cream Company) declared a soft-serve turf war against Mister Softee, after the former began moving in on the latter's territory in midtown New York.
We get it: temperatures are high, tensions (apparently) even more so — but none of that is enough to justify what one of the rogue ice cream truck drivers did next.
John Cicero, a 40 year old ice cream truck driver, set his sights beyond the realm of frozen treats, and attempted to settle a turf dispute not with another ice cream vendor, but with a Midtown Manhattan pretzel vendor.
How did he do it? Oh, just by striking the pretzel vendor with a baseball bat to the head, the police said on May 31. While the actual attack occurred on May 12, Cicero was not arrested until May 31.
"Let me tell you about this business," a Mister Softee driver reportedly said to the Times. "Every truck has a bat inside."
Cicero and the unnamed pretzel vendor entered into a standoff. "Both of them mutually thought that the other would make it more difficult for them to conduct business at the location," said Lieutenant Marco Gonzalez.
After exchanging punches, Mr. Cicero went back to his truck, extracted the bat and struck the pretzel vendor twice in the head, which resulted in contusions, Lieutenant Gonzalez explained.
But that's not all. After a witness managed to take the bat away from Cicero, the ice cream truck driver then proceeded to pull a knife and threaten the pretzel vendor. Finally, Cicero fled the scene in the white-and-purple ice cream truck, police allege.
Cicero's lawyer eventually contacted the police, and Mr. Cicero turned himself in on May 31. He has been charged with felony assault.
Sources: The New York Times (2) / Photo credit: NYPD/The New York Times
Tags:
ice cream
,
mister softee
,
pretzel
,
vendor
Recipe: Homemade Gooey Mall Pretzels
category:
By Cooking Panda
You're at the mall, shopping for the holidays. All of a sudden, the enticing aroma of a soft, fresh mall pretzel wafts into your nostrils. You pick the newest-looking one and empty your wallet. The heavenly, gooey pretzel with crunchy salt is now yours, and you happily scarf it down.
There's really nothing like the tempting aroma of the famous mall pretzel, so we are here to make your life a little easier and help you avoid mall crowds and prices. If you have most of these standard baking ingredients on hand, it will cost you next to nothing to make these delicious mall pretzels.
If you're craving a sweet or savory flavor, feel free to substitute the coarse salt for other fixings like garlic salt or cinnamon sugar.
Here is the recipe, courtesy of AllRecipes:
Ingredients:
1 (.25 ounce) package active dry yeast
2 tablespoons brown sugar
1 1/8 teaspoons salt
1 1/2 cups warm water (110 degrees F/45 degrees C)
3 cups all-purpose flour
1 cup bread flour
2 cups warm water (110 degrees F/45 degrees C)
2 tablespoons baking soda
2 tablespoons butter, melted
2 tablespoons coarse kosher salt
Directions:
In a large mixing bowl, dissolve the yeast, brown sugar and salt in 1 1/2 cups warm water. Stir in flour, and knead dough on a floured surface until smooth and elastic, about 8 minutes. Place in a greased bowl, and turn to coat the surface. Cover, and let rise for one hour.
Combine 2 cups warm water and baking soda in an 8 inch square pan. Line 6 baking sheets with parchment paper.
After dough has risen, cut into 12 pieces. Roll each piece into a 3 foot rope, pencil thin or thinner. Twist into a pretzel shape, and dip into the baking soda solution. Place onto parchment covered baking sheets, and let rise 15 to 20 minutes.
Preheat an oven to 450 degrees F (230 degrees C).
Bake in the preheated oven for 8 to 10 minutes, or until golden brown. Brush with melted butter, and sprinkle with coarse salt, garlic salt or cinnamon sugar.
Sources: AllRecipes, YouTube / Photo Credit: AllRecipes, Darth Vegan Blog, Sarah Fritzler Blog, Pinay In Texas, niki georgiev
Tags:
bake
,
budget
,
mall pretzel
,
pretzel
,
recipe