13 Unholy But Delicious Things To Do With Potato Chips (Recipes)
category:
By Cooking Panda
It's no secret that potato chips — smooth or ridged, plain or barbecue — are delicious straight out of the bag. Less celebrated, and shamefully so, is their ability to add an unexpected touch of whimsy to just about any dish. Here are 13 crunchiness things to eat with potato chips with an ideal combination of flavors in different ways to appreciate the salty, delicious things to do with potato chips, crispy, lays,  powerful potato chip in everything from snacks to desserts. Potato is an important vegetable which covers a lot of dishes and we're on the lookout to add more recipes that use potato chips, once found we'll add those here too. If you want to know about things to do with chips, are thinking about what to do with potato chips or looking for recipes with lays chips, we have collection of recipe using potato chips:
cooking with potato chips and recipe with crushed potato chips!
Three-cheese pasta with crispy bacon, mushrooms and peas sounds great on its own. Try it baked with a parmesan and crushed potato chip crust, though, and you'll wonder why you ever made mac and cheese without a bag of Lay's.
Because everything tastes better with butter, sugar and chocolate.
These salty nachos are topped with far better than plain ol' shredded cheese. They're drizzled with a cheese sauce made from steak drippings, white wine, butter, cream and, oh yes, a mixture of blue and Gruyere cheeses. It's poured carefully over the chips, followed by a generous helping of juicy steak and green onions, until each bite is laden with meaty, cheesy bliss.
Coated with kettle chips and panko breadcrumbs, these quick and easy oven-fried tenders have a guaranteed crunch factor.
A buttery, salty potato chip crust balances handsomely with a sweet chocolate and coconut cream filling. It's rich, it's sleek, it's magnifique.
This warm chicken salad goes far beyond the classic mix-ins of celery and mayonnaise. It's tossed with a flavorful seasoning mix, cheddar cheese and cooked bacon — and topped with potato chips and baked until crispy yet gooey. Eat it on your favorite bread, over a bed of greens or straight from the pan.
Inspired by onion dip, this surprisingly delicious appetizer gets creaminess from cream cheese, flavor from chopped chives and softened spring onions, and contrast from crunchy crushed chips. For a simple and elegant look, garnish it with whole chives before baking. To mimic the appearance of dip, spread it with sour cream, chives and extra chips.
These brownies cover every texture in the book: chewy fudginess from the brownie base, buttery silkiness from the chocolate topping, creaminess from Reese's cups, and, of course, crunchiness from pretzels, Oreos and potato chips.
There's nothing sad about this gloriously Southern combination of cheesy potatoes, cream of chicken, sour cream and crushed potato chips.
This addictive appetizer comes together with a bag of kettle chips, tossed on a pan and topped with brown sugar, maple syrup, cheddar cheese, bacon and cayenne, then baked. It's so simple, I'm not sure if it sounds easier to make or easier to devour in one sitting.
Combine two essential party snacks into one with this sweet and salty bake.
Chips make a great side for sandwiches — until they get knocked off your plate. They serve a far better purpose inside of a sandwich. In this case, their saltiness cuts through the richness of cheese, and their crunchiness adds another dimension of texture to a tried and true treat.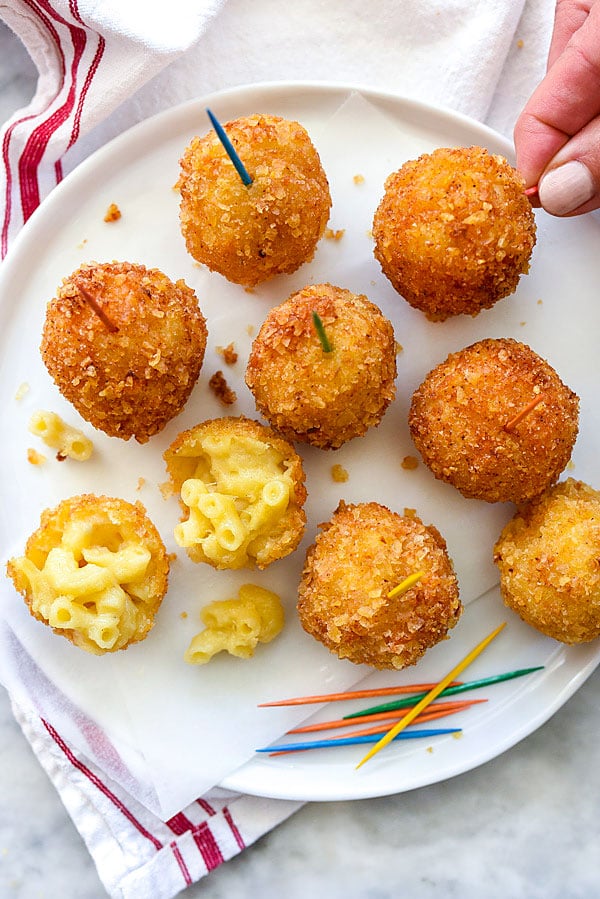 We started with mac and cheese, so let's end with it, too. These golden brown babies combine the soft creaminess of cheesy mac with the crisp saltiness of potato chips into one (OK, maybe two or three) glorious bite.
Featured image credit:
Pixabay
Tags:
Appetizer
,
appetizer with potato
,
brownies
,
buffalo chicken salad
,
cheese pasta
,
cheesy bacon
,
cheesy potatoes
,
chicken salad
,
chicken salad recipe
,
chicken tenders
,
chips
,
chips chicken tenders
,
chips recipe
,
chips toffee
,
chive cheesecake
,
cook potato chips
,
cookies
,
crack
,
crispy bacon
,
crunchy
,
crushed potato chips
,
desserts
,
do with potato chips
,
easy dinner
,
fired mac and cheese balls
,
Fried Snacks
,
Funeral
,
funeral potatoes
,
gorgonzola
,
grilled cheese
,
holiday crack
,
hot chicken salad
,
kettle chips
,
kitchen crack
,
mac and cheese
,
mac and cheese balls
,
panko breadcrumbs
,
potato chip grilled cheese
,
potato chip nachos
,
Potato Chips
,
potato chips chicken
,
potato chips chicken tenders
,
potato chips crust
,
potato chips recipes
,
potato chips toffee
,
potato cookies. potato chips cookie
,
potatoes
,
recipes
,
recipes with lays
,
salty
,
salty chocolate
,
salty chocolate tart
,
salty nachos
,
savory chive cheesecake
,
steak
,
steak and gorgonzola
,
things with potato chips
,
toffee
10 Ways Your Favorite Celebrity Chefs Cook Potatoes (Recipes)
category:
By Cooking Panda
A solid potato dish is one of the first things you should master in the kitchen. Whether you like your potatoes baked or steamed, cheesy or meaty, stuffed or sliced, take inspiration from these 10 seasoned Food Network chefs — who all know a thing or two about successful spuds.
Ina Garten's go-to smashed taters have crispy skins, covered just enough by melting Parmesan cheese and a colorful sprinkling of fresh chives. I can smell them now.
Tyler Florence likes his flay potato gratin with plenty of cream (heated with herbs like thyme, bay leaves and nutmeg), thinly sliced potatoes and Parmesan — layered and served in a buttered dish.
When grilling up his spuds, Bobby Flay prefers not to neglect the sauce. These little Yukon golds are boiled, tossed with homemade mustard aioli and grilled until golden brown. Don't forget the extra aioli for dipping.
This is a Paula Deen recipe, which, as you must know, means three things: butter, sour cream and bacon.
With hash brown potatoes cooked in a creamy onion sauce, sour cream, three types of cheese and a potato-chip crust, this classic funeral dish is anything but upsetting.
Alton Brown calls his no-fuss spud treatment the world's best, hence the definitive "the" in the title. His secrets to a fluffy potato interior are to poke holes all over the potato to release steam, to lightly coat the potato in olive oil to regulate heat while cooking and to cook the potato directly on the rack, no foil necessary. It's a science.
If you want your potatoes to take center stage, let Rach show you how to make them shine. Her taters are filled with a mixture of eggs, bacon and cheese, baked and topped with an extra over-easy egg. It's all the flavor of carbonara pasta in one not-so-neat package.
This big ol' potato pancake works for brunch and dinner, as long as you've got a hungry crowd of tater lovers.
Just like their chef, these soft spuds are loud and proud, tossed with bacon, cheese, onion, cayenne, paprika and (what!) crab boil seasoning.
Emeril's take on potato casserole is comforting, hearty and BAM! They're slow-cooked with cheese, mushrooms, ham and fresh herbs, drizzled with a cup of heavy cream before finishing one last stint in the oven, and topped with extra Gruyere and thyme.
Featured image credit:
alanagkelly/Flickr
Tags:
celebrity chefs
,
flay potato gratin
,
food network
,
potatoes
This Advent Calendar Makes For A Very Merry Crispmas
category:
By Cooking Panda
If anything can cure our cold-weather woes, it's a nice, heaping serving of potatoes — be they fried, scalloped, baked, mashed, boiled, roasted or in the form of chips, they are always a welcome sight.
Alex Donoyou, 32, totally wins the Partner Of The Year award for the brilliant gift he bequeathed to his girlfriend of six years, Heather Lloyd — an advent calendar for the holidays comprised entirely of chips (or, as they say in the U.K., crisps).
"Merry Crispmas" the advent calendar reads, followed by 25 bags of Lloyd's favorite fried snacks — a brand that Metro reports as being called Twiglets — hanging decoratively on the wall.
We guess after six full years of dating, you have to get creative beyond the typical chocolate and wine gifts usually exchanged during the holiday season.
Look how happy she looks!
According to Metro, the task was not an easy one — Donoyou reportedly ran around trying to find copious amounts of different, yet delicious, crisp flavors so that Lloyd would not tire of the gift, and every day would be a new and tasty surprise.
Additionally, all of the gifts were hidden inside of identical and seasonal white-and-red striped bags (just like candy canes!) to further build the suspense for Lloyd each yummy morning.
Would you like to receive a Merry Crispmas advent calendar? Or are you content with your typical chocolate fare?
Sources: Metro / Photo Credit: Snackgold/Instagram, Alex Donoyou/Guzelian via Metro
Tags:
advent calendar
,
chips
,
crisps
,
holiday gift
,
potatoes
,
relationship goals
Loaded Hasselback Potatoes
category:
By Cooking Panda
Corned Beef Guinness Mustard Sliders
category:
By Cooking Panda
Pepperoni Pizza Potato Skins
category:
By Cooking Panda
Spicy Eggs and Potatoes Skillet
category:
By Cooking Panda
50,000 Pounds Of Potatoes Stuck On Interstate
category:
By Cooking Panda
Drivers heading down an interstate in Charlotte, North Carolina, faced a major setback when 50,000 pounds of potatoes spilled from a truck, covering the freeway.
The tractor trailer crashed into the interstate median late in the evening on May 5, scattering thousands of potatoes across the road, WSOC reports. The driver, who reportedly told those at the scene that he had fallen asleep at the wheel, was trapped in the truck while parts of it burst into flames
"We stopped immediately and saw a guy try to crawl out of the cab," witness Grant Wales told WSOC. "Saw a lot fire going on, so I ran to him. His leg was pinned, tried pulling him out."
The driver will likely face a charge of failure to maintain lane control, although falling asleep at the wheel is not a chargeable offense. He is expected to make a full recovery.
The impact was so hard that the engine flew all the way out of the big rig along with the spuds.
A long cleanup ensued, with crews quickly gathering up the 50,000 pounds of potatoes, separating the clean ones from those soaked with diesel fuel and engine oil. Figuring out what to do with the soiled spuds is a little harder than it sounds.
"You basically had diesel fuel and oil petroleum products that are mixed with some of the potatoes," explained Lee Shank, president of Carolina Environmental, who is handling the potato wreckage. "Some of the potatoes we had to either clean or will be disclosed as off-spec food product food waste. It sounds simple but we actually go through [the potatoes] and see where the diesel fuel stopped, and all the potatoes passed that are clean."
Poor potatoes.
Instead of wasting the spuds, maybe Carolina Environmental could donate them to Anonymous Potato, a gag gift website that ships out a spud with any message you like written on it to your best friend or worst enemy.
Sources: WSOC, Anonymous Potato / Photo credit: wsoctv/Twitter
Tags:
anonymous potato
,
potato crash
,
potatoes
,
send potato
,
Weird News
NASA Trying To Get Potatoes On Mars
category:
By Cooking Panda
Peruvian researchers, along with scientists at NASA, are reportedly examining the possibility of trying to grow potatoes on Mars!
"It's got to be a Martian potato that tastes good," Peruvian NASA astrobiologist Julio Valdivia-Silva told the Wall Street Journal. "It's a big challenge to take a living organism somewhere else. We've never done this before."
The potential for potatoes on the planet is just one development that has occurred since the Curiosity rover landed in 2012.
"When humans go to Mars, they will want to grow things. They'll need food," NASA planetary scientist — and participant in the potato study — Chris McKay said.
"I think we'll be able to find varieties of potatoes that will grow at cold and low-pressure conditions. That would be interesting to know for Mars applications."
Experiments are currently taking place in Peru, which is home to the Pampas de La Joya Desert — one of the driest spots on Earth.
Source: Wall Street Journal / Photo credit: Wikipedia
Tags:
food
,
mars
,
nasa
,
planet
,
potatoes
Forget Twice Baked Potatoes. Grill 'Em Twice For A Mind-Blowing Twist!
category:
By Cooking Panda
Looking for a new dish to spice up your summer cookouts? Be the talk of the barbecue with twice grilled potatoes!
4 large russet potatoes
4 tablespoons butter
1/4 cup milk
2 tablespoons sour cream
1/3 cup crumpled bacon
4 ounces cheddar cheese
1 tablespoon chopped fresh chives
salt and pepper
Prep your grill and heat to 350 to 450 degrees F.
Prick a potato all over with a fork. Lightly grease the potato with olive oil and sprinkle with salt and pepper. Wrap up tightly with aluminum foil.
Repeat with remaining potatoes.
Place potatoes on the top rack of your grill. Cook for 30 minutes.
Rotate potatoes and grill for another 30 minutes.
Remove potatoes from the grill.
Cut each potato in half lengthwise with a sharp knife. Scoop out the insides and place them into large bowl.
Place the hollowed out potato skins on a large plate.
In the bowl, mix potatoes, butter, milk, sour cream, bacon, black pepper, and half of the cheddar cheese to create filling
Fill potato skins with the filling. A piping bag may be used.
Top each potato with the remaining cheddar cheese and place onto grill until the cheese is melted. Remove potatoes from grill and garnish with crumpled bacon, and freshly chopped chives. Serve warm.
Sources: Sweet As A Cookie / Photo Credit: Sweet As A Cookie
Tags:
grill
,
potatoes
,
twice baked potatoes