13 Unholy But Delicious Things To Do With Potato Chips (Recipes)
category:
By Cooking Panda
It's no secret that potato chips — smooth or ridged, plain or barbecue — are delicious straight out of the bag. Less celebrated, and shamefully so, is their ability to add an unexpected touch of whimsy to just about any dish. Here are 13 crunchiness things to eat with potato chips with an ideal combination of flavors in different ways to appreciate the salty, delicious things to do with potato chips, crispy, lays,  powerful potato chip in everything from snacks to desserts. Potato is an important vegetable which covers a lot of dishes and we're on the lookout to add more recipes that use potato chips, once found we'll add those here too. If you want to know about things to do with chips, are thinking about what to do with potato chips or looking for recipes with lays chips, we have collection of recipe using potato chips:
cooking with potato chips and recipe with crushed potato chips!
Three-cheese pasta with crispy bacon, mushrooms and peas sounds great on its own. Try it baked with a parmesan and crushed potato chip crust, though, and you'll wonder why you ever made mac and cheese without a bag of Lay's.
Because everything tastes better with butter, sugar and chocolate.
These salty nachos are topped with far better than plain ol' shredded cheese. They're drizzled with a cheese sauce made from steak drippings, white wine, butter, cream and, oh yes, a mixture of blue and Gruyere cheeses. It's poured carefully over the chips, followed by a generous helping of juicy steak and green onions, until each bite is laden with meaty, cheesy bliss.
Coated with kettle chips and panko breadcrumbs, these quick and easy oven-fried tenders have a guaranteed crunch factor.
A buttery, salty potato chip crust balances handsomely with a sweet chocolate and coconut cream filling. It's rich, it's sleek, it's magnifique.
This warm chicken salad goes far beyond the classic mix-ins of celery and mayonnaise. It's tossed with a flavorful seasoning mix, cheddar cheese and cooked bacon — and topped with potato chips and baked until crispy yet gooey. Eat it on your favorite bread, over a bed of greens or straight from the pan.
Inspired by onion dip, this surprisingly delicious appetizer gets creaminess from cream cheese, flavor from chopped chives and softened spring onions, and contrast from crunchy crushed chips. For a simple and elegant look, garnish it with whole chives before baking. To mimic the appearance of dip, spread it with sour cream, chives and extra chips.
These brownies cover every texture in the book: chewy fudginess from the brownie base, buttery silkiness from the chocolate topping, creaminess from Reese's cups, and, of course, crunchiness from pretzels, Oreos and potato chips.
There's nothing sad about this gloriously Southern combination of cheesy potatoes, cream of chicken, sour cream and crushed potato chips.
This addictive appetizer comes together with a bag of kettle chips, tossed on a pan and topped with brown sugar, maple syrup, cheddar cheese, bacon and cayenne, then baked. It's so simple, I'm not sure if it sounds easier to make or easier to devour in one sitting.
Combine two essential party snacks into one with this sweet and salty bake.
Chips make a great side for sandwiches — until they get knocked off your plate. They serve a far better purpose inside of a sandwich. In this case, their saltiness cuts through the richness of cheese, and their crunchiness adds another dimension of texture to a tried and true treat.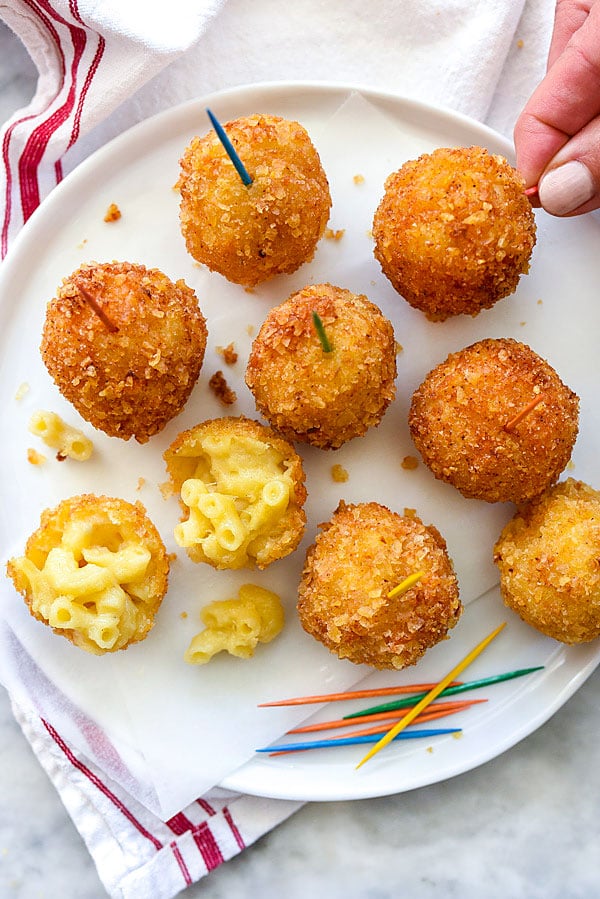 We started with mac and cheese, so let's end with it, too. These golden brown babies combine the soft creaminess of cheesy mac with the crisp saltiness of potato chips into one (OK, maybe two or three) glorious bite.
Featured image credit:
Pixabay
Tags:
Appetizer
,
appetizer with potato
,
brownies
,
buffalo chicken salad
,
cheese pasta
,
cheesy bacon
,
cheesy potatoes
,
chicken salad
,
chicken salad recipe
,
chicken tenders
,
chips
,
chips chicken tenders
,
chips recipe
,
chips toffee
,
chive cheesecake
,
cook potato chips
,
cookies
,
crack
,
crispy bacon
,
crunchy
,
crushed potato chips
,
desserts
,
do with potato chips
,
easy dinner
,
fired mac and cheese balls
,
Fried Snacks
,
Funeral
,
funeral potatoes
,
gorgonzola
,
grilled cheese
,
holiday crack
,
hot chicken salad
,
kettle chips
,
kitchen crack
,
mac and cheese
,
mac and cheese balls
,
panko breadcrumbs
,
potato chip grilled cheese
,
potato chip nachos
,
Potato Chips
,
potato chips chicken
,
potato chips chicken tenders
,
potato chips crust
,
potato chips recipes
,
potato chips toffee
,
potato cookies. potato chips cookie
,
potatoes
,
recipes
,
recipes with lays
,
salty
,
salty chocolate
,
salty chocolate tart
,
salty nachos
,
savory chive cheesecake
,
steak
,
steak and gorgonzola
,
things with potato chips
,
toffee
This Person's Chip Bag Was Seriously Underfilled
category:
By Cooking Panda
This is such a travesty. A crime against snacking!
Everybody knows that chip companies tend to underfill their chip bags, and there is nothing worse than opening up a bag for a snack and discovering that you have been seriously ripped off.
For real, though — why do they think they can get away with selling us all bags of chips that are typically only, like, 25 percent full? It's so unfair!
At least we tend to get a couple of handfuls of chips, even in the snack-size varieties. But if you were this unlucky man in Nottingham, England, you wouldn't even receive that.
When Samuel bought a low-calorie bag of LoveLife Waitrose crinkle cut crisps, he was probably expecting to get the standard amount of chips in his bag for less calories — and by standard amount, we mean definitely more than one single freaking chip.
But unfortunately, that did not happen.
That's right; he opened up his bag of snacks, which cost him almost $2, and was rewarded with one single chip. One. That's all. The loneliest number!
To be fair, Samuel and his mother Helen Abbott suspected that the bag they purchased was underfilled more than usual, but they were shocked to discover just how little food was actually inside of the bag.
"Wow. That's a new sort of scrimping on crisps init," Metro reports Samuel as saying.
"It's hilarious. I've emailed Waitrose, but we've heard nothing back," added his mother.
As for Waitrose, the company that sold the chips, a spokesperson had this to say for themselves to Metro:
"We're just as baffled as to why there was only a lonely crisp in the bag. We're sorry for the disappointment and will be looking into what happened to the crisp's friends to make sure it doesn't happen again. We'd welcome the customer getting in touch so we can make things right."
Source: Metro / Photo Credit: Maria Wallin/Instagram
Tags:
chips
,
crinkle cut
,
lovelife
,
Potato Chips
,
waitrose
Would You Pay $56 For These Five Fancy Potato Chips?
category:
By Cooking Panda
I'm sorry, what?
We all have that one person in our lives — that foodie who pays way more money than we'd ever consider to taste all those bizarre and hyped-up foods that we only ever hear of after they go viral, or we see it on TV. And you know what? More power to those foodies; I might not be willing to wait four hours for a rainbow-hued bagel, but I'm glad there are people out there who are — my Instagram feed is infinitely more delicious-looking for it.
However, sometimes it just goes too far.
Per the Independent, a Swedish microbrewery called St. Erik's has just released what they are deeming the "world's most exclusive potato chips."
Let your mind run wild for a moment, folks: are the chips rainbow? Covered in gold? Made out of edible diamonds?
The answer to all of the above is no: they are, however, prepared by some of the most talented chefs from the Swedish National Culinary team, and feature a variety of exclusive and premium ingredients the Nordics have to offer.
Oh, yeah: and they cost around $56 (£46) for five individuals chips.
Per the Independent, the chips are made from Ammarnas potatoes, Matsutake mushroom, truffle seaweed, dill, leksand onion and India pale ale.
"For the best taste experience," the website suggests, "These chips should be savored with St. Erik's India Pale Ale."
Of course they should, St. Erik's… of course they should.
Unfortunately, the exclusive boxes were part of an extremely limited edition promotion by St. Erik's, and according to the website, they are all sold out. All income that was generated from the sale of the uber-fancy-shmancy chips was donated to charity, however, so perhaps in the end foodies can breathe a sigh of relief that their money went to a good cause.
Sources: Independent, St. Erik's / Photo credit: St. Erik's
Tags:
exclusive
,
IPA
,
microbrewery
,
Potato Chips
,
st. erik's
Potato Chip And Pork Panini
category:
By Cooking Panda