7 Affordable Poke Bowls Everyone Can Make At Home (Recipes)
category:
By Cooking Panda
I don't know about you, but I am hopelessly hooked on poke bowls.
Also known as sushi bowls, the trendy Hawaiian-inspired rice bowls are topped with marinated raw fish and all the goodies you enjoy in a sushi roll. And they are pretty much answered prayers for anyone who loves eating sushi all the time but can't afford to drop those $$ for EVERY. SINGLE. MEAL.
From cost restrictions to limited local availability, diet or a desire to make it in your own dang kitchen the way you like it, there are tons of reasons why you might want to DIY your poke/sushi bowls.
So go ahead and peruse these supremely fresh, simple and filling dinners that are great for fish addicts and vegans alike — on any budget.
​
If you have fresh sashimi-grade salmon, you can't go wrong with this gently salt-cured version that gets tossed with a handful of ingredients and coated in a traditional sesame poke sauce. The best part? This recipe calls for fresh diced tomatoes, which take on something of a tuna-esque texture and appearance, so it helps stretch out the potentially pricey fresh fish.
Can't find reasonably-priced, safe sashimi-grade fish? Would splurging on the stuff relegate you to eating wish sandwiches for the rest of the month? Pregnant? You can absolutely satisfy your craving with canned tuna. Other suitable substitutions include quick-seared salmon (or any other fish), marinated tofu (see #3), krab (see #5) or a Japanese omelet.
Hey there vegans! You don't have to miss out on this fun, fresh food trend. Just make this sweet, savory tofu. Prefer a more spiced version? You can use this tofu marinade instead.
This is such a great option for when raw fish just isn't an option, and it's so easy to make! As with all the others, you're more than welcome to throw in all your favorite fixings.
Ok, ok. I know. This doesn't include a full bowl recipe. But this tomato poke is so dang delicious and a dead ringer for ahi that I had to include it. Throw it atop your favorite sushi bowl, and if you like it extra tender, steam it for a few minutes and let it marinate in the sesame oil for a few extra minutes. You're welcome.
Similar to tomato tuna, this is a fabulous way to enjoy poke without eating raw fish — or you can use it to cut a smaller batch of sashimi cubes to stretch it out a little.
Love some of that bright red tuna? This is the recipe for you. Of course, you can totally use regular sushi rice, but the quinoa brings more nutrition plus an extra nutty pop for a welcome textural change. Have fun!
Featured Image: Michael Saechang/Flickr
Tags:
affordable dinner
,
cheap sushi recipe
,
Poke
,
poke at home
,
poke bowl recipe
These 8 Weeknight Dinner Bowls Are What You Are Craving
category:
By Cooking Panda
If you are struggling this week and just want some easy, healthyish dinners to make, whether it's for one or six, might we recommend the superstar BOWL? Dinner (or lunch) bowls are filling, satisfying and easy to customize — just swap around the veggies, protein and grains as desired to fit your needs. Dinner bowls are super simple and low-key, but they are incredibly easy to snazz up if you're feeding a bunch of people at a party or making just a fun dinner for the family — all you need to do is set a bunch of ingredients out and let people construct their own bowls and have fun with it! Here are some of our favorite meal bowls:
The smoky marinade works great on just about any protein, from chicken to tofu to jackfruit, so if shrimp isn't your thing, adjust accordingly. Whatever protein you use, you'll love this easy and affordable version of your favorite quick meal out.
​Bibimbap — "mixed rice" in Korean — gets a healthy, hearty makeover by swapping out rice for quinoa and topping it with crunchy veggies and a fried egg. We're sold!
These quick-marinated chicken gyro bowls are just delightful! Use a ton of greens if you want to turn it into a salad, or up the grains and squash for something a little more filling and wintery. You can totally serve these with pita or flatbread on the side, by the way.
WHOA! This is the perfect solution to the age-old dilemma called, "I want to eat banh mi for every dinner ever, but it's winter and I want something heartier than a sandwich." Solution? Make these easy, flavor-packed lemongrass pork meatballs, quick-pickle some carrots, grab some fresh herbs, and throw them all together into a bowl full of grains, like quinoa or rice. Oh yeah, and you get to top the whole thing with spicy sriracha mayo, which makes the whole thing even better!
All aboard the Buddha Bowl train! This sweet, savory, healthy veggie bowl will fill you up and give you some nutrients without sacrificing any flavor at all. Plus, it tastes amazing topped with coconut flakes, cilantro and avocado for a really exciting, zippy twist on dinner.
The soft, tender tuna gets marinated in a sweet, tangy sauce and placed atop a bowl full of pillowy steamed rice, fresh cut fruit and veggies, and basically anything else that floats your boat, just to sweeten the deal that much more. Would you prefer to put together a DIY poke bar? Here's exactly how to wow your friends and family with an awesome easy and fun dinner.
​
Who doesn't love this classic dish? If you could eat Chicken Marsala every day but know that you probably shouldn't, let us propose this version to shovel down your throat on the regular. If it's a little too healthy for you, you can always liven it up by using more chicken or switching out the base to pasta or fluffy mashed potatoes. Yum!
​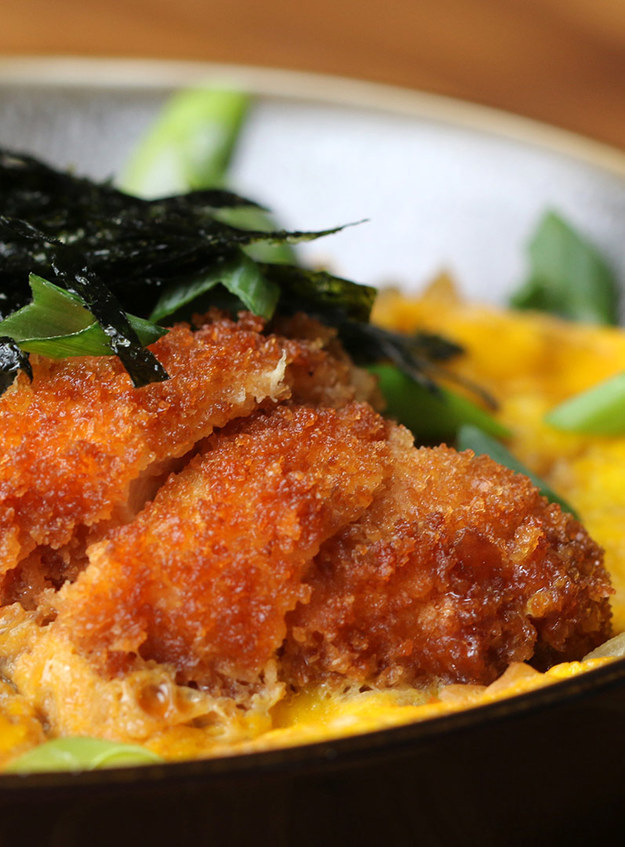 Filling, flavorful, and just totally all-around delicious, this dish is a real winner, plus you get to top it with shredded nori and scallions to really impress your palate. If you want to be a little healthier, why not just bake the chicken instead of deep frying it and call it a (delicious) day?
Featured Photo Credit: Jennifer Causey/Cooking Light via MyRecipes
Tags:
Buddha Bowls
,
easy weeknight dinner
,
healthy dinner
,
lunch recipe
,
poke bowl recipe