Delicious Deals For National Waffle Day Plus 3 Recipes
category:
By Cooking Panda
Want free waffles? You might be able to get some on August 24!
That's because it's National Waffle Day, and there are a number of spots across the nation celebrating this momentous occasion — the day that Cornelius Swarthout got the first ever waffle iron patent in 1869, according to Heavy.
Here some of the best spots to pick up free or discounted waffles on the 24th, courtesy of Hollywood Life and US News:
Coldstone Creamery: The ice cream chain is reportedly offering coupons for a free homemade waffle cone or bowl with any ice cream purchase — though this may vary by location, so make sure you check ahead of time.
Comfort Inn and Suites: Firefighters, police officers, EMTs and other first responders can score free waffles all day!
Eggloo New York: Get free fillings for your waffles! You can load them up with things like fruity pebbles, M&M's and diced almonds. Yum!
Lo-Lo's Chicken and Waffles: These Phoenix restaurants will give you a complimentary waffle when you order a "Hood Classic" combo or specialty meal.
Wafels and Dinges: Get a free wafel when you bring your "Total Wafel Eclipse"-themed artwork to any of the New York chain's locations.
Waffle House: Become a member of the Waffle House Regulars Club (you'll need to give your email address) and you'll get a free waffle from this famous chain.
Rather stay home? No problem. Waffles are really easy to make. If you enjoy the classic soft-crispy syrup-topped version, check it out here.
Otherwise, here are a couple fun ways to spruce up your waffles with some wacky, creative twists:
You know that bacon is good with everything, right? So stop eating it on the side. You can go ahead and mix it right into your waffles for an easy sweet-savory variation.
The cornmeal makes these waffles extra crispy, while the ricotta keeps them rich and tender. Top with sweet, tart fruity compote and you're in business!
Whoa! If this isn't the best dessert breakfast I've ever seen, I don't know what is. Is it OK to eat these for every meal today?
Sources: Heavy, US News, Hollywood Life / Featured Image: Pixabay
Tags:
food deals
,
food holiday
,
free waffles
,
National Waffle Day
,
waffle recipes
17 Mouthwatering Gifs Worthy Of The Glory That Is National Waffle Day
category:
By Cooking Panda
On this momentous August 24, we have an extra special message for you:
That's right, it is National Waffle Day, and we are ready to turn up!
We love waffles so much, we'd bathe in them if we could.
We're pretty much always mentally prepared to dump a gallon of syrup onto a sky-high pile of pillowy, crunchy waffles at a moment's notice.
Because waffles are just so…
Incredibly…
Perfect!
If you are a true waffle lover, you fondly remember that landmark moment in your life when you got a waffle maker and realized that you are an adult now.
Which means that you can make all your syrup-pocketed dreams come true in a matter of minutes.
Or even seconds!
Whether those dreams are sweet and topped with chocolate and strawberries…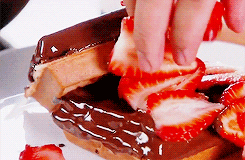 And maybe a little ice cream…
Or savory like these divine pizza waffles…
Or shameless like this ramen waffle breakfast sandwich, because why on earth not?
Get as crazy as you want — we won't shame you for your waffley desires.
But one thing's for sure — there's nothing like a good old tried and true classic.
You know what you need to do now.
Need waffles now? So do we. Here's what we're making right now. Feel free to join us!
Jalapeno Cornbread Waffles
Monte Cristo Waffle Sandwich
Featured Photo Credit: Cesar Gonzalez Cocinero​/Instagram
Tags:
food gifs
,
foodporn
,
Hump Day
,
National Waffle Day
,
waffles