7 Excellent Ways To Celebrate National Taco Day (Discounts, Recipes)
category:
By Cooking Panda
October 4 is National Taco Day, y'all!
The special occasion is a pretty big deal, if you ask me. Tacos are amazing and delicious, and I'm confident that I could eat them for every single meal for the rest of my life and never regret it.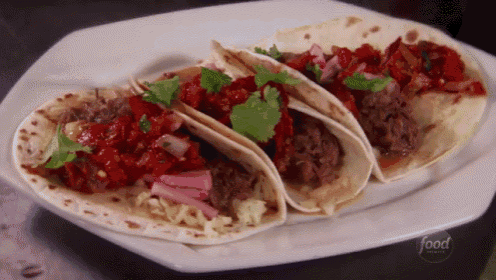 Whether you like them soft and traditional, crispy and American style, or wacky and experimental, let's face it: they are all wonderful.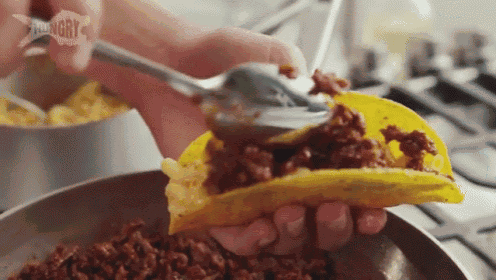 So why not celebrate this exciting food holiday in the best way possible: by eating TONS OF TACOS!
Head to any of the following restaurants and you can score yourself a pretty sweet taco deal for the day, according to Fortune:
California Tortilla: Buy a taco, get a second one free!
Chuy's: Order an entree and ask your server to "taco bout it," and you'll get one free crispy beef taco. Worth it.
Margaritas Mexican Restaurant: Take the Taco Gigante challenge and see if you can down the restaurant's two-pound crunchy taco in one sitting! Take the challenge and you'll get a coupon for you or a friend to come back and take on the gargantuan meal again for free. More info here.
Taco Bell: The national chain is offering a $5 special National Taco Day Gift Set, a box that includes four tacos: one each of Nacho Cheese, Cool Ranch, Fiery Doritos Locos and Crunchy.
Taco John's: Grab this coupon and bring it in for a free taco!
Tijuana Flats: The Mexican food joint has $2 tacos and $2 Mexican drafts all day with one notable exception: in South Carolina, the beer special only lasts from 4 p.m. to 8 p.m., while the taco deal goes all day.
Would you rather stay home and cook? Whether you're craving something traditional, like tacos al pastor or something a little wild like vegan fried nopales (cactus) tacos, pastrami tacos or even a bacon weave choco taco, you can find the recipe you're looking for here.
Happy Taco Day!
Source: Fortune / Featured Image: Max Pixel
Tags:
food deals
,
free food
,
National Taco Day
,
October 4
,
taco deals
Can You Down This Giant 2-Pound Taco? (Photo)
category:
By Cooking Panda
When I eat tacos, my stomach feels limitless, as if I could just shove taco after taco into my mouth for hours and still somehow have room for more. I'm sure you know the feeling!
But have you ever tried really pushing yourself to see exactly how much taco goodness your gullet can handle in one sitting?
More importantly, do you think you could scarf down a GIANT taco all by yourself?
Because if you do think so, all you need to do is head over to Margaritas, the East Coast Mexican restaurant chain, and get your very own Taco Gigante any time during the month of October.
Yes, that's right: The epic 2-pound, 12-inch taco is back with a vengeance to celebrate National Taco Day on Oct. 4. It's unclear what Margaritas' exact deal is going to be on the holiday, but last year's was pretty sweet: one free regular taco with every purchase of a Taco Gigante. AND a couple bucks from each Gigante purchase went to to charity, according to Boston Magazine.
According to the restaurant's website, the foot-long monster of a meal is filled with four different kinds of meat: seasoned chicken, ground beef, pork carnitas and bacon.
On top of that, you get your refried beans, cheese, Mexican rice and pickled jalapenos.
But that's not all! This baby has a truckload of sauce just to make sure the whole thing is as juicy and decadent as possible. Salsa fresca, queso drizzle, hacienda sauce, picante sauce and crema all finish the taco for the perfect harmonious overload in every oversized bite.
According to Delish, this whole thing costs just $13, which considering its size isn't that bad, especially since there is one key way to get one of these for free:
While the restaurant probably won't comp your meal if you complete the Taco Gigante Challenge and finish the whole thing by yourself in one sitting, you do get bragging rights, a photo on their Wall of Fame, probable heartburn and a coupon for a free Taco Gigante, which you can either use on your own to tackle the beast again or give it to your most talented friend.
Either way, eating a gargantuan taco is always time well spent.
Sources: Margaritas, Delish, Boston Magazine / Featured Image: Max Pixel / Embedded Image: Magaritas
Tags:
2 pound taco
,
foot long taco
,
giant taco
,
huge taco
,
National Taco Day
9 Classic And Crazy Tacos To Make For National Taco Day
category:
By Cooking Panda
Stop stressing over what you are going to make for dinner tonight and go get some darn tortillas. It's National Taco Day AND Taco Tuesday, so it is written in the stars that you must shove some delicious fillings into a tortilla and promptly devour it.
We have everything you could want here when it comes to taco recipes, from addicting classics to mouthwatering fried vegan tacos to straight up delicious abominations. Try them all!
Flat iron steak is a great affordable alternative to flank steak, though you can use either one, or really any other cut if you want. The orange juice-chipotle marinade tastes great and will really impress a large crowd!

Easy tender shredded chicken in savory, spicy sauce. How can we pass that up?

Technically, al pastor is supposed to be shaved off a spit, but no one has time for that, pretty much ever. Here's a much easier option that will still give your slightly spicy, savory meat beautiful flavors and textures that go perfectly with everybody's favorite grilled pineapple.
Whether you're in a breakfast mood or just accidentally bought WAY too many eggs (does this really happen, ever?) put them to good use here for an easy and delicious brinner.
Pro-tip: Cut down on time with store-bought slaw mix, and then whip up the dressing by hand. You can also double or even triple the BBQ rub and keep it around for the next time you want it.
If you love nopales, this recipe is for you. If you don't love cactus or have never tried it, you'll still probably devour this crunchy creamy dish, because it's just that delicious.
Are you ready for something a little weird? Fry up some blue corn tortilla shells (or whatever you want) and cram them full of peppery pastrami, tangy sauerkraut, classic yellow mustard and spicy pickled jalapenos. You'll be pleasantly surprised!
Call these what you want — a tasty taco perversion, if you will. It is worth stuffing tortillas (we'd probably use crispy taco shells, personally, since the authenticity ship sailed long ago) with a savory pizza filling, complete with sweet Italian sausage, spicy pepperoni, savory mushrooms, creamy mozzarella and classic pizza sauce. Just give it a try. We won't tell anyone.
Ready for some dessert? Why not stuff a bacon weave with your favorite ice cream and top with chocolate? You'll love the savory-sweet indulgence. Get these started before you make dinner, since they need to chill for a while.
Featured Photo Credit: She Likes Food
Tags:
fusion tacos
,
National Taco Day
,
Taco Tuesday
,
Tasty Tuesday
,
weeknight dinners