This Teen Cries When Denied Tacos (Video)
category:
By Cooking Panda
Who doesn't love a good taco? Delicious as they are, they are not a food you'd want to munch on when you've just gotten your wisdom teeth removed. Ouch! Hard or soft, that's just too much chewing.
Try explaining that to a taco-craving teenager who still has the cotton in her mouth after such a procedure. In the video below, you'll see that fresh from the dentist, this poor girl is already expressing a need for tacos, and she's just so sad when her mother denies her the food!
I know she can't possibly eat them, but I actually feel bad for her. Clearly, she doesn't understand why she can't have tacos, and her mother is getting quite the kick out of her overreaction on being told she can't have them. I'm sure she'll have a laugh herself once she's all healed up and watching the video. At the same time, I'm sure she'll be enjoying the tacos she felt she was so ruthlessly denied.
First, when she asks why she can't have them, her mother tries to explain that it's because she just had her wisdom teeth removed. Unfortunately, this answer doesn't mean much to her in her current state so she continues to express her want for tacos. The second time around, her mother starts to goof around with her and tells her she can't have them because she misbehaves. The girl starts crying again and facing away from her mother.
It's hard to watch this video without laughing just a little, or at least cracking a smile, which is okay since the crying girl can't see us, right? She'll realize later that Mom's not so mean after all, she's just looking out! I wonder if she'll be craving tacos for a while now. It's hard to tell what kinds of cravings the medication from that procedure can leave you with.
If you haven't yet had your wisdom teeth removed, you might not understand yet, but just be aware that when it does happen, someone will probably video tape you post-procedure and post it online …
Sources: FoodBeast, We Are Mitu/Instagram / Photo Credit: Chic Darling/Instagram
Tags:
Mexican food
,
tacos
,
Wisdom Teeth Removal
Get This: Neiman Marcus Is Actually Selling Tamales For $110
category:
By Cooking Panda
Is this for real? Somebody please tell me this is not for real.
A stunning and bold food foul has been committed by none other than the luxury retailer Neiman Marcus.
What have they done, you ask? Oh, only taken the traditional (and very affordable) Mexican favorite dish — tamales — and slapped a price tag of $92 on 'em. And that's not even accounting for the $18 shipping fee you'll need to pony up in order to receive them.
As My San Antonio reports, the Dallas-based grandiose retailer is offering up a whole assortment of different tamales, ranging from "spicy" beef to chicken and pork flavors.
Apparently, in order to make this move seem on-brand and totally valid, Neiman Marcus even went as far as slapping its hashtag, #OnlyAtNM. The retailer followed up with its tagline: Only Here. Only Ours. Exclusively for You, in a bizarre and misguided attempt to claim some false ownership over a classic dish that has been enjoyed by families for years.
I don't know about ya'll, but I am perfectly happy to stick with paying less than $15 for a dozen comforting tamales from, I don't know, anywhere else on the planet. If you have tried — or are planning to try — Neiman Marcus's tamales, however, do let me know how they taste, and if they're worth not paying your utility bill for.
Sources: My San Antonio, Neiman Marcus / Photo credit: Neiman Marcus
Tags:
luxury retail
,
Mexican food
,
neiman marcus
,
tamales
Dining Panda: Gobbling Up Mexican Street Fare At Cocina Condesa
category:
By Cooking Panda
Studio City, California and Mexico City are more than 1,800 miles apart, but Cocina Condesa shrinks that gap with a mouth-watering selection of Mexican street food so authentic that the only thing missing is the Mexican streets. Executive chef Eddie Garcia has crafted a menu informed and influenced by his Aztec roots that makes this Ventura Boulevard hotspot a must-visit for diners looking to branch out from everyday Americanized Mexican fare.
Take the Ahi Tuna Tostaditos – a domed pile of fresh, citrus-accented tuna, cubed avocado, cucumber and sliced mango, served with small tortillas made from Mexican jicama yam beans. It's culinary flourishes like this one that set Cocina Condesa apart from tens of thousands of taquerias jostling for your dinnertime attention. Same goes for the creamy and fiery Street Corn – served on or off the cobb depending on your mood – and the Ceviche de Pescado, which brings together mahi mahi, jalapenos and cotija cheese corn nuts with a side of fried plantains for scooping.

Ceviche de Pescado
Standout entrees include the Crepas de Langosta, which wrap a generous helping of fresh lobster in warm tortillas topped with tangy verde and pickled onions. The Chile Rellano was also a standout. There's no great twist to Cocina Condesa's take on this venerable Mexican classic: It's a green chile stuffed with cheese and covered in verde. Simple, unassuming and one of the most satisfying items on the menu.
Besides their food, Cocina Condesa does a brisk business as a bar and mezcaleria, serving up all manner of tequila-based cocktails and expertly-crafted margaritas in salt, seasoning and cinnamon-rimmed glasses. The Paloma is a wonderfully refreshing citrus cocktail, bringing together Squirt, fresh grapefruit juice and fresh lime juice, while the Margarita Condesa provides a fine jumping-off point for an exploration of the diverse selection of margaritas on offer.

Paloma
The best reason not to gorge yourself on Cocina Condesa's main courses is the dessert menu, which provides a variety of outstanding sweets that remain every bit as fresh and creative as the rest of the menu. The Baby ​Churros are served hot from the fryer, dusted with sugar, gooey on the inside and accompanied by a smooth dulce de leche dipping sauce. The Caramel Cheesecake served with horchata ice cream is just the right amount of sweet and especially perfect on a hot day.

Caramel Cheesecake with Horchata Ice Cream
And the Chocolate Cayenne Brownie serves up a warm and spicy brownie alongside the Mexican standby of walnut crusted deep fried ice cream (and don't worry, it's not overly spicy at all).

Chocolate Cayenne Brownie
If you're looking for street food eats with sit-down ambiance – and maybe a strong beverage or two – your search is over. Cocina Condesa is the reigning king of the streets.
Cocina Condesa
11616 Ventura Blvd.
Studio City, CA 91604
Tags:
Cocina Condesa
,
Dining Panda
,
Mexican food
18 Taco Gifs To Get You Into The Cinco de Mayo Spirit
category:
By Cooking Panda
Guys, guys, guys! Cinco de Mayo is tomorrow! That's right! That means all you need to do is get through one more day before you can throw a big party to celebrate Mexico's unlikely win against France in the Battle of Puebla. So, to help you get through Hump Day, here are some out of this world taco gifs to help you mentally prepare yourself for tomorrow.
1. Seriously, tacos are divine. Just look at this sublime meat-filled tortilla shell.
2. We don't mean to #tacoshame, but we have to be honest – our favorite tacos are the real ones. You know, the soft kind dripping with juice?
3. Just look at those soft, warm tortillas, grilling gently.
4. First, you have to cook the meat until it is so tender it will melt in your mouth.
5. Got that down? Now it's time to slice it nice and thin.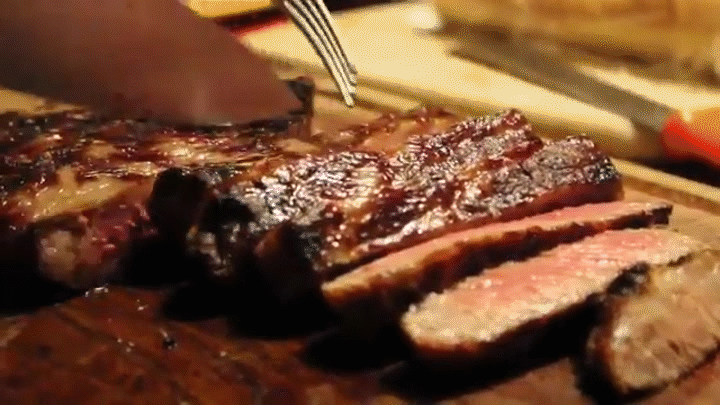 6. Chop that meat with flair!
7. We like a close shave, personally.
8. Either way, admire the expert skill that goes into preparing these divine snacks.
9. We are drooling at the way el taquero grabs that big hunk of meat.
10. And then chops it with deft hands.
11. And now the best part: loading it all up into a tortilla!
12. And adding some glorious sauce.
13. More meat, please!
14. Lots of toppings…
15. *drool*
16. Now for the finishing touches…
17. Here you go. Enjoy your beautiful taco.
18. Eat it however you want! We won't judge you.
Happy Cinco de Mayo!
Tags:
Cinco De Mayo
,
Hump Day
,
Mexican food
,
taco gifs
,
tacos