13 Unholy But Delicious Things To Do With Potato Chips (Recipes)
category:
By Cooking Panda
It's no secret that potato chips — smooth or ridged, plain or barbecue — are delicious straight out of the bag. Less celebrated, and shamefully so, is their ability to add an unexpected touch of whimsy to just about any dish. Here are 13 crunchiness things to eat with potato chips with an ideal combination of flavors in different ways to appreciate the salty, delicious things to do with potato chips, crispy, lays,  powerful potato chip in everything from snacks to desserts. Potato is an important vegetable which covers a lot of dishes and we're on the lookout to add more recipes that use potato chips, once found we'll add those here too. If you want to know about things to do with chips, are thinking about what to do with potato chips or looking for recipes with lays chips, we have collection of recipe using potato chips:
cooking with potato chips and recipe with crushed potato chips!
Three-cheese pasta with crispy bacon, mushrooms and peas sounds great on its own. Try it baked with a parmesan and crushed potato chip crust, though, and you'll wonder why you ever made mac and cheese without a bag of Lay's.
Because everything tastes better with butter, sugar and chocolate.
These salty nachos are topped with far better than plain ol' shredded cheese. They're drizzled with a cheese sauce made from steak drippings, white wine, butter, cream and, oh yes, a mixture of blue and Gruyere cheeses. It's poured carefully over the chips, followed by a generous helping of juicy steak and green onions, until each bite is laden with meaty, cheesy bliss.
Coated with kettle chips and panko breadcrumbs, these quick and easy oven-fried tenders have a guaranteed crunch factor.
A buttery, salty potato chip crust balances handsomely with a sweet chocolate and coconut cream filling. It's rich, it's sleek, it's magnifique.
This warm chicken salad goes far beyond the classic mix-ins of celery and mayonnaise. It's tossed with a flavorful seasoning mix, cheddar cheese and cooked bacon — and topped with potato chips and baked until crispy yet gooey. Eat it on your favorite bread, over a bed of greens or straight from the pan.
Inspired by onion dip, this surprisingly delicious appetizer gets creaminess from cream cheese, flavor from chopped chives and softened spring onions, and contrast from crunchy crushed chips. For a simple and elegant look, garnish it with whole chives before baking. To mimic the appearance of dip, spread it with sour cream, chives and extra chips.
These brownies cover every texture in the book: chewy fudginess from the brownie base, buttery silkiness from the chocolate topping, creaminess from Reese's cups, and, of course, crunchiness from pretzels, Oreos and potato chips.
There's nothing sad about this gloriously Southern combination of cheesy potatoes, cream of chicken, sour cream and crushed potato chips.
This addictive appetizer comes together with a bag of kettle chips, tossed on a pan and topped with brown sugar, maple syrup, cheddar cheese, bacon and cayenne, then baked. It's so simple, I'm not sure if it sounds easier to make or easier to devour in one sitting.
Combine two essential party snacks into one with this sweet and salty bake.
Chips make a great side for sandwiches — until they get knocked off your plate. They serve a far better purpose inside of a sandwich. In this case, their saltiness cuts through the richness of cheese, and their crunchiness adds another dimension of texture to a tried and true treat.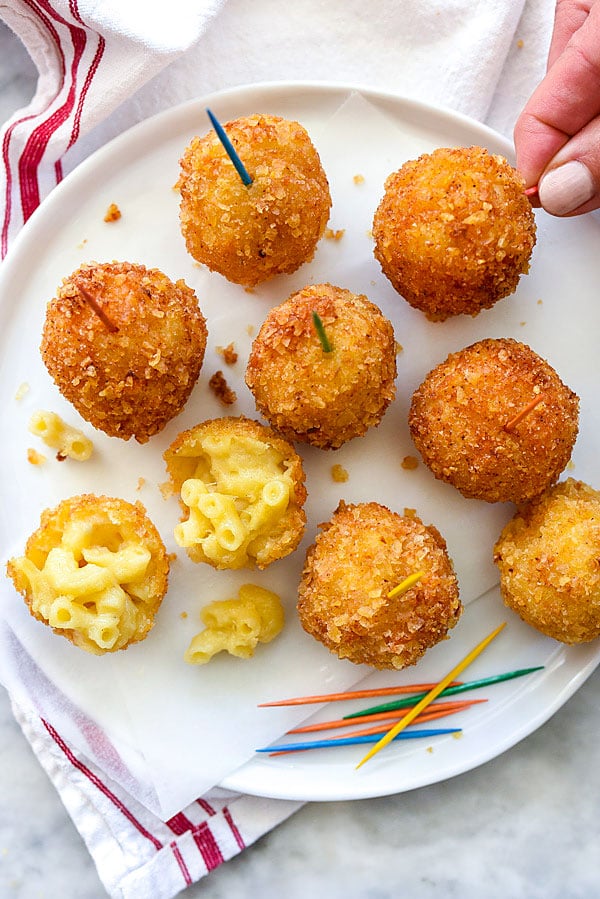 We started with mac and cheese, so let's end with it, too. These golden brown babies combine the soft creaminess of cheesy mac with the crisp saltiness of potato chips into one (OK, maybe two or three) glorious bite.
Featured image credit:
Pixabay
Tags:
Appetizer
,
appetizer with potato
,
brownies
,
buffalo chicken salad
,
cheese pasta
,
cheesy bacon
,
cheesy potatoes
,
chicken salad
,
chicken salad recipe
,
chicken tenders
,
chips
,
chips chicken tenders
,
chips recipe
,
chips toffee
,
chive cheesecake
,
cook potato chips
,
cookies
,
crack
,
crispy bacon
,
crunchy
,
crushed potato chips
,
desserts
,
do with potato chips
,
easy dinner
,
fired mac and cheese balls
,
Fried Snacks
,
Funeral
,
funeral potatoes
,
gorgonzola
,
grilled cheese
,
holiday crack
,
hot chicken salad
,
kettle chips
,
kitchen crack
,
mac and cheese
,
mac and cheese balls
,
panko breadcrumbs
,
potato chip grilled cheese
,
potato chip nachos
,
Potato Chips
,
potato chips chicken
,
potato chips chicken tenders
,
potato chips crust
,
potato chips recipes
,
potato chips toffee
,
potato cookies. potato chips cookie
,
potatoes
,
recipes
,
recipes with lays
,
salty
,
salty chocolate
,
salty chocolate tart
,
salty nachos
,
savory chive cheesecake
,
steak
,
steak and gorgonzola
,
things with potato chips
,
toffee
McDonald's Now Serves 'Mac And Cheese' Grilled Cheese (Photos)
category:
By Cooking Panda
Imagine a toasty-on-the-outside, melty-on-the-inside grilled sandwich, filled not with meat and vegetables but with more carbs — something extra indulgent, like macaroni and cheese. This sounds like the stuff of dreams, but it's in reach. And it's available now at McDonald's, Brand Eating reports.
Mickey D's Hong Kong has launched a bacon macaroni and cheese grilled cheese. It features a heaping serving of two-cheese mac and cheese with crumbled bacon, sandwiched between two slices of panini-pressed white bread — and it has answered the world's prayers for mac' and cheese that we can acceptably eat with our hands.
New Toastie Flavours promo – McCafe Range at McD's Hong Kong… pic.twitter.com/XaOMF7puMX

— Burger Lad® (@Burger_Lad) June 14, 2017
If America's favorite orange pasta is somehow not your thing, you're bound to find another McDonald's sandwich to your liking. The chain has also begun serving a corn and cheese champignon Toastie, which piles champignon mushrooms, white cheese and sweet corn between grilled bread. The sweet corn and cheese combination could have been inspired by cheese corn, according to Refinery 29. It's an ingenious Korean dish that pairs corn with sugar and mayonnaise, which is topped with mozzarella cheese and baked until bubbly.
The trendy Toastie has been around for a while in Hong Kong; it finds its roots in a tamer breakfast version with ham, cheese and egg.
Though the mac and cheese sammy is adventurous, it's child's play for the ultra-creative Asian McDonald's restaurants, which also introduced to the world a deep-fried mac and cheese croquette burger in Japan. The crispy croquette rests on a bed of lettuce, is topped with a slice of cheese and a demi-glace (a rich glaze made from beef stock), and is sandwiched between two golden brown buns.
McDonald's Japan now does deep-fried mac 'n' cheese croquette burgers with a demi-glacé pic.twitter.com/garDY9ZO9Z

— Josh Barrie (@joshbythesea) December 21, 2015
Unfortunately, you can't slyly hack this McDonald's sandwich in the States, where bacon macaroni and cheese is not yet a thing. But who says you can't try it at home?
If you now have an irreversible craving for grilled cheese, we've got a few solutions for you. Try it fried and dunkable with these fried grilled cheese bites, paired with ham and served on Hawaiian buns with this inside-out grilled cheese or turned into a grilled cheese bread bowl for smooth and tangy tomato soup.
Sources: Brand Eating, Refinery 29 / Photo credit: Char/Flickr
Tags:
asian mcdonald's
,
grilled cheese
,
hong kong
,
mac and cheese
,
mcdonald's
Skillet Mac 'n' Cheeseburger
category:
By Cooking Panda
Mexican Style Mac And Cheese
category:
By Cooking Panda
Did You Buy This Mac And Cheese? It's Been Recalled!
category:
By Cooking Panda
There's been a mac and cheese recall, so check your pantry and make sure you don't have the offending packages!
According to PR Newswire, in a TreeHouse Foods, Inc. press release, the company announced a voluntary recall on some of its instant mac and cheese products, due to a possible salmonella contamination in the cheddar cheese mix. The culprit is the milk powder within the cheese powder. Three different brands of mac and cheese dinner cups have been recalled: Big Win Original Macaroni & Cheese Dinner, Cheese Club Express Mac Macaroni & Cheese Dinner and Great Value Macaroni & Cheese Original Cups. Check the UPC numbers below if you have one of these brands at home and want to know for sure if it's one that's been recalled.
As it happens, TreeHouse Foods, Inc. wasn't the only company that had to do a recall. Food Safety News reports that the powdered milk ingredient that's contaminated was from Valley Milk Products LLC and that there was a federal seizure of 4 million pounds of powdered milk. Apparently, the FDA found out that the company knew it was testing positive for the salmonella contaminate, but continued business anyway.
Salmonella is a bacterium that causes fever, diarrhea and abdominal pain, so if you've gotten it from one of these foods, these are the symptoms you'll likely experience. Many people recover on their own, but infants, the elderly and those with weakened immune systems should see a doctor and communicate the exposure to the pathogen to said doctor. Salmonella can be particularly harsh on those who don't have strong immune systems and may lead to hospitalization in some cases.
Here are the UPC numbers and "Best-by" dates to check the bottom of your mac and cheese cup for:
Big Win Original Macaroni & Cheese Dinner – UPC number: 001182258403, Best-by date: 10/25/2017.
Cheese Club Express Mac Macaroni & Cheese Dinner – UPC number: 004149817167, Best-by dates: 11/3/2017, 11/4/2017, 11/18/2017, 11/22/2017, 10/20/2017, 10/21/2017, 10/23/2017, 10/29/2017, 11/1/2017, 11/2/2017, 11/11/2017, 11/16/2017, 11/17/2017, 11/22/2017, 11/23/2017, 11/28/2017.
Great Value Macaroni & Cheese Original Cups – UPC number: 007874208249, Best-by dates: 10/22/2017, 10/19/2017, 10/27/2017, 10/28/2017, 11/3/2017, 11/7/2017, 11/18/2017, 11/20/2017, 11/21/2017.
Sources: PR Newswire, Food Safety News / Photo Credit: Sandra/Instagram
Tags:
Food Recalls
,
Instant Mac and Cheese
,
mac and cheese
Truffle Garlic Mac & Cheese
category:
By Cooking Panda
Four Cheese Steak Mac & Cheese
category:
By Cooking Panda
10 Cheesy Ways To Celebrate National Mac And Cheese Day
category:
By Cooking Panda
Today, July 14, we celebrate the majesty of macaroni and cheese, one of America's most beloved dishes.
The dish, we can all agree, has come a long way since its initial rise in popularity. First, Thomas Jefferson likely brought back a pasta machine from Italy in the late 1700s, according to Clifford A. Wright. Later, in 1937, came the first blue box of Kraft macaroni and cheese. Today, the cheesy noodles are served everywhere, as a main course on kids' menus and as an indulgent side dish at upscale steakhouses.
Recipes for the culinary staple have also evolved from employing the traditional elbow noodle and cheddar cheese to incorporating ingredients like chilis and smoked meats.
Check out these enticingly gooey recipes, ranging from tame to wild, to find your perfect National Mac and Cheese Day party dish.
1. Gouda Mac and Cheese with Peaches and Prosciutto
This sweet and smokey mac and cheese gets a lot of its creaminess from Greek yogurt, so you can feel pretty healthy while you're carb loading tonight.
2. Easy Beer Mac and Cheese
The only thing better than the boozy mac is the bread-crumb crust on top. The chef also suggests adding bacon, and we don't take issue with that.
3. Lobster & Shrimp Mac and Cheese
When I die, bury me inside the shellfish, butter, cheese and pasta store.
4. Four-Cheese Caprese Mac and Cheese
Four types of cheese, pesto and fresh heirloom tomatoes? Sign us UP.
5. Buffalo Chicken Mac and Cheese
Purely cheese, spice and everything nice.
6. Truffle Mac and Cheese
It's a holiday. Go on and treat yourself to a pan of this restaurant-quality cheese fest.
7. One-Pot Spinach and Artichoke Mac and Cheese
Your favorite dip in mac-and-cheese form. Run, don't walk, to the kitchen. Now.
8. Fried Mac and Cheese Balls
We're not saying it's totally necessary to take something beautiful and fry it, but we're also not saying it's a bad idea.
9. Greek-Style Mac and Cheese
Bring the flavors of the Mediterranean to your mac with feta cheese, Kalamata olives and sun-dried tomatoes.
10. The Best Homemade Mac and Cheese
Sometimes, you just can't mess with a classic. The keys to success in this recipe are good pasta and the right cheeses. Drooling.
Featured Photo Credit: How Sweet It Is
Tags:
mac and cheese
,
mac n cheese