The Best Dang Things You Can Put Between Biscuits (Recipes)
category:
By Cooking Panda
What can I Eat with Biscuits?
Biscuits have paid their dues as a buttered side to entrees like fried chicken or scrambled eggs, and it's high time they were appreciated for their main-event potential. Soft, buttery, flaky, and stuffable with goods both sweet and savory, they're ready to become an essential ingredient in your favorite lunches, dinners, and desserts. Sometimes you should change your morning eating habits and take breakfast biscuits as a diet, when you want a different taste and think, what to eat with biscuits?
what to eat biscuits with?
what goes well with biscuits?
what do biscuits go with?
what to serve with biscuits?
Here are the absolute tastiest biscuit toppings and things to eat with biscuits or you can put between two hot biscuits. We're sure you'll love to try these biscuit topping ideas! (Don't read this hungry, or you'll suddenly find yourself devouring everything in your pantry.)
The fat from spicy sausage does really delicious things when cooked with milk and flour. The result is a rich, creamy, meaty gravy that you'll want to eat by the spoonful, but should definitely save for hot buttermilk biscuits.
Anything is good when spread with a mixture of butter, hot sauce, honey, and cayenne pepper — especially when it's a garlic fried chicken biscuit sandwich.
Relive your best childhood memories of PB&J — but spread between biscuits and topped with powdered sugar. The sweet and nutty mixture seeps into the biscuits as they bake, creating an irresistibly gooey texture.
Lobster is the best topping for biscuits, You could have a classic lobster roll, but a buttery lobster cheddar biscuit sounds so much better, doesn't it? Fresh lobster, cooked with a simple combination of butter and chives, is a match made in heaven with homemade cheddar biscuits.
Not your run-of-the-mill chicken salad, this one is pimped out with bacon, white cheddar, pimientos, and arugula. But it gets even more Southern when it's thrown on a honey butter biscuit with pickles. Sweet, salty, crunchy, creamy, and flaky, this will ruin all other chicken salad sandwiches for you for life.
Once you sandwich easy-to-make fluffy biscuits with sugar-dusted strawberries and vanilla bean whipped cream, you'll never go back to normal shortcake.
This biscuit breakfast sandwich goes the extra mile with an egg casserole, baked with heavy cream, seasoning, and a thick cheesy crust. When it's done in the oven, slice it into squares for individual sandwiches. Having a breakfast casserole with biscuits will give a delicious start to your day, finish the biscuits with a casserole and crispy bacon, eat up, and save the rest in the freezer for breakfast all week.
This Pillsbury recipe comes together in a pinch with typical ingredients. Lay Swiss cheese and deli ham over their flaky biscuit dough, bake and drizzle with honey for lunch or a hearty snack.
Butter, powdered sugar, honey, and cinnamon come together to create a blissfully sweet spread that you should absolutely drizzle over hot biscuits until positively oozing with cinnamon flavor.
Upgrade the classic BLT with pimiento cheese and three-ingredient cheddar biscuits. The crunchiness of the bacon, the creaminess of the cheese, the juiciness of the tomato, and the flakiness of the biscuit create a symphony of flavors and textures.
Peach pie becomes cheesy with creamy brie — and handheld when formed into small biscuits. The only problem with them is that they won't magically reappear when devoured voraciously.
This bacon cheeseburger is kind of like the Uncrustable of burgers — stuffed into a forward-thinking biscuit bun.
British meets Southern when classic teatime toppings like jam and clotted cream are generously dolloped over buttermilk biscuits. Pair with coffee or tea for your new go-to Sunday breakfast.
Featured photo credit:
jeffreyw/Flickr
Tags:
best topping
,
biscuit toppings
,
biscuits
,
breakfast sandwich
,
burgers patty
,
cheese chicken salad
,
chicken cheese salad
,
chicken salad
,
clotted cream
,
desserts
,
eat biscuits
,
eat with biscuits
,
fried chicken
,
garlic fried chicken
,
Ham
,
homemade biscuits and gravy
,
honey and ham
,
jack cheese
,
jelly peanut butter with jelly
,
lobster
,
Peach
,
peach pie
,
peach pie filling
,
peanut butter
,
Peanut Butter and Jelly
,
Pepper Jack Cheese
,
pimento cheese
,
pimiento
,
pimiento cheese chicken salad
,
recipes
,
sandwiches
,
sausage gravy
,
Southern Food
,
spicy honey butter
,
things with biscuits
,
Whipped Cream
Spicy Lobster Roll
category:
By Cooking Panda
Lobsterman Caught Rare Blue Lobster, Twice!
category:
By Cooking Panda
A Massachusetts lobsterman caught a rare blue lobster, the second time he has managed to do so in over two decades.
On August 8, Wayne Nickerson found a dazzling surprise when he gathered his lobster trap in the water off Plymouth.
"It was more brilliantly blue than the bluest hydrangea you've ever seen," Jan Nickerson, Wayne's wife, told the Boston Globe. "It was almost fluorescent. It was almost glowing."
According to Tony LaCasse, spokesman for the New England Aquarium, the odds of finding a blue lobster are approximately one in two million. Furthermore, the lobster weighed two pounds, significantly more than the one to 1.25 pounds the average lobster tends to weigh.
After returning to the pier, Wayne told a friend, who owns a children's tour boat called Lobster Tales, about his unique find.
"He asked the children, 'Do you want to see the blue lobster?'" Jan Nickerson recalled. "The children cheered like crazy. That was the best part for me. It was so cute."
In 1990, Wayne caught his first blue lobster, which was put on display at a Manomet lobster pound. His most recent discovery, which has been named "Bleu," was separated from other lobsters and placed in a safe, secure location.
LaCasse said local sightings of blue lobsters have increased in recent years. A few factors, such as social media and the millions of lobsters that land in the U.S. annually play a role.
Throughout social media, there have been various opinions regarding the outcome of this discovery and the nature of the lobster's color.
"If they breed lobsters in captivity it would be interesting to discover the outcome of the distribution of the color of the offspring," wrote a Boston Globe reader.
"He changed color so he can blend in with the tank at Red Lobster so no one can find him," wrote a visitor on Boston Globe's Facebook page.
"It would be a very nice gesture if they put it back in the water to live out its natural life," wrote another reader. "Rare is rare and we (humans) already destroy so much of the natural world day in and day out."
Sources: Boston Globe, Boston Globe/Facebook / Photo credit: Jan Nickerson via Boston Globe
Tags:
blue lobster
,
discovery
,
lobster
,
lobsterman
,
Plymouth Massachusetts
,
rare
Eight Heavenly Lobster Gifs And Three Ways To Cook It
category:
By Cooking Panda
Happy National Lobster Day! We love lobster a ton and are totally thrilled to celebrate.
We love ourselves a good lobster tail, and we have to admit, this animated one looks as good as the real thing:
We're more in the mood for a stuffed tail, actually…
Or maybe, if we're feeling more innovative, we'll go for a lobster grilled cheese…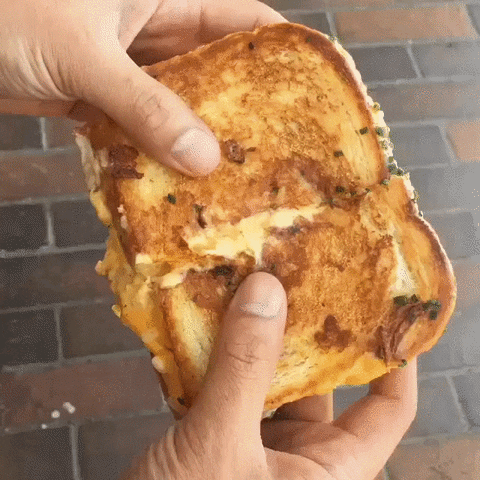 Or maybe a perfect, decadent lobster roll.
We might even make it ourselves.
French fries and a lobster roll count as a balanced meal, right?
Whatever the form, we can't wait to gobble it down.
Want to cook up a lobster dinner that will make Beyonce proud? It's easier than you think – all you have to do is get a couple of lobster tails (or a live lobster if you can handle that) and boil them.
They are so packed with flavor that this is truly all you need to do. Lower the heat to a low boil and cook the tails for 3-3 ½ minutes, or around five minutes for live lobsters. The shells will turn bright red and the tail meat will be firm and opaque when done, kind of like shrimp. Be careful not to overcook these guys. Once you remove them from the water, let them sit for three more minutes, and test a small piece if you want – if the lobster is opaque all the way through, you're good!
Serve with melted butter and lemon wedges and enjoy the heck out of that thing.
If you want to mix it up with a truly unique recipe, here's how to grill lobsters in miso-chile butter (recipe here).
More into lobster rolls? Give this classic recipe a try (recipe here). You can probably also get away with langostino lobster for this if you want to be a little more budget-friendly — just don't tell Maine. If you prefer your lobster warm and buttery, chop it up and toss it with a hefty dose of butter instead of mayo and serve immediately.
Featured Photo Credit: AOL_/Reddit, In the Kitchen With Kath
Tags:
food gifs
,
foodporn
,
Hump Day
,
lobster
,
lobster recipe