Don't Worry Guys, The Avolatte Isn't Real
category:
By Cooking Panda
We all know that millennials love avocados and lattes. In fact, there may be more Instagrams of latte art and avocado toast variations than grains of sand on Earth.
Just kidding. But seriously, young people today have a severe avocado/latte fetish.
But how about a latte inside an avocado? A hipster cafe in Melbourne, Australia, has created just that: The Avolatte.
If you often find yourself buying $6 lattes and eating anything that comes with avocado on or in it, then the avolatte may be for you. Or not.
"It's literally coffee in a piece of rubbish," Jaydin Nathan, a barista at the cafe, said to news.com.au. If you consider a carved-out avocado skin "rubbish," then yeah, more or less.
The avolatte gained fame after the Truman Cafe in Albert Park posted a video of it being prepared on their Instagram page.
The video shows a barista pouring a latte into a mostly carved-out avocado half. He even finishes it off with a graceful foam flower.
"We weren't actually selling them but then someone came in today and wanted one," Nathan said to news.com.au. Yes, someone actually ordered and was willing to pay $4 for coffee in an avocado shell.
The Instagram video was posted alongside a laughing-crying emoji. "It was actually just a joke," Nathan said,.
The avolatte may also be a satire of the ongoing housing affordability debate in Australia, according to news.com.au., or a comment on hipster culture.
Ironically, however, after the video was posted, customers have come in actually ordering the thing. A cafe in Turkey is also now serving The Avolatte, according to The Independent.
The avolatte has sparked a bit of debate on the internet. The more serious among us believe it is a sign of the end of culture; some find it a humorous satire, while others are salivating to try to it.
Personally, I'm a bit curious about the taste. Maybe the avocado makes the coffee smoother and creamier, or maybe it's just like drinking a regular latte except out of a discarded fruit peel instead of a normal cup.
So, would you try the avolatte?
Sources: News.com.au, Independent, Truman Cafe/Instagram / Photo credit: T.Tseng/Flickr
Tags:
avocado
,
avolatte
,
hipster
,
latte
,
truman cafe
We're Drooling Over Starbucks' Lush New Cascara Latte
category:
By Cooking Panda
This is some of the most delicious news we've heard all year!
Most people know about coffee beans, right? You can buy them at the store, at specialty retailers, and the images of coffee beans being ground is sort of iconic. In fact, coffee beans are even spotted on shelves in perfume stores, and used to cleanse your olfactory nerves in between sniffing away at different fragrances!
However, what you might not realize is that when coffee is first beginning its life, it starts out inside something called a coffee cherry — that's two pale, light green beans that are surrounded by a red, round, ripe fruit.
Starbucks knew, though. And for its first new beverage of 2017, it is debuting something called the Cascara Latte, which features flavors from the delightfully fragrant coffee cherry fruit.
Um, yas please.
The beverage was inspired by the Starbucks Reserve Roastery in Seattle, according to its press release, and will be available in U.S. stores starting on Jan. 10, 2017, all the way through the winter while supplies lasts.
"Cascara is Spanish for 'husk,' and we are taking the fruit of the coffee cherry to give our latte a subtle, lightly sweet flavor," Erin Marinan from Starbucks Beverage Research and Development team said on the press release page.
"Inside each coffee cherry are the seeds we've all come to know as coffee beans," reads the product description on the Starbucks website. "Cascara is the dried fruit of the cherry itself. It lends delicious, subtle notes of dark brown sugar and luscious maple."
The latte will consist of espresso, steamed milk and cascara syrup, which sounds totally divine, and then will be sprinkled with a delicate line of cascara topping, made from cascara extract and cane sugar. When you view the beverage from the top down, the design actually looks like the inside of a coffee bean.
How innovative!
Starbucks also announces that fans of the Smoked Butterscotch Latte are in luck, because the chain is bringing it back for a limited time starting Jan. 6, 2017.
Enjoy!
Sources: Starbucks (2) / Photo Credit: Starbucks (2)
Tags:
cascara latte
,
cherry
,
coffee bean
,
latte
,
Starbucks
Pop-Tarts Just Released Two Latte-Inspired Flavors
category:
By Cooking Panda
I don't know about you, but when I really need to get going in the morning — I'm talking a quick and dirty caffeine kick to the heart to jumpstart an otherwise lethargic-looking day — I don't reach for Pop-Tarts first. I reach for a cup of coffee.
However, in a bid to take their breakfast game to the next, buzz-worthy level, Kellogg's Pop-Tarts and Dunkin' Donuts have collaborated and produced two limited edition latte-inspired Pop-Tarts flavors that are sure to get you off your feet and out into the world energized (probably more due to the sugar than the coffee, but whatever): Frosted Chocolate Mocha and Frosted Vanilla Latte Pop-Tarts.
According to Delish, the Frosted Vanilla Latte flavor is creamy and sweet on the inside, but delivers that yummy mocha punch with its coffee-flavored frosting on the outside. It also comes with a latte foam-art-inspired swirl on top for decoration. How stinking cute is that?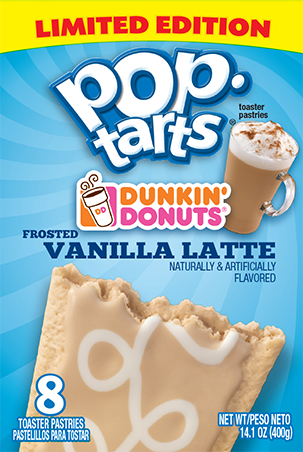 If you're looking for something a little more lush, then the Frosted Chocolate Mocha edition is the way to go, seeing as it's chock full of decadent chocolate-espresso filling (we're drooling over here) and then topped off just like at Dunkin' Donuts — with a double swirl of "whipped-cream" (think Pop-Tart frosting, only cuter and creamier than usual).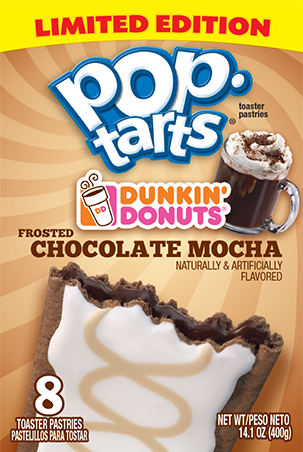 What do you think? Will you be snacking on any of these limited edition latte-inspired flavors when they hit shelves in December? They'll run you about $2.59 for an 8-count box, according to Huffington Post. Sounds like a week's worth of excuses to eat a pastry for breakfast, if you ask me!
Sources: Delish, Huffington Post / Photo Credit: Lyndsey Matthews via Delish, Pop-Tarts via Huffington Post
Tags:
Dunkin' Donuts
,
junk food
,
kellogg
,
latte
,
pop tart
Are You Excited That Starbucks' Pumpkin Spice Latte Is Back? Because This Guy Sure Isn't
category:
By Cooking Panda
It's that time of year again, folks. The time of the Pumpkin Spice Latte.
In the past few years, Starbucks' autumn-themed drink has developed somewhat of a cult following. It's so popular, in fact, that it even has its own Twitter handle that fans can follow to keep up on all the PSL-related news.
Look, we all know how over-hyped the drink is. But the truth of the matter is, if you don't want to purchase (or worship) the PSL, nobody is forcing you to.
However, one man from Philadelphia still takes issue with Starbucks for promoting the PSL every time it returns; Per Metro, ever since 2014, Sean Bauer has been protesting what he deems the "Premature Pumpkin Spicing."
"I always see people talking about the drama [surrounding] this pumpkin-spice thing. When some people think about fall, they think of horrible artificial taste. We don't see it that way," Bauer told PhillyVoice of his anti-PSL movement.
"When I think about fall, I'm picturing myself wearing a flannel shirt, drinking something like apple cider, not a sugary, fake nutmeg taste."
Apparently, Bauer isn't a fan of the taste, but that's not what enrages him so much about PSL season; he takes issue with the fact that PSL season seems to come earlier and earlier every year.
"It's that whole Stockholm Syndrome thing. People wouldn't care about purchasing it if it was available year-round," explained Sean to Metro.
So, what say you? Are you pro-PSL? Or will you be joining Bauer on the streets to protest their return?
Sources: TheRealPSL/Twitter, PhillyVoice via Metro / Photo credit: Leanne Vogel/Healthful Pursuit
Tags:
autumn
,
latte
,
pumpkin spice
,
Starbucks