Umm, Would You Try Cough Drop-Flavored Kit Kats? (Photo)
category:
By Cooking Panda
As you're likely aware, there are some unusual Kit Kat flavors out there. From baked potato to soy bean to wasabi to fruit parfait, you can get just about anything you want.
Here's one that might throw you: Nestle Japan has released cough drop-flavored Kit Kats, perhaps their oddest iteration yet.
Peppered with real lozenge powder and featuring a famous soccer commentator, these medicine-inspired candies are sure to put that extra pep in your step, no matter how bad your sore throat may be, notes Rocket News 24.
"There's a battle there that most definitely can't be lost" the enthusiastic packaging reads, which makes a lot more sense in Japan, where Kit Kat is pronounced similar to "Kitto Katsu," a phrase that translates to "you will surely win."
The man on the packaging, Yasutaro Matsuki, is a former national soccer player and manager known for his bright, colorful commentating, saying things like the words on the Kit Kat box: "It's one more point! Another point!!"
The candy is available in Japanese convenience stores and the like starting August 21 but is a limited edition treat that will last through September 10 in conjunction with the 2018 FIFA World Cup Russia Asian finals. They will cost around $1.28, so if you're heading to Japan this summer, you might want to check them out for novelty's sake.
Kit Kats may be popular in the U.S., but they are a downright phenomenon in Japan and are one of the top-selling chocolates in the nation, notes Telegraph. More than 300 unique flavors have been introduced since the brand first launched there in 1973, and you can even visit Kit Kat's regional flagship store, where you can pick up all sorts of wild wafer creations.
So what do you think? Would you eat these lozenge-flavored Kit Kats?
Sources: Rocket News 24, Telegraph / Featured Image: Scott Ehardt/Wikimedia Commons / Embedded Image: Rocket News 24
Tags:
cough drop candy
,
Food News
,
kit kat
,
lozenge Kit Kat
,
weird Kit Kat flavor
You're Going To Love The Newest Kit Kat Flavor (Photos)
category:
By Cooking Panda
There's not much that can beat the light chocolaty crispiness of classic Kit Kats, but Nestle might just be about to outdo itself.
Indeed, friends, the classic wafer candy is getting a very exciting upgrade! On July 25, something beautiful indeed will be available for purchase: a Kit Kat filled with cakey goodness!
Described as a "cake-style Kit Kat" in a Nestle press release, this handsome dessert looks like a regular Kit Kat, except it has a thick chunk of gateau wedged between the layers of chocolate, according to Delish. Regard:
Looks tasty, doesn't it?
There are a wide variety of Kit Kat flavors out there, from borderline genius to downright bizarre and everything in between — pear, soybean, green tea and wasabi flavors, to name a few. But this one really looks exquisite.
It costs around $13 for a three-pack and double that for a six-pack, which might be a little steep for Kit Kats, but can you really say it isn't worth it?
Sadly, at the moment you can only pick up these tasty morsels at Kit Kat's flagship Chocolatory store in the Ginza district of Tokyo, Japan, but I'm hoping it gets some widespread distribution sometime in the near future.
At the store, which is celebrating its re-opening, you can also pick up some neat menu items like Kit Kat parfaits, dry ice-chilled Kit Kat bars and ice-cream filled, matcha-topped wafers.
If you're craving a delicious harmony of moist cake and crispy Kit Kats, the good news is that you can always make yourself a luscious Kit Kat cake from scratch while you wait for the tasty release. Click here to learn how to whip up your own version. Of course, you can totally cheat and use store-bought cake. If you're a real fiend and want to make it even more Kit Kat-heavy, you can also add a sheet of the candy between the two layers of cake.
I'm going to keep my fingers crossed that this one makes it to the U.S. sometime soon.
Sources: Delish, Kotaku / Photo Credit: Scott Ehardt/Wikimedia Commons, Nestle Japan via Delish
Tags:
cake Kit Kat
,
Chocolatory
,
Food News
,
kit kat
,
Kit Kat flavors
KitKat's Newest Flavor Sounds Too Gross To Be Real
category:
By Cooking Panda
KitKat has been commissioned to come up with some interesting new flavors, and while they're working out the best ideas, we're scratching our heads over the latest …
RocketNews24 reports that Thailand has requested a few new flavors of Nestle KitKats in order to increase tourism. I'm not sure if a new KitKat flavor is a reason to travel to Thailand (but the beaches and resorts totally are), but the flavor ideas seem a bit off the wall.
Three fruits have been mentioned as possible flavor options: the tamarind, which is a sweet and sour fruit, the mangosteen, which is sweet and absolutely loved … and then the "king of fruits" in Asia … the durian.
If you aren't familiar with this giant smelly fruit, you're in for a real treat. It's huge and spiky and is said to smell like such things as decay, sweaty feet, or as Jessica Chastain puts it when feeding it to Jimmy Kimmel, "a garbage can." Sound tempting? I hope not.
Despite the overbearing smell, the fruit has many fans. Deemed the "bleu cheese of fruit," Chastain describes it as tasting like onion, garlic, pineapple and avocado mixed into one custard. I'm not sure what part of that sounds mouthwatering, but it must be the king of Asian fruits for a reason.
Now, it's being reported that Nestle is working on a mockup of a durian-flavored KitKat, which would certainly bring mixed reviews. Exactly what part of this fruit would they be trying to capture? Would a durian-flavored KitKat make people want to travel to Thailand?
To paint a better picture for you, imagine a fruit that is so pungent, it isn't allowed in some subways and hotels in Asia. It actually has the power to smell up a big space such as either of these places …and the smell is not pleasant. Jessica Chastain and Jimmy Kimmel actually wore gloves to eat one so that the smell wouldn't rub off!
So, what do you think? Would you want to try a durian-flavored KitKat bar? I think I'll pass on this one.
Source: RocketNews24 / Photo Credit: Laur/Twitter
Tags:
durian
,
kit kat
,
nestle
,
New Flavors
,
thailand
Would You Eat These Sushi-Inspired Kit Kats? (Photos)
category:
By Cooking Panda
There are some pairings that work so well together, we're sure the first person who thought to combine them knew they'd come up with an instant classic.
We're talking the fusing of peanut butter with jelly; dipping cookies into milk; cheese and macaroni; coffee dunked into donuts; pita bread dipped in hummus.
But we're struggling to think of how anybody could think that sushi and Kit Kat bars combining forces would be a good idea.
However, we're not the boss of Kit Kat Japan, so its decision to launch a limited-edition range of sushi-flavored bars is beyond our control.
If you're interested in trying out one of these new concoctions, you'll have your pick between tuna, sea urchin and egg sushi-flavored Kit Kats at your disposal.
Yummy?
Actually, maybe. It turns out the Kit Kats in question aren't actually infused with, like, essence of tuna, or dusted with any actual fish parts at all.
Rather, the new Kit Kats are inspired rather aesthetically by the sea.
For example, the tuna Kit Kat? It's nothing but a raspberry Kit Kat placed upon some decadent-sounding white chocolate puffed rice.
Next comes the egg variety, which is really pumpkin pudding flavored (yes!) also atop some white chocolate-covered rice.
Last but not least is the sea urchin flavor, which actually uses Hokkaido melon and mascarpone cheese-flavored Kit Kats.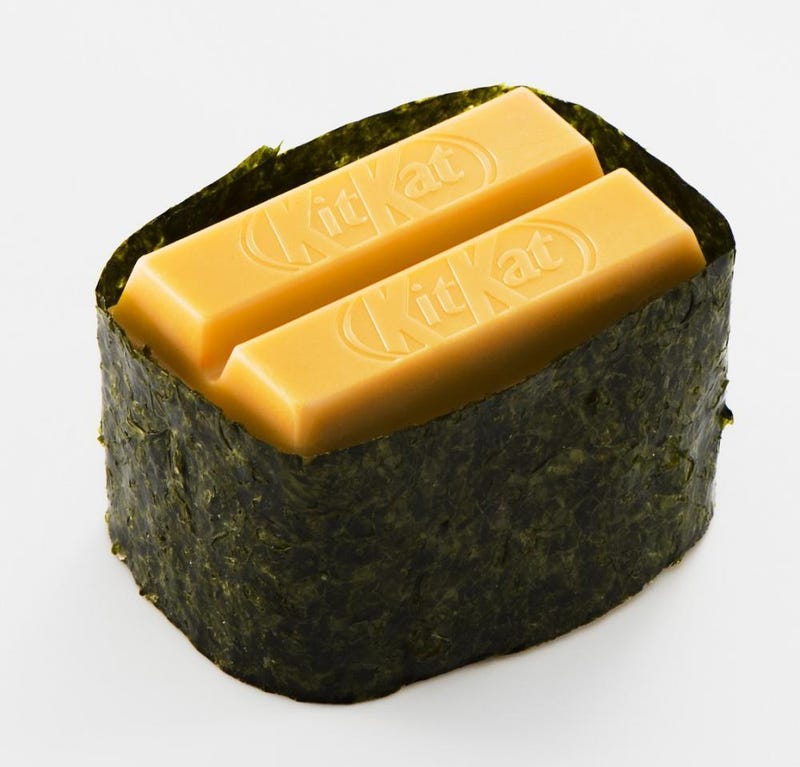 The Kit Kats can be purchased, per Kotaku, at about $26 per set at the Ginza shop in Tokyo between Feb. 2 and Feb. 4, 2017.
They are limited edition, though, so if you're in Tokyo, get there early, because these novelties will probably fly off the shelves!
Source: Kotaku / Photo Credit: Kit Kat Japan via Kotaku
Tags:
japan
,
kit kat
,
kit kat sushi
,
limited offering
,
sushi
Kit Kat Bars Filled With Cookie Dough Exist! Yay!!!
category:
By Cooking Panda
Cookie dough in Kit Kat bars? I'd ask why no one ever thought of this before, but all that matters is that it's here now!
This bar was already famous in Europe, according to Thrillist. In fact, retailers had a tough time keeping it in stock. If it's as good as it looks and sounds, I can't say I'm surprised by that. Now, the bar has been spotted in Canada, so we are crossing our fingers and hoping that it's going to be making its way south over the border on into the U.S.
Nestle calls this wonderful new treat the Kit Kat Chunky Cookie Dough bar. Judging by the packaging in the picture below, that name seems adequate. Instead of five breakable Kit Kat pieces, there are two big blocks that break apart, revealing the crispy wafer we all know and love, but with a layer of cookie dough on top.
According to Better Retailing, retailers who carry the bar in Europe say that they haven't even had to advertise the new Kit Kat creation, like they normally do with new candies. They just put it on the shelves, and bam! It's gone!
"We've gone through cases and cases of them without having to offer any promotion," one retailer said. "It's surprised everybody how well it's been received." He also said that even after putting in orders to restock with three separate vendors, he still hasn't been able to replenish his supply.
One blogger, on One Treat at a Time, decided to taste-test the bar for those of us unlucky enough not to have gotten our hands on one yet (or maybe we are just unwilling to spend $25 on it via Amazon). She says that her only complaint is that the texture of the cookie dough is lost in the crispiness of the wafer. The grittiness we expect when eating cookie dough simply wasn't there for her. "[I]t felt a bit like eating an actual cookie rather than cookie dough …"
Whatever the outcome of the many taste tests, one thing is clear: The Kit Kat Chunky Cookie Dough bar is a hit, and we need it in the states!
Sources: Thrillist, Better Retailing, One Treat at a Time / Photo Credit: One Treat at a Time
Tags:
kit kat
,
Kit Kat Chunky Cookie Dough
,
nestle
,
New Kit Kat Bar
Kit Kat Coconut Banana Pops
category:
By Cooking Panda
Victim Of Candy Theft Receives Loads Of Kit Kats
category:
By Cooking Panda
A few days ago, we reported that Kansas State University student Hunter Jobbins was the victim of candy theft.
Fortunately enough for him, even though somebody did break into his car and steal a Kit Kat in his cupholder, the thief also left a hilarious note, and left everything else in Jobbins's car intact.
Relive the glory (below):
Left my car for maybe 15 minutes in front of the dorms and I come back to this. College man pic.twitter.com/KlDx5BtXLX

— Hunter Jobbins (@jabbins) October 30, 2016
Jobbins' tweet about his candy being stolen went viral; viral enough, in fact, that the Hershey Company actually picked up on the news and decided to make Jobbins' dreams come true.
"Who steals someone's Kit Kat?!" Popsugar reports the company as tweeting. "WHO DOES THAT?! Shoot us a DM and we'll replace it for you."
And would you believe it, folks, the company lived up to its promise; Jobbins' car has officially been filled up with 6,500 sweet, sweet bars of Kit Kats, which is more than enough, we're sure, to make up for the one measly one that was swiped to quell that petty thief's hunger.
To his credit, Jobbins decided not to scarf down the thousands of Kit Kats all by himself in one go (like we would have attempted to) and shared Kit Kat's kind gesture on Twitter.
Thanks to everyone who came by today!! And a special thanks to @devonhorowitz and @KitKat_US for making today happen! #KitKatsForEveryone pic.twitter.com/eAwHC9tFiP

— Hunter Jobbins (@jabbins) November 4, 2016
Sources: Popsugar / Photo Credit: The Hershey Company via Popsugar
Tags:
candy thief
,
food humor
,
kit kat
,
the hershey company
Taco Bell Now Serves A New Kit-Kat Chocodilla Dessert
category:
By Cooking Panda
Sure, this may be ironic coming on the heels of the announcement that Taco Bell has secretly become the healthiest fast food chain option available to consumers, but hey! Give 'em a break — because the chain has a new dessert in the UK, and it features the beloved Kit Kat bar.
Per Brand Eating, UK consumers can now order a new Kit Kat quesadilla off the chain's dessert menu, which is essentially just like any other quesadilla, only with gooey, warm and melty chocolate instead of cheese.
Um, yes please.
The menu item is officially called the Kit Kat Chocodilla (which sounds sort of ominously like Count Dracula, which is perfectly in theme for the Halloween season), and is a grilled and folded flour tortilla chock full of delicious melty chocolatey chips. Then, Kit Kat lends its crispy wafer goodness into the mix to finish off the decadent experience.
According to Brand Eating, Kit Kat wasn't a shoe-in for the chocolate of choice; initial taste-testers sampled a variety of different kinds of chocolates before officially dubbing Kit Kat the reigning champion.
After finally deciding to go with Kit Kats, tasters tried "a Kit Kat crumble with chocolate sauce, Kit Kat bites with chocolate, and a few different variables from the Kit Kat family," so you know this combination is the best of the best.
For now, you can purchase the Kit Kat Chocodilla for a limited time if you live in the UK for the equivalent of approximately $1.58.
Unfortunately, those of us who live stateside can't purchase the official dessert in Taco Bell stores here, but if you're feeling dangerous, why not crush a few Kit Kat pieces into a tortilla yourself?
Source: Brand Eating / Photo credit: Taco Bell UK/Facebook
Tags:
chocodilla
,
fast food
,
kit kat
,
taco bell
,
UK
You Can Create Your Own Break At This New Kit Kat Chocolatory
category:
By Cooking Panda
Need a break?
We all do, sometimes. Kit Kat knows that, and for a long time has been suggesting that breaking yourself off a piece of a Kit Kat bar is a sufficient way to take a breather and enjoy yourself in the midst of a long and endless work day.
However, what if you could do more than that? What if you could savor your break time not just by chowing down on a Kit Kat — but by doing it at a Kit Kat cafe?
You've probably guessed it, but from Oct. 5 to Nov. 8, you will be able to do just that at the new KITKAT Chocolatory, a pop-up opening at The Street in London.
Per Metro, fans will be able to design their own premium Kit Kat bars, complete with customizable packaging.
You'll be able to choose between milk, white and dark chocolates, and then add three toppings from 16 different selections, to really create your own perfect, harmonious break.
After you're done at the Create Your Break station, you'll then be invited to use the Chocolatory's touch screen to customize your fancy packaging.
Even cooler is that your bar will be ready to take home and snack on within an hour, because there will be expert chocolatiers on site to tailor-make your personal creations for you.
The pop-up will also feature weekly Special Edition Kit Kat flavors alongside the Create Your Break station for fans to sample.
"Consumers are going to be given the opportunity to create their interpretation of a confectionery icon," Andrew McIver, managing director of Nestlé Confectionery in the UK and Ireland, told Metro.
"The Create Your Break, Special and Signature Edition KITKAT bars elevate the brand into a brave new territory and offer fans the opportunity to try unique, exciting and delicious products."
The KITKAT Chocolatory's hours begin Oct. 5 at 10:30 a.m. at The Street, Westfield Stratford City, London. Create Your Break bars cost the equivalent of about $9.10, while Special Edition bars next to the station cost approximately $4.50.
Source: Metro / Photo credit: Kit Kat via Metro
Tags:
chocolatier
,
create your break
,
kit kat
,
london
,
pop up