8 Cool Ways To Make Dinner Fun (Recipes)
category:
By Cooking Panda
There's no way around it. Dinner can be a drag sometimes.
Whether you have picky kids that get bored with their evening meal, or you feel the need to jazz up dinner for party guests (or just yourself), it can be a lot of fun to find new and exciting ways to serve up your favorite foods.
It doesn't matter if you are cooking for an 8-year-old or an 88-year-old, anyone who is young at heart will adore these fun twists on food that you're probably eating anyway:
Whether you're celebrating a special occasion or just proud or yourself for making it through a long day of work, this delicious lasagna-ziti hybrid will hit the spot. Alternately, you can make pasta pie for a similar effect (recipe here).
Want to score bonus points with your loved ones? Serve these easy egg and ham (or whatever fillings you like) wonton cups with sweet bacon roses (recipe here) and/or rainbow pancakes (recipe here). This is a particularly great last-minute, affordable anniversary or birthday meal.
It's easy to eat vegetables when they look this good. If you hate poorly mixed tacos and burritos with the same fiery passion as I do, you're more than welcome to make thin lines in the opposite direction, or just lay everything out in a gorgeous rainbow and let everyone serve themselves, because let's be honest, that onion and lettuce bite ain't going to cut it.
For a moderately more nutritious version, consider making this with hidden veggie mac and cheese instead (recipe here), and/or mix in some peas and spinach. Or don't. I won't tell.
Look, there's no way around it. Sometimes vegetables are boring. If you're looking for a fun way to trick yourself or your kids into eating salad, it doesn't get much better than these gorgeous and versatile appetizers.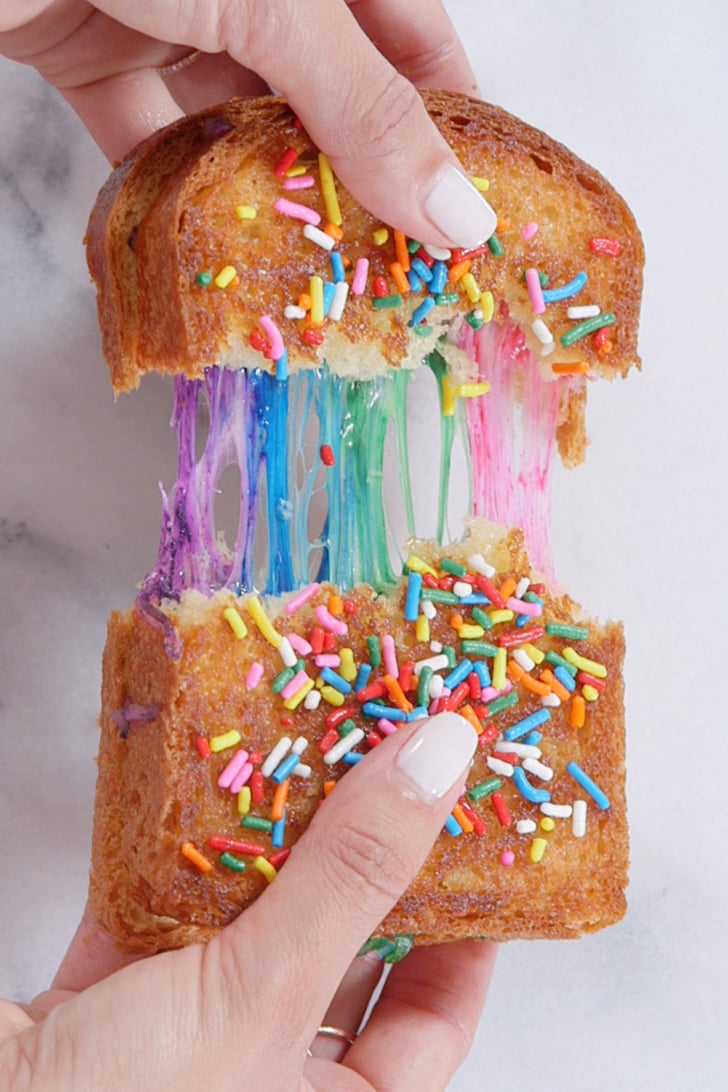 I know grilled cheese is already pretty exciting as is, but here's a way to make it even cooler and hop on that rainbow bandwagon while expending minimal energy. Plus, it tastes fantastic.
Got leftover mac and cheese? You absolutely must WAFFLE IT. You'll only regret not doing this.
Woo! How fun is this? This crispy version of a sushi roll uses a "krab" mix, but you can use anything you want — spicy tuna, avocado or even fresh sashimi, which would be super delicious if you cube it up and toss with sauce, poke-style (recipe here).
Featured Photo Credit: Dennis Brown/Wikimedia Commons
Tags:
easy dinner recipes
,
fun dinner
,
kid recipe
,
rainbow recipe
,
Tasty Tuesday
These 11 Delicious Bread Boats Are Deceptively Easy (Recipes)
category:
By Cooking Panda
All hail the mighty bread boat! This delicious but hearty dish is super easy and quick to prepare, but it always makes for a respectable breakfast, lunch, dinner, appetizer or even dessert. What are you waiting for?
When you can't decide between pasta and a sandwich, this heavenly bread boat is here for you. The best of both worlds!
You know those delicious sausage, onion and pepper sandwiches that usually come on crunchy French bread? Take that concept and stuff all those ingredients into a bread boat, complete with a baked mixture of cheese, egg and milk for an amazing new version of the tried-and-true classic.
If we had to label this delight, we'd say it's sort of like an American torta, but one thing's for sure — it's amazing, whatever you want to call it.
We love chips and dip as much as anyone, but they are really more of a snack than a meal. Let's fix that.
Not that pizza gets old or anything, but sometimes you might want to switch things up (or else you might just not have the time or energy to whip up pizza dough every time you or your kids have a hankering), so we invite you to take this delicious shortcut.
This is the perfect EASY family dinner. Hollow out a loaf of bread and cram it full of ground beef, veggies and whatever you want. It's sort of like a more fun, crumblier version of meatloaf.
Basically a better breakfast sandwich. These freeze well, so they work great for a quick on-the-go morning meal. Score!
Buffalo chicken. Cheese. Carbs. Yes, this is the perfect meal, in case you were wondering.
You wouldn't think that stuffed French bread could be very nutritious, but this chicken, tomato, black bean and corn version is relatively healthy, especially if you swap out the white bread for something fluffy and wheaty and go easy on the cheese. Or don't! Either way, this is super delicious, especially if you top with guacamole or a little canned enchilada sauce.
This spicy cheesy dip makes for the perfect appetizer, especially when you serve it with corn chips. The recipe recommends mixing in some finely chopped corned beef, but feel free to add any type of your favorite cooked meat — ground beef, chopped chicken or crumbled bacon would be excellent too.
Of course we wouldn't forget about dessert! We're sure you can make a version of this out of store-bought bread, but the fresh stuff will be so delicious! Chocolate lovers will absolutely adore using this recipe as a base and then stuffing it with MORE CHOCOLATE.
Featured Photo Credit: Christine Han/The Kitchn
Tags:
bread boats
,
easy dinner
,
easy pizza bread
,
kid recipe
,
Tasty Tuesday