Pop-Tarts Just Released Two Latte-Inspired Flavors
category:
By Cooking Panda
I don't know about you, but when I really need to get going in the morning — I'm talking a quick and dirty caffeine kick to the heart to jumpstart an otherwise lethargic-looking day — I don't reach for Pop-Tarts first. I reach for a cup of coffee.
However, in a bid to take their breakfast game to the next, buzz-worthy level, Kellogg's Pop-Tarts and Dunkin' Donuts have collaborated and produced two limited edition latte-inspired Pop-Tarts flavors that are sure to get you off your feet and out into the world energized (probably more due to the sugar than the coffee, but whatever): Frosted Chocolate Mocha and Frosted Vanilla Latte Pop-Tarts.
According to Delish, the Frosted Vanilla Latte flavor is creamy and sweet on the inside, but delivers that yummy mocha punch with its coffee-flavored frosting on the outside. It also comes with a latte foam-art-inspired swirl on top for decoration. How stinking cute is that?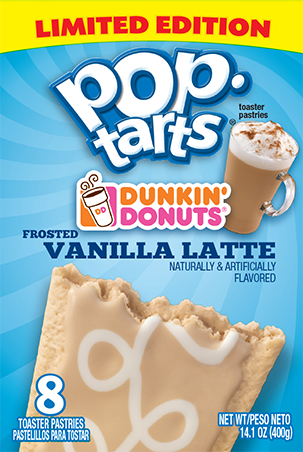 If you're looking for something a little more lush, then the Frosted Chocolate Mocha edition is the way to go, seeing as it's chock full of decadent chocolate-espresso filling (we're drooling over here) and then topped off just like at Dunkin' Donuts — with a double swirl of "whipped-cream" (think Pop-Tart frosting, only cuter and creamier than usual).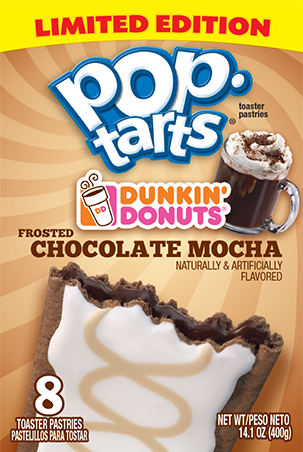 What do you think? Will you be snacking on any of these limited edition latte-inspired flavors when they hit shelves in December? They'll run you about $2.59 for an 8-count box, according to Huffington Post. Sounds like a week's worth of excuses to eat a pastry for breakfast, if you ask me!
Sources: Delish, Huffington Post / Photo Credit: Lyndsey Matthews via Delish, Pop-Tarts via Huffington Post
Tags:
Dunkin' Donuts
,
junk food
,
kellogg
,
latte
,
pop tart
Leggo Those Eggos! Kellogg Recalls Eggo Waffles Across 25 States
category:
By Cooking Panda
Bad news for all the Stranger Things fans out there: If you were planning on dressing up as Eleven for Halloween, you might want to think twice.
On Sept. 19, Kellogg Company issued a voluntary recall on approximately 10,000 of its Kellogg's Eggo Nutri-Grain Whole Wheat Waffles due to potential health risks.
So, you know, yeah: Leggo my Eggo! But then do me a favor and throw it in the trash.
The recalled Eggo waffles are said to have the potential to be contaminated with Listeria monocytogenes, which can cause serious and sometimes fatal infections in young children, frail or elderly people, and individuals with weakened immune systems. While the company has received no reports of illness as of its Sept. 19 press release, it's reassuring to know that it's not taking any chances with its consumers' health and safety.
Now, onto the formalities:
The recalled product was distributed to customers and retailers in 25 states (CO, CT, DE, GA, IA, IL, IN, KS, MA, MD, ME, MI, MN, MO, ND, NE, NH, NJ, NY, OH, PA, VA, VT, WI, WY). The affected product's UPC code is 38000 40370, and it's "Better If Used Before Date" is Nov. 21 and 22, 2017.
I guess we're all having pancakes for breakfast.
Sources: Kellogg Company Newsroom / Photo credit: Leggo My Eggo
Tags:
eggo
,
kellogg
,
recall
,
stranger things
,
waffles