QUIZ: How Much Do You Know About Your Favorite Snacks?
category:
By Cooking Panda
These Islands Just Banned All American Junk Food
category:
By Cooking Panda
If you always vow to start eating healthier "tomorrow," and really want to nourish your body more mindfully but tend to reach for junk food instead, then you might want to just consider moving to the islands of Torba Province, because the tourism council plans to impose restrictions on the import of western junk food.
According to the Guardian, as a way to preemptively nip a slew of potential health problems in the bud, Torba Province, which is part of the island nation of Vanuatu in the South Pacific Ocean, is trying to make sure its citizens are all following all-local, organic diets; to help that happen, the islands are banning foreign junk food totally.
Most of the 10,000 people who live in Torba Province are subsistence farmers, which means that there is actually no shortage of locally grown and sourced food; we're talking shellfish, crabs, yams, paw paw, pineapples, taro and fish.
Besides, when foods are imported (rice, tinned fish, sweets and biscuits are among the most popular), Father Luc Dini, a community leader and head of the local tourism council, wants to ensure that the good health of his people remains that way.
"In other provinces that have adopted western diets you see pretty young girls but when they smile they have rotten teeth, because the sugar has broken down their teeth. We don't want that to happen here and we don't want to develop the illnesses that come with a western junk food diet," says Dini.
Torba's aim is to be Vanuatu's very first organic province by the year 2020; and to achieve that goal, Dini and local chiefs are making sure that tourism bungalows serve guests strictly organic and locally grown fare. Additionally, legislation to help enforce the new rules will likely be introduced within a two-year time frame after the importation of junk food ban is implemented.
What do you think of the province's ambitious plan?
Source: The Guardian / Photo Credit: Derek Paterson/Instagram
Tags:
junk food
,
junk food ban
,
locally grown
,
organic
,
torba province
Playing This Game Can Keep Junk Food Cravings At Bay
category:
By Cooking Panda
Are you looking for a way to curb your cravings for junk food, and try to eat healthier in the new year? Clearly, you're not alone; the diet industry is huge, and more people than ever are concerned with their health and wellness — not just their appearances — and are trying to cut back on the bad foods and instead focus on nutrition.
It turns out that psychologists in the U.K. at the University of Exeter have shown that if you just dedicate 10 minutes a day or less to "brain training" — i.e., playing a game that takes away the mental reward of consuming foods laden with addictive and bad-for-you sugars and fats — then you are likely going to reduce calorie intake of those harmful foods.
In fact, the game that trains your brain to avoid indulging in these nutritionally bereft options actually could lead you to easily cut your energy intake by 200 calories a day without really even trying, scientists claim, according to the Telegraph.
Professor Natalia Lawrence based a new app called Food Trainer on neuroscience research that actually suggests that people tend to reach for sugary or fatty foods because their brain's reward system is trained to release feel-good chemicals such as dopamine and endorphins when being fed those foods. Lawrence's Food Trainer app, which launched for free, rewards players for choosing healthy options rather than unhealthy options, and therefore helps trick the brain into releasing pleasurable chemicals when presented with good-for-you foods, rather than junk.
It's very exciting to see that our free and simple training can change eating habits and have a positive impact on some people's lives," Dr. Lawrence said, per the Telegraph.
"In an age where unhealthy food is so abundant and easily available and obesity is a growing health crisis, we need to design innovative ways to support people to live more healthily."
If you're interested in using the app, what's great about it is that it's designed to be used for only a few minutes every day, so you could fit in your game time while getting ready for work, while commuting, or even as you're preparing to go to sleep.
What do you think? Will you try out the app?
Sources: Telegraph / Photo Credit: Best Desserts Menu Daily/Instagram
Tags:
dopamine
,
endorphins
,
food trainer
,
healthy eating habits
,
junk food
10 Outrageous Ways To Load Up Your Pizza
category:
By Cooking Panda
Are you ready for a major carb load?
We have something totally, ridiculously and irresistibly over the top for you today that comes in the form of dough topped with sauce, cheese and fixings so amazing they should be illegal. Nearly all of these pizzas are greasy, decadent and shamefully delicious — the perfect Tasty Tuesday indulgence!
If you want greasy pizza but aren't in the mood to roll out a bunch of dough or call for delivery, take a starchy shortcut and turn those frozen french fries into your crust!!! No joke. This is basically the best of both worlds between loaded fries and pizza. <3 <3 <3
THE CHEESE. IS. THE CRUST. Seriously … dreams really do come true! Whether you are flour-free or just can never seem to get enough cheese in your life, this cheese-based crust is totally the way to go for the ultimate cheesy pizza that holds its form and satisfies all your cravings and then some.
Yep, seriously. You can deep fry your pizza. Why the heck wouldn't you? Do it now!
If you love beer cheese, this is the pizza for you! Nutty and sweet caramelized onions, spicy Italian sausage and smoky bacon all come together with a little paprika and ground mustard to round out the flavors. Exhilarating!
This astoundingly cheesy, gooey pizza will make you feel like you're eating breadsticks and dip as a main, while the veggie aspect gives you the perfect excuse to feel like you're eating healthy. No complaints here.
We think this would be delicious topped with some breadcrumbs, bacon, spinach and those addicting crispy fried onions that come in a tin. Or, if you want to be really over the top, since you're already eating mac and cheese pizza, what about some sliced-up corn dogs, topped with a drizzle each of ketchup and mustard? Don't knock it till you try it!
Yep. Pizza for breakfast is a thing. Since basically anything with eggs on it can be a breakfast food, you can go ahead and be creative with the rest of the ingredients, whether you want to add more veggies, like mushrooms and spinach (and maybe some chicken?), or go HAM and add … ham. Or get crazy breakfast and mix in a few hashbrowns and sage sausage. One thing's for sure, this recipe is a winner. So there's no reason you can't make it a ton of times and customize to whatever fits your mood.
How can you not fall in love with a pizza that uses gravy for the sauce and fluffy mashed potatoes as the cheese layer? And then some crispy, breaded chicken tenders and then ACTUAL CHEESE on top of it all for good measure? This is truly the stuff of dreams. Big, greasy dreams.
We'd be ashamed to tell you that we've tried this one, but we're so far past this point that we hardly even care. Important note: Don't skimp on the oil in this recipe! 1) You're already eating ramen pizza, just let it go, and 2) the oil basically fries the noodles from the bottom while you're broiling your toppings, so it's really important if you want a crispy, crunchy crust that holds its shape while you munch away!
Yes, you are reading this correctly! If you want to eat pizza for every meal, don't compromise when it comes to your afters! Instead, make this super easy and supremely delicious dessert-pizza mashup that features pre-made pie crust, cream cheese spread and a bit of sugar on top to caramelize it just like the real thing.
Featured Photo Credit: Boboli
Tags:
fried pizza
,
junk food
,
loaded pizza
,
pizza recipe
,
Tasty Tuesday
Pop-Tarts Just Released Two Latte-Inspired Flavors
category:
By Cooking Panda
I don't know about you, but when I really need to get going in the morning — I'm talking a quick and dirty caffeine kick to the heart to jumpstart an otherwise lethargic-looking day — I don't reach for Pop-Tarts first. I reach for a cup of coffee.
However, in a bid to take their breakfast game to the next, buzz-worthy level, Kellogg's Pop-Tarts and Dunkin' Donuts have collaborated and produced two limited edition latte-inspired Pop-Tarts flavors that are sure to get you off your feet and out into the world energized (probably more due to the sugar than the coffee, but whatever): Frosted Chocolate Mocha and Frosted Vanilla Latte Pop-Tarts.
According to Delish, the Frosted Vanilla Latte flavor is creamy and sweet on the inside, but delivers that yummy mocha punch with its coffee-flavored frosting on the outside. It also comes with a latte foam-art-inspired swirl on top for decoration. How stinking cute is that?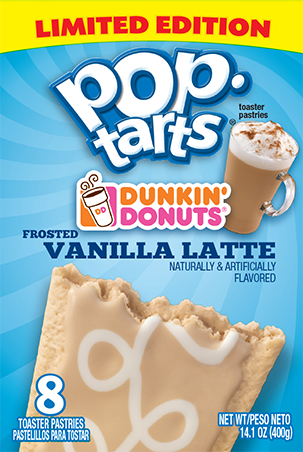 If you're looking for something a little more lush, then the Frosted Chocolate Mocha edition is the way to go, seeing as it's chock full of decadent chocolate-espresso filling (we're drooling over here) and then topped off just like at Dunkin' Donuts — with a double swirl of "whipped-cream" (think Pop-Tart frosting, only cuter and creamier than usual).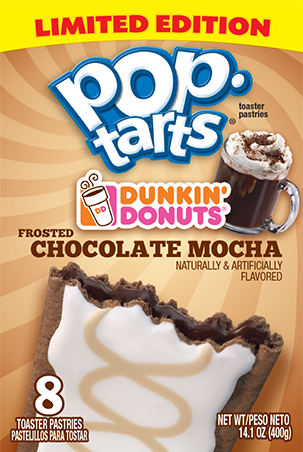 What do you think? Will you be snacking on any of these limited edition latte-inspired flavors when they hit shelves in December? They'll run you about $2.59 for an 8-count box, according to Huffington Post. Sounds like a week's worth of excuses to eat a pastry for breakfast, if you ask me!
Sources: Delish, Huffington Post / Photo Credit: Lyndsey Matthews via Delish, Pop-Tarts via Huffington Post
Tags:
Dunkin' Donuts
,
junk food
,
kellogg
,
latte
,
pop tart
Drool Over These 13 Delectable Fast Food Gifs
category:
By Cooking Panda
We have a very important announcement!
November 16 is National Fast Food Day, and we couldn't be more thrilled about the stupendously great excuse to gorge ourselves on a burger and fries and a soda and whatever else!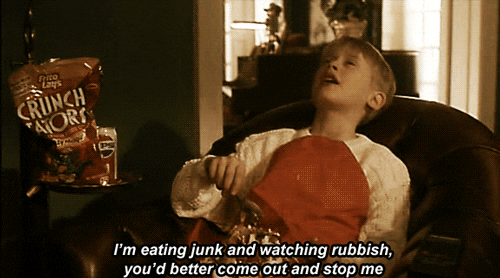 On this momentous occasion, we recommend going completely over the top and ordering whatever the heck you are craving from your favorite fast food joint.
Are you craving McDonald's, perhaps?
Or just a mountain of fries? We feel that.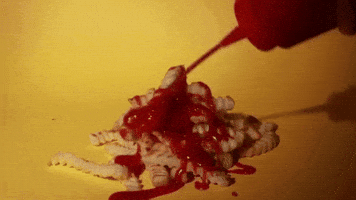 There's really never a bad time for a burger either.
Seriously, how can you turn down one of these? Look at all that bacon! And those onion rings! Imagine the incredible flavors and textures your mouth will experience when you chomp down on one of these bad boys.
What is more delicious than watching some nice thick, charred burger patties getting flipped?
Don't forget the cheese!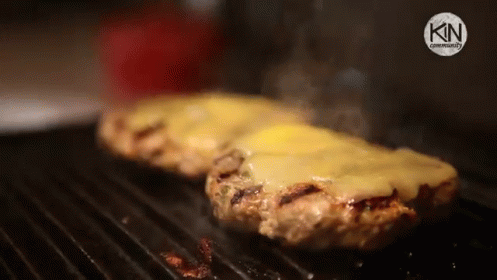 Or are you more in the mood for a giant slab of pepperoni pizza?
How can you beat a perfectly chewy crust, savory sauce and nice bubbling, melty cheese?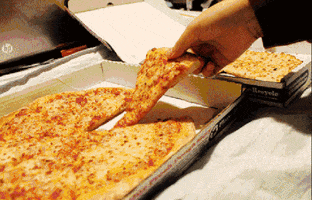 We might be too impatient to eat those gorgeous slices one at a time though…
If pizza isn't your thing, why not devour a big bucket of crispy, tender fried chicken?
Oh yeah, that's right. Look how juicy and well-seasoned this chicken is. We could never turn it down!
Whatever your fast food preference is, we hope you enjoy the crap out of it! Happy Fast Food Day!
Featured Photo Credit: miltonlai/Imgur
Tags:
food gifs
,
foodporn
,
Hump Day
,
junk food
,
National Fast Food Day
8 Beautiful Ways To Gorge Yourself On Greasy Food
category:
By Cooking Panda
We know how it is. You drudge through the week with your salads, lean protein and grilled veggies — or maybe you don't! — but every now and again you need something crunchy, golden and lightly greasy to keep you happy.
Well, if you are looking for the perfect opportunity to indulge, what better day than National Greasy Foods Day on Oct. 25? Whether you are jonesing for bacon, cheese, butter, or just plain crunch, we got you covered. Whip up one of these delicious recipes for your cheat day, or bookmark them all and bring them to the next game day:
An impossibly delicious, light, crispy, salty snack — like veggie calamari. If you've never tried fried artichokes, you must!
Who can resist this spicy, cheesy crispy classic? Poppers are actually pretty easy to make at home, and with a recipe this good, you might just have to make these for your next get-together. Or just for yourself…
We love all pizza like our children, but we *especially* love this extra-greasy take, complete with all your favorite breakfast fixings like bacon, eggs and tater tots.
For something completely different, take your favorite Caprese salad and deep fry it. The best part of this one is that you can totes devour these crunchy, cheese bombs and tell everyone you had salad. They'll be none the wiser.
​
We know you love avocados and their rich, creamy, slightly savory goodness. Fry them up for a real treat and dip them in zippy, tangy sauce to achieve pure bliss.
You can totally make fried chicken from scratch, or you can use your favorite store-bought and/or leftover stuff if you want.
This perfect vegan game-day snack will blow your wings right out of the water!
You are pretty much guaranteed to clean your plate if it's covered with these super-loaded, pulled pork, Irish-style nachos and their hearty BBQ goodness.
Featured Photo Credit: Morgan Eisenberg/Serious Eats
Tags:
fried food recipes
,
greasy food
,
junk food
,
National Greasy Food Day
,
Tasty Tuesday
7 Of Our Favorite Vegan Comfort Food Recipes
category:
By Cooking Panda
If you're looking for some meat-free and/or dairy-free indulgences, you have come to the right place! October is Vegetarian Awareness Month, and we want to give a shout out to all our veg readers who love to eat junk food.
These recipes are all vegan and pretty adaptable, if you want to throw in your favorite (real or veg) meat or cheese. Either way, you'll go nuts for these dazzlingly tasty junky treats.
With a little innovation, any type of food that omnivores enjoy, vegetarians and vegans can too. French toast is no exception, and this particular chia-based recipe makes for a great base if you want to get creative with your mix-ins and toppings.
If you're craving grilled cheese but don't want to eat the real thing — or a fake version of it — try this crispy on the outside, melty and creamy on the inside sandwich. Just be warned: you might find yourself craving this delicious panini every dang day.
Sure, you can buy veggie dogs at the store, but making classic-style ones from scratch will yield a product that is not only tastier but has way fewer chemicals and preservatives. If you are more of a sweet-savory, chicken and apple sausage kind of person, make these sausages instead.
You don't ever have to miss out on your favorite cheesy gravy fries! Just use your favorite fake cheese and thick, creamy veggie gravy. If you want a little bit more of that cheese curd, nonmelty texture, try it with tofu like in this recipe. Make it how you want, but don't forget: you get out of it what you poutine.
Delicious lasagna doesn't have to take years to make! Use canned sauce if you want to take shortcuts, and feel free to make the superstar basil "cheese" ahead of time too. Want to make it a little meaty? Crumble up your favorite veggie patties or sausages and add it to one of the layers. And don't forget to sprinkle some vegan parmesan cheese over the top.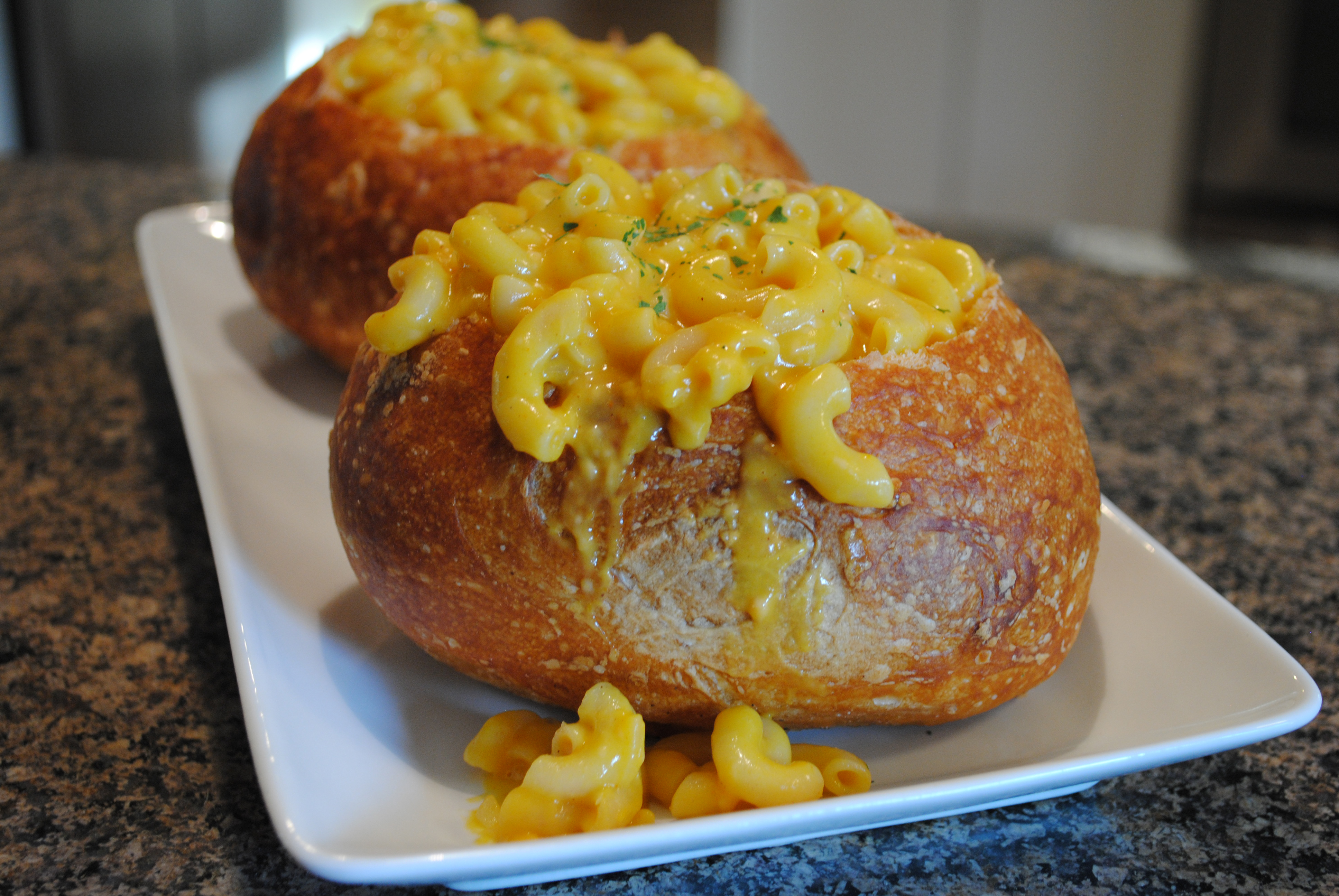 If you are having one of those days, hollow out a chewy sourdough bread bowl and load it with this delicious, creamy butternut squash mac and cheese. It'll fix you right up.
Ready for dessert? Grab your favorite cashew or other dairy-free ice cream (SoDelicious seriously lives up to its name, we have to say!) and go to town. You don't have to add the protein powder if you don't want to, but it will give things a nice flavor and texture.
Featured Photo Credit: That Was Vegan?
Tags:
junk food
,
Tasty Tuesday
,
vegan recipe
,
vegetarian
,
Vegetarian Awareness Month
Young Fish Are 'Stuffing Themselves' With Their Food Addiction: Plastic
category:
By Cooking Panda
There is a system in our brains called the reward system; essentially, the system is designed to "reward" us with pleasurable feelings when we make a choice that encourages our survival.
The brain releases feel-good chemicals into our body, thus propelling us to continue whatever behavior triggered that response.
In theory, the system works. However, according to Authority Nutrition, unhealthy food items often can register in the brain as a more powerful reward than natural foods; that's how food addiction works.
Now, a study from researchers at Sweden's Uppsala University reports in Science that just like teenagers are inclined to become addicted to eating unhealthy fast foods, young fish become hooked on eating plastic in the seas, due to its high concentrations of polystyrene.
Researchers exposed perch larvae to different concentrations of polystyrene in water tanks; and according to Dr. Oona Lonnstedt, the fish hatched in highly contaminated water were "smaller, slower, and more stupid."
The study showed that the junk-eating fish died at twice the rate of the others when they were exposed to predators; but perhaps what's most surprising of all is that the fish demonstrated a preference for the plastic.
"They all had access to zooplankton and yet they decided to just eat plastic in that treatment. It seems to be a chemical or physical cue that the plastic has, that triggers a feeding response in fish," said Dr. Lonnstedt, according to BBC News.
"They are basically fooled into thinking it's a high-energy resource that they need to eat a lot of. I think of it as unhealthy fast food for teenagers, and they are just stuffing themselves."
In the study, the researchers have linked the declines of species like perch and pike to increased deaths at the juvenile stage. The argument is that plastics are impacting young fish across species, which has the potential to have "profound" negative effects on ecosystems.
"The observations we have so far are about the amount of plastic we find in the seas, and the amount we find within animals," Dr. Erik Van Sebille of Imperial College London said to BBC.
"Your intuition would say it is not good for a fish to eat plastic, but scientifically you want to prove it, you want to be able to show what the impacts plastic are having, and that has been very hard to determine until now, and that's why this is such a big paper."
Huffington Post reports that President Barack Obama has signed a bill aimed at banning the potentially disastrous microplastics from rinse-off cosmetics by 2017; however, the majority of microplastics in the environment come from larger pieces of plastic breaking down, according to microplastic researcher Sherri Mason.
"I think the big movement is in finding plastics that can come from renewable resources," Mason explained, saying that our goal should be to work toward materials that are "truly biodegradable."
Sources: Reward System/Wikipedia, Authority Nutrition, Science, BBC, Huffington Post, TakePart / Photo credit: Rare Delights
Tags:
addiction
,
fish
,
junk food
,
plastic