Hostess Is Giving Us New Ding Dongs And Ho Hos! (Photos)
category:
By Cooking Panda
Hostess has gifted us with two new flavors of desserts, but do we really deserve them?
The snack cake giant has debuted White Fudge Ding Dongs and Peanut Butter Ho Hos, and they should be coming to a store near you soon!
The new Ding Dongs feature golden cake filled with classic creme — like in their original variety — and coated with white chocolate. The Ho Hos have chocolate cake rolled around creamy peanut butter filling, according to Brand Eating.
The two new desserts aren't exactly brand new — shoppers have glimpsed them in a few select stores since the beginning of 2017. But they are officially coming out in wide release as of late September, so if you haven't seen them yet, they're sure to pop up in the snack aisle soon.
The two flavors are sure to appeal to both white chocolate and peanut butter lovers out there, and let's hope they taste a little better than the seasonal candy corn cupcakes, which haven't exactly gotten the hottest reviews.
According to Food and Wine, various people have tasted the frosted, creme-filled yellow cakes modeled after the polarizing candy, and most say that they taste nothing like the orange and yellow waxy snacks (which typically are supposed to taste of vanilla, fondant and marshmallow).
Food reviewer Junk Banter described the candy corn cupcakes as "lies, lies, lies," and Snack Gator, another food blog, didn't take too well to them either, notes Food and Wine.
"As I ate [the candy corn cupcake], I tried really hard to detect candy corn," Snack Gator wrote. "I even closed my eyes, put my pinkies out and slowly swirled it around my mouth. None of that helped. I decided maybe I needed to try just the [cream] in the middle. That must be where the candy corn flavors burst out! [But], it just tasted like the classic vanilla."
Maybe it's because when we take a long, hard, honest look at candy corn, we realize the truth: it doesn't really taste like anything anyway.
On the bright side, those who don't much care for candy corn might enjoy them.
Sources: Brand Eating, Food and Wine / Featured Image: theimpulsivebuy/Flickr / Embedded Images: Hostess via Brand Eating
Tags:
Ding Dongs
,
Ho Hos
,
Hostess
,
Peanut Butter Ho Hos
,
White Fudge Ding Dongs
Chocolate Cake-Flavored Twinkies Are Now A Thing (Photo)
category:
By Cooking Panda
Sometimes even a fan-favorite flavor can do with a little bit of a makeover, which is why Hostess has announced that it is now going to begin selling an all new flavor of the classic yellow sponge cake, Twinkies.
Introducing the new Chocolate Cake Twinkies, a luxurious and deep, chocolatey twist on the ever-popular, ever-enduring original light, vanilla-dominated flavor.
The new snack cakes feature a chocolate cake instead of a golden sponge cake, but the standard gooey creme filling will remain the same.
Brand Eating reports that blind taste testers seemed to respond very positively to the Chocolate Cake Twinkies; the new flavor also scored high in concept tests.
But, believe it or not, the new Chocolate Cake Twinkies aren't the only Twinkies-related product that's experiencing a chocolatey new twist.
Have you ever heard of the Hostess product "Chocodiles?" Well, you can now find them in stores rebranded simply as "Fudge Covered Twinkies."
What sets the Fudge Covered Twinkies apart from the Chocolate Cake Twinkies is that the Fudge Covered variety actually still features the golden sponge cake, and is coated with fudge.
Brand Eating also reports that the old Chocodile formula has been tweaked, and now is made with a recipe that produces a larger-sized product with a higher creme-to-cake ratio.
The fudge coating is said to be more intense and taste better than the original Chocodile fudge coating did, which is also something to look forward to if you're a fan of Hostess snack cake products in general.
You can pick up both snack cakes at retailers throughout the U.S., either in multi-count boxes or in single-serve twin packs, for suggested prices of $3.99 and $1.89, respectively.
If you spring for the multi-count boxes, by the way, you'll get nine Fudge Covered Twinkies, or 10 Chocolate Cake Twinkies.
Enjoy!
Source: Brand Eating / Photo Credit: Pixabay, Hostess via Brand Eating
Tags:
chocodiles
,
chocolate cake twinkies
,
fudge covered twinkies
,
Hostess
,
Twinkies
Hostess Now Offers Fresh-Baked Classics With A Twist
category:
By Cooking Panda
For most people, the Hostess brand conjures up images and memories of sweet packaged snacks and treats, such as Twinkies, Ding Dongs, Sno Balls and more.
While the brand isn't necessarily known for being super fresh or preservative-free, it has snuck its way into so many people's hearts. Most Americans have tasted at least one Hostess product, and if they haven't, chances are they've at least heard some of the old wives' tales surrounding them (like that Twinkies never expire), or have seen the products featured in movies or in popular media.
Now, however, Hostess is expanding its empire and bringing a new Hostess Bake Shop line to in-store bakeries in grocery stores, instead of just in the packaged snack aisle, where some would argue it currently reigns supreme among its competitors.
While some believe that the packaged Hostess snacks can remain in your pantry for an incredibly long time and still be edible, the new goods obviously have a shorter shelf life by virtue of being more fresh.
According to Brand Eating, three new desserts were featured by the line at its launch, and they'll all be packaged in clear plastic clamshell containers. Fans of the iconic snack cakes will probably recognize one or all of the inspirations behind the new treats.
The Decorated Twinkies, for instance, take the classic golden Twinkie sponge cake, and once again stuff them with that Twinkie-specific creme filling. However, these cakes are then treated with a chocolaty coating and then decorated with rainbow sprinkles as well as a white fudge drizzle.
Next comes the Triple Fudge Ding Dongs, which are chocolate cakes with creme filling, just like the original, but updated by getting covered in a dark chocolaty coating and a white fudge icing.
Finally, there are the Cupcake Cookies, which are chocolate iced cookies that feature a vanilla squiggle.
While pricing may vary, Brand Eating reports that one Albertson's supermarket sold the treats for $3.99 per box. The Hostess Bake Shop items are being rolled out now, and you should be able to pick up a box in grocery, club and convenience stores sometime in the next few weeks.
Sources: Brand Eating / Photo Credit: Brand Eating
Tags:
cupcake cookies
,
decorated twinkies
,
Hostess
,
hostess bake shop
,
triple fudge ding dongs
Twinkie-Flavored Cappuccinos Are Hitting The Shelves
category:
By Cooking Panda
We know, we know. Spring is supposedly just around the corner, but that hasn't stopped the weather in the Northeast, at least, from remaining temperamental. You may feel ready to break out the short sleeves and popsicles, and pack away your sweaters, but the earth seems to have other plans. One day the sun is shining and the air is crisp but warming up; the next day, the skies are overcast and it's snowing.
In order to help warm America up through the end of the stubborn winter, Hostess has dipped its toe into the beverage business, and is now bringing consumers its newest cozy product. In a partnership with Kerry Convenience, Hostess Brands has come up with the Twinkies Cappuccino for its grand debut into the hot drinks market.
Kerry will now manufacture and distribute Twinkies Cappuccinos under the Hostess brand for its convenience store channel, according to Food Business News, and the beverage is meant to taste much like the classic Twinkie sponge cake.
Consumers can expect the cappuccino to feature milky and sponge cake flavors, with just a hint of coffee. In other words, if you're big on the coffee bean taste and aren't a fan of the dessert product, you may want to steer clear of this one.
If you are somebody who really loves the classic Twinkie sponge cake, however, you'll be able to pick up the cappuccino in Sheetz northeastern c-stores. For fans outside of the Northeast, don't fret; in just a few weeks, the drinks will be available in convenience stores nationwide for all to taste test.
"Hostess has risen to be the No. 1 snack cake of choice for c-store customers," Ellen Copaken, vice president of marketing at Hostess Brands, LLC, told Food Business News. "Twinkies Cappuccino not only provides consumers with another option when selecting a treat, it combines two of their favorites into one decadent indulgence. Further, the beverage allows c-store operators the opportunity for multi-category promotional activity, rewarding consumers in an engaging way."
Are you going to sample one of these drinks?
Source: Food Business News / Photo Credit: Hostess via Food Business News
Tags:
cappuccino
,
Hostess
,
kerry convenience
,
twinkie cappuccino
,
Twinkies
Twinkie Ice Cream Is Real And We Need It!
category:
By Cooking Panda
If your New Year's resolution involved dieting then Hostess and Nestle have other plans for you. The snack food brands are teaming up to bring us the flavor combo that will melt your will power (pun intended). Finally, we can enjoy our Twinkies in ice cream form!
Remember in 2012 when we were told that Hostess was shutting down and we'd never enjoy Twinkies ever again? Thank goodness that was a false alarm; otherwise we wouldn't be blessed with the amazing invention of Twinkie ice cream. Uproxx reports that Hostess has teamed up with Nestle to bring us not one, but at least four new ice cream flavors inspired by Hostess snack cakes: Twinkie (of course), CupCakes, SnoBalls and DingDongs.
These ice creams are limited edition, and although we were told they'd be out in February 2017, some lucky shoppers are already finding them on the shelves in random local convenience stores in the U.S., so keep a sharp eye out.
The Twinkie ice cream features buttercream ice cream with chunks of Twinkie and a swirl of vanilla icing. The other flavors? Well, you'll have to wait and see.
According to Elite Daily, Hostess' near-bankruptcy was due to the latest trend in healthy eating. Hostess just couldn't market its snack cakes to an audience who was watching their sugar and calorie intake. However, things change and we couldn't be more excited to ruin our resolutions with some good old-fashioned Twinkies, especially when they come in the form of ice cream.
Twinkies made their debut back in 1930, and no health trend should be able to tear them away from us. Don't get me wrong — SnoBalls and DingDongs are great, too, but there's just something special about a Twinkie.
So far, we're only aware of Dollar General carrying these limited edition treats. If you have one nearby, go check it out (and perhaps stock up while you have the chance). See if you can find the DingDongs and SnoBalls flavors as well, so you can let us know how they taste!
Sources: Uproxx, Elite Daily / Photo Credit: Hostess Snacks/Instagram
Tags:
Hostess
,
ice cream
,
nestle
,
Snack Cakes
,
Twinkies
Did You Buy Peppermint Twinkies? They've Been Recalled!
category:
By Cooking Panda
Twinkie recall alert! If you bought any Hostess holiday Twinkies, you might want to double-check that they aren't contaminated with salmonella poisoning.
A CNBC report states that Hostess Brands issued this voluntary recall on Jan. 10, 2017, and it's specifically for the White Peppermint Twinkies. The ingredient provided for the sugary coating that separates these from regular Twinkies might possibly be contaminated with salmonella.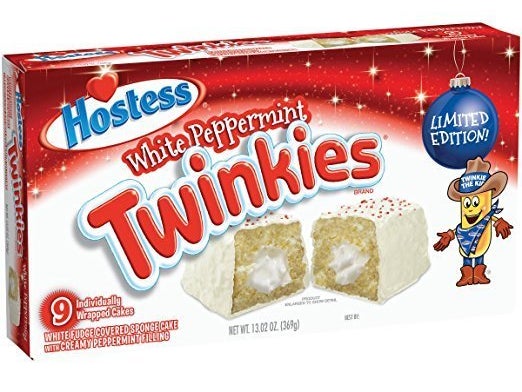 The offending ingredient is a milk powder that has been recalled by Valley Milk Products. They were the suppliers of the milk powder to the company that made the confectionary coating on the Twinkies, Blommer Chocolate Co., who then supplied the coating to Hostess. Luckily, this possible contamination was caught before anyone was reported sick, according to Huffington Post.
The recall is more of a "better safe than sorry" type of deal, which means you don't have to panic if you've been eating the cakes and haven't gotten sick yet. Just be wary.
You might remember our post from December about a mac and cheese recall because of the salmonella contaminate from the same company. It was also the powdered milk that was the culprit. During the last recall, the FDA raised concern over the cleanliness of the company. I can't imagine they haven't landed in hot water for having the same problem two months in a row.
The affected milk powder products were sold from Dec. 5, 2015, through July 10, 2016, but Valley Milk says that Virginia (the company's home state) did not identify salmonella in any of the products. Once again, the motto here is "better safe than sorry."
One company spokeswoman told The Huffington Post that "Valley Milk has notified all direct customers that received product under the recall. Our staff is working diligently with those direct customers to notify downstream customers of the recall."
If you or someone you know has purchased the holiday White Peppermint Twinkies, Hostess urges you to return the snack to where you purchased them for a refund. Hey, this could work in your favor if you have a weight-loss resolution for New Year's, right? Just looking on the bright side.
Sources: CNBC, Huffington Post / Photo Credit: Hostess Snacks/Instagram, Hostess Brands via CNBC
Tags:
food recall
,
Hostess
,
Salmonella
,
Snack Cakes
,
Twinkies
Deep Fried Twinkies Just Got Two New Holiday Flavors
category:
By Cooking Panda
Okay, we admit it: when we first heard that Hostess was teaming up with Walmart to debut Deep Fried Twinkies, we were skeptical — we just didn't know if people would be into the deep-fried variety of the popular snack, particularly since they have to be baked in the oven, rather than coming straight out of the fryer.
We were wrong, however, because the snack appears to be multiplying!
Now, Hostess has launched two extra flavors of its Deep Fried Twinkies in honor of the holiday season: the double chocolate variety, as well as the banana flavor.
According to Hostess on Instagram the Deep Fried Double Chocolate Twinkies will help make the "#PerfectDateNight", as they feature a chocolate breaded golden sponge cake with a chocolate creamy filling.
The Deep Fried Banana Twinkies, on the other hand, feature a graham cracker breaded golden sponge cake with a banana creamy filling.
"Something to make your holidays a little 'sweeter'" Hostess wrote. "Introducing the Deep Fried Banana Twinkie! We think you'll find it 'apeeling'."
Har dee har, Hostess. We get it.
Per Chew Boom, the boxes will contain seven Twinkies and will go for $4.76 in the frozen food section at retailers nationwide.
Do you think you'll go and pick yourself up a box of the seasonal snacks?
Sources: Chew Boom / Photo Credit: Hostess/Instagram (2)
Tags:
banana
,
deep-fried twinkie
,
holiday flavor
,
Hostess
,
Twinkies
Twinkies Has A New Flavor And Here's Where To Get It
category:
By Cooking Panda
It appears Hostess has now jumped aboard the pumpkin spice train, and we are thrilled about it!
According to Delish, this new pumpkin spice flavor is a bit different from the twinkies that debuted in 2015. This new flavor is pumpkin spice cheesecake. Just when I thought pumpkin spice couldn't be made any better…
It features a sponge cake with cinnamon in the cheesecake-like cream filling, and then the whole twinkie itself is dipped in white fudge. Wouldn't want to get it mixed up with the regular pumpkin spice kind!
As with all new foods, the new Twinkie flavor is receiving mixed reviews from social media users.
Guess I'm not the only one that LOVED these! 🙂 What's your fav #Hostess snack? @Hostess_Snacks #pumpkinSpiceCheesecake #Twinkies pic.twitter.com/NI8rVQB3Ff

— Brad Everett Young (@BradEYoung) October 8, 2016
Chew Boom reports that this year's fall lineup from Hostess includes Caramel Crunch Donettes and Caramel Apple CupCakes as well. Additionally, Hostess is reported to be bringing back some of its old classics, including GloBalls, ScaryCakes and Chocolate S'cream Twinkies.
It's all seasonal of course, and limited edition, so don't look forward to enjoying these items year-round. Unless you plan to stock up, of course.
You can find these new Pumpkin Spice Cheesecake Twinkies, and the others at Kroger in 9-packs for $2.99.
Sources: Delish, Chew Boom / Photo credit: Andrew Lenards/Instagram
Tags:
Fall Flavors
,
Hostess
,
pumpkin spice
,
Twinkies
Deep Fried Twinkies Are Finally Here, And Here's What People Are Saying
category:
By Cooking Panda
Hey… it's been a while — long enough that we wonder if you even remember the big news we shared a few months ago.
You know. About the deep-fried Twinkies.
If you need a reminder, here's the scoop: Basically, Walmart announced plans to roll out new, packaged, deep-fried Twinkies earlier this year. Available in the freezer aisle, the iconic golden sponges heat up in the oven in mere minutes (according to the box) and are available in two flavors: classic and chocolate.
One giant deep fry for mankind #DeepFriedTwinkies #Nom pic.twitter.com/4OWydQqw0n

— Hostess Snacks (@Hostess_Snacks) August 13, 2016
So now the moment of truth is upon us: The Deep Fried Twinkies are available at Walmart stores nationwide, according to Brand Eating, retailing at $4.76 for a box of seven (prices may vary).
But as for the reviews?
"I was expecting a golden brown Twinkie out of the oven, but instead got a Twinkie with jaundice," wrote food blogger Junk Banter. "It's not super crunchy out of the oven, but the Fried Twinkie does have a crispy outside and a softer cake-like inside. Best of all, it totally tastes like funnel cake. It's buttery and understandably greasy, i.e. it's delicious."
Rarely do packaged and frozen foods ever look as delicious and appetizing as their promotional photos market them to be — could we really hope for anything more than a reliable, sweet tasting snack from Hostess?
Not one to review only one of a two-flavored product, Junk Banter described the deep-fried chocolate Twinkie counterpart as having "an added texture like cookie crumbs where the OG was smooth. The chocolate breading has a prominent cocoa flavor that tastes great on its own. It's sweet and not bitter, and has a little more crunch factor when baked due to those crumbs… There's even a little vanilla flavor here, and the overall package calls to mind a Boston cream. It's like a wonderful Twinkie-Donut hybrid that explodes chocolate sauce."
Look, we're not recommending you rush out to the store and buy these artery-clogging concoctions — we're just saying that if you really find yourself with a hunkering for junk, and don't want to wait until the next county fair to fill up on greasy sugar-bombs, here's a viable and widely available option for you to enjoy (in moderation, please!).
Sources: Brand Eating, Hostess Snacks/Twitter, Junk Banter / Photo credit: Walmart via CNN Money
Tags:
chocolate
,
deep fried twinkies
,
food review
,
Hostess
,
Twinkies
Hostess Is Making Candy Brownies And They Look Delicious
category:
By Cooking Panda
It is a truth universally acknowledged that candy makes everything better.
Candy topped milkshakes? Better than plain milkshakes. Peanut butter cup peanut butter cookies? Infinitely more delicious than regular peanut butter cookies.
Luckily, there is good news for the candy lovers of the world. According to Brand Eating, Hostess has teamed up with Mars Chocolate to release new candy brownies, and the results could not sound more appealing.
The snack company recently started selling Hostess Brownies made with M&M's and Hostess Brownies made with Milky Way candy bars. Commence the drooling.
Even more enticing than the names, however, are the descriptions of the desserts themselves. The new Milky Way Brownie consists of a plain chocolate brownie, smothered in caramel icing and topped with pieces of Milky Way candy bars, while the M&M's Brownies include a chocolate brownie, riddled with M&M's, spread with chocolate frosting and sprinkled with even more M&M's.
We think it's safe to say that both new flavors will be incredibly delicious. After all, just imagine how amazing the brownies would taste as the base of a candy-filled ice cream sundae—topped with ice cream, chocolate sauce, caramel, whipped cream, and even more candy!
Both new flavors of Hostess Brownies are currently available in grocery stores. We suggest you hop in your car immediately and sample as many as possible!
Source: Brand Eating / Photo credits: Walmart, Hostess via Brand Eating
Tags:
brownies
,
candy
,
Hostess
,
M&Ms
,
mars
,
Milky Way
The Company Behind The PBR Resurgence Wants To Help Make Twinkies Great Again
category:
By Cooking Panda
About four years ago now, junk-food enthusiasts had their world turned upside-down when Hostess Brands announced that it had filed for bankruptcy, and sent panicked fans sprinting to the snack aisle in order to pick up one last box of the iconic Twinkies; or the Ding Dongs; the Ho Hos; the Sno Balls; the Suzy Qz; and the list goes on and on…
Happily, the company was saved when private buyers took over and instigated some major cost-cuts; and now, the same investors who helped revive the hipster brew of choice, Pabst Blue Ribbon (P.B.R.), have taken over Hostess, and they have a mission.
The private equity firm Metropoulos & Co. wants to make snack-cakes great again — and they want to do it with Twinkies.
Per Bloomberg, Metropoulos & Co. bought Hostess in 2013, and is now joining forces with various investors to revamp the image of snack-cakes, and rebrand them as The Snack For The Youth, with the yellow sponge cake tubes at the helm of the movement.
"Hostess has incredible brand power," William Toler, the chief executive officer of Hostess said on a conference call to Bloomberg. "It has an amazing emotional connection with consumers."
Daren Metropoulos, one of Mr. Metropoulos' sons and an executive at the family firm, told The New York Times: "There's a great consumer fan base that hasn't declined… We saw a real opportunity to revitalize these brands, just with some T.L.C."
While that may be true, others think that with today's health-conscious consumers, Metropoulos & Co. is fighting an uphill battle.
They'll be "fighting gravitational forces in the world of food that are very different than the beer market," Allen Adamson, former North American chairman of the branding company Landor Associates, said to Bloomberg. "With Twinkies, they have to get people to consume a product that is bucking all the health trends."
Only time will reveal if the nostalgic tie consumers have to Twinkies will truly trump its nutritionally void profile. Expect to see more ads, and a variety of different Twinkies to roll out later this year.
Sources: The New York Times, Bloomberg / Photo credit: Guardian LV
Tags:
hipster
,
Hostess
,
Metropoulos & Co.
,
pabst blue ribbon
,
Twinkies
This 40-Year-Old Twinkie Doesn't Look A Day Over 22
category:
By Cooking Panda
Even those of us who don't regularly indulge in Twinkies have probably heard the myth surrounding them at least once: namely, that they never, ever expire.
The issue with these kinds of speculations, of course, is that it's impossible to satisfy your curiosity in a reasonable span of time.
So luckily, an experiment performed in 1976 is here to report its findings to us now.
After teaching a lesson on food additives and preservatives, one teacher at George Stevens Academy in Maine performed a chemistry experiment to test the old Twinkies wives' tale — and now, 40 years later, the world is paying attention to the results.
The Chemistry teacher in question, Roger Bennatti, has since retired from the small private school, but recalls that after his lesson on food additives, a curious student started speculating about the lifespan of a Twinkie.
Just as a true chemist should, Bennatti put the query to the test: after sending his students out to the store with a few dollars, they returned with a package of Twinkies. First, he gobbled one down (respect). Then, he placed the second one on the blackboard.
"Let's see," ABC News reports him as saying.
That was in 1979.
Now, 40 years later, the enduring Twinkie sits on display in a glass box in the office of the current Dean of Students, Libby Rosemeier. Incidentally, she also happened to be one of Bennatti's pupils in the fated Chemistry class.
"It's really funny that we're this wonderful coastal community in Maine, and we have this school of 325 kids that is a gem and we're doing great things and kids are going to great colleges, and the thing people know about us is this 40-year-old Twinkie," Rosemeier told ABC News.
Bennatti expressed similar surprise at how much attention his Twinkie experiment has garnered; nevertheless, he refers to it as a "worthy science experiment."
"When I retired I could have taken it with me, but I wanted it to stay with George Stevens," he said to ABC News, saying that he hopes the Twinkie remains on display and is dedicated to all of the past, present and future science students of the high school.
"I've heard people suggest that the sports teams should be renamed the Fighting Twinkies," Bennatti laughed, "but I'm not so sure they'll go for that."
Check out the dusty (but definitely still intact) Twinkie below:
Source: ABC News / Photo credit: ABC News, Libby Rosemeier via ABC News
Tags:
food myths
,
Hostess
,
Twinkies
Hostess Bringing Deep Fried Twinkies To Walmart's Freezer Aisle
category:
By Cooking Panda
There are few food options less nutritionally sound than those offered to consumers at the local carnival or state fair.
While I personally rank deep-fried butter served on a stick as the number one artery-clogging, heart-stopping "snack" food probably of all time, the deep-fried Twinkie comes in a close second. And soon, you won't even have to drive to your respective state fair to indulge.
Thanks to a joint effort between Hostess and Walmart, the "decadent treat" will reportedly be available exclusively at Walmart, at least for one year, tweets Associated Press writer Anne D'Innocenzio.
Deep fried Twinkies? Wal-Mart worked with Hostess to develop this decadent treat. $WMT has a one-year exclusive pic.twitter.com/5R3lH1Fc0l

— Anne D'Innocenzio (@ADInnocenzio) June 3, 2016
The Post reported rumors of the potential innovation back in 2015, and now the concept is ready to launch.
The packaging, which states, "Enjoy Hot! Oven baked in minutes!" suggests that the snack food isn't designed to sit in the pantry; instead, its a freezer-aisle item, meaning college kids across the nation are bound to be picking these up and tossing them in the microwave whenever the task of putting bread in the toaster becomes too much hassle.
Sources: Deep-fried butter/Wikipedia, Anne D'Innocenzio/Twitter, New York Post / Photo credit: Anne D'Innocenzio/Twitter
Tags:
deep fried
,
Hostess
,
twinkie
,
Walmart