The Best Wine (And Beer!) Halloween Candy Pairings
category:
By Cooking Panda
Thinking about stealing your kids' Halloween candy? Hey, I'm not in a place to judge you, as long as you follow the roommate golden rule and replace it before anyone notices it's missing, or your kid might have some serious Jimmy Kimmel-level resentment for years to come.
Whether you're sneaking hard-earned pieces here and there from your child's hollow, plastic jack-o-lantern or you just happened to buy a clearance variety pack to stave off those seasonal cravings, you might have to eat some candies that aren't your top pick.
Either way, there's a chance you'll want to maximize your indulgence in the adultiest way you know how: with some booze. So dig through your supply, round up what you've got, and let's see what type of wine (or beer!) you should pour to reach maximum flavor harmony.
After all, we are nothing if not classy. Isn't that right?
Snickers + Syrah
The rich oakiness of Syrah, also known as Shiraz, is just what you need to balance out the roasted nuts and thick caramel candy. If you're more in the mood for beer, the nutty, nougaty chocolate bar will also taste great with a chocolaty, slightly bitter porter.
Candy Corn + Chardonnay
Chardonnay brings a nice buttery taste that works well with the marshmallow-type flavor of the polarizing orange waxy candy. For similar reasons, this white wine is great with Butterfinger, too. If you prefer, you can also try this with prosecco, since the delicate bubbles will cut through some of that super sweetness in the waxy candies, and it will also bring out the creaminess.
M&M's (or other cheap milk chocolate) + Grenache
Grenache, also known as Garnacha, is medium-bodied, high in alcohol and has strong notes of cinnamon and candied fruit that will work well with (let's be honest here) weak, sweet chocolate like M&M's, Hershey's Bars or Kisses.
Are you in a more beery mood? Match them with anything malt-heavy with strong notes of chocolate, like, you guessed it, a chocolate milk stout. But you don't need to stick with a milk stout — you can also go with a porter, a dry stout (like Guinness) or even a really robust brown ale with the aforementioned flavors.
Red Twizzlers + Rose
Opposites may attract, but in this case it's the way that the red berry notes in both the candy and the wine perfectly match that make these two such a lovely fit. Not into Twizzlers? Keep with a similar fruity flavor profile and you'll find that the combo works equally well with candies like Starburst, Nerds or Airheads.
Reese's Peanut Butter Cups + Sherry
The subtle nuttiness of medium-sweet fortified wines (think Amontillado and Oloroso sherries) takes on flavor profiles not unlike whiskey and plays nicely with similarly nutty candies like Almond Joy, or anything with almond or coconut. Alternately, you can try doubling up on the peanut butter chocolate with a thick peanut butter stout.
Sour Candy + IPA
You might think these would go better with something like a gose or a sour, but actually the citrus-heavy, strong, bitter flavors in your IPA are going to provide the perfect contrast to sour gummies like Sour Patch Kids or sour worms so that they balance out. If you like it a bit more mellow, a yeasty, earthy saison would also pair well.
Sources: Coastal Living, USA Today, Bustle, Grub Street / Featured Image: Luke Jones/Flickr
Tags:
beer pairing candy
,
funny wine pairings
,
Halloween
,
Halloween candy booze
,
wine pairing candy
Get The Recipes: 4 Halloween Snack Hacks
category:
By Cooking Panda
Severed Fingers Pigs In A Blanket
Ingredients
1 package beef cocktail franks
Almond slices
1 package crescent rolls
1 egg, beaten (for egg wash)
Ketchup, for serving
Directions
1) Heat oven to 450 degrees Fahrenheit. Line a baking sheet with parchment paper.
2) Roll out crescent roll dough and cut into thin strips.
3) Cut a small slit in the top of the beef franks and stick an almond slice inside. Wrap with crescent dough.
4) Place on baking sheet and brush with egg wash. Bake for 10 minutes, or until dough is golden brown. Serve with ketchup and enjoy!
Zombie Pretzels
Ingredients
Green candy melts
Yellow candy melts
Red candy melts
Black icing
Mini pretzels
Directions
1) Melt candy melts in separate bowls in the microwave on 30 second intervals, stirring each time, until melted and smooth.
2) Scoop yellow and red candy melts into ziplock bags with a corner cut off.
3) Dip pretzels in green candy melt. Tap off excess chocolate and place on a parchment lined baking sheet.
4) Fill the top corner holes with yellow candy melts to make eyes. Top with a small circle of black icing to make the pupils. Fill the larger hole with red candy melts, having it go all over the bottom part of the pretzel to make a mouth.
5) Set aside until candy melts are completely set. If necessary, refrigerate. Serve and enjoy!
Caramel Apple Crips
Ingredients
Large green apples
Melted chocolate
Caramel sauce
Purple candy melts
Orange and black sprinkles
Directions
1) Cut apple slices, about 3/4 of an inch thick. Skewer with a lollipop stick.
2) Melt chocolate and candy melts in separate bowls in the microwave on 30 second intervals, stirring each time, until completely melted and smooth.
3) Lay skewered apples down on a parchment lined baking sheet. Drizzle with melted chocolate, caramel sauce and purple candy melts. Top with sprinkles.
4) Refrigerate until completely set. Serve and enjoy!
Vampire Teeth
Ingredients
1 package cookies of choice
White frosting + red food coloring, or red cookie icing
1 package mini marshmallows
Almond slivers
Directions
1) Cut cookies in half. Dye white frosting red with food coloring, or use red cookie icing.
2) Ice both halves of the cookie with red icing. Place marshmallows around the curve of the cookie to create teeth. To help support the cookie, place a few more marshmallows in the back. Top with second iced cookie half.
3) Insert two almond slivers in between the teeth to create fangs. If necessary, use frosting to make them stick.
4) Refrigerate until fully set, serve and enjoy!
Tags:
hacks
,
Halloween
,
kids
,
recipes
,
snacks
6 Creepy Cocktails To Get You Into The Halloween Spirit (Recipes)
category:
By Cooking Panda
It's always a treat when Oct. 13 lands on a Friday!
The wildly unlucky day (or extra lucky one, to some!) is a great excuse to celebrate. Grab some friends and go wild on the second spookiest day of the year! Here are some fabulously spooky cocktails you can keep by your side as good luck charms:
With honeydew melon, orange liqueur, citrus and tequila, this tastes a bit like a sweet margarita. Have a couple of them and you'll surely be doing the mash!
With easily blendable vodka, sweet cherry brandy, tart cranberry juice and bubbly cola, this drink sure is an easy sipper. If you want to make it even more festive, consider using some black vodka or a drop of food coloring.
With Absinthe, Green Chartreuse, bitters and lime, this well-balanced drink gets a welcome pop of herbal flavors. Plus it's BRIGHT GREEN!
Gross!! Booger beer sounds like something that would put you off your dinner, but once you taste the dark, rich stout (any type is fine, although Guinness mixes well with sweet things) combined with a bit of Apple Pucker and topped with green marshmallow cream and surprisingly tasty sugared green pea chunks, it'll be hard to resist.
It looks terrifying, but take a sip and the sweet licorice creaminess of this unusual mix will win you over in a flash!
This one is a bit like a good whiskey sour, but it gets an extra kick from limoncello liqueur and a few spearmint leaves for a burst of freshness.
Featured Image: Shanna S/Flickr
Tags:
Friday the 13th
,
Halloween
,
October cocktails
,
recipe
,
Thirsty Thursday
Brach's Tempting New Candy Corn Tastes Like Cookies (Photo)
category:
By Cooking Panda
If McDonald's created as many new flavors of McFlurries as Brach's does of candy corn, we'd live in a tastier world. Alas, for now, we can reap the benefits of Brach's impressively prolific candy-corn line. Their new flavor, cookie, is making waves on social media.
Instagram snack-food insider The Junk Food Aisle posted a photo of Brach's cookie-flavored candy corn, filled with multi-colored cone-shaped candies that are said to taste like chocolate chip, oatmeal, cookies and cream, and butter cookies.
They're neither orange nor adorned with pumpkins or spooky creatures, which gives us an excellent excuse to try them far before Halloween.
There aren't many reviews on the new product, but things aren't looking very positive thus far.
"These taste like straight up artificial flavor and alcohol based butter extract," an Instagram user commented on The Junk Food Aisle's photo.
A reviewer on The Impulsive Buy was also less than pleased.
"I did not like them," they said. "They don't taste like the cookie flavors they are supposed to be and the smell of the candy was off putting. I ate a couple of each flavor and tossed the rest of the bag in the trash.
"Brachs has had some very good candy corn limited flavors the past few years. These are not one of them."
Even still, as a steadfast candy-corn fan, my curiosity is piqued. Brach's delicious yet wildly unsafe combination of sugar, corn syrup, gelatin and artificial flavor has not let me down so far, and I'm particularly interested in sampling this butter cookie variety of candy corn, which I'm sure must bear some resemblance to a tasty piece of shortbread.
Granted, I have only tasted the tried-and-true original flavor and have no experience with Brach's other adventurous candy corns, like their "brunch favorites" line or their pumpkin spice and caramel macchiato flavors, which all received mixed reviews.
The Junk Food Aisle found a bag of cookie candy corn at the Dollar General, and the flavor is also available at Candy Warehouse at $5 for a 15-ounce package.
Featured Image: Evan-Amos/Wikimedia Commons
Tags:
brach's
,
Candy Corn
,
cookie candy corn
,
Halloween
,
New Flavors
7 Spooky Recipes: The Ultimate Halloween Dinner Spread
category:
By Cooking Panda
The most wonderful day of the year is HERE!
Whether you are going trick-or-treating, partying, or just staying home because (sadly) nobody likes when Oct. 31 falls on a weeknight, we're here to make sure that Fright Night is extra spooky for you. With minimal effort, you can whip up a savory spread that is delicious and eye-catching in equal measure. (Check here for cute Halloween desserts.)
Here are some of our favorite spooky dinner ideas:
The key to these scary black noodles? Food paste colorant, which you can find in the baking aisle at craft stores and Wal-Mart. Genius!
Feel free to adapt your favorite stuffed pepper recipe to this super easy and festive cutout. We like this one.
If you've never mixed avocado with your devilled eggs, you must! We understand that avocados are a little pricey at the moment, so you can totally just make this recipe with regular devilled eggs if you need to. Add a drop or two of blue or green food coloring if you want to replicate the moldy look.
If you are not into bagels, you can swap them out for pita, actual pizza, toast — whatever you prefer. They will still be both spooky and delicious.
Who can resist these adorable cheese and olive eyeballs atop a bed of scary green spinach noodles and your favorite red pasta sauce?
Not only is the rich, smoky soup hearty and packed with flavor, but the gorgeous sour cream spider web topping is really easy to make! If you don't have a condiment squeeze bottle, just use a sandwich bag with the corner snipped off. Practice a couple times on a small plate if you need to warm up!
These are obviously way cooler than pigs in a blanket, and they're really easy to make too. Enjoy!
Featured Photo Credit: Spend With Pennies
Tags:
Halloween
,
Halloween dinner
,
Halloween party food
,
kid dinner recipe
,
weeknight dinner
Candy Bat Pretzel Fudge
category:
By Cooking Panda
Carved Pepper Appetizers
category:
By Cooking Panda
Scare Away Your Guests With 7 Spooky Halloween Treats
category:
By Cooking Panda
Brace yourselves!! Halloween is just around the corner, and it's time to get freaky and make some super spooky desserts. But you don't have to wait until the 31st to have your Werewolf bar mitzvah. Start the party early this weekend on Oct. 28 — it's National Chocolate Day! And if there is a better excuse to eat a ton of dessert besides a weekend bookended by two sweet-centric holidays, we don't know it!
Any time is the right time for a zombie brain Jell-O shot, whether you want to add the booze or leave it out for a kid-friendly, gory treat.
Honestly, what is tastier than sweet, flaky baklava? Adding red food coloring is optional but can transform your dessert into horrifyingly delicious slashed up, bloody skin.
These are gorgeous, delicious (seriously, why would you not want jam in your cupcakes?) and, best of all, really easy to pipe on those brains. If you don't have a piping bag/nozzle, just use a Ziploc bag and cut the corner off.
These look spooky, but they are easy to make, and super versatile too — make them sweet or savory (sausages? heck yes!) depending on what you're feeling.
Are those miniature knives not the cutest things ever?? Is that weird?
Not exactly Halloween-themed (though you can certainly turn the caramel into blood with a little food coloring), but we have to celebrate National Chocolate Day with the most delicious chocolate dessert ever. It's a momentous occasion!
Same. I mean, how can you say no to something that is both a s'more and a truffle at the same time? Plus, you can throw them right in with your Halloween spread for some quick bite-sized desserts.
Featured Photo Credit: Not Quite Nigella
Tags:
chocolate desserts
,
desserts
,
Halloween
,
Halloween cupcakes
,
weekend dessert recipe
Go Order A Frankenfrapp From Starbucks For Halloween
category:
By Cooking Panda
Starbucks has been known to celebrate Halloween with a one week-only Dracula-inspired Frappula. It's creepy and delicious all at the same time. The perfect combination for Halloween.
However, if you're looking for a drink that's inspired by a different classic monster, a.k.a Frankenstein, you'll have to make that one yourself. Delish has discovered this delicious-sounding drink called the Frankenfrapp, and although your barista might be a little peeved over all the mods, it should be oh so worth it.
All you have to ask for is a green tea Frappuccino, with white mocha, peppermint flavoring and java chips. You might want to write it down to make sure you get it right. Think of it as a green tea flavored peppermint mocha. Sounds weird, but looks tasty.
As always, whipped cream and chocolate syrup are optional, but drawing a Frankenstein face on the side of your cup with a Sharpie is mandatory. Otherwise, how will anyone know you're drinking a custom-made Frankenfrapp?
If green tea and peppermint are not your thing, go for the classic Frappula. It's made with mocha sauce on the bottom of the cup, mocha Frappucino as the base and strawberry sauce along the rim, which drizzles itself down into the drink, creating a trendy ombre effect, except blood-colored. Still, strawberry mocha is a great flavor. For this one, the dollop of whipped cream on top is necessary, so you can have the vampire teeth effect seen here.
It seems Starbucks has owned fall, that's for sure. First, with the always loved Pumpkin Spice Latte, then with the Frappula, and now with the Frankenfrapp. They may not know it yet, but they have created the Frankenfrapp. All they need to do is name and market it.
In the meantime, it can't hurt to hurry them along by asking them to make it all the time. If enough of us are doing that, maybe they'll get the hint and we can look forward to ordering it with only one word next year. Hey, we can dream.
Sources: Delish (2) / Photo credit: averycc/Instagram
Tags:
Frappucino
,
Halloween
,
Starbucks
Jack O' Lantern Cheesy Beef Dip
category:
By Cooking Panda
Fried Ghost Cookies
category:
By Cooking Panda
Walmart Has A Slew Of Really Cool Fall Candies
category:
By Cooking Panda
In case you haven't stocked up on Halloween candy yet (for the kids, of course), make a trip over to Walmart to get these Halloween candy must-haves now!
You'll find three awesome new kinds to choose from. First, the brand new Sea Salt Chocolate Candy Corn, sweetened with real honey has hit the shelves. Like most, I'm not a fan of candy corn…at all. I actually despise it. But sea salt chocolate? I'll try that flavor any day.
Next, Pecan Pie flavored M&M's. Am I dreaming? This isn't only perfect for Halloween; it's perfect for thanksgiving as well! These are not completely brand new, since they are returning from their seasonal debut last year, but still very much worth making a fuss about. Besides, doesn't a return mean they were a hit?
Finally, for the first time ever we can now eat — I mean hand out — printed Reese's Cups. They have little jack-o-lantern faces, spooky ghost faces and even bats printed on them.
FoodBeast reports that the Reese's Cups and M&M's are available exclusively at Walmart locations, so head there to get all three candy variations in one trip.
Some other great new candy varieties you won't want to miss this year, according to Delish, include: Cauldron Skittles with new flavors like Petrified Pear and Gripping Grape, Reese's White Chocolate Peanut Butter Ghosts, Butterfinger Cups in a skull shape, Skulls and Bones Sweet Tarts, Hershey's Cookies'n'crème Skulls (these resemble Day of the Dead more than Halloween, but still very cool!) and Spooky Shapes Jolly Rancher Lollipops.
There's no shortage of variety in treats to be handed out this year, and I'd recommend stocking up enough to have some leftovers, because no one is too old to enjoy candy. And we're especially not too old to enjoy chocolates.
All of these fun and exciting new flavors are obviously only available for a limited time, and there's no telling what will return next year, so take the opportunity to try them while you can! I think I'll go for the Pecan Pie M&M's and, can't believe I'm saying it, the candy corn…
Sources: FoodBeast, Delish / Photo Credit: FoodBeast
Tags:
candy
,
Candy Corn
,
chocolate
,
Halloween
,
M&Ms
Gingerbread Skulls
category:
By Cooking Panda
Zombie Eggs N' Ham
category:
By Cooking Panda
Devil's Spaghetti
category:
By Cooking Panda
Ghost Meringues
category:
By Cooking Panda
Monster Truffles
category:
By Cooking Panda
Gear Up For Halloween With 16 Scary-Good Candy Gifs
category:
By Cooking Panda
Tis the season…
Halloween is almost here and we are so freaking jazzed about it!!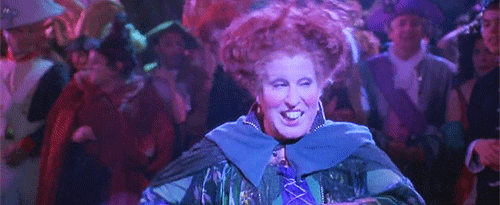 It's finally almost time to get out of the house…
And go knock on some doors.
As cool as all the costumes and decorations are, we must confess our favorite part of Halloween:
That's right. We love all colors, shapes and sizes of sweet goodness:
There's nothing like a sugar rush straight to the brain.
There's liquorice:
The ever-controversial (and for the record, DELICIOUS) candy corn:
Or maybe you are more of a chocolate fiend.
Care for a truffle?
Or maybe a few?
How about some Hershey's Kisses?
Or Milky Ways?
Maybe you're supposed to pass out candy, but instead you're going to stay home and eat it all. We won't judge you for it.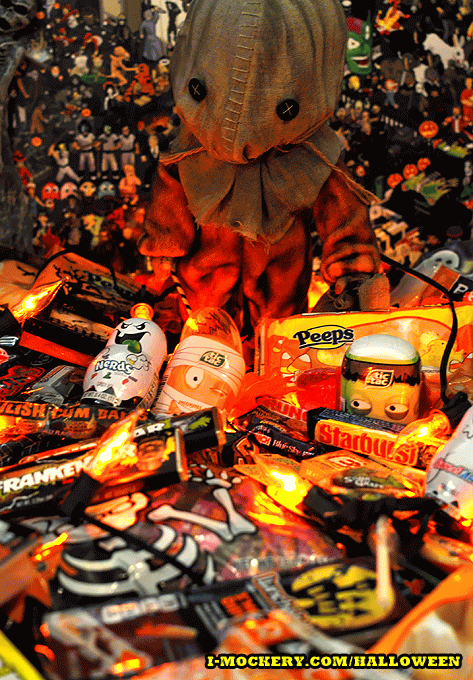 Whatever your preferences, we hope you gorge on all your faves and have a great holiday!
Featured Photo Credit: Daielyn/Instagram
Tags:
foodporn
,
gif
,
Halloween
,
Halloween candy
,
Hump Day