Grilled Cheese Gets An Irish Makeover! Corned Beef Grilled Cheese With Guinness Caramelized Onions
category:
By Cooking Panda
Enjoy a taste of St. Patrick's Day all year round with this corned beef grilled cheese sandwich with drunken caramelized onions.
1 tablespoon oil
1 medium onion, sliced
1 cup Guinness
1 teaspoon Worcestershire sauce
2 teaspoons grainy mustard
1 tablespoon butter, room temperature
2 slices rye bread, lightly toasted
1/2 cup cheddar, shredded
2 ounces cooked corned beef, sliced or shredded
Heat oil in a pan over medium heat.
Add onions. Saute until tender, about 5-7 minutes.
Add 1/4 cup Guinness. Cover and simmer until the liquid has mostly evaporated, about 15 minutes. Repeat three times.
Remove from heat. Add Worcestershire sauce and grainy mustard. Blend well.
Heat non-stick pan over medium heat.
Butter the outside of each slice of bread. Sprinkle half of the cheese on the inside of one slice of bread. Add half of the onions, the corned beef, the remaining onions, cheese, and the other slice of bread.
Add the sandwich to the pan. Grill for 2 to 4 minutes per side. Flip over. Grill for an additional 2 to 4 minutes until cheese is melted and sandwich is golden brown.
Serve warm.
Source: Closet Cooking / Photo Credit: Closet Cooking
Tags:
corned beef
,
corned beef grilled cheese sandwich
,
grilled cheese
,
sandwich
Mario Batali's Grilled Cheese Hack Is Oh So Perfect (Photo)
category:
By Cooking Panda
Mario Batali approaches his Italian-style grilled cheese less like a panini and more like a French-toast sandwich. Stick around to read this, and you'll soon make yours the same spectacularly delicious way.
As a guest on ABC's "The Chew," Batali enlightens the audience with a recipe inspired by the sandwich he ate as a child after long days of "tobogganing and winter merriment."
"My dear mamma would have a deliciously gooey grilled cheese sandwich waiting for me at every turn," he says. "But now, it's time to put a new spin on this cheesy classic, and I promise you'll never look at a grilled cheese the same way again."
What's so "ultimate" about Batali's grilled cheese? It's that he dips the sandwiches in an egg batter before he puts them in a hot pan, much like you would with French toast. The result is bread that's extra crispy on the outside and soft in the middle, and it makes for an even thicker and heartier grilled cheese. In Italian, he explains, it's called "mozzarella in carrozza," or a fried cheese sandwich.
Batali begins his sammies with good ol' sliced white bread, because, at the end of the day, it is an American dish.
He then gets started on his batter, which includes four eggs, plus three egg yolks and whole milk for added richness. He also whisks in Pecorino cheese and thyme. The cheese forms a fine crust on the bread, while the thyme "adds a beautiful herbalness that brings the cheese back to its pasteural birthplace," Mario explains. (No, those aren't real words, but a nostalgic chef can get away with that sort of thing.)
Once the pale yellow mixture is thoroughly whisked and flecked with beautifully green bits of thyme, it's time to dip. The bread has been layered with two kinds of cheese: Fontina and Mozzarella di Bufala.
"The trick again, as with all good Italian things, is not too much of anything," Batali explains, adding a touch of charred onion to the sandwiches.
"Gently, but with firm intensity," he presses the top layer of bread onto each sandwich. He dredges each one in the egg mixture before tenderly placing them in a hot pan coated with, of course, olive oil. He cooks them until golden brown, about two minutes on each side.
Most people would be ready to devour the sandwich then and there, but Batali isn't done yet: He adds onions to a saucepan with orange juice and sugar, making an onion marmalade to go with the sandwich. That seems to be a great call, as one of the guests exclaims, "This tastes like dipping a grilled cheese in onion soup!" Plating each sandwich with a dollop of marmalade, he sprinkles the dish with extra Parmigiano-Reggiano.
Behold, a delicately crispy yet pillowy soft dish that is both a sandwich and savory French toast, filled with oozing Italian cheeses and herbal wonder. You'd likely crave this after a day of tobogganing on a snow-covered hill, too — or maybe just after a long day at the office.
Hungry? Watch the video and read the recipe here.
Source: ABC / Featured Image: Treefort Music Fest/Flickr / Embedded Image: ABC
Tags:
cheese
,
grilled cheese
,
hack
,
italian
,
mario batali
,
sandwich
13 Unholy But Delicious Things To Do With Potato Chips (Recipes)
category:
By Cooking Panda
It's no secret that potato chips — smooth or ridged, plain or barbecue — are delicious straight out of the bag. Less celebrated, and shamefully so, is their ability to add an unexpected touch of whimsy to just about any dish. Here are 13 crunchiness things to eat with potato chips with an ideal combination of flavors in different ways to appreciate the salty, delicious things to do with potato chips, crispy, lays,  powerful potato chip in everything from snacks to desserts. Potato is an important vegetable which covers a lot of dishes and we're on the lookout to add more recipes that use potato chips, once found we'll add those here too. If you want to know about things to do with chips, are thinking about what to do with potato chips or looking for recipes with lays chips, we have collection of recipe using potato chips:
cooking with potato chips and recipe with crushed potato chips!
Three-cheese pasta with crispy bacon, mushrooms and peas sounds great on its own. Try it baked with a parmesan and crushed potato chip crust, though, and you'll wonder why you ever made mac and cheese without a bag of Lay's.
Because everything tastes better with butter, sugar and chocolate.
These salty nachos are topped with far better than plain ol' shredded cheese. They're drizzled with a cheese sauce made from steak drippings, white wine, butter, cream and, oh yes, a mixture of blue and Gruyere cheeses. It's poured carefully over the chips, followed by a generous helping of juicy steak and green onions, until each bite is laden with meaty, cheesy bliss.
Coated with kettle chips and panko breadcrumbs, these quick and easy oven-fried tenders have a guaranteed crunch factor.
A buttery, salty potato chip crust balances handsomely with a sweet chocolate and coconut cream filling. It's rich, it's sleek, it's magnifique.
This warm chicken salad goes far beyond the classic mix-ins of celery and mayonnaise. It's tossed with a flavorful seasoning mix, cheddar cheese and cooked bacon — and topped with potato chips and baked until crispy yet gooey. Eat it on your favorite bread, over a bed of greens or straight from the pan.
Inspired by onion dip, this surprisingly delicious appetizer gets creaminess from cream cheese, flavor from chopped chives and softened spring onions, and contrast from crunchy crushed chips. For a simple and elegant look, garnish it with whole chives before baking. To mimic the appearance of dip, spread it with sour cream, chives and extra chips.
These brownies cover every texture in the book: chewy fudginess from the brownie base, buttery silkiness from the chocolate topping, creaminess from Reese's cups, and, of course, crunchiness from pretzels, Oreos and potato chips.
There's nothing sad about this gloriously Southern combination of cheesy potatoes, cream of chicken, sour cream and crushed potato chips.
This addictive appetizer comes together with a bag of kettle chips, tossed on a pan and topped with brown sugar, maple syrup, cheddar cheese, bacon and cayenne, then baked. It's so simple, I'm not sure if it sounds easier to make or easier to devour in one sitting.
Combine two essential party snacks into one with this sweet and salty bake.
Chips make a great side for sandwiches — until they get knocked off your plate. They serve a far better purpose inside of a sandwich. In this case, their saltiness cuts through the richness of cheese, and their crunchiness adds another dimension of texture to a tried and true treat.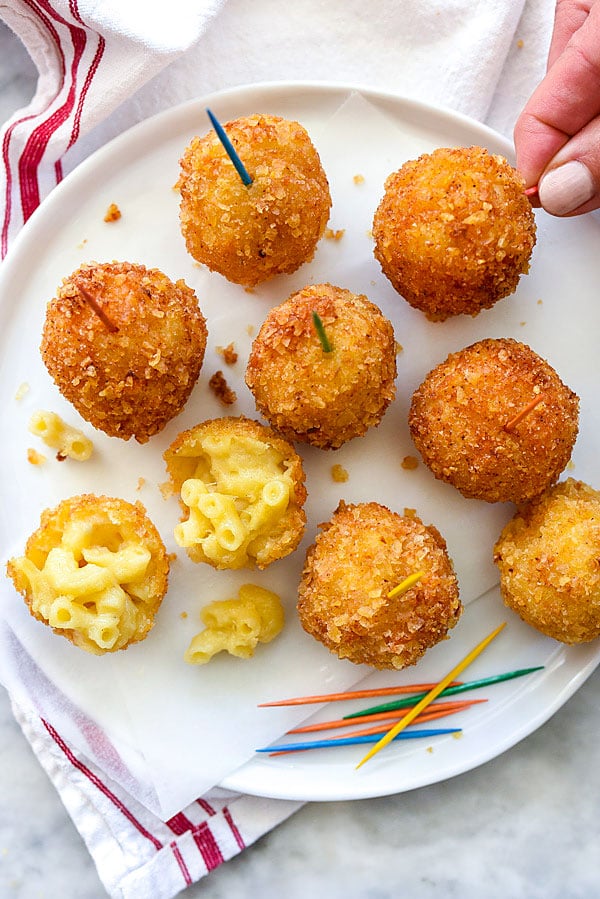 We started with mac and cheese, so let's end with it, too. These golden brown babies combine the soft creaminess of cheesy mac with the crisp saltiness of potato chips into one (OK, maybe two or three) glorious bite.
Featured image credit:
Pixabay
Tags:
Appetizer
,
appetizer with potato
,
brownies
,
buffalo chicken salad
,
cheese pasta
,
cheesy bacon
,
cheesy potatoes
,
chicken salad
,
chicken salad recipe
,
chicken tenders
,
chips
,
chips chicken tenders
,
chips recipe
,
chips toffee
,
chive cheesecake
,
cook potato chips
,
cookies
,
crack
,
crispy bacon
,
crunchy
,
crushed potato chips
,
desserts
,
do with potato chips
,
easy dinner
,
fired mac and cheese balls
,
Fried Snacks
,
Funeral
,
funeral potatoes
,
gorgonzola
,
grilled cheese
,
holiday crack
,
hot chicken salad
,
kettle chips
,
kitchen crack
,
mac and cheese
,
mac and cheese balls
,
panko breadcrumbs
,
potato chip grilled cheese
,
potato chip nachos
,
Potato Chips
,
potato chips chicken
,
potato chips chicken tenders
,
potato chips crust
,
potato chips recipes
,
potato chips toffee
,
potato cookies. potato chips cookie
,
potatoes
,
recipes
,
recipes with lays
,
salty
,
salty chocolate
,
salty chocolate tart
,
salty nachos
,
savory chive cheesecake
,
steak
,
steak and gorgonzola
,
things with potato chips
,
toffee
McDonald's Now Serves 'Mac And Cheese' Grilled Cheese (Photos)
category:
By Cooking Panda
Imagine a toasty-on-the-outside, melty-on-the-inside grilled sandwich, filled not with meat and vegetables but with more carbs — something extra indulgent, like macaroni and cheese. This sounds like the stuff of dreams, but it's in reach. And it's available now at McDonald's, Brand Eating reports.
Mickey D's Hong Kong has launched a bacon macaroni and cheese grilled cheese. It features a heaping serving of two-cheese mac and cheese with crumbled bacon, sandwiched between two slices of panini-pressed white bread — and it has answered the world's prayers for mac' and cheese that we can acceptably eat with our hands.
New Toastie Flavours promo – McCafe Range at McD's Hong Kong… pic.twitter.com/XaOMF7puMX

— Burger Lad® (@Burger_Lad) June 14, 2017
If America's favorite orange pasta is somehow not your thing, you're bound to find another McDonald's sandwich to your liking. The chain has also begun serving a corn and cheese champignon Toastie, which piles champignon mushrooms, white cheese and sweet corn between grilled bread. The sweet corn and cheese combination could have been inspired by cheese corn, according to Refinery 29. It's an ingenious Korean dish that pairs corn with sugar and mayonnaise, which is topped with mozzarella cheese and baked until bubbly.
The trendy Toastie has been around for a while in Hong Kong; it finds its roots in a tamer breakfast version with ham, cheese and egg.
Though the mac and cheese sammy is adventurous, it's child's play for the ultra-creative Asian McDonald's restaurants, which also introduced to the world a deep-fried mac and cheese croquette burger in Japan. The crispy croquette rests on a bed of lettuce, is topped with a slice of cheese and a demi-glace (a rich glaze made from beef stock), and is sandwiched between two golden brown buns.
McDonald's Japan now does deep-fried mac 'n' cheese croquette burgers with a demi-glacé pic.twitter.com/garDY9ZO9Z

— Josh Barrie (@joshbythesea) December 21, 2015
Unfortunately, you can't slyly hack this McDonald's sandwich in the States, where bacon macaroni and cheese is not yet a thing. But who says you can't try it at home?
If you now have an irreversible craving for grilled cheese, we've got a few solutions for you. Try it fried and dunkable with these fried grilled cheese bites, paired with ham and served on Hawaiian buns with this inside-out grilled cheese or turned into a grilled cheese bread bowl for smooth and tangy tomato soup.
Sources: Brand Eating, Refinery 29 / Photo credit: Char/Flickr
Tags:
asian mcdonald's
,
grilled cheese
,
hong kong
,
mac and cheese
,
mcdonald's
Jalapeno Popper Grilled Cheese
category:
By Cooking Panda
Treat Yourself To This Gigantic Grilled Cheese Sandwich (Video)
category:
By Cooking Panda
If there ever were a rainy-day comfort food of our childhoods, it would most certainly be grilled cheese.
At first glance, assembling one is easy: All you need is bread, some kind of fat (like oil or butter) and a few slices of your preferred cheese to whip up an oozy, warm and delightfully cozy treat to munch the afternoon away with.
Of course, there are a million variations on the staple. Some people dress their grilled cheese up with extra toppings; some like theirs spicy. There was even a trend a while back of rainbow grilled cheese that hit the web.
But none has ever been as impressive as this ginormous grilled cheese from the HellthyJunkFood YouTube channel (video below).
JP and Julia, who run the channel, posted a DIY video that will help you assemble the largest and most epic grilled cheese sandwich of your life.
We know you want to.
"I beg all of you wonderful people out there to try this at home because at the end of the day you'll learn how to make your own white bread, which is pretty impressive," reads the description on the video.
First, JP and Julia teach you how to make a massive loaf of bread using flour, sugar, salt, yeast and a standing mixer.
Once your pouffy dough is ready, you divide it into two, let it rise, and bake that sucker until it turns into your two slices of bread.
We think you know what comes next: the buttering of the bread, and then the cheese. Place that sucker on a skillet (you may have to use the microwave or oven to properly "grill" a sandwich this big) and voila! Your very own gigantic sandwich.
Check out the video (below):
Sources: Hellthy Junk Food/YouTube / Photo Credit: Hellthy Junk Food/YouTube
Tags:
DIY
,
grilled cheese
,
hellthy junk food
,
sandwich
,
YouTube
Fried Grilled Cheese
category:
By Cooking Panda
Next Day Thanksgiving Grilled Cheese
category:
By Cooking Panda
This Hack Turns Toasters Into Grilled Cheese Machines
category:
By Cooking Panda
For most people, the process of discovering a reliable shortcut is extremely pleasurable.
Sometimes it's as simple as finding a more efficient way to fold your laundry; on a mass scale, companies have given us items like Cup O' Noodles or microwaveable meals to cut down on the time it takes to prepare food.
One "hack" that debuted sometime last year, however, was a false one; somebody on the internet claimed that by turning your toaster on its side, you could make (a good) grilled cheese without a stovetop.
Of course, that person was wrong, and many amateur chefs tried and failed miserably at the attempt, receiving only burnt bread and cheese-encrusted toasters for their efforts.
However, a special toaster sleeve sold on UncommonGoods now allows you to pop your cheesy bread into your toaster for the perfect grilled sandwich.
"Hot, melty comfort food is now popping up in a more convenient form," reads the product description on the UncommonGoods website. "These pouches let you pop a cheese sandwich into the toaster for perfect grilling — no pre-heating the pan, waiting to flip the sandwich, or laborious clean up afterward. Simply lift the pouch from the toaster using the integrated handles and slide your sandwich out onto your plate."
What's more, the bags are non-stick and heat resistant (so no need to worry about your cheese sticking to the bag or burning during the cooking process), and are easily cleaned with soapy water. Each bag can also be used up to 50 times — that's a lot of grilled cheese, folks!
For now, you can order your Toaster Grilled Cheese Bags for $9.99 on the UncommonGoods website, although here's hoping these start popping up in stores nationwide soon!
Sources: Toaster Grilled Cheese Bags/UncommonGoods / Photo credit: Toaster Grilled Cheese Bags/UncommonGoods
Tags:
grilled cheese
,
life hack
,
Toaster Grilled Cheese Bags
,
Uncommon Goods
Pizza Hut Has A New Grilled Cheese Pizza And It Looks Amazing
category:
By Cooking Panda
Pizza Hut is at it again, adding extra cheese wherever it can. In this case it's within the crust of the new Grilled Cheese Stuffed Crust Pizza.
The new pizza has made its debut and will be available for only a limited time. Knowing this, the folks at Business Insider report that they were anxious to try it. They have been thoughtful enough to offer a review of the pizza with the rest of us, and it's not quite what I expected.
First, they said that the crust was delicious. It's not the same as Pizza Hut's regular stuffed crust pizza, as I had thought originally. Business Insider reports that it's thinner, with breadcrumbs on top to add crunch and butter to give it more of a grilled cheese sandwich quality. All in all, they felt the crust was so good that it should be available on any of Pizza Hut's pizza orders, even without the cheese stuffing.
On the other hand, it was reported that the cheese wasn't all that great. Now, I knew it was a mix of cheddar and mozzarella, as we like to do when making our own grilled cheese sandwiches, but it was reported that the taste of the cheeses clashed with the rest of the pizza and hardened too much upon cooling. That makes it a little less tempting, to be sure.
Brand Eating reports that this pizza is $12.99 for a large one-topping, so I'd recommend trying it for yourself to determine how you really feel about the taste. I know I will.
Of course, you don't have to get it with only one topping. Maybe there are several toppings that would mesh well with the cheesy crust. What if you try it with bacon and banana peppers? Maybe with tomatoes and basil?
I can't imagine the cheese would clash with everything. Let's give it a chance and see what we can create with innovative topping ideas.
Sources: Brand Eating, Business Insider / Photo credit: Brand Eating
Tags:
grilled cheese
,
pizza hut
,
stuffed crust
Grilled Cheese Bowl
category:
By Cooking Panda