13 Irresistible Mac And Cheese Gifs To Help You Power Through Hump Day
category:
By Cooking Panda
Hump Day is here! Since you might be dragging your feet a little, we thought we'd give you a little extra motivation — in the form of one of our favorite comfort foods, mac and cheese.
1. Want a bite?
2. Just look at this creamy, gooey deliciousness:
3. Who cares if it came out of a box or not? We love all forms of mac. Spoon some on our plate, please!
4. We might just have to go out and buy a box of Kraft:
5. Seriously, how good does that look?
6. Or maybe we'll make some from scratch…
7. Mix that bacon into the the thick cheese as if your life depended on it.
8. Keep stirring!
9. There you go! It's almost ready…
10. We love when you go the extra mile to bake it for a few minutes to get that crispy top layer.
11. So that it comes out looking like this:
12. Take a huge bite out of that cheesy bowl of heaven!

Now go enjoy your lunch break and ask this very important question:
Photo Credit: whereismymacandcheese/Instagram
Tags:
gifs
,
Hump Day
,
mac and cheese
,
mac n cheese
,
macaroni and cheese
Calming Bacon Gifs To Get You Through Hump Day
category:
By Cooking Panda
Bacon is the smoky, savory (and sometimes sweet) patron saint of indulgent eating. If the chewy, crackly strips of heaven were even remotely healthy, we'd eat it every day for breakfast, lunch, dinner and dessert without regret.
Really, is it possible to tire of this divine dish? Look at this beauty:
In honor of our favorite fatty snack, we have a special treat this week to get you through Hump Day. We think you can guess what it is…
That's right! Delicious bacon. Can you really resist it when it bubbles and crackles like that?
Chewy? Crunchy? Whatever your preference, we won't judge you.
Look how perfectly bacon complements this breakfast — and you know the egg will taste better after cooking in that smoky fat:
Maybe you like your bacon a little more lean? Whatever floats your boat!
Check out these breathtaking bubbles:
Don't forget to flip it:
The most important ingredient in any sandwich:
It even makes your vegetables taste better.
Your steak, too.
Seriously, bacon goes perfectly on anything.
ANYTHING.
Yum!
Here, have a plate all to yourself.
Photo credit: Dennis Brown/Wikimedia Commons
Tags:
bacon
,
gifs
,
Hump Day
13 Droolworthy Chocolate Cake Gifs For Hump Day
category:
By Cooking Panda
It's Hump Day, and you can probably use a pick-me-up right about now. We get it, and we're here for you.
How about something sweet?
There's one thing we know for sure: you need more chocolate cake in your life. I mean, just look at how scrumptious that oozing cake is.
You're in for a treat that you can really sink your teeth into. These amazing chocolate cake gifs are everything. Take a look.
1. Just look at the way that beautiful icing swirls across the top of that cake.
2. Safe to say we're in love with chocolate. Can we drink that warm chocolate sauce? Is that ok?
3. There's no shame in eating a big bowl of frosting, ok?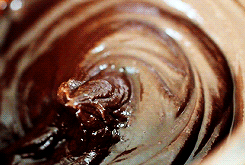 4. The way those white chocolate shavings sprinkle on top is pure art, and we can't take our eyes off it.
5. Red Velvet is still technically chocolate cake, and the way that hot, red center just melts was too beautiful to pass up. We don't want to discriminate.
6. We can't handle the way this melty, gooey chocolate sauce spills right over the top.
7. We're super jealous of that hand.
8. Where can we buy this machine?
9. Well… looks like it's time to bake a big chocolate cake.
10. Here, have a slice.
11. There you go.
12. Ladies and gentlemen, in all its glory: CAKE!
13. Or maybe you'd like a lava cake instead? Here, have a bite.
Happy Hump Day!
Sources/Photo Credit: Everything I love/Instagram, Huffington Post, BuzzFeed (2) (3), Giphy (2)
Tags:
chocolate cake
,
foodporn
,
gifs
,
Hump Day
17 Pizza Gifs To Get You Through Hump Day
category:
By Cooking Panda
We're going to go out on a limb here and guess that you like pizza.
Pizza is a gift from heaven, and few things hit the spot like a warm gooey cheesy slice of it.
In case your week is dragging and you need a little extra motivation to get through hump day, here are just 17 mouthwatering pizza gifs, because why not?
1. Just look at how beautifully this pizza pulls apart!
2. The way this cheese crackles and bubbles is just too much for us.
3. That glistening pepperoni. That stretchy wall of cheese. So much yes.
4. What's the point of even slicing it when you're going to eat the whole thing anyway? A beautiful waste of energy.
5. Full disclosure: we could watch this pizza spin for hours, and we're not ashamed.
6. Veggies have never looked better than when they sit on a gorgeous nest of stretchy cheese.
7. This pie is speaking to us. Have another slice, it says.
8. Are you drooling yet?
9. We could never forget the perfection that is deep dish.
10. Feel free to meditate on this one and really contemplate the meaning of life. Hint: it's pizza.
11. "Are you single?" "No, I'm in a relationship."
*whispers* "With pizza."
12. Beauty comes in all shapes and sizes.
13. It's true…I don't have a type.
14. Go ahead. Have a slice.
15. Make sure you grab some for later.
16. Get one for the road.
17. Because there's really only one logical step forward from this point.
Photo Credit: Instagram
Tags:
foodporn
,
gifs
,
Pizza