The Best Dang Things You Can Put Between Biscuits (Recipes)
category:
By Cooking Panda
What can I Eat with Biscuits?
Biscuits have paid their dues as a buttered side to entrees like fried chicken or scrambled eggs, and it's high time they were appreciated for their main-event potential. Soft, buttery, flaky and stuffable with goods both sweet and savory, they're ready to become an essential ingredient in your favorite lunches, dinners and desserts. Sometimes you should change your morning eating habits and take breakfast biscuits as a diet, when you want a different taste and think, what to eat with biscuits?
what to eat biscuits with?
what goes good with biscuits?
what do biscuits go with?
what to serve with biscuits?
Here are the absolute tastiest biscuit toppings and things to eat with biscuits or you can put between two hot biscuits. We're sure you'll love to try these biscuit topping ideas! (Don't read this hungry, or you'll suddenly find yourself devouring everything in your pantry.)
The fat from spicy sausage does really delicious things when cooked with milk and flour. The result is a rich, creamy, meaty gravy that you'll want to eat by the spoonful, but should definitely save for hot buttermilk biscuits.
Anything is good when spread with a mixture of butter, hot sauce, honey and cayenne pepper — especially when it's a garlic fried chicken biscuit sandwich.
Relive your best childhood memories of PB&J — but spread between biscuits and topped with powdered sugar. The sweet and nutty mixture seeps into the biscuits as they bake, creating an irresistibly gooey texture.
Lobster is the best topping for biscuits, You could have a classic lobster roll, but a buttery lobster cheddar biscuit sounds so much better, doesn't it? Fresh lobster, cooked with a simple combination of butter and chives, is a match made in heaven with homemade cheddar biscuits.
Not your run-of-the-mill chicken salad, this one is pimped out with bacon, white cheddar, pimientos and arugula. But it gets even more Southern when it's thrown on a honey butter biscuit with pickles. Sweet, salty, crunchy, creamy and flaky, this will ruin all other chicken salad sandwiches for you for life.
Once you sandwich easy-to-make fluffy biscuits with sugar-dusted strawberries and vanilla bean whipped cream, you'll never go back to normal shortcake.
This biscuit breakfast sandwich goes the extra mile with an egg casserole, baked with heavy cream, seasoning and a thick cheesy crust. When it's done in the oven, slice it into squares for individual sandwiches. Having a breakfast casserole with biscuits will give a delicious start to your day, finish the biscuits with casserole and crispy bacon, eat up, and save the rest in the freezer for breakfast all week.
This Pillsbury recipe comes together in a pinch with typical ingredients. Lay Swiss cheese and deli ham over their flaky biscuit dough, bake, and drizzle with honey for lunch or a hearty snack.
Butter, powdered sugar, honey and cinnamon come together to create a blissfully sweet spread that you should absolutely drizzle over hot biscuits until positively oozing with cinnamon flavor.
Upgrade the classic BLT with pimiento cheese and three-ingredient cheddar biscuits. The crunchiness of the bacon, creaminess of the cheese, juiciness of the tomato and flakiness of the biscuit create a symphony of flavors and textures.
Peach pie becomes cheesy with creamy brie — and handheld when formed into small biscuits. The only problem with them is that they won't magically reappear when devoured voraciously.
This bacon cheeseburger is kind of like the Uncrustable of burgers — stuffed into a forward thinking biscuit bun.
British meets Southern when classic teatime toppings like jam and clotted cream are generously dolloped over buttermilk biscuits. Pair with coffee or tea for your new go-to Sunday breakfast.
Featured photo credit:
jeffreyw/Flickr
Tags:
best topping
,
biscuit toppings
,
biscuits
,
breakfast sandwich
,
burgers patty
,
cheese chicken salad
,
chicken cheese salad
,
chicken salad
,
clotted cream
,
desserts
,
eat biscuits
,
eat with biscuits
,
fried chicken
,
garlic fried chicken
,
Ham
,
homemade biscuits and gravy
,
honey and ham
,
jack cheese
,
jelly peanut butter with jelly
,
lobster
,
Peach
,
peach pie
,
peach pie filling
,
peanut butter
,
Peanut Butter and Jelly
,
Pepper Jack Cheese
,
pimento cheese
,
pimiento
,
pimiento cheese chicken salad
,
recipes
,
sandwiches
,
sausage gravy
,
Southern Food
,
spicy honey butter
,
things with biscuits
,
Whipped Cream
The Best Dang Fried Chicken Recipes For A Summer Cookout (Recipes)
category:
By Cooking Panda
It's National Fried Chicken Day. Enough said.
Classic buttermilk fried chicken is enhanced with an eight-hour brining sesh in a mixture of bay leaves, rosemary, thyme, parsley and honey, but the flavor doesn't stop there. The breading gets a kick from garlic, onion, cayenne and paprika for a dish that is just as poppin' in flavor as it is in golden brown color.
This chicken dinner will transport you to a Jamaican beach. It packs heat, incorporating spicy flavors from hot sauce, curry powder and ginger. Serve with coleslaw and sweet plantains — and a frozen cocktail — to give your taste buds a cool down.
This southern-style chicken is drizzled with a thick sauce of butter, honey and pecans. It's so sultry and sweet, it'll catch you a man.
Over in Nashville, Tennessee, they spice their chicken in all sorts of directions, apparently. The marinade, breading and hot sauce — a glossy combination of butter, hot sauce, cayenne and brown sugar — each contain red hot heat, which gives the chicken major flavor and gorgeous color.
Make these no-nonsense tenders if you've only got the essentials on hand. They're simply dipped in eggs, breaded in flour and Ranch dressing mix, and fried until golden brown. Because tenders are meant to be dipped, whip up a quick sauce of mayo, ketchup and black pepper for good measure.
If you're craving fried chicken and Japanese flavors at once, this is the dish for you. Small pieces of chicken are marinated in sake, soy sauce, ginger and garlic before they're fried in a potato-starch breading. Serve them in popcorn bags for an unforgettable movie night.
Something about the combination of panko breadcrumbs, basil and spicy mayo just screams, "BANG!" When you take a bite of this chicken, flavored with chili and garlic, you just might yell it out yourself.
If these guys look a little thin to you, it's because they are. Unique in that they have no breading, these Filipino-style drumsticks are tossed in a simple mixture of spices and thrown directly in a pot of oil for about 20 minutes on low heat for a moist and toothsome meal.
Want all the flavor of buttermilk fried chicken without busting out the oil? This simple recipe uses an easy buttermilk-breading method, followed by an hour in the oven, so you have time to watch an episode or two of your favorite show as the smell of chicken wafts through your home.
Korean fried chicken — dressed in apple cider vinegar, honey, soy sauce, and gojuchang (or Korean red pepper paste) — is no joke. The spicy chicken pieces are studded with white sesame seeds for color contrast and a touch of nuttiness.
Mix up a quick marinade of lime juice and garlic, and soak the wings overnight. They'll be so bright and citrusy, you won't believe how easy they were to make.
Featured image credit: Pixabay
Tags:
chicken dinner
,
chicken recipes
,
fried
,
fried chicken
,
recipes
,
southern
We Want A Slice Of Chance The Rapper's Birthday Cake
category:
By Cooking Panda
Chance the Rapper has just celebrated his 24th birthday, and he did it the best way I can think of. He had a birthday cake shaped like his favorite fried chicken meal. What's better than that?
Eater reports that Chance the Rapper's birthday cake was shaped like his favorite meal from Harold's Chicken Shack in Chicago. Check it out:
This cake was reportedly designed by Alliance Bakery in Chicago and features a seven-piece wing combo with a bottle of Mistic kiwi-strawberry. The cake is vanilla (okay, it would be better if it were chocolate) and the wings and fries were made of fondant icing. Of course, you could never tell, since this looks so much like a cake with actual chicken wings and fries scattered around on the top and side of it.
It's probably safe to assume that Chance the Rapper loved his cake, too, considering the sweet note he wrote about it on his Instagram. "Thank God for the people in my life I've had unimaginable & undeserving blessings in my 24 years here. I love you Chicago, let's see what we can do for this world."
If you've never heard of Harold's Chicken Shack, the description from Serious Eats should help set you straight. According to said description, Harold's offers "the best bad fried chicken on Earth."
Bad fried chicken is apparently such that it's swimming in grease and salt and the skin "slips right off the meat on first bite." You know its kind. Good fried chicken is referred to as the kind that tries to be more "refined," without all the extra grease and salt. Harold's doesn't care about that. This fried chicken joint just cares about creating and offering a delicious product.
The logo is a red-suited man chasing a chicken with a hatchet. There's a quirky style about the place, and other rappers, such as Wale and Kendrick Lamar, are known to enjoy Harold's chicken as well. Sounds like the perfect place to model your birthday cake after.
Sources: Eater, Serious Eats / Photo Credit: Chef Tru/Instagram
Tags:
Birthday Cake
,
chance the rapper
,
fried chicken
,
Harold's Chicken Shack Chicago
KFC Pledges To Stop Using Antibiotics In Chicken
category:
By Cooking Panda
Better late than never?
On April 7, Yum Brand Inc.'s U.S. Kentucky Fried Chicken chain, announced that it will finally stop using antibiotics important to human medicine in its supply of chicken, and join its fellow chicken restaurants in attempting to curtail the possible rise of dangerous antibiotic-resistant bacteria known as superbugs.
Honestly, this announcement probably should have come long ago — as in, the second it was made clear that using chicken treated with antibiotics was super unethical and dangerous. However, KFC is now giving its poultry suppliers until the end of 2018 to totally quit using antibiotics.
"We recognize that it's a growing public health concern," said KFC U.S. President Kevin Hochman to Reuters on April 6.
"This is something that's important to many of our customers and it's something we need to do to show relevance and modernity within our brand."
Additionally, Lena Brook, a food policy advocate at the NRDC, is extremely excited about the planned switch.
"It's great news for fried chicken lovers, and most importantly it's great news for public health," Brook told Reuters. "Their commitment is one that we've been waiting for."
For now, the policy is only applicable to the U.S. KFC locations and the 4,200 restaurants that are supplied by around 2,000 domestic chicken farms. However, what's nice is that the new policy applies throughout every chicken's full life cycle. That means that the bird is even protected from being injected with antibiotics before it's even hatched and while it is still in the shell.
Yum Brand Inc.'s U.S. Taco Bell chain also already committed to serving exclusively antibiotic-free chicken, and its Pizza Hut division likewise won't serve chicken raised with antibiotics important to human medicine on its pizza.
What do you think about KFC's latest decision to join the antibiotic-free chicken pledge?
Source: Reuters / Photo Credit: KFC/Instagram
Tags:
antibiotic-free
,
Chicken
,
fried chicken
,
KFC
,
superbugs
Eat Free Fried Chicken At The Taco Bell 'Speakeasy'
category:
By Cooking Panda
Well, this is totally whacko and also amazing.
In a bid to promote its new menu item, the Naked Chicken Chalupa (you know, the chalupa with a shell made entirely out of crispy fried chicken), Taco Bell has decided to launch a sort of anti-Chicken Chalupa campaign.
From what we can discern, the fast food chain has created something called the "Council For Eating Fried Chicken The Same Way You Always Have" (TCFEFCTSWYAH), which is a fake committee that thinks Taco Bell's chicken-shell innovation is dangerous.
"We at The Council for Eating Fried Chicken the Same Way You Always Have devote our every effort to protecting the populace from the dangers of nontraditional fried chicken. The healthy, traditional consumption of fried chicken is a respectable, time-honored practice, and as such should be defended at any cost from nefarious form-twisting interference masquerading as "innovation." Taco Bell's new Naked Chicken Chalupa, a shameless display of unsanctioned and dangerous experimentation, should be avoided at all costs," reads the fake council's website.
In response to this, Taco Bell is pretending that it has been forced to open up an actual "speakeasy" so that adventurous, cutting-edge diners can continue snacking on its new Naked Chicken Chalupa.
The so-called speakeasy is actually located at 399 Lafayette Street in Manhattan, New York City, and will be giving out free fried chicken tacos and complimentary cocktails to any diner brave enough to eat the banned meal.
The speakeasy, according to Delish, will be open from 5-10 p.m. on Jan. 25, and will take only 500 guest reservations. Diners who want in on the fun must call a secret hotline to get in.
Day one of the #TacoBellSpeakeasy is over. We'll see you tomorrow for day two, New York. pic.twitter.com/K9TYLaWtvV

— Taco Bell (@tacobell) January 25, 2017
Sources: Delish, TCFEFCTSWYAH / Photo Credit: Rheanna O'Neil Bellomo for Delish
Tags:
fast food
,
fried chicken
,
Naked Chicken Chalupa
,
speakeasy
,
taco bell
KFC's New Georgia Gold Chicken Looks Delicious
category:
By Cooking Panda
Do you remember KFC's Nashville Hot Chicken? It came out in 2016 and was a huge hit, mainly because it was extra crispy and featured a new sauce, different from the regular hot sauce with the vinegar kick. The new KFC Georgia Gold could be considered an upgrade from that popular flavor.
Brand Eating reports that KFC will be offering their new take on Georgia's honey mustard-based barbecue sauce as they release the new Georgia Gold Chicken flavor on Jan. 29, 2017. The name signifies the availability of a new saucing option for many of the chain's fried chicken products. It can be ordered on chicken tenders, bone-in chicken, wings and even on Chicken Littles sandwiches.
The Georgia Gold was tested in Mobile, Alabama, and in Pittsburgh before coming to market. You may think those are weird locations, but it makes sense if you think about it. Try a northern place and a southern place, to make sure everyone likes it! According to Business Insider, the sauce was tested on fried chicken and tenders. Clearly, the results, which were measured on Sept. 4, 2016, proved that it was a sauce worth sharing with the rest of us. Exciting!
In describing the new sauce, one KFC spokesperson said that it resembles "grown-up honey mustard — sweet with attitude." That's enough to make me want to try it. It's part of KFC's extra crispy campaign, and so it's meant for the crispy chicken options on the menu, as mentioned above.
When you order this version of chicken tenders (or other type of menu item — I'm not picky), you'll notice that the name is actually quite suiting. The sauce gives the chicken a gold-like appearance, and is served with a couple of pickles (just like the Nashville Hot Chicken) to help cleanse the palate for full enjoyment.
Business Insider has also reported that this new sauce made for some of the best chicken KFC has ever served. Try it if you think a "muted honey sweetness" sounds like a great addition to your crispy chicken favorites. Don't worry, there's not supposed to be too much of a mustard taste.
Sources: Brand Eating, Business Insider / Photo Credit: KFC via Business Insider
Tags:
fried chicken
,
Georgia Gold
,
KFC
,
Nashville Hot
,
New Menu Items
Can You Look At These 14 Fried Chicken Gifs Without Licking Your Screen?
category:
By Cooking Panda
National Fried Chicken Day is one of our favorite food holidays. If it was even reasonably healthy, we'd eat fried chicken for every meal, because it might just be the tastiest food of all time.
We dream about it raining fried chicken. Don't tell anyone.
Even the process of making it is totally mesmerizing.
Take a good hard look at this perfectly crispy on the outside, moist on the inside fried chicken. Are you drooling yet?
This chicken enters a pot of oil, innocent and softly breaded, but in a few minutes, it will emerge victorious, crispy and irresistible.
Look at how beautifully it sizzles.
Almost ready to eat!
Flip it with pride.
We'd devour that whole pile in minutes.
Let's not forget about this match made in heaven.
Seriously delicious.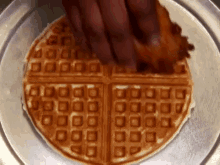 And look at how cute and scrumptious these little chicken and waffle bites are.
Are you hungry yet?
Go ahead. Enjoy some fried chicken today.
Featured Photo Credit: cupcakeproject/Instagram
Tags:
food gifs
,
foodporn
,
fried chicken
,
Hump Day
,
National Fried Chicken Day
This Fried Chicken N' Waffles Sandwich Is Mind-Blowingly Decadent
category:
By Cooking Panda
Get ready for a sandwich the likes of which you've never seen before. This a the fried chicken n' waffle sandwich — a decadent, flavorful meal consisting of delicious spicy fried chicken and crispy bacon sandwiched between two beer waffles. Yes, you read that right. Beer. Waffles.
The fluffy waffles are made using nonalcoholic beer and classic waffle mix. And in case you didn't think that was good enough, the whole thing is topped with maple bourbon butter syrup for a sweet finish to a rich, satisfying sandwich that will leave you wanting more.
Ingredients:
12 slices bacon
1 tablespoon butter
4 slices onion (from 1 medium onion)
Spicy Fried Chicken:
4 boneless skinless chicken breasts (4 oz each)
1/4 teaspoon salt
1/8 teaspoon freshly ground black pepper
3/4 cup Original Bisquick® mix
1/2 teaspoon chipotle chile powder
1 egg
1/2 teaspoon chipotle chile powder
1/4 cup vegetable oil
Maple-Bourbon-Butter Syrup:
3/4 cup pure maple syrup
2 tablespoons butter
1 tablespoon bourbon whiskey
Beer Waffles:
2 cups Original Bisquick® mix
1 egg
1 1/2 cups regular or nonalcoholic beer (12 oz)
2 tablespoons vegetable oil
Directions:
In 12-inch skillet, cook bacon over low heat 8 to 10 minutes, turning occasionally, until crisp. Drain on paper towels. Set aside.
2. In 6-inch skillet, melt 1 tablespoon butter over medium heat. Cook onion in butter about 10 minutes, stirring frequently, until golden brown. Set aside.
3. Between pieces of waxed paper or plastic wrap, place each chicken breast smooth side down; gently pound with flat side of a meat mallet or rolling pin until about 1/2 inch thick. Season chicken with salt and pepper.
4. In shallow bowl, mix 3/4 cup Bisquick mix and 1/2 teaspoon chipotle powder. In another bowl, beat egg and remaining 1/2 teaspoon chipotle powder with fork. Dip chicken into egg mixture; coat with Bisquick mixture.
5. In 12-inch nonstick skillet, heat 1/4 cup oil over medium heat. Add chicken; cook 8 to 10 minutes, turning once, until chicken is no longer pink in center and coating is golden brown. Meanwhile, in 1-quart saucepan, heat maple syrup and 2 tablespoons butter to boiling. Remove from heat; stir in bourbon. Set aside.
6. In medium bowl, stir waffle ingredients until blended. Pour slightly less than 2/3 cup batter onto center of hot waffle iron. Close lid of waffle iron. Bake about 5 minutes or until steaming stops. Carefully remove waffle. Repeat with remaining batter, making 8 waffle sections.
7. To assemble: Place waffle section on plate; top with 3 slices bacon, 1 piece chicken, onion slices and another waffle section. Cut each sandwich in half, serve with syrup for dipping.
Source: Betty Crocker Recipes via Flickr / Photo credit: Betty Crocker Recipes via Flickr
Tags:
fried chicken
,
prepare
,
sandwich
,
waffles