5 Outstanding Mains To Grill For Your July 4th Party (Recipes)
category:
By Cooking Panda
Ready to celebrate America's freedom?
Since it's traditional to have a big barbecue bash on the Fourth of July, there's no reason to fight it. Grilling food is delicious, easy and a lot of fun, but if you don't know what you're doing, there's no denying that it can be a little lackluster, with guests picking at charred hot dogs and cardboard burger patties that didn't get enough seasoning love and were left on the grill for way too long.
Don't let this happen to you, and don't worry! Grilling is pretty easy, and there are a lot of really exciting foods you can make this Independence Day. Just be warned: If you follow these recipes, your guests might expect you to do the cooking every year.
It's pretty likely that you're going to have burgers — this handy guide will give you everything you need to know to avoid serving hockey pucks to your loved ones. Want to do something a little more decadent? Stuff your burgers! Here's how.
​
Ribs are actually pretty easy to cook on the grill, as long as you are able to get them set up a few hours early. If not, you can braise them for a while in the oven first (feel free to do this before your guests arrive) and then throw them on the grill with all your other food until they get a little browned. Here's how to whip up an assortment of easy homemade BBQ sauce that you can serve on the side or slather on your ribs the last 20 or so minutes of cooking.
These easy, lean kebabs are such a nice change of pace from all the red meat, carbs and fatty, delicious sides and snacks you'll probably be gnawing on. If you want, you can make these vegetarian by leaving out the meat completely or replacing it with tofu (here's a great way to grill it), mushrooms, zucchini or whatever else tickles your fancy.
Pizza sounds really difficult to make, but using store-bought dough takes out a ton of the work and mess, plus grilling it is not only super easy, but the high heat replicates a pizza oven way better than a regular oven does. The sweet potatoes add an unexpectedly excellent texture, although you are free to use any toppings you want — just make sure to cook them first, especially if you're using meat. You know what would be awesome? Grilled shrimp with white sauce.
Your guests will probably expect burgers and dogs, but if you want to diverge a little from that while still satisfying them with big hunks of beef, this is a great way to make your meal a little fancier. Plus, the orange relish/salsa adds a brilliant pop of freshness — you might consider making it as a side even if you aren't doing these steak kabobs.
Happy Fourth!
Featured Photo Credit: Mark Levisay/Flickr
Tags:
easy dinner recipe
,
fourth of july
,
grill recipe
,
July 4th
,
summer dinners
7 Quick Desserts To Make For Your Fourth Of July Party (Recipes)
category:
By Cooking Panda
Have a great Independence Day!
After you enjoy your appetizers, cocktails and barbecued dinner, make sure you have some handy, festive desserts at the ready. All you need are some tasty red, white and blue treats, most of which only take a few minutes to throw together.
Get ready to dazzle your guests with these quick desserts!
As Ina says, if you don't want to make your own cake, store bought is fine — you can just top with the gorgeous frosting and fruit stars and stripes. Want more delicious and stunning July Fourth cakes? Here's everything you need.
​
These are just about the easiest dessert ever, so if you totally forgot to make something sweet for your guests, this is the way to go. A great appetizer too!
Who doesn't love bringing the campfire to your table with decadent, nostalgic s'mores dip? All you need is a little colored sanding sugar — or even sprinkles or colored candy — for a dashingly festive dish.
This healthy, refreshing and fruity dessert hardly tastes as nutritious and low-calorie as it is! Perfect for those trying to cut back on added sugar, though they will be a hit with even sugar lovers, too.
This colorful, crunchy bark is as easy as it gets, plus you can customize it to your liking with just about any kind of nuts and candy pieces or even dried fruit. Want to swirl the red and blue right into the melts? Grab some patriotic-colored candy pieces and do it like so.
Cheesecake bars are awesome because you get all the tangy, velvety, dense goodness of a regular cheesecake but with a fraction of the work. Of course, you're more than welcome to modify this recipe as you wish (any white or light-colored dessert works just as well, visually) and top with strawberry, raspberry or cherry compote and plop a blueberry on top — or reverse it and do blueberry compote and a red berry garnish.
Cookie dough is pretty easy to make, but cake mix is even easier if you need something that whips up in just a few minutes and keeps from making a mess. It tastes so rich, too!
Featured Photo Credit: Max Pixel
Tags:
dessert recipes
,
fourth of july
,
holiday dessert recipe summer
,
independence day
,
July 4
13 Pretty And Patriotic Fourth Of July Cakes (Recipes)
category:
By Cooking Panda
Whatever you're doing this Fourth of July, it very likely involves delicious food. After cracking open a few beers and cooking dinner on the grill, you'll need a sweet course to truly revel in the holiday spirit. Check out this fine compilation of cakes, and you'll have a red, white and blue dessert to look forward to all weekend.
This beautiful layered cake comes together in a jiffy. Coconut cream is whipped into a light and fluffy topping, berries are soaked in sugar to bring out their sweetness, and the final product really does look like food fit for angels.
This cake may be protected by a fence of white-chocolate-dipped pretzels, but that won't stop you from digging right in once it's finished. You can use your favorite type of cake mix, but make sure you replace the water in the recipe with coffee creamer, which the baker says makes it extra moist.
You don't have to be a pro at icing intricate designs to create a statement-making display. Frost your favorite kind of cupcakes in red, white and blue, and arrange edible sugar stars on the upper left corner to make a fabulous flag.
A challenge for the brave, this cake involves spreading red and blue cake batter in a pan in alternating stripes. Once it's baked and cooled, roll it up and spread it generously with icing made from sweet and sticky marshmallow cream. Your party guests will be delighted to cut into the surprise inside.
Speaking of surprise on the inside, these cake pops are bite-sized bits of unexpected color. Start by forming tiny blue cake balls, then cover them with layers of white and red cake-ball mixes, and dip the pops into candy coating. Don't skimp on the festive sprinkles on top.
This adaptable recipe calls for any cake you like, which means the flavor options are endless. Frost a red velvet, chocolate, lemon, buttermilk or strawberry cake with the icing of your choice, and fleck the whole thing with pieces of sugar sheet. The cake will look like it got covered in confetti during a Fourth of July parade.
Ditch the cake plate and serving knife, and make these easy-to-grab shortcake cups instead. Made with store-bought angel food cake, berries and whipped cream or Cool Whip, they're easy for any last-minute host to throw together.
Enjoy all the cuteness and photo worthiness of ice cream cones — without dripping pesky dairy product on your hands. In this case, cake cones work as perfect vessels for, well, cake. Fitting indeed.
Crunchy graham crackers turn pleasantly soft when layered with a decadent mixture of whipped cream and cream cheese. The delightfully easy no-bake recipe calls for patriotically colorful berries, but you can add chopped nuts or a chocolate drizzle if you want a little something extra.
Wow any crowd with this eye-catching and vibrant dessert, no food coloring necessary. The cookie cake, plus the bounty of M&M's and sprinkles, will transport you back to your fondest childhood memories.
The best kind of pinatas are those you can actually eat. This red and blue velvet cake has a hole in the center, filled with an overflowing pile of M&M's, Sno-Caps and white chocolate chips for an avalanche of sugary goodness.
Cake meets pie in this sweet yet refreshing Funfetti treat, saturated with blueberry and strawberry pie fillings and finished with a thick layer of Cool Whip.
Ina Garten gives her sponge cake an extra element of moisture and tang with sour cream. The goddess then carefully places fresh berries and pipes cream cheese frosting into an effortlessly beautiful American flag. If that doesn't make you proud to be an American, I don't know what will.
Featured image credit: Pixabay
Tags:
baking
,
Cakes
,
cupcakes
,
fourth of july
,
July 4th
,
patriotic
,
red white and blue
Enjoy This Virtual Fourth Of July Barbecue In 29 GIFs
category:
By Cooking Panda
Are you ready to have an epic Fourth of July party?
Come join me! There's room in the pool for everyone.
You'll feel much better after you take a dip and cool off a little.
Wow, you really worked up an appetite! Why don't you grab a drink while I get the food all set up.
What would you like? An ice cold cocktail?
There's soda too — good ol' fashioned American cola, if that's more your thing.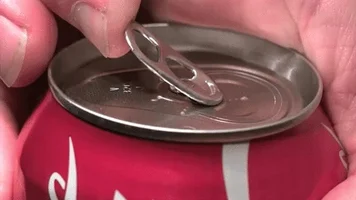 Or some rich, fruity sangria — help yourself.
Maybe you'd rather have this fizzy blackberry and rosemary number? We have plenty.
Cheers!
Make sure you grab some snacks while you're at it, too.
Get some warm dip before everybody eats it all!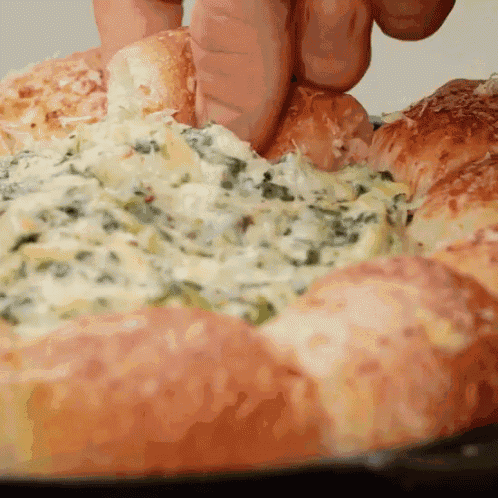 There's pleasantly refreshing watermelon — a staple for any barbecue!
And who can forget about these juicy, festive berries for something a little sweet to balance out all the salty food?
Ready for the main course? We have piles and piles of tender, grilled meat for you.
Perfectly seasoned, well-marbled and gorgeously charred — want some?
Like any good 'Murican celebrating 'Murica, we have hot dogs too, and you know how much better they are grilled.
Throw some wings on your plate while you're at it. They are nice and smoky!
Round out your meal with some flavorful grilled veggies:
The sweet corn on the cob might just steal the show, but that's ok because we have TONS of it.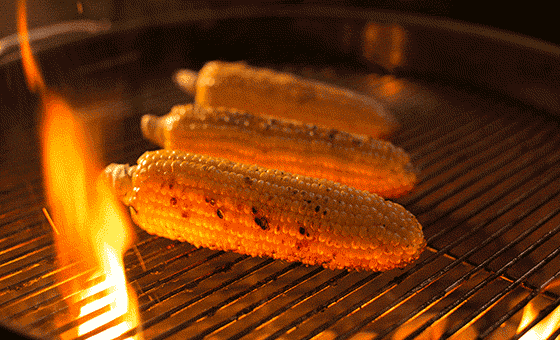 And sides — you better leave a little room on your plate for some of my famous slaw.
Plus some potato salad, because what barbecue is complete without the starchy side?
Enjoy! Make sure you get second helpings before all the food disappears.
It's time for dessert! How about something festive?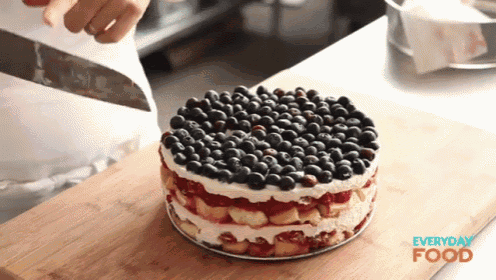 Perhaps some cookies too:
And some GORGEOUS, patriotic cupcakes.
Now that the sun is down, it's time for the best part — the fireworks!
What Fourth of July is complete without the dazzling display in the sky? Grab a good seat and look up.
They are best enjoyed with good company, of course.
Have a great Independence Day!
Featured Photo Credit: Victorgrigas/Wikimedia Commons
Tags:
barbecue gifs
,
foodporn
,
fourth of july
,
July 4
,
virtual gif party
7 Appetizers To Make For Your Fourth Of July Barbecue (Recipes)
category:
By Cooking Panda
The Fourth of July is coming in hot! Are you ready?
If you feel unprepared, don't you worry — you still have plenty of time to get everything in order for your festivities. If you're hosting a party or attending a potluck, it's a great idea to do your shopping and food prep by the end of the weekend to avoid any stress.
Any of these snacks go stupendously well with a nice cold beer, a pool party and fireworks. And they're so easy to make that you can easily whip up a number of them right before your barbecue if you decide to ignore my advice and put off your cooking until the last minute.
What's more American than crunchy fried chicken smothered in honey butter and wedged between two slices of a biscuit? Not much. Note: Feel free to use canned biscuit dough, if you want to save time. If you're running really late, you can also just buy fried chicken, pull the meat off the bone, chop it into bite-sized pieces and place onto the sandwich.
These starchy, savory bombs start as whole fingerling potatoes that are boiled for maximum tenderness before getting slightly smushed and then deep-fried. But that's not the end of it! They then get topped with green onions and miso mayonnaise to seal the deal. Want to make them a little spicier? Add a drizzle of sriracha on top or mix a little wasabi into the mayo.
A little sweet, a little spicy, easy to grill and perfect with beer! Need to bake them instead? Follow this recipe instead and then toss them in the maple-mustard sauce before serving.
You can use store bought meatballs if needed, though these fast, tender panko ones are splendid. Either way, guests will eagerly gobble up just about anything if it's served in this homemade spicy, tangy pineapple barbecue sauce.
Work smarter, not harder. Fresh fruit is just delightful, especially when you're outdoors on a warm day, and it's so easy to make this gorgeous presentation. When you're eating tons of savory, fatty, salty barbecued stuff, you might need something to cut through it all, and this will sure do the trick. Here's how to make white chocolate yogurt covered pretzels, if you'd like to whip them up from scratch. But if you're going the homemade route, try to make them shortly before serving, as they do get stale rather quickly.
How do you make spinach and artichoke dip even better than it already is? Simple! Add even MORE CHEESE and bake it into crescent roll cups for tasty morsels you won't be able to stop popping into your mouth.
This is a fabulous side to provide a little contrast with heavy grilled meat. Plus, this filling, fresh treat with an exciting mix of textures is such a good vegetarian option that the meat eaters will be scarfing them down as well.
Featured Photo Credit: Pixabay
Tags:
4th of July
,
barbecue appetizer recipe
,
easy appetizers
,
fourth of july
,
summer appetizers
Joey Chestnut Eats 70 Hot Dogs In 10 Minutes, Breaks World Record, Confounds Us All
category:
By Cooking Panda
Competitive eater Joey Chestnut set a world record on the Fourth of July when he scarfed down 70 hot dogs in 10 minutes at the annual Nathan's Hot Dog Eating Contest, according to the Associated Press.
To clarify, an actual 32-year-old human managed to consume 7 hot dogs per minute — the most ever devoured at the competition.
That's not even the most he's eaten; Chestnut set another record in June when he ate 73 1/2 hot dogs during a qualifying event.
The competitor arrived at the 2016 contest with a vengeance, as his eight-year winning streak was broken in 2015 when Matt Stonie beat him for the championship title.
Chestnut said the upset "woke up the sleeping giant" — inside of his high-capacity stomach, we guess — and stole back his thunder by ingesting a full 17 more hot dogs than Stonie.
Chestnut claimed his revamped training regimen, which includes eating sprints and running-and-weightlifting workouts, helped him reclaim the coveted Mustard Belt, CNN reports.
They don't call him "Jaws" for nothing.
The third-place prize winner inhaled a measly 41 hot dogs.
Sources: The Associated Press, CNN / Photo credit: Ethan/Wikimedia Commons
Tags:
competitive eating
,
eating contest
,
fourth of july
,
hot dogs
There Is Actually A Donald Trump Doughnut, Would You Eat It?
category:
By Cooking Panda
Who would have guessed that the Australians would invent a better way to celebrate Fourth of July than the Americans?
Australian doughnut chain Doughnut Time introduced a Donald Trump-themed doughnut in honor of American Independence Day, and it is just as hilarious as you might imagine. Named the "Hair Dependence Day" doughnut, the glorious confection consists of a vanilla doughnut, filled with American peanut butter and jam, and topped with cotton candy to emulate Trump's infamous coif.
The end result looks surprisingly like Trump himself — a fact that only adds to the combination of horror and humor that seems to follow the candidate everywhere. While Americans are still reeling at the fact that the orange-haired mogul is the presumptive Republican nominee, the Australians have clearly found humor in the entire situation.
As life-long doughnut devotees, we must admit that the Hair Dependence Day sounds pretty darn delicious. Even better, however, is the fact that eating one would allow you to imagine biting into Trump's signature hair and devouring his ever-talking head.
While the Trump doughnut is only available in Australia, we suggest that you add cotton candy and peanut butter to your next doughnut to emulate the experience (and increase the deliciousness) of your favorite dessert. If enough people follow the trend, maybe we can even make America great again!
Source: Metro / Photo credit: Doughnut Time/Instagram
Tags:
donald trump
,
donut
,
fourth of july
,
Hair Dependence Day
American Flag Poke Cake
category:
By Cooking Panda
Outshine The Fireworks With These 12 Amazing July 4th Desserts
category:
By Cooking Panda
The Fourth of July is fast approaching, and we're here to help! Bring any of these insanely creative sweet treats to the festivities this weekend (or just make them for yourself, let's be real) and instantly win over the hearts and minds of anyone who tastes them.
Throw in some whipped cream vodka, and you're good to go.
Simple, festive and delicious.
Candy-coated cherries soaked in vanilla vodka – yum! Alternately, you can make them virgin by skipping the booze and soaking them in a little vanilla extract.
They look gorgeous and are easier to decorate than you might think. If you want to go the extra mile, slap an American flag on these heavenly sweet potato donuts.
What's more American than apple pie? American flag-covered apple pie cookies, of course!
You can also deep fry your apple pie to reach maximum American.
Don't bring a boring fruit salad! Bring herbed watermelon, jicama, cucumber and berries instead! You can even crumble some feta over the top for an extra savory punch.
We can't decide if these are more adorable or delicious. We'll go with both.
It doesn't get any more American than fried food.
Surprisingly tasty. Drizzle with blueberry syrup for Uncle Sam bonus points.
Woah! Feel free to make it easier on yourself and reduce the number of stripes (layers) if need be.
Feel free to add berries if you want to fit the red, white and blue color scheme for this delicious Native American treat.
Featured Photo Credit: The Cake Blog
Tags:
desserts
,
fourth of july
,
holiday recipe
,
July 4th
,
patriotic desserts
Carl's Jr. Partners With Budweiser To Give You The Most American Burger Ever (Video)
category:
By Cooking Panda
According to Reckless Eating food blogger Matt Zion, Carl's Jr. has partnered with "The Great American" Budweiser Beer to give us the "Budweiser Brew House Bacon Cheeseburger" (video below).
Say that 10 times fast to the tune of the national anthem.
Zion, who claims to have stumbled upon the burger while out and about in Southern California, did what any respectable food blogger would do, and posted a taste-test video of the burger on his YouTube channel.
Unfortunately, while Burger Business reports that the toppings include "Budweiser Beer Cheese," applewood-smoked bacon and caramelized onion, Zion claims that: "There's no beer taste or beer flavor in the cheese or anything like that.
"It just tastes like a lot more cheese than usual."
I think I'll just stick to classic BBQ-fare this 4th of July weekend.
Watch the taste-test below:
Sources: WrecklessEating/YouTube, Burger Business / Photo credit: Westside Beer
Tags:
budweiser
,
budweiser brew house bacon cheeseburger
,
burger
,
carl's junior
,
fourth of july