Check Your Fridge, This Beef Has Been Recalled (Photos)
category:
By Cooking Panda
Take a good look at your groceries — you might need to chuck your beef!
JBS USA, a major meat supplier, has issued a recall for nearly 5,000 pounds of ground chuck beef, saying that it has been contaminated by "possible foreign matter" and "extraneous materials," most notably including shredded bits of styrofoam, according to a USDA release.
"There have been no confirmed reports of adverse reactions due to consumption of these products," the USDA said in the release. "FSIS has received no additional reports of injury or illness from consumption of these products. Anyone concerned about an injury or illness should contact a healthcare provider."
Not sure if your beef is good? Take a closer look: The approximately 2,460 two-pound containers of the beef in question were packed in black styrofoam and plastic wrap on July 15 and have the case code 541640 and the establishment number EST. 34176, and they are labeled "CERTIFIED ANGUS BEEF GROUND CHUCK 80% LEAN 20% FAT."
"FSIS routinely conducts recall effectiveness checks to verify recalling firms notify their customers of the recall and that steps are taken to make certain that the product is no longer available to consumers," says the release, which advises anyone with questions to get in touch with Cheri Schneider, JBS director of external communications, at (970) 506-7717.
What would happen if you ate this beef? Well, there's no telling for sure. As you can guess, consuming cooked styrofoam is not exactly the healthiest thing in the world, but as Cup Noodle-guzzling college students can attest, it's usually sort of a cumulative thing.
"Trace amounts of styrene as well as various chemical additives in polystyrene migrate into food, which increases significantly in hot liquids," said Olga Naidenko, Ph.D., a senior scientist at the Environmental Working Group, according to Bottom Line Inc. "This is a problem, because polystyrene is very commonly used as disposable packaging for hot food and beverages."
Sources: USDA, Bottom Line Inc. / Featured Image: Pexels / Embedded Images: USDA
Tags:
beef recall
,
Food Contamination
,
food recall
,
ground beef recall
,
Styrofoam in food
Check Your Hot Dogs — They May Be Recalled! (Photos)
category:
By Cooking Panda
We're buying hamburgers and hot dogs like crazy now that the summer season is starting. Baseball, cookouts and even the upcoming Memorial Day weekend has us in the spirit to break out the grill and enjoy some quality cookin' time outside. That's why it's particularly disturbing that there's a massive hot dog recall happening right now.
Delish reports that over 210,000 pounds of hot dogs have been recalled from retailers nationwide. The issue? Pieces of metal were being found inside of them! Affected brands are reported to be the 14-ounce pack of Nathan's Skinless 8 Beef Franks and the 16-ounce pack of Curtis Beef Master Franks. Here's what they look like:
If you have any hot dog packages that look like these in your fridge, check the "Use By" dates. The Nathan's brand hot dogs will have the use-by date of Aug. 19, 2017, and the Curtis brand will have a use-by date of June 15, 2017. All of these hot dogs were produced on Jan. 26 and say, "EST. 296" on them. These hot dogs were shipped to stores nationwide so it can't hurt to double-check what's in your fridge.
According to Food Safety News, the recall notice stated, "The problem was discovered after the (company) received three complaints of metal objects in the beef frank product packages. There have been no confirmed reports of adverse reactions or injury due to consumption of these products." At least that's good news!
Those who do have these products in their refrigerators are being urged not to consume them (unless you like metal in your hot dogs, that is). They should be thrown out or, even better, returned to the store from which they were purchased. You can probably trade them in for some non-metal-filled dogs. Then you can go back about your business, grilling out and enjoying the summer.
If you have any questions, you can call 877-933-4625 to learn more. These are some very popular hot dog brands, so I can't stress enough that you need to double-check your supply! I know a hot dog cookout sounds good, but the risk isn't worth it.
Sources: Delish, Food Safety News / Photo Credit: Wikimedia Commons, Delish
Tags:
Curtis Hot Dogs
,
food recall
,
hot dogs
,
Nathan's Hot Dogs
Trader Joe's Just Recalled Three Apple Sauces
category:
By Cooking Panda
If you recently bought unsweetened apple sauce from Trader Joe's, listen up: The store is voluntarily recalling three types of its unsweetened apple sauce because the jars could potentially contain pieces of glass in the product.
If you bought any of the following products, then they are affected by the recall:
Trader Joe's First Crush Unsweetened Gavenstein Apple Sauce that have a "best before" date through Aug. 8, 2018
Trader Joe's Organic Unsweetened Apple Sauce with a "best before" date through Oct. 6, 2018, or
Trader Joe's All Natural Unsweetened Apple Sauce with a "best before" date through Dec. 16, 2018, in certain stores only
Trader Joe's is asking all who bought any of the products to please not open or consume the potentially affected products, and instead either discard them or return them to any Trader Joe's for a full refund.
Still have questions? Feel free to call Trader Joe's Customer Relations at (626) 599-3817, Monday through Friday, 6:00 a.m. to 6:00 p.m. Pacific Time.
You can also send Trader Joe's an email at this link.
Source: Trader Joe's / Photo Credit: Trader Joe's
Tags:
Apple Sauce
,
food recall
,
recall
,
Trader Joe's
,
unsweetened apple sauce
Did You Buy Peppermint Twinkies? They've Been Recalled!
category:
By Cooking Panda
Twinkie recall alert! If you bought any Hostess holiday Twinkies, you might want to double-check that they aren't contaminated with salmonella poisoning.
A CNBC report states that Hostess Brands issued this voluntary recall on Jan. 10, 2017, and it's specifically for the White Peppermint Twinkies. The ingredient provided for the sugary coating that separates these from regular Twinkies might possibly be contaminated with salmonella.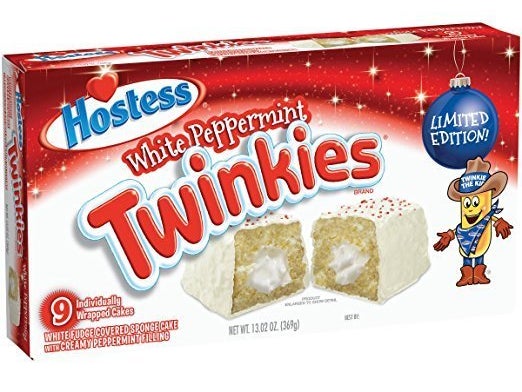 The offending ingredient is a milk powder that has been recalled by Valley Milk Products. They were the suppliers of the milk powder to the company that made the confectionary coating on the Twinkies, Blommer Chocolate Co., who then supplied the coating to Hostess. Luckily, this possible contamination was caught before anyone was reported sick, according to Huffington Post.
The recall is more of a "better safe than sorry" type of deal, which means you don't have to panic if you've been eating the cakes and haven't gotten sick yet. Just be wary.
You might remember our post from December about a mac and cheese recall because of the salmonella contaminate from the same company. It was also the powdered milk that was the culprit. During the last recall, the FDA raised concern over the cleanliness of the company. I can't imagine they haven't landed in hot water for having the same problem two months in a row.
The affected milk powder products were sold from Dec. 5, 2015, through July 10, 2016, but Valley Milk says that Virginia (the company's home state) did not identify salmonella in any of the products. Once again, the motto here is "better safe than sorry."
One company spokeswoman told The Huffington Post that "Valley Milk has notified all direct customers that received product under the recall. Our staff is working diligently with those direct customers to notify downstream customers of the recall."
If you or someone you know has purchased the holiday White Peppermint Twinkies, Hostess urges you to return the snack to where you purchased them for a refund. Hey, this could work in your favor if you have a weight-loss resolution for New Year's, right? Just looking on the bright side.
Sources: CNBC, Huffington Post / Photo Credit: Hostess Snacks/Instagram, Hostess Brands via CNBC
Tags:
food recall
,
Hostess
,
Salmonella
,
Snack Cakes
,
Twinkies
Fans of Soylent Bars: Throw Them Out, Now!
category:
By Cooking Panda
Soylent's products include drink powders and food bars made of soy-based ingredients.
However, due to several reported bouts of sickness in early October, those food bars are currently not for sale.
According to Gizmodo, Soylent customers who had eaten the bars reported getting violently ill afterward, with at least one customer allegedly ending up in the emergency room.
In a statement on its website, Soylent explained that, although it cannot find the cause of the reported illnesses, it does not want to take any more chances with this product.
"After these reports, we have retrieved remaining bars from our consumers and have personally consumed many of the remaining bars without adverse effects," the company said. "We have also sent them for further microbiological testing and all tests have come back negative."
Soylent added that it will be handing out full refunds to those who have purchased the bars.
"Our customers place an enormous amount of trust in us each and every time they place an order. We in turn owe it to our customers to prioritize their health and well-being above all else," the company said. "Until we are absolutely certain our products are safe, they will not be shipped."
Soylent expressed its deepest apologies to those who've fallen sick and explained that transparency is an important part of its brand identity, adding that it will be sharing insights as its review progresses.
In the meantime, sorry, Soylent Bar fans, but you'll have to give them up. You can risk it if you want, sure, but is it really worth it? Symptoms appear to hit 3-4 hours after eating the product, so if you just finished one, try and make it to a safe space — as in, get out of that business meeting and get home!
Although the news is bad for the brand, it's good of Soylent to step up and do what's right, so kudos there.
Sources: Gizmodo, Soylent Blog / Photo Credit: Soylent/Instagram
Tags:
Food Bar
,
food recall
,
Meal Replacement
,
Soy Foods
,
Soylent
Tyson Foods Has Just Recalled Its Popular Chicken Nuggets
category:
By Cooking Panda
Tyson Foods has announced a recall of more than 130,000 pounds of two of its chicken nugget products after learning some may be contaminated with extraneous pieces of hard plastic materials.
The recalled products include a five-pound bag of Tyson Fully Cooked Panko Chicken Nuggets and a 20-pound package of Spare Time brand Fully Cooked, Panko Chicken Nuggets, Nugget Shaped Chicken Breast Pattie Fritters With Rib Meat.
Both products have a production date of July 18. The Fully Cooked Panko Chicken Nuggets items have a "Best If Used By" date of July 18, 2017.
The recall is the result of customers reporting "foreign material" in a chicken nugget product.
"According to Tyson Foods, the plastic material ranged in size from 21mm in length and 6.5mm in diameter and may have come from a round, hard plastic rod used to connect a plastic transfer belt," the USDA said in a statement. "The firm said the products pass through a metal detector, but the plastic is not detectable to this technology."
Tyson urges customers to throw out potentially affected boxes or return them to their place of purchase for a full refund.
Tyson also urges anybody with additional concerns or questions to reach out to the company directly at 866-328-3156 or email comments@tyson.com.
Source: USDA / Photo credit: USDA
Tags:
chicken nuggets
,
food recall
,
Tyson
,
usda