Reward Yourself With These 15 Decadent Cheesecake GIFs
category:
By Cooking Panda
You've worked hard! I think it's time to kick back and indulge with a mid-week treat.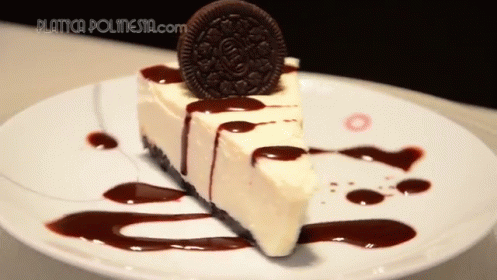 How about a decadent slice of dense, fluffy, velvety cheesecake?
Drizzled with your favorite topping, of course.
And piled high with whatever you're craving!
How could you not want to bite into that rich, moist filling and crispy, buttery graham cracker crust?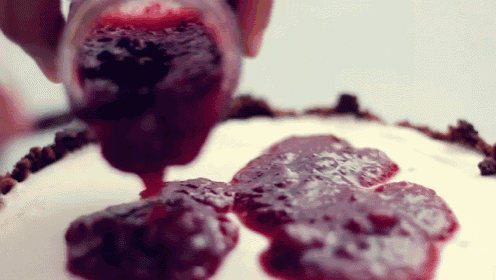 Of course, crustless is delicious too.
Really any form of cheesecake is a complete mouth party.
I love the really dense kind that gets ever-so-slightly browned on top and it just a little bit tart.
But if you're more into the sweet vanilla custard type, I can't fault you for that.
Nor can I judge you if you prefer the super-loaded chocolate madness cheesecakes.
I'll certainly give you a pass if we have different tastes.
In fact, that's even better.
Because that means I get more of the kind I like.
And you get more of the kind you like.
And since I don't see any slices there, you should probably just eat the whole thing.
Featured Photo Credit: Pixabay
Tags:
cheesecake
,
cheesecake gifs
,
food gif
,
foodporn
,
virtual dessert
These 18 Mesmerizing Sushi Gifs Are Making Us Hungry
category:
By Cooking Panda
SUSHI!!!
Sushi is AMAZING. Let's take a moment to appreciate how beautiful and tasty it is.
From traditional stuff to the more wild variety, we love it all.
But there's really nothing like a nice slab of top-quality, fresh, raw, buttery fish placed so artfully atop a sticky pillow of rice.
This combination of melt-in-your-mouth salmon with a perfect pile of rice is perfection, and these hands are truly the hands of an artist.
Pure delicious art.
But as much as we want to admire this gorgeous nigiri, we warn you that it'll be gone in seconds.
Because it's just that delicious.
And seriously, why does this stuff look just as good — if not better — in animated form? How is that possible?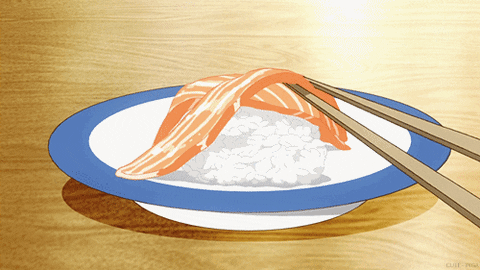 This is also not real sushi, but still. WANT.
And don't forget about maki, those lovely rolls that are so addicting…
Whether you like to keep it simple…
Or a little more wild:
These rolls are just delicious!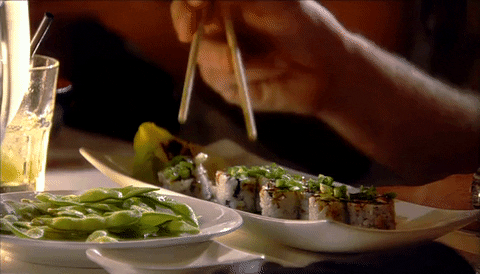 Grab a lovely sushi disc with your chopsticks!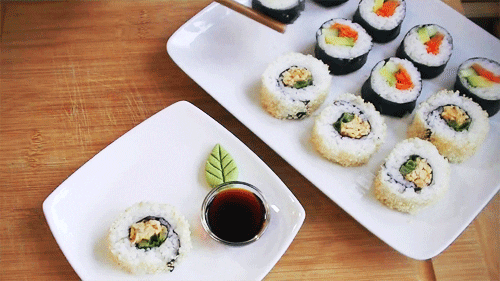 Dunk it in soy sauce! Dunk! Dunk!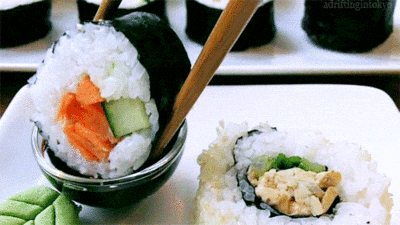 Allow yourself to be mesmerized by this temaki hand-rolling itself.
Here, have a bite! We know you can't resist the loving siren call of sushi.
Featured Photo Credit: Couch Potato Cook via Nerdist
Tags:
food gif
,
foodporn
,
Hump Day
,
sushi
,
sushi gif
Unwind With These 11 Luxurious Chocolate Mousse Gifs
category:
By Cooking Panda
You could use a break. Why not indulge a little in something sweet?
That's right, we've got chocolate mousse on the brain. We're totally craving a silky smooth bite.
Or maybe we'll make a cake out of it …
Or a velvety smooth pie. We couldn't turn that down.
Whether you like it thick and rich or fluffy and creamy, pipe that light, airy goodness high in that glass!
Don't forget the cherry on top.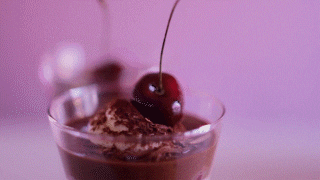 Have a perfectly smooth, velvety bite. And another …
And another …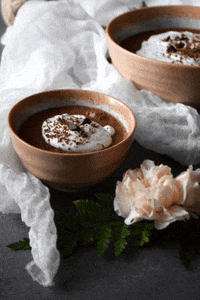 We won't judge you if you down the whole thing in a matter of seconds. Go to town.
Because really, what is more luxurious and delicious than delicate whipped chocolate mousse?
Featured Photo Credit: David Leggett/Flickr
Tags:
chocolate mousse
,
dessert gifs
,
food gif
,
foodporn
,
Hump Day
19 Gifs That Prove Thanksgiving Food Is The Actual Best
category:
By Cooking Panda
The air is chilly and crisp, the trees are shedding their crunchy multi-colored leaves, and we can just about smell that turkey roasting in the oven. And that means it is just about time for one of the best days of the year.
THANKSGIVING IS HERE!
Time for football, loved ones, and stuffing your belly to full capacity.
And, most importantly, the star of the show: TURKEY!
What's better than a juicy, flavorful tender bird with a nice crisp skin?
NOT MUCH, we say! Especially when it has a lovely, crunchy herby crust…
We would absolutely love a slice just about now…
And don't forget that green bean casserole! You can't go wrong with those yummy crunchy fried onions.
Even Brussels sprouts taste heavenly this time of year…
But whatever you do, don't forget the carby motherload that is stuffing!
Rivaled only in carby heavenliness by the starchy, creamy wonder of mashed potatoes.
And then there's the mac and cheese. You can never EVER go wrong with mac and cheese…
Eat whatever you want, just as long as you smother gravy all over your feast fit for royalty.
But don't forget to scoop a ton of sweet/tangy cranberry sauce on the side as well. You'll need something to cut through all the wonderfully rich and heavy savory dishes.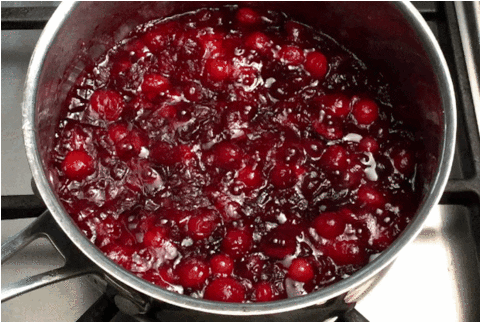 Or, if you prefer the good old American way of eating things that are both questionable and delicious, you might slice this up instead: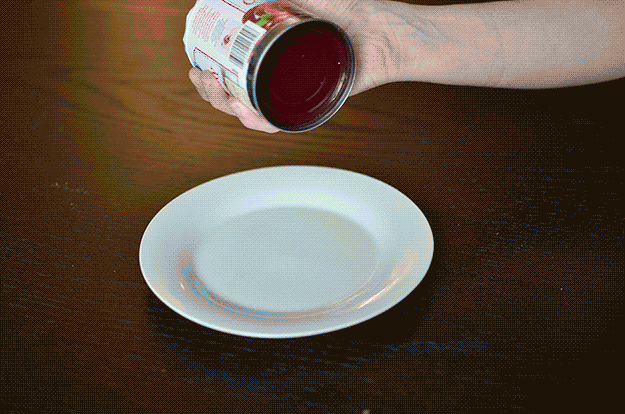 And then there's this little angel of a dish, speaking of perfectly sweet Thanksgiving sides:
Or, as we like to call it, pie foreplay. Because you know what is coming after you finish your sweet potato casserole and gear up for the big finale.
THIS.
Or, if you prefer, THIS.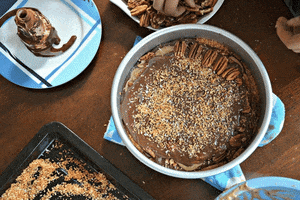 Or both, if you're lucky! Whatever is on the table, we should all be thankful to share it with loved ones.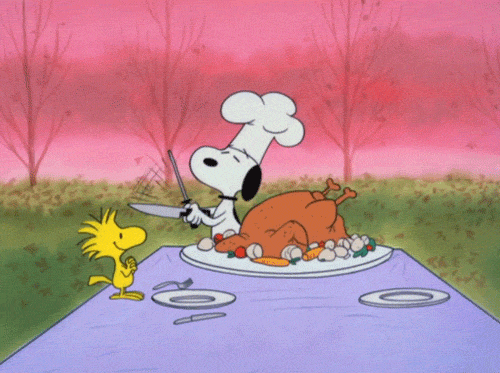 Happy eating!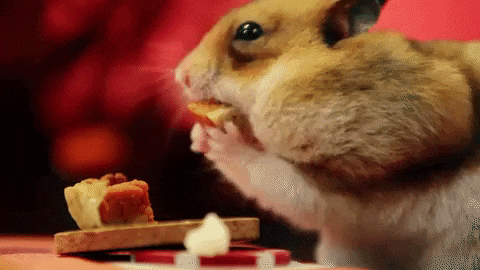 Featured Photo Credit: Sharon & Winter/Instagram
Tags:
food gif
,
foodporn
,
Hump Day
,
thanksgiving
,
turkey gif
18 Gifs That Prove Cheese Is The Meaning Of Life
category:
By Cooking Panda
Cheese is more than just a snack. It is a hobby. It is life.
Sure, grilled cheese is super delicious. We'll never contest that.
Look at this melty goodness.
But let's be real here. The bread is just a vessel for the cheese. It's an excuse, really. We know what you really want.
You want gobs of melty cheese scooped onto your plate. Are we right, or are we right?
I mean, who could pass up a nice huge handful of brie?
Certainly not us!
Or maybe you like it a little sweeter? There's no shame in that.
Look at this beautiful grated stuff that's just asking to be eaten off the cutting board. But if you are patient, you will wait, because this isn't even its final form.
THIS IS.
Sweet heavens above, look at this melty delight.
Spoon it all on there, baby.
One day we'll be as cool as this guy and get our own massive cheese wheel. We will not share it.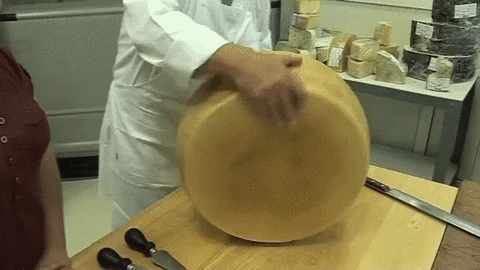 Just dump your pasta straight into the cheese wheel and cut out the middleman.
No more awkwardly apologizing while the Olive Garden guy grates a whole block of cheese onto your pasta.
Go ahead. Light it on fire if you are so inclined.
Because it's all about that cheese. Dump it all on that plate.
More cheese, please.
Featured Photo Credit: Marco Polo Ristorante/Yelp
Tags:
cheese
,
cheese gifs
,
food gif
,
foodporn
,
Hump Day
These Guacamole GIFs Are Life
category:
By Cooking Panda
Guacamole is basically the best food ever.
Ever.
EVER.
Sorry, but if you disagree, you are flat out wrong.
When you see this, you know you're in for a good time:
One day we hope to have this man's magnificent avocado cutting super-powers.
Look at that perfect avocado, just waiting to become guacamole.
The more the merrier.
This avocado is borderline sensual.
And we're totally ok with that. Look how beautiful this is:
Time to give these beautiful green fruits the treatment they deserve.
We could almost give up chips for this.
This right here is love.
Enjoy!
Featured Photo Credit: Hungry Forever
Tags:
avocado
,
food gif
,
foodporn
,
guacamole
,
Hump Day