7 Excellent Ways To Celebrate National Taco Day (Discounts, Recipes)
category:
By Cooking Panda
October 4 is National Taco Day, y'all!
The special occasion is a pretty big deal, if you ask me. Tacos are amazing and delicious, and I'm confident that I could eat them for every single meal for the rest of my life and never regret it.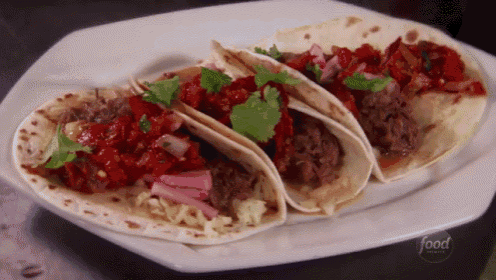 Whether you like them soft and traditional, crispy and American style, or wacky and experimental, let's face it: they are all wonderful.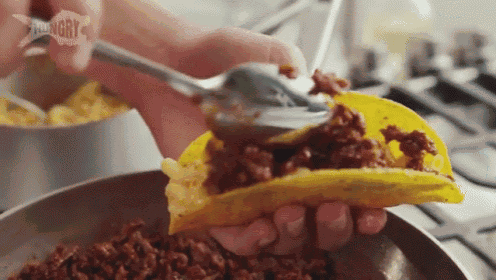 So why not celebrate this exciting food holiday in the best way possible: by eating TONS OF TACOS!
Head to any of the following restaurants and you can score yourself a pretty sweet taco deal for the day, according to Fortune:
California Tortilla: Buy a taco, get a second one free!
Chuy's: Order an entree and ask your server to "taco bout it," and you'll get one free crispy beef taco. Worth it.
Margaritas Mexican Restaurant: Take the Taco Gigante challenge and see if you can down the restaurant's two-pound crunchy taco in one sitting! Take the challenge and you'll get a coupon for you or a friend to come back and take on the gargantuan meal again for free. More info here.
Taco Bell: The national chain is offering a $5 special National Taco Day Gift Set, a box that includes four tacos: one each of Nacho Cheese, Cool Ranch, Fiery Doritos Locos and Crunchy.
Taco John's: Grab this coupon and bring it in for a free taco!
Tijuana Flats: The Mexican food joint has $2 tacos and $2 Mexican drafts all day with one notable exception: in South Carolina, the beer special only lasts from 4 p.m. to 8 p.m., while the taco deal goes all day.
Would you rather stay home and cook? Whether you're craving something traditional, like tacos al pastor or something a little wild like vegan fried nopales (cactus) tacos, pastrami tacos or even a bacon weave choco taco, you can find the recipe you're looking for here.
Happy Taco Day!
Source: Fortune / Featured Image: Max Pixel
Tags:
food deals
,
free food
,
National Taco Day
,
October 4
,
taco deals
5 Cocktails And 2 Events For National Sake Day (Recipes)
category:
By Cooking Panda
National Sake Day is coming!
The culinary holiday lands on Oct. 1, and I for one am thrilled to have a whole day to celebrate the delightfully smooth, easy to drink fermented rice booze that tastes amazing mixed in cocktails or on its own, whether hot or cold.
Want to go out and celebrate? A few spots are having festivities for the occasion. Head to restaurants like Roku and Katana, located in West Hollywood, California (Katana also has a location in Chicago), and seize the day.
Roku will be offering half off sake flights, while Katana will have Sake Crackings and a gong going off at 6 p.m., 8 p.m. and 10 p.m. that night, at which times guests will receive free small sake samples! Sounds like fun!
Of course, sake is also a fabulous mixer, considering that it usually has a gentle, smooth flavor with tasting notes ranging from tropical to floral to earthy. It plays incredibly well with others, so feel free to whip up some delightful cocktails! Here are some of my favorites:
Wine and wine, basically. A match made in heaven! This tasty mint cocktail is light, fresh and diet-friendly, though if you'd rather avoid the stevia in the recipe, you can mix in simple syrup, honey or your favorite sweetener to taste.
Bright lemon, pungently fresh yuzu, sweet floral honey and smooth sake combine for a delightfully elegant sipper.
As weird as it sounds, zucchini water brings a beautifully subtle and sweetly earthy touch to this fresh lemon drink that perfectly accentuates sake's gently fragrant fruitiness.
Not sure what to do with your sake? Why not infuse it with Thai basil and mix that with kaffir lime leaf simple syrup? (Can't find kaffir lime leaves? Use equal parts lemon and lime zest — more info here.) Bonus: The recipe page has a bunch of other cocktails with Thai flavors, should you prefer pepper-infused tequila or toasted coconut rum, for instance.
This light, bubbly drink riffs just perfectly on sake's sweeter, fruity notes. The drink is a bit tart, but if you prefer it sweeter, add in simple syrup or swap out the club soda and vanilla extract for cream soda.
Featured Image: Gary J. Wood/Flickr
Tags:
food deals
,
Katana restaurant
,
National Sake Day
,
Roku restaurant
,
sake cocktail
Delicious Deals For National Waffle Day Plus 3 Recipes
category:
By Cooking Panda
Want free waffles? You might be able to get some on August 24!
That's because it's National Waffle Day, and there are a number of spots across the nation celebrating this momentous occasion — the day that Cornelius Swarthout got the first ever waffle iron patent in 1869, according to Heavy.
Here some of the best spots to pick up free or discounted waffles on the 24th, courtesy of Hollywood Life and US News:
Coldstone Creamery: The ice cream chain is reportedly offering coupons for a free homemade waffle cone or bowl with any ice cream purchase — though this may vary by location, so make sure you check ahead of time.
Comfort Inn and Suites: Firefighters, police officers, EMTs and other first responders can score free waffles all day!
Eggloo New York: Get free fillings for your waffles! You can load them up with things like fruity pebbles, M&M's and diced almonds. Yum!
Lo-Lo's Chicken and Waffles: These Phoenix restaurants will give you a complimentary waffle when you order a "Hood Classic" combo or specialty meal.
Wafels and Dinges: Get a free wafel when you bring your "Total Wafel Eclipse"-themed artwork to any of the New York chain's locations.
Waffle House: Become a member of the Waffle House Regulars Club (you'll need to give your email address) and you'll get a free waffle from this famous chain.
Rather stay home? No problem. Waffles are really easy to make. If you enjoy the classic soft-crispy syrup-topped version, check it out here.
Otherwise, here are a couple fun ways to spruce up your waffles with some wacky, creative twists:
You know that bacon is good with everything, right? So stop eating it on the side. You can go ahead and mix it right into your waffles for an easy sweet-savory variation.
The cornmeal makes these waffles extra crispy, while the ricotta keeps them rich and tender. Top with sweet, tart fruity compote and you're in business!
Whoa! If this isn't the best dessert breakfast I've ever seen, I don't know what is. Is it OK to eat these for every meal today?
Sources: Heavy, US News, Hollywood Life / Featured Image: Pixabay
Tags:
food deals
,
food holiday
,
free waffles
,
National Waffle Day
,
waffle recipes
National Tequila Day: Hot Deals And Classy Cocktails (5 Recipes)
category:
By Cooking Panda
National Tequila Day is upon us!
If you love Margarita Mondays (who doesn't?) you're in a for a big treat on July 24! In honor of the agave-based, robust and sometimes smoky liquor, you'll be delighted to know that there are a number of chains offering serious discounts!
Check out some of the best deals across the country for National Tequila Day, courtesy of TIME:
Abuelo's: $6.95 premium cocktails!
Applebees: Approximately 70 Applebee's in the Texas area (sorry, Lone Star state only! You'll have to check your local restaurant to see if they have any deals) are offering a "DollaRita" special, where you can get a 10-ounce marg for $1. This deal is good until July 31!
Chevy's Fresh Mex: $3 house margaritas and $5 tequila shots all day at participating locations.
El Torito: Grab some Patron silver margaritas or tequila shots for $7 each — even less during happy hour!
Margaritas Mexican Restaurant: Grab some $5 margaritas (regular and strawberry) all day!
On the Border: Load up on house margaritas for only $2 a piece.
Are you more in the mood to stay in tonight? Call up some friends and invite them over for a fabulous Tequila Day party — you can make some of these classy, smooth cocktails, courtesy of DeLeon Tequila!
1. DeLeon Mexican Mule
1 1/2 ounces DeLeon Platinum Tequila
3/4 ounce fresh-squeezed lime juice
1/4 ounce simple syrup
Top with ginger beer and garnish with lime wheel
2. DeLeon Tequila Beso Caliente ("Hot Kiss")
1 1/2 ounces DeLeon Reposado Tequila
3/4 ounce lemon juice
1 ounce simple syrup
4 dashes Angostura bitters
3. Sandia Margarita
1 1/4 ounces DeLeon Platinum Tequila
3/4 ounce lime juice
1/2 ounce agave
3 large chunks of watermelon
4. Platinum Fresco
1 1/2 ounces DeLeon Platinum Tequila
1 1/2 ounces coconut water
1 1/2 ounces pineapple juice
5. El Nino

1 1/4 ounces DeLeon Reposado Tequila
3/4 ounce lime juice
3/4 ounce passion fruit juice
3/4 ounce orgeat syrup
Enjoy!
Source: TIME / Photo Credit: Jon Sullivan/Wikimedia Commons
Tags:
food deals
,
food holiday
,
Margarita Monday
,
National Tequila Day
,
tequila
Here's Some Freebies For National Ice Cream Day (3 Recipes)
category:
By Cooking Panda
July 16 — aka National Ice Cream Day — is one food holiday that means business.
Soft, decadent, refreshing ice cream is a favorite dessert of many, and for good reason! Did you know that ice cream is the second highest-selling sweet treat in America? (Cookies took the coveted number one spot, according to IceCream.com.)
There are a TON of deals on July 16. Are you ready for the onslaught of free stuff? Of course you are.
Here are the best ones that are popping up across the country on National Ice Cream Day, courtesy of TIME. Take advantage of as many freebies and discounts as you can!
Note: all deals are for July 16 only, unless otherwise specified.
Carvel: Buy any cup or cone and get a second one free!
Dippin' Dots: During a two-hour window, you can score free mini ice cream cups — you have to check with your local stores to find out what time they are participating, as it varies.
Friendly's: pick up a $2.99 Friend-z ice cream, and not only will they donate $2 to the Boys and Girls Club of America, you'll also get a voucher for free ice cream that you can use on an upcoming visit.
Krystal: pick up a 99 cent sundae from July 16 to July 23.
McDonald's: score a free vanilla soft serve cone in the afternoon when you download the McDonald's app — more info here.
Monkey Joe's: free ice cream cups at Monkey Joe's indoor play centers!
Subzero: From 2pm to 6pm, snag a free scoop of liquid nitrogen ice cream when you buy another at regular price.
Your Pie: free gelato for all customers!
16 Handles: Download the site's mobile app and get a free four-ounce scoop coupon, valid between 12pm and 5pm.
Are you more in a DIY mood? Here are some awesome ice cream-related recipes to celebrate!
Because homemade is always better! Want more ways to make ice cream, sorbet and frozen yogurt? You can find a bunch more recipes here.
Top secret tip: did you know that you can melt ice cream and bake with it? You can, and you should, because it'll leave you with an easy dessert that's just about as decadent as ice cream. Enjoy!
Feel free to tweak this layout as desired: fresh fruit, different flavors, and candy pieces would all be excellent here, or you can even go the extra mile and make your own waffle cone shell, if you have a waffle maker.
Happy National Ice Cream Day!
Sources: TIME, IceCream.com / Featured Photo Credit: Pexels
Tags:
food deals
,
free food
,
free ice cream
,
July 16
,
National Ice Cream Day
Get A Dozen Krispy Kreme Donuts For Only 80 Cents! (Video)
category:
By Cooking Panda
The only thing better than a donut is a really, really cheap donut that's almost free, am I right?
Krispy Kreme knows it. That's why they're offering one dozen Original Glazed donuts (let's face it, those are the best kind) for only 80 cents to celebrate their 80th anniversary on July 14 — as long as you buy another dozen at regular price first, according to The Sacramento Bee.
The deal applies to most stores in the U.S. and Canada, and you don't even need a coupon to cash in.
That's probably going to come out to less than $10, as a dozen glazed donuts cost around $8 and a dozen of other types are closer to $9, putting you at under 40 cents per donut.
If you're planning to chill by yourself at home and don't really want to shovel 24 donuts into your mouth before they go stale, this might not be the deal for you (unless you want to go all-out and make a bunch of tasty desserts with leftover donuts!). But in the event that you have any important function to attend on July 14 or maybe just want to reward your office mates with a sweet treat, this might just be the ticket.
"The joy created by our Original Glazed doughnut and its secret recipe spans generations, and that is certainly something to celebrate," Jackie Woodward, Chief Marketing Officer of Krispy Kreme Doughnuts, said in a statement, according to MLive. "It's remarkable that for 80 years, Krispy Kreme's commitment to delivering world-class doughnuts the Krispy Kreme way — hot, fresh and now — has not changed."
#OriginalGlazed Doughnut's 80th Birthday! 7/14, an Original Glazed dozen is 80 cents when you buy any dozen (US/CAN) https://t.co/ygOf3XH1Kq pic.twitter.com/oPncqJeNDT

— krispykreme (@krispykreme) July 7, 2017
The hot and fresh donut chain first opened its doors on July 13, 1937, in Winston-Salem, North Carolina, notes The Sacramento Bee. Now, according to MLive, Krispy Kreme has more than 1,300 shops in 31 countries, and you can find their products in an estimated 12,000 other shops, like grocery and convenience stores.
I know where I'll be on July 14!
Sources: Sacramento Bee, MLive / Photo Credit: Alpha/Flickr
Tags:
80 cent dozen donuts
,
food deals
,
free donuts
,
free Krispy Kreme
,
krispy kreme
7 Sweet Deals For National Pretzel Day
category:
By Cooking Panda
There's something really magical about fresh pretzels. From the chewy dough to that thick, crunchy flaked kosher salt sprinkled on top, there's really nothing like a warm bite of twisted dough.
April 26 is a beautiful day dedicated to celebrating the glorious snack, and it's important to stay vigilant so that you can find yourself all manners of delightfully free or discounted pretzels on National Pretzel Day.
Here are some of the best deals going around, according to Brand Eating and Parade:
Auntie Anne's: Download the "My Pretzel Perks" app before 11:59 p.m. EST on April 26 and pick up a free Original or Cinnamon Sugar Pretzel, good between April 26 and April 30.
Ben's Soft Pretzels: Show up between 1 p.m. and 7 p.m. on April 26, donate $1 or more to the Intrepid Fallen Heroes Fund, and score a free pretzel.
Cumberland Farms: Head to newly remodeled locations (only!) at the New England chain between noon and 6 p.m., buy a hot pretzel for $2.39 and earn yourself a free fountain or frozen Chill Zone beverage.
Philly Pretzel Factory: These wonderful people are giving out free pretzels at all locations (standalone and Walmart) on Pretzel Day. Plus if you're one of the first 100 customers in line, you'll get a card for a free pretzel that you can use every single day during the month of May.
Pretzelmaker: Show up on Pretzel Day, sing "Happy Birthday" to employees, and they'll give you a salted or unsalted pretzel for only 26 cents. Nice!
Snyder's of Hanover: If you're more of a crunchy pretzel fan, Snyder's will be handing out tens of thousands of bags of their pretzel bites outside of Angel Stadium in Anaheim, California, Chase Field in Phoenix, Citi Field in New York, Comerica Park in Detroit, Fenway Park in Boston, Guaranteed Rate Field in Chicago, Oriole Park in Baltimore and PNC Park in Pittsburgh.
Wetzel's Pretzels: On April 26, go to participating locations — this excludes stores in theme parks, airports, arenas and the like — and get a free original pretzel. Want to score a bonus deal? Download their app for smartphones on Pretzel Day, and you'll get a free pretzel coupon that you can use between April 27 and May 1.
Go forth and eat all the pretzels!
Sources: Brand Eating, Parade / Photo Credit: Max Pixel
Tags:
April 26
,
food deals
,
free food
,
free pretzel
,
National Pretzel Day
11 Hot Deals You Can Score On Valentine's Day
category:
By Cooking Panda
Valentine's Day might be a polarizing holiday, but there's one thing that we can agree brings everyone together: food. Whether you love V-Day or hate it, you can totally score some sweet deals on Feb. 14 that absolutely won't break the bank.
So save a little dough and take your BF, GF, BFF, S/O, BGF, GH, DW, another chosen acronym or just yourself out to chow down on the big day of romance. Lucky for you, we've scoured the web for the best deals at restaurant chains, courtesy of People Food and Delish.
Auntie Anne's — Download the My Pretzel Perks app on your mobile device and get a BOGO free heart-shaped pretzel in either original or cinnamon sugar flavors.
California Pizza Kitchen — Craving pizza? On V-Day, you and bae can enjoy an appetizer, two entrees and dessert for just $35. Plus, enter a sweepstakes for a $100 gift card to sweeten the deal even more.
Fogo de Chao — Enjoy a meal for two at the Brazilian eatery and receive a voucher for a complimentary meal of up to $62.95, good through April.
Hooters — You can get a free order of wings! All you need to do is bring in a photo of your ex and destroy said photo on the premises, which is funny because we were planning on doing this anyway.
Macaroni Grill — $24 per person gets you both an appetizer, entree and dessert each. Not bad!
Qdoba — You can get a free entree at this fast-casual food joint — all you need to do is give somebody (anybody, including yourself for some weird reason) a smooch at the cash register.
Shoney's — Buy anything from their freshly prepared food bar and score a free hot fudge cake.
Schlotzsky's — Show up to one of their locations nationwide and receive a free 3-ounce bottle of their special hot sauce. No purchase required.
TGI Fridays — Enjoy their half-priced bottles of wine as well as their two-for-$30 deal that gets you two premium entrees and a dessert.
Waffle House — This breakfast chain is turning into a romantic sit-down restaurant for the night, complete with fancy tablecloths and ambient candles. While they aren't offering any discounts we know of, a date at Waffle House over a fancier place is sure to save you a ton of cash. Make reservations now!
White Castle — The burger joint is doing something similar to Waffle House by offering a sit-down dinner with table service and a special Valentine's menu. You can also make a reservation to this one, so get moving!
Sources: People Food, Delish / Photo Credit: Waffle House/Twitter
Tags:
deals
,
food deals
,
free food
,
Freebies
,
valentines day