Tag:
easy weeknight dinner
5 Slow-Cooker Soups That Are Calling Your Name (Recipes)
category:
By Cooking Panda
There's nothing quite like coming home exhausted after a loooong day of school or work (or both!) and finding that dinner is hot, ready and waiting for you.
Realistically, this probably doesn't happen all that often if you're the primary dinner manager in your household, but guess what? This dream is not too good to be true. All you need is a slow cooker!
The weather's getting chillier and chillier these days, and hearty, warm, luscious soups are absolutely the business right now. The best part about them? They are so incredibly easy to make. If you do all your chopping and prepping beforehand, all you need to do is just plop everything into your Crock Pot and fire it up in the morning, and like magic you can come home to fresh, hot soup whenever you want.
Who can count out this classic? With wholesome veggies, soothing chicken broth, chunks of chicken and comforting noodles, you'll find yourself whipping this dish together all the time, whether you're sick or not.
This comforting, blended soup is sort of like a lower-carb version of cheesy potato soup. And you may not notice that this one doesn't use the root, especially since the milk and Greek yogurt ensure that it stays smooth and creamy without piling on the calories.
If you buy pre-cut butternut squash, this sweet, smooth and gently spiced soup comes together in no time at all. Of course, if you want, you can even just use plain canned pumpkin, though you might find that you don't need to cook it quite as long.
This delicately flavored, thick vegan soup is a perfect change of pace from the standard lentil and veggie fare. If you'd like, you can top each serving with a bit of crumbled breakfast sausage or chorizo (vegan or otherwise) for a some extra oomph.
It's no secret that Brussels sprouts can be super controversial vegetables, as they can get really nasty and tough when they aren't cooked properly. Since the slow cooker will make sure your sprouts get perfectly soft, even Brussels sprouts opponents might enjoy a bowl of this stuff. If you still aren't convinced, you can easily swap them out for cabbage or sturdy greens, like collard or mustard greens.
Featured Image: PX Here
Tags:
easy weeknight dinner
,
November dinners
,
slow cooker recipe
,
slow cooker soup
,
Soup
5 Surprisingly Awesome Ways To Microwave Your Dinner (Recipes)
category:
By Cooking Panda
There are so many reasons why you might not feel like cooking dinner. It's hard, it takes a lot of time, it heats up your house in the summer … the list goes on.
Takeout might seem more appealing, but what if I told you that you can whip up some super easy meals in the microwave, and nobody will be able to tell that you nuked it?
Here are some outstanding ways to trick your family and friends into thinking you grilled, sauteed, broiled and baked when you really just put everything together into a bowl and hit a couple buttons. Plus, it's also a great method for single portion dinners. Check it out:

Wow, so easy and so delicious! Who knew you could make an elaborate-looking pasta dish in the microwave? I sure didn't! P.S. Feel free to use cooked or instant shells and fill them with leftover cooked chopped or shredded meat of any sort, like rotisserie chicken. In this case, you can drastically reduce the cooking time and check on your dish every few minutes, until it's heated all the way through.
Steaming the fish keeps it tender and moist, while the lemon, mustard and butter give it a bold, fresh taste. If it's good enough for Martha, it's good enough for me!
The secret to these sweet, pull-apart delights? Plum sauce and orange marmalade for an easy but excellent, bold flavor! These would be great served with microwave "baked" potatoes.
Scallops seem like really fancy food, but they're so easy to cook! If you'd rather pan-fry them, you can cook them on medium-high heat in butter, lemon and white wine (or use the Thai style sauce in this recipe), for a couple minutes on each side until they get a nice sear going.
Want something different? This filling breakfast meal is good any time of day!
Featured Image: alanagkelly/Flickr
Tags:
dinner for one
,
easy dinner
,
easy weeknight dinner
,
microwave dinners
,
single dinner
7 Surprisingly Delicious Microwave Dinners (Recipes)
category:
By Cooking Panda
At the end of a long day, it can be darn near impossible to put forth any effort at all into making dinner.
Sauteing something on the stove can seem daunting when picking up your phone to order delivery is just so convenient, and firing up your oven during hot summer evenings is just out of the question some nights.
But don't worry, if you want to save money AND be healthier, there's a gadget that you might not have thought of: the microwave.
Yes, seriously! You can make some awesome (EASY) dinners inside of that thing, and it's so easy to adjust the portions as needed, whether you're making a single serving mug dinner or a small feast for the whole family. Enjoy!
P.S. If you need an easy side for any of these dishes, consider nuking your rice. It's beyond easy and tastes just as good as any other method. Here's how to do it.
It might sound weird, but if you do exactly as the directions say by patting the fish dry, seasoning it properly and checking for doneness so it doesn't overcook, you'll have a surprisingly moist, pleasant slab of fish that's ready to eat in no time. Really!
This quiche is impossibly easy! You can even skip the crust entirely and make more of a frittata for an even faster approach. Feel free to add and subtract whatever ingredients you want: Just about any leftover or frozen (defrosted) veggies and/or meat are delicious, like diced ham, bacon, asparagus, spinach or roasted peppers.
You can put just about anything you want in these bowls. They are great for leftover night and would be awesome with any of the following, especially if they are from last night's dinner: meat, tofu, sweet potato, mushrooms or peppers. Sprinkle some pepitas or crushed tortilla chips on top at the end if you want some extra crunch.
​
Seriously, you can make this top-notch classic stewed beef dish without turning on your oven or stove. LOOK AT HOW GOOD THAT IS. You could make this fancy dish for company, and they'd probably think you toiled over for hours. Hours!
Usually when you're in a pinch, you can use just about any type of noodle for these pasta recipes and come off ok, despite what purists might say. But I do recommend sticking to the penne or something similarly shaped, since the short, just thick enough noodles will do best in the microwave. Don't have leftover chicken? You can microwave it like so.
Of course, if you're making this for a larger crowd, it's easy enough to double, triple or quadruple the recipe, but it's also kind of nice to have as your little secret when you need a midnight snack or quick cheat meal. Right?
No joke, you can nuke a whole tray of enchiladas, and they come out great! If you're in a rush, you can layer the tortillas and fillings like a casserole, with two layers of tortillas (depending on the size of your pan) sandwiching the filling.
Featured Photo Credit: Stacy Spensley/Flickr
Tags:
easy weeknight dinner
,
fastest dinner recipe
,
five minute meals
,
microwave dinner
,
quick dinner
6 Easy, Satisfying Dinners You Should Make In February (Recipes)
category:
By Cooking Panda
Yeah, we know. You are exhausted and pressed for time, and your favorite takeout menu is sitting 6 inches away from your hand.
It can be tempting to order out every night, and we certainly won't judge you for it, but don't forget that you don't need to spend hours in the kitchen to have a delicious dinner!
If you're looking to enjoy homemade food with minimal effort this week, here are some winning quick recipes that are perfect for February:
You might automatically think lasagna is a royal pain that is just not going to happen on weeknights, but magic happens when you take shortcuts. Pro-tip: If you are looking for a quick meal but don't want to buy everything pre-chopped, just prep everything a day or two before when you have spare time.
Baking your dinner in a foil pouch is practically the easiest thing in the world. Use heavy-duty foil, give it a good, thorough grease with cooking spray and spend a minute or two tossing together your ingredients. It basically cooks itself, but you can trick yourself into thinking you spent hours on it. Everybody wins here.
​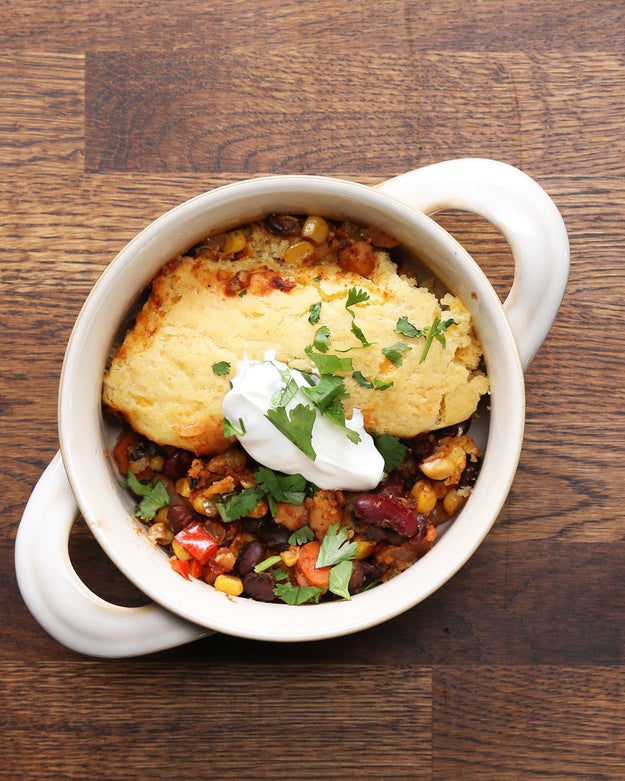 WOW. We love the southwestern flavors in this vegetarian version, but if you want an even easier, meaty version, feel free to make this 5-Minute Chili. Add corn, taco seasoning and maybe some black beans if you want similar flavors.
Douse some salmon and veggies in fajita spices and bake it all together for a super simple, healthy and delicious meal. Bonus: You only have to wash one dish. YESSSS.
Honestly, does it get any better than this filling, thick, sweet, savory soup? Toss it in the slow cooker to make things EVEN EASIER for yourself. You're welcome.
​
This ultimate comfort dish can absolutely go into the slow cooker, although you might prefer the crispy browning that happens in the oven. Either way, this creamy, spicy spin on pot pie is sure to be a crowd pleaser.
Featured Photo Credit: Betty Crocker
Tags:
easy recipes
,
easy weeknight dinner
,
February dinner
,
one dish dinner
,
winter recipes
These 8 Weeknight Dinner Bowls Are What You Are Craving
category:
By Cooking Panda
If you are struggling this week and just want some easy, healthyish dinners to make, whether it's for one or six, might we recommend the superstar BOWL? Dinner (or lunch) bowls are filling, satisfying and easy to customize — just swap around the veggies, protein and grains as desired to fit your needs. Dinner bowls are super simple and low-key, but they are incredibly easy to snazz up if you're feeding a bunch of people at a party or making just a fun dinner for the family — all you need to do is set a bunch of ingredients out and let people construct their own bowls and have fun with it! Here are some of our favorite meal bowls:
The smoky marinade works great on just about any protein, from chicken to tofu to jackfruit, so if shrimp isn't your thing, adjust accordingly. Whatever protein you use, you'll love this easy and affordable version of your favorite quick meal out.
​Bibimbap — "mixed rice" in Korean — gets a healthy, hearty makeover by swapping out rice for quinoa and topping it with crunchy veggies and a fried egg. We're sold!
These quick-marinated chicken gyro bowls are just delightful! Use a ton of greens if you want to turn it into a salad, or up the grains and squash for something a little more filling and wintery. You can totally serve these with pita or flatbread on the side, by the way.
WHOA! This is the perfect solution to the age-old dilemma called, "I want to eat banh mi for every dinner ever, but it's winter and I want something heartier than a sandwich." Solution? Make these easy, flavor-packed lemongrass pork meatballs, quick-pickle some carrots, grab some fresh herbs, and throw them all together into a bowl full of grains, like quinoa or rice. Oh yeah, and you get to top the whole thing with spicy sriracha mayo, which makes the whole thing even better!
All aboard the Buddha Bowl train! This sweet, savory, healthy veggie bowl will fill you up and give you some nutrients without sacrificing any flavor at all. Plus, it tastes amazing topped with coconut flakes, cilantro and avocado for a really exciting, zippy twist on dinner.
The soft, tender tuna gets marinated in a sweet, tangy sauce and placed atop a bowl full of pillowy steamed rice, fresh cut fruit and veggies, and basically anything else that floats your boat, just to sweeten the deal that much more. Would you prefer to put together a DIY poke bar? Here's exactly how to wow your friends and family with an awesome easy and fun dinner.
​
Who doesn't love this classic dish? If you could eat Chicken Marsala every day but know that you probably shouldn't, let us propose this version to shovel down your throat on the regular. If it's a little too healthy for you, you can always liven it up by using more chicken or switching out the base to pasta or fluffy mashed potatoes. Yum!
​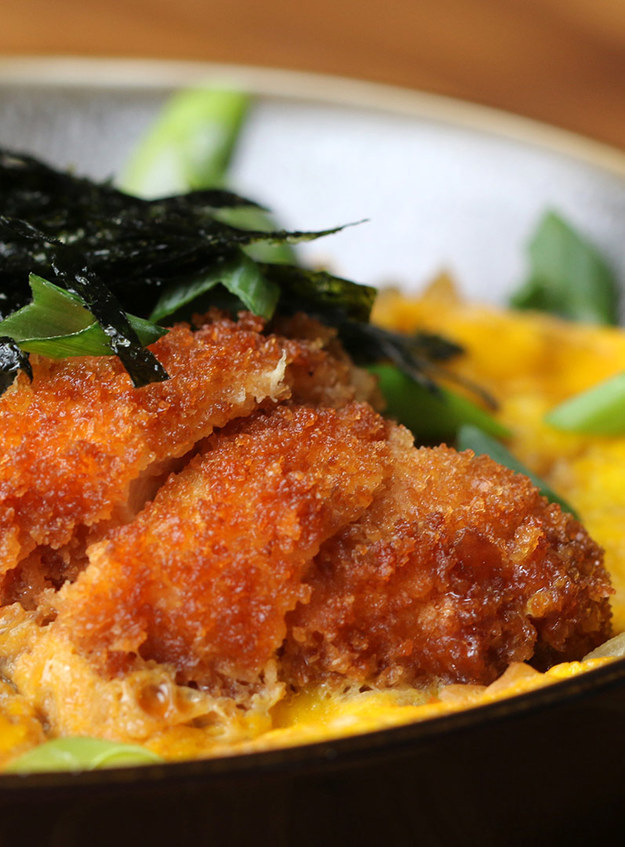 Filling, flavorful, and just totally all-around delicious, this dish is a real winner, plus you get to top it with shredded nori and scallions to really impress your palate. If you want to be a little healthier, why not just bake the chicken instead of deep frying it and call it a (delicious) day?
Featured Photo Credit: Jennifer Causey/Cooking Light via MyRecipes
Tags:
Buddha Bowls
,
easy weeknight dinner
,
healthy dinner
,
lunch recipe
,
poke bowl recipe
Shortcuts Included: 7 Easy, Warming Winter Meals
category:
By Cooking Panda
It's cold out, and we want warm, filling dinners to perk us up in the evenings. But we sure aren't in the mood to work even harder during a busy weeknight, and we aren't about to sacrifice good tasting food either. Fortunately, there are a ton of warming winter dinners out there that are perfect for lazy chefs and only take a few minutes to prep. Here are some of our favorite winter dinners that are equally easy and hearty:
This incredibly easy dish just requires that you cube whatever kind of chicken you have on hand and bake it with rice, cheese and a few other delicious ingredients. It sure tastes like you spent way more time on it than you did, so it's our favorite kind of weeknight dinner. Bonus: roast your favorite veggies while baking the chicken for an easy side.
This is a tricky soup. Not because it's hard to make — no, you just dump all your ingredients into the slow cooker and let it do its thing — but because when you have a spoonful of this warming, flavorful soup, you'll have no idea that it's actually low-calorie.
Dinner is always the right time for breakfast. With a few savory tweaks, transform your standard waffle into a dinner masterpiece. Want to go to town and load it up? Turn your waffles into a sandwich. Breakfast ingredients, fried chicken, grilled cheese, or even a full-on burger topped with a fried egg would be perfect here.
Not only will this dish fill you right up, but it's also the perfect use for leftover meat. We love it with yesterday's roasted or rotisserie chicken, but you can use just about anything you want. Leftover pork would work beautifully, too.
​
French Dip might sound fancy and elaborate, but it's actually pretty easy. All you really need to do is slow-cook some brisket with broth and veggies and then sandwich it when you're done.
No, you do not need to sweat over the stove for hours, stirring your risotto. Make this healthy, rich version of the dish by stirring for just a few minutes and then chucking the whole thing into the oven to finish up. By the way, you can totally replace the butternut squash with pretty much any other squash or yam, if you want.
Want something a little spicy, filling and jam-packed with fresh, bright flavors? Vietnamese beef stew might be just what you are looking for. It will come out delicious whether you make it in your pressure cooker, plop it in your slow cooker, or simmer it on the stove.
Featured Photo Credit: Nom Nom Paleo
Tags:
easy weeknight dinner
,
slow cooker recipe
,
stew recipes
,
warm recipe
,
Winter dinner
Whip Up These 7 Impossibly Easy, 1-Pan, Healthy Dinners
category:
By Cooking Panda
Oct. 24 is perhaps the most important food holiday of the year! It's National Food Day, and we are super excited to celebrate.
Food Day is all about eating real, healthy, sustainable food. But eating healthy doesn't have to be tough! There's no need to spend hours of prep and mess up your whole kitchen just to eat a few whole foods. We know how busy you are on weeknights. That's why we've come up with some easy,real food recipes that you can cook up using only one pan. Seriously! Check these out:
Just an easy dinner using your favorite kind of egg noodles. If you want to be even healthier, you can use whole wheat or soba noodles.
Sweet fruit and pork are so good together, and this dish really could not be any easier. We recommend eating this with some healthy carbs like #3:
Warming up the kale just a bit makes it so much easier to eat and enjoy. Toss it with balsamic vinegar, butter, and your favorite veggies — plus anything else you have on hand, like fresh basil, grilled salmon, brown rice, dried fruit…
We won't tell if you want to make life easier on yourself and use store-bought meatballs, although they aren't too tough to make from scratch. If you are making them by hand, try mixing in a boatload of finely chopped mushrooms in addition to your breadcrumbs. Not only will this give you an extra savory flavor and a nice, tender texture, it will also pack in some vitamins and help you stretch out that ground meat.
Sautee some chicken, sweet potatoes, beans and your favorite vegetables for a super easy weeknight treat that you can serve with rice, tortillas or any which way.
As the weather cools off, soup becomes more and more appealing. It's also healthy, hearty and a great way to fill up on veggies, particularly with this super flavorful, filling rendition.
Because who doesn't love a classic chicken and potato roast? Bonus: throw some asparagus or green beans onto your sheet pan for an extra delicious, fully balanced meal.
Featured Photo Credit: The Cookie Rookie
Tags:
clean eating
,
easy weeknight dinner
,
healthy dinner
,
one pot meal
,
one-pan meal
8 Elegant, Savory Pancakes You Can Whip Up For A Quick Dinner
category:
By Cooking Panda
What are your go-to weeknight dinners? Quick meat dishes and pasta? Those are great, but it's time to break out of the routine a little.
If you find yourself low on time throughout the week, consider making Brinner for a night or two – breakfast dishes usually cook up in a flash, and they'll fill you right up. Since Sept. 26 is National Pancake Day, we've combed the web for the best dinner pancake recipes out there that will fill up the whole family (or just you!) and really make you feel like you're treating yourself to a breakfast indulgence.
Sausage, cheese and eggs make this sweet-and-savory meal a totally delicious breakfasty treat. Plus, it is the perfect use for leftover pancakes if you made too many for Sunday brunch.
They look and taste like regular ol' pancakes, but these guys pack a nutritious punch. Blended carrots, spinach, apples, yogurt and oats hide in these delicious flapjacks, so they are the perfect way to indulge without the guilt.
Ricotta and parmesan get mixed into your pancake batter for a creamy, savory punch. But where this dish really shines is in the impeccably paired toppings: roasted cherry tomatoes, Balsamic-garlic spinach, fresh basil and toasted pine nuts combine for a perfect umami experience.
Basically all you need to know about these yummy pancakes is that they feature leek confit, and it's every bit as good as it sounds. You're welcome.
Mix bacon, corn, cheese and chives into your pancake batter for an unusual but surprisingly tasty, hearty and savory for breakfast, lunch or dinner.
Love latkes? Make this easy sweet potato version and satisfy all your cravings. They are delicious with chive sour cream dipping sauce or just the standard applesauce.
Mix in a little seafood like chopped shrimp or squid, or leave them vegan. Either way, you'll have a deliciously flavorful, spicy spin on the usual pancake.
Serve these as an app or the main event, they'll still taste incredible and fill you right up. You can top these with pretty much anything in the known universe, and they'll still be delicious, but we recommend any or all of the following: syrup, honey, butter, a yolky fried egg, sour cream, or plain yogurt and chives.
Featured Photo Credit: Recipe Girl
Tags:
breakfast for dinner
,
easy weeknight dinner
,
National Pancake Day
,
pancake dinner
,
savory pancakes
Make These 9 Impossibly Easy Chicken Crock Pot Dinners
category:
By Cooking Panda
If you're anything like us, you feel both busy and lazy in the evenings. But that's no excuse to eat out for every meal!
Pull out that slow cooker and make the most of it. A few minutes of prep in the morning, and you'll have a delicious set it and forget it meal waiting for you in the evening. Throw some extra veggies in with your chicken and serve with a side of rice or your favorite grain. It's that easy!
This might seem weird, but the secret ingredient is ketchup. Don't knock it till you try it.
Besides adding a delicate tanginess, the balsamic vinegar works as a tenderizer, which helps the chicken absorb every ounce of flavor from the tomatoes and pungent spice mix.
Tomatoes, tomatillos, adobo sauce, garlic and onion combine for the most flavorful, delicious shredded chicken you'll ever smother a tostada with.
Sweet and savory, with a huge punch of flavor. If you like, you can add sliced zucchini, snow peas, diced carrots or diced almonds for an extra hearty kick — throw them in for the last 30 minutes of cooking time.
You might think Chicken Pot Pie is something that takes a ton of time and effort to make, but it's actually really simple in the slow cooker, especially if you take shortcuts and simply top the filling with a biscuit. Want to go above and beyond? Here is the proper way to fill and bake a pot pie. (You can still slow cook the filling though!)
If you think about it, malty beer and savory chicken are made for each other. This would be great with lager, pilsner, or something light and wheaty like Hefeweizen, but you should really follow your heart and use whatever you have lying around. Want it to be a little sweeter? Add some diced apple.
Get the rich, herby, buttery taste of a roast chicken without having to do any of the work.
Looking for something rich, creamy, flavorful and fall-off-the-bone tender? Look no further. This Thai-style curry will do it for you.
What? No, seriously. The orange soda not only imparts a yummy sweet flavor, but it also tenderizes the chicken, giving it a perfect texture. You can't lose with this three-ingredient recipe.
Featured Photo Credit: Around My Family Table
Tags:
crock pot
,
dump dinner
,
easy weeknight dinner
,
easy weeknight meal
,
slow cooker
6 No-Fuss Slow Cooker Summer Dinners That Will Rock Your Socks Off
category:
By Cooking Panda
When it gets crazy hot out, the last thing you want to do is fire up the oven. We hear you. Fortunately, we have the perfect way to make incredibly delicious food without heating up the whole kitchen.
That's right, it's time to whip out your slow cooker and try these delightfully summery dinners:
You might tend to think of chowder as a winter food, but you can absolutely update it for the summer with some zucchini, tomatoes and basil.
Looking for something light and summery? A slow cooker frittata (yes, you can make it in the slow cooker!) might just be the perfect addition to your weeknight dinner rotation.
Make it as healthy or as indulgent as you want!
Hot or cold, in a sandwich or salad, this chicken is incredibly tender and flavorful. Drizzle a little balsamic reduction and you'll be transported straight to heaven.
Hearty, flavorful and effortless. If you really want a night off from cooking, feel free to stuff these babies with leftovers.
You'll love these sweet, smoky sliders, complete with pineapple rings for an extra fruity, refreshing kick.
Featured Photo Credit: Life as a Strawberry
Tags:
crock pot
,
easy dinner recipes
,
easy weeknight dinner
,
slow cooker
,
summer dinner
8 Mouthwatering Taco Recipes You Should Make Tonight
category:
By Cooking Panda
Taco Tuesday is upon us, and we're here to keep your dinner easy and spectacular. From normal to wacky, here are some of our favorite taco recipes that we totally think you should try:
Make the most tender, flavorful barbacoa-style beef in your slow cooker. Set it and forget it!
Make this coffee chicken in your slow cooker using any cut you want – just make sure to cook out your alcohol first. We recommend browning the chicken on the stove with a quick sear, putting it aside, and pouring the sherry (marsala wine or brandy would probably work just fine here too – if you use a drier alcohol, add a little more sugar later on) into your chicken pan.
Turn down the heat a little, and let the booze cook out for a couple minutes, until it doesn't smell alcohol-y anymore. Then dump everything into the slow cooker and cook that sucker!
Shred it, toss it back in the sauce-filled slow cooker and let everything mingle for a few minutes, and you'll have a super-awesome taco filling. Top with cilantro, onions, grilled chilies, cream – whatever floats your boat.
Is this the same Dave from the Mocha Chicken? We don't know, and we're full of questions! One thing's for sure — people swear these are the best veggie tacos ever. You be the judge.
Mole always requires a lot of ingredients and a ton of work, but this slow cooker sauce really cuts down the amount of time you need to spend to get something super delicious and rich. Do your chopping, sauteeing and blending ahead of time (you can even make a double batch and freeze half), and the rest is just a matter of slow cooker magic.
Have you ever tried stuffing your tacos with crispy potatoes and bacon? If not, you need to do this now! For a vegetarian twist, try these.
Sounds crazy, but savory peanut butter, cilantro and sriracha make for a totally awesome steak sauce. Trust us.
Like many of these other recipes, labeling this pasta dish as a taco is a major stretch. But honestly these shells are just super delicious and we want you to be happy, so we'll call them tacos, because they deserve your attention.
Curry powder, black beans and salsa go perfectly with the ground turkey and give it a unique flavor kick, especially when you're tired of the same old ground meat with taco seasoning.
Featured Photo Credit: Dessert For Two
Tags:
dinner recipe
,
easy weeknight dinner
,
recipe list
,
taco recipe
,
Taco Tuesday