4 Easy Dinners You Should Make This Week
category:
By Cooking Panda
The weekdays are upon us! Instead of being too tired at the end of the day to make dinner and going out every night, why not spend a few minutes making these totally doable dinners?
Make the most out of store-bought curry paste by using the tricks in this recipe. Plus, there's a great hack to cut down the amount of fat in your coconut milk without sacrificing that gorgeously creamy texture.
Be the hero of Taco Tuesday with these super flavorful 30-minute steak fajitas.
Watermelon prices are going down at the grocery store, so why not make the most of it by throwing a juicy melon into a deliciously salty salad? This recipe really doesn't get much easier, especially if you have leftover steak from your fajitas.
Throw some sauce on your salmon and wrap it in some foil. You can grill or roast it. It's great with roasted asparagus, squash, or potatoes – if you want to keep things as easy as possible, throw some vegetables in the foil packet with your salmon.
Photo Credit: Steven Depolo/Flickr
Tags:
dinner recipe
,
easy dinner
,
weeknight dinner
5 Surprisingly Awesome Ways To Microwave Your Dinner (Recipes)
category:
By Cooking Panda
There are so many reasons why you might not feel like cooking dinner. It's hard, it takes a lot of time, it heats up your house in the summer … the list goes on.
Takeout might seem more appealing, but what if I told you that you can whip up some super easy meals in the microwave, and nobody will be able to tell that you nuked it?
Here are some outstanding ways to trick your family and friends into thinking you grilled, sauteed, broiled and baked when you really just put everything together into a bowl and hit a couple buttons. Plus, it's also a great method for single portion dinners. Check it out:

Wow, so easy and so delicious! Who knew you could make an elaborate-looking pasta dish in the microwave? I sure didn't! P.S. Feel free to use cooked or instant shells and fill them with leftover cooked chopped or shredded meat of any sort, like rotisserie chicken. In this case, you can drastically reduce the cooking time and check on your dish every few minutes, until it's heated all the way through.
Steaming the fish keeps it tender and moist, while the lemon, mustard and butter give it a bold, fresh taste. If it's good enough for Martha, it's good enough for me!
The secret to these sweet, pull-apart delights? Plum sauce and orange marmalade for an easy but excellent, bold flavor! These would be great served with microwave "baked" potatoes.
Scallops seem like really fancy food, but they're so easy to cook! If you'd rather pan-fry them, you can cook them on medium-high heat in butter, lemon and white wine (or use the Thai style sauce in this recipe), for a couple minutes on each side until they get a nice sear going.
Want something different? This filling breakfast meal is good any time of day!
Featured Image: alanagkelly/Flickr
Tags:
dinner for one
,
easy dinner
,
easy weeknight dinner
,
microwave dinners
,
single dinner
13 Unholy But Delicious Things To Do With Potato Chips (Recipes)
category:
By Cooking Panda
It's no secret that potato chips — smooth or ridged, plain or barbecue — are delicious straight out of the bag. Less celebrated, and shamefully so, is their ability to add an unexpected touch of whimsy to just about any dish. Here are 13 crunchiness things to eat with potato chips with an ideal combination of flavors in different ways to appreciate the salty, delicious things to do with potato chips, crispy, lays,  powerful potato chip in everything from snacks to desserts. Potato is an important vegetable which covers a lot of dishes and we're on the lookout to add more recipes that use potato chips, once found we'll add those here too. If you want to know about things to do with chips, are thinking about what to do with potato chips or looking for recipes with lays chips, we have collection of recipe using potato chips:
cooking with potato chips and recipe with crushed potato chips!
Three-cheese pasta with crispy bacon, mushrooms and peas sounds great on its own. Try it baked with a parmesan and crushed potato chip crust, though, and you'll wonder why you ever made mac and cheese without a bag of Lay's.
Because everything tastes better with butter, sugar and chocolate.
These salty nachos are topped with far better than plain ol' shredded cheese. They're drizzled with a cheese sauce made from steak drippings, white wine, butter, cream and, oh yes, a mixture of blue and Gruyere cheeses. It's poured carefully over the chips, followed by a generous helping of juicy steak and green onions, until each bite is laden with meaty, cheesy bliss.
Coated with kettle chips and panko breadcrumbs, these quick and easy oven-fried tenders have a guaranteed crunch factor.
A buttery, salty potato chip crust balances handsomely with a sweet chocolate and coconut cream filling. It's rich, it's sleek, it's magnifique.
This warm chicken salad goes far beyond the classic mix-ins of celery and mayonnaise. It's tossed with a flavorful seasoning mix, cheddar cheese and cooked bacon — and topped with potato chips and baked until crispy yet gooey. Eat it on your favorite bread, over a bed of greens or straight from the pan.
Inspired by onion dip, this surprisingly delicious appetizer gets creaminess from cream cheese, flavor from chopped chives and softened spring onions, and contrast from crunchy crushed chips. For a simple and elegant look, garnish it with whole chives before baking. To mimic the appearance of dip, spread it with sour cream, chives and extra chips.
These brownies cover every texture in the book: chewy fudginess from the brownie base, buttery silkiness from the chocolate topping, creaminess from Reese's cups, and, of course, crunchiness from pretzels, Oreos and potato chips.
There's nothing sad about this gloriously Southern combination of cheesy potatoes, cream of chicken, sour cream and crushed potato chips.
This addictive appetizer comes together with a bag of kettle chips, tossed on a pan and topped with brown sugar, maple syrup, cheddar cheese, bacon and cayenne, then baked. It's so simple, I'm not sure if it sounds easier to make or easier to devour in one sitting.
Combine two essential party snacks into one with this sweet and salty bake.
Chips make a great side for sandwiches — until they get knocked off your plate. They serve a far better purpose inside of a sandwich. In this case, their saltiness cuts through the richness of cheese, and their crunchiness adds another dimension of texture to a tried and true treat.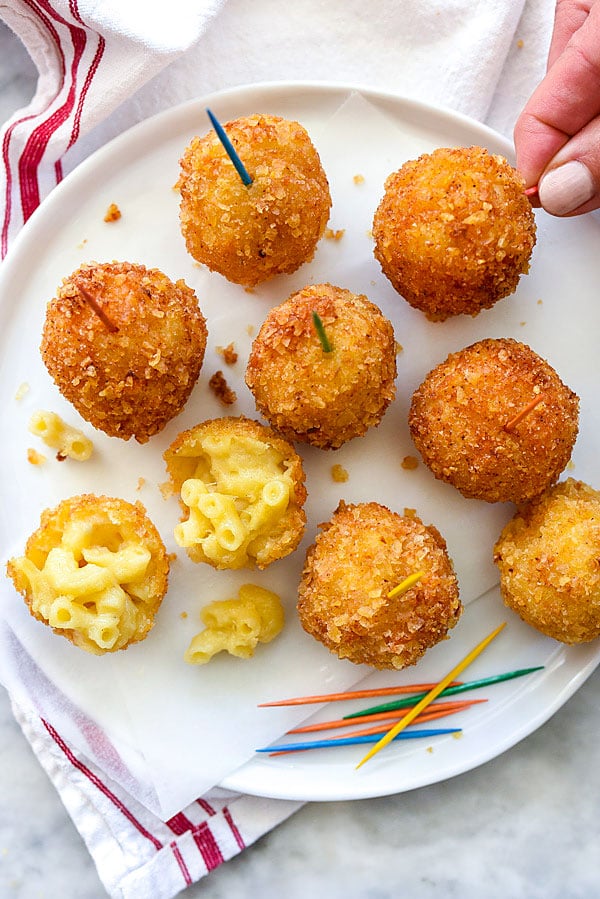 We started with mac and cheese, so let's end with it, too. These golden brown babies combine the soft creaminess of cheesy mac with the crisp saltiness of potato chips into one (OK, maybe two or three) glorious bite.
Featured image credit:
Pixabay
Tags:
Appetizer
,
appetizer with potato
,
brownies
,
buffalo chicken salad
,
cheese pasta
,
cheesy bacon
,
cheesy potatoes
,
chicken salad
,
chicken salad recipe
,
chicken tenders
,
chips
,
chips chicken tenders
,
chips recipe
,
chips toffee
,
chive cheesecake
,
cook potato chips
,
cookies
,
crack
,
crispy bacon
,
crunchy
,
crushed potato chips
,
desserts
,
do with potato chips
,
easy dinner
,
fired mac and cheese balls
,
Fried Snacks
,
Funeral
,
funeral potatoes
,
gorgonzola
,
grilled cheese
,
holiday crack
,
hot chicken salad
,
kettle chips
,
kitchen crack
,
mac and cheese
,
mac and cheese balls
,
panko breadcrumbs
,
potato chip grilled cheese
,
potato chip nachos
,
Potato Chips
,
potato chips chicken
,
potato chips chicken tenders
,
potato chips crust
,
potato chips recipes
,
potato chips toffee
,
potato cookies. potato chips cookie
,
potatoes
,
recipes
,
recipes with lays
,
salty
,
salty chocolate
,
salty chocolate tart
,
salty nachos
,
savory chive cheesecake
,
steak
,
steak and gorgonzola
,
things with potato chips
,
toffee
5 Super Cheap Dinners That Taste Like A Million Bucks (Recipes)
category:
By Cooking Panda
Just because you're trying to save a buck doesn't mean anyone has to go hungry or eat gross food!
It's totally possible to make super delicious meals for only a few dollars that will keep the whole family satisfied and even feed hungry guests without making you feel like you're skimping on them.
Here are some budget-friendly crowd pleasers:
You can easily turn these into sandwiches by putting some meat and/or roasted veggies between the two slices. If actual pizza is more your thing, you can use store-bought crust or if you have a few extra minutes, you can make things even cheaper with DIY dough.
​
This is really delicious and super versatile. Use any leftover or frozen meat you have on hand (rotisserie chicken is often cheaper than a raw broiler), and just use whatever veggies are on sale and/or already in your fridge or freezer. And of course, you can use any noodles you want if instant ramen isn't your thing.
Even if you need to buy all five ingredients — and there's a good chance you have them on hand already — you'll still come out with up to four servings for around $5. P.S. If you want to use regular milk instead of cream, you can totally do so, although you should probably make a roux first.
For just a few bucks, this dinner is so incredibly filling and nutritious, as it's packed with meat, potatoes and veggies, but there's a lot of flavor too! Feel free to swap anything you want in or out. This would be delicious with sweet potatoes, ground turkey, chopped chicken breasts and/or frozen bags of mixed veggies too.
Basically this recipe works for whatever fish happens to be on sale or buried in your freezer. You can even make it with chicken breasts or fillets, though you might need to adjust your cooking time — remember that chicken needs to be cooked to an internal temperature of 165 degrees.
Featured Photo Credit: Nikolas Moya/Flickr
Tags:
affordable dinner recipe
,
cheap dinners
,
dinner recipes cheap
,
easy dinner
,
easy weeknight meals
These 11 Delicious Bread Boats Are Deceptively Easy (Recipes)
category:
By Cooking Panda
All hail the mighty bread boat! This delicious but hearty dish is super easy and quick to prepare, but it always makes for a respectable breakfast, lunch, dinner, appetizer or even dessert. What are you waiting for?
When you can't decide between pasta and a sandwich, this heavenly bread boat is here for you. The best of both worlds!
You know those delicious sausage, onion and pepper sandwiches that usually come on crunchy French bread? Take that concept and stuff all those ingredients into a bread boat, complete with a baked mixture of cheese, egg and milk for an amazing new version of the tried-and-true classic.
If we had to label this delight, we'd say it's sort of like an American torta, but one thing's for sure — it's amazing, whatever you want to call it.
We love chips and dip as much as anyone, but they are really more of a snack than a meal. Let's fix that.
Not that pizza gets old or anything, but sometimes you might want to switch things up (or else you might just not have the time or energy to whip up pizza dough every time you or your kids have a hankering), so we invite you to take this delicious shortcut.
This is the perfect EASY family dinner. Hollow out a loaf of bread and cram it full of ground beef, veggies and whatever you want. It's sort of like a more fun, crumblier version of meatloaf.
Basically a better breakfast sandwich. These freeze well, so they work great for a quick on-the-go morning meal. Score!
Buffalo chicken. Cheese. Carbs. Yes, this is the perfect meal, in case you were wondering.
You wouldn't think that stuffed French bread could be very nutritious, but this chicken, tomato, black bean and corn version is relatively healthy, especially if you swap out the white bread for something fluffy and wheaty and go easy on the cheese. Or don't! Either way, this is super delicious, especially if you top with guacamole or a little canned enchilada sauce.
This spicy cheesy dip makes for the perfect appetizer, especially when you serve it with corn chips. The recipe recommends mixing in some finely chopped corned beef, but feel free to add any type of your favorite cooked meat — ground beef, chopped chicken or crumbled bacon would be excellent too.
Of course we wouldn't forget about dessert! We're sure you can make a version of this out of store-bought bread, but the fresh stuff will be so delicious! Chocolate lovers will absolutely adore using this recipe as a base and then stuffing it with MORE CHOCOLATE.
Featured Photo Credit: Christine Han/The Kitchn
Tags:
bread boats
,
easy dinner
,
easy pizza bread
,
kid recipe
,
Tasty Tuesday
9 Outstanding Loaded Casseroles To Warm You Up In Winter
category:
By Cooking Panda
One thing that we love during winter is baking, mostly because the cold weather is an amazing excuse to fire up the oven and let it warm you up while delicious smells waft through your home. As the weather gets more and more chilly, we crave warm, hearty dinners that will keep us full, satisfied and toasty. Enter the casserole, one of the most underrated dinners out there. Casseroles get a bad rap sometimes, but we're pretty sure that after trying a couple of these, even haters will have a new fondness for the nice warm, crunchy on top, creamy on the inside quick dinner.
If you love all things baked potato, you will adore this easy-to-customize casserole that you can top with absolutely anything you like. Leftover chicken? Olives? Crispy fried onions? Have it all.
Spicy. Cheesy. Buffalo-y. Low carb. Need we say more?
Whoever decided to turn a California roll into a casserole is a complete genius. A GENIUS.
Love Tex-Mex? Make this delicious and super-easy taco casserole, which is basically just another name for nachos that are so fully loaded with cheese and meat that you'll need a fork to properly devour them.
Don't eat noodles? Pour mac and cheese sauce over some cauliflower for a slightly healthier version that will 100% make you want to eat your vegetables on the regular.
This is the best use ever for leftover fried chicken. If you're using yesterday's dinner in this, just pop the chicken into the oven for a bit and toast until the skin gets crispy again, and you'll be all set to enjoy this crispy, creamy chicken bake.
We love the white cheddar and Gruyere cheese in this recipe, but feel free to switch it up and use anything you have on hand. You can even add some chopped cooked chicken for a protein boost. However you make it, this crispy on the top, gooey in the middle creamy casserole will have you singing its praises for sure.
You didn't think we'd forget about dessert, did you? How about a nice festive and EASY baked chocolate dessert? If mint isn't your thing, feel free to swap out the peppermint extract for your favorite flavor, like vanilla or hazelnut, or mix in a dab of raspberry jam, peanut butter or even a bit of toffee. You can't go wrong!
Another dessert option, just in case you want something easy and sweet without firing up the oven. All you need to do is mix up a few ingredients, layer them and then forget about it in the fridge for a few hours until you're ready to dig in.
Featured Photo Credit: Calista/Good Morning Cali
Tags:
casserole recipe
,
chicken bake
,
easy dinner
,
quick dinner
,
Tasty Tuesday
3-Ingredient Ham And Cheese Bake
category:
By Cooking Panda
Warm Yourself By The Fire With 7 Of Our Favorite Chili Recipes
category:
By Cooking Panda
Sweater weather is upon us! It's getting chilly out, and, as we feel the crisp wind nip our faces and watch the leaves change color, we simply cannot deny that fall is here in full force.
The best part of this season, as far as we are concerned, is the FOOD. Now that summer's over, we can start cooking rich, warming savory food again. So if you're looking to warm yourself by the fire, consider cooking up a nice hearty batch of chili!
You can totally cook most of these recipes in the slow cooker, if you want, although you'll probably want to briefly brown any ground meat and onions that you are using. Make sure you pour a little of the liquid you'll be using into the pan after to deglaze and scrape all the flavorful browned bits into your slow cooker!
If you want beef and beans and everything you're used to, start here and make the world's best version of your favorite classic chili dish.
This is a favorite of ours. Whether you're a bean hater, paleo or just an average omnivore looking for good chili, you'll love the mole-like depth of flavor that the cocoa powder brings. Eat this with anything.
The secret ingredient (it's cinnamon — shhh, don't tell anyone!) brings something a little extra special. If you are looking to mix this one up, you can always dump in a small can of corn, black beans or a chipotle chili.
So much good stuff is going on in this recipe — you have beef chuck (as in, not ground), slightly sweet squash (don't forget to get rid of the skin!), two different kinds of chilies, a crunchy pumpkin seed topping and the secret ingredient: lager.
Sounds weird, but the subtle sweet-savory-spicy combo will make your mouth water. The slightly sweet cherries provide a perfect contrast to the spicy kick this chili packs.
Honestly, what is a more satisfying combination than sweet potatoes and black beans? You'll just adore this sweet, slightly smoky, and yes, healthy take on chili. Top it with some freshly chopped avocado, some diced red onions and maybe a few crunchy tortilla strips for a satisfying kick.
Want to switch it up? You'll fall in love with this unique spin on chili, complete with savory, smoky black beans, allspice, golden raisins (a.k.a. the good ones) and sweet, chopped mango.
Featured Photo Credit: Epicurious
Tags:
chili
,
chili recipes
,
easy dinner
,
hot meal
,
slow cooker
,
weeknight meals
Cool Off With These 6 Lazy, Refreshing No-Cook Dinners
category:
By Cooking Panda
It may be too hot to fire up the oven, but that doesn't mean you can't eat delicious homemade food every night this week. This is the perfect time to try out some awesome no-cook or minimal cook recipes. Now go make all of these recipes, and save us a bite.
Absolutely no cooking required. The best part about this sandwich is that it gets better the longer it sits, so it is the ideal work lunch or make-ahead dinner.
Presumably, you'll pour this over pasta, so it's not no-cook unless you have instant, fresh, or leftover noodles on hand. Please forgive us.
Rice noodles are great because they cook up so fast — all you need to do is soak them for a few minutes in a bowl of very hot water. You can buy pre-cooked chicken if you're feeling lazy, or just grill (or sautee) it yourself.
Shout out to all the vegans and gluten-free folks out there. This dish is delicious served hot, warm or cold and gets better the longer it sits. Serve with some salad greens and/or something bready like flatbread or a crunchy baguette. This would even be great in corn tortillas or lettuce wraps.
Make sure you get quality meat from your butcher that is safe to eat raw! If you're concerned about the taste or safety of raw eating, go for the seared version mentioned in the recipe.
These sweet-savory chicken salad lettuce wraps will fill you up and cool you off in the summer heat. It's also pretty healthy and lean, with tangy Greek yogurt instead of mayo, so you can totally enjoy this guilt-free.
Featured Photo Credit: Karsten Moran​/The New York Times
Tags:
easy dinner
,
no-cook meal
,
summer dinner
,
summer recipe
,
weeknight dinner
7 Easiest Ever Dinners To Make This Week
category:
By Cooking Panda
If you are anything like us, you love eating home cooked dinners during the week but don't always have the time or energy to make something super elaborate when you come home from work exhausted. Never fear! We've put together some incredibly quick dishes that you can whip up in 20 minutes or less. You're welcome.
This tangy, creamy sauce will really jazz up some plain chicken breasts or pork chops to give them a wonderful rich flavor.
Cut your cooking time in half by using whatever leftover protein you have lying around.
In just 15 minutes, you can have a healthy and completely delicious version of your favorite take out dish.
Eat this with a simple salad and hearty grains like brown rice, couscous or quinoa. Yum!
It literally takes about two minutes to dump all your ingredients into a pot, making this just about the easiest soup recipe ever, and it's way tastier than the pre-made stuff.
What do you do when you have leftover rice? Fry it, of course!
Use a packaged crepe to keep things super simple. Unless you can spare five extra minutes, in which case you should absolutely consider making them from scratch (recipe here).
Featured Photo Credit: ayudiac/Instagram
Tags:
10 minute
,
20 minute
,
dinner recipe
,
easy dinner
,
weeknight meal