8 Tasty Desserts You Can Make With Only 2 Ingredients (Recipes)
category:
By Cooking Panda
Fooling your loved ones into thinking you are a master chef who spends hours in the kitchen to keep them satiated is easier than you think.
If you love desserts but don't love the time and mess that comes with making them — or maybe you have guests coming over in a few and you burnt your cookies to a crisp — I'm here to save you.
All of these desserts only require two ingredients! Many of them use things like boxed mix, frozen food and canned stuff, so you can stock up on a number of these ahead of time so that you're always prepared for a last-minute treat.

This sweet, frozen and healthy dessert is the perfect way to cool off on a hot day!
​
Got sheets of puff pastry stuck in the freezer? Roll it up with some granulated sugar, pop it in the oven for a bit and bam! You've got some instant gourmet-level pastries.
If you love crispy, sweet and salty, you'll absolutely adore these easy snacks. Go for ridge-cut or kettle-cooked potato chips, as you'll want them to have a bit of substance.
Who said it has to be tough to make cookies? I always thought rich, moist, chewy macaroon cookies would be wildly complicated to make. But it turns out all you need is unsweetened desiccated coconut and sweetened condensed milk and a quick trip to the oven. Bam!
Want an easy seasonal favorite to kick off the impending start of fall? This spice cake + canned pumpkin combo is the perfect way to do that.
I mean come on! Does it get any tastier than Oreos and white chocolate? I think not!
Cake mix and soda make the easiest and tastiest cupcakes!
More in the mood for chocolate cake? You can make that too! All you need is chocolate hazelnut spread and eggs. Seriously. Gluten-free folks need to jump on this one!
Featured Image: jytyl/Wikimedia Commons
Tags:
2 ingredient desserts
,
dessert recipes
,
easy dessert
,
last minute dessert recipe
,
quick cake recipe
10 Stupidly Delicious Kinds Of Fudge You Should Make (Recipes)
category:
By Cooking Panda
Do you find yourself wondering what on earth to make for dessert this weekend?
Pies and cakes are great, but it can be a bit of hassle getting them to look just-so. Plus, what if you want to sneak a slice? What do you do then?
Well, if you're craving something thick, rich and easy to present, why not make something that works equally well for a Netflix weekend as it does for a big party? Cook up some smooth, versatile fudge and watch the magic happen.
Note: Fudge doesn't do well when overcooked — it can tend to get crumbly. To avoid this, make sure to take it out just when (or a minute before) you think it is done and err on the side of undercooking it.
No, that title is not making baseless claims. This back-to-basics recipe is a perfect foundation you can use to mix in all your favorite additions, if you want. Or just keep it simple and marvel in the fabulous texture that comes from using creamy condensed milk instead of granulated sugar. You'll love this one!
A spoonful of bourbon, a bit of butter and a beautiful scoop of dulce de leche make this easy fudge absolutely glorious. (Leave the bourbon out if you want, but it's quite tasty!) Plus, this recipe includes a helpful how-to when it comes to keeping your fudge from sticking to the pan.
You can leave out the sea salt if you want, or top with some finely chopped dark chocolate and/or hazelnut pieces. Either way, you have a fabulously easy, dense fudge that just about makes itself.
As if this eggless cookie dough wasn't enough of a draw, you get to make your white chocolate fudge (or milk, or dark, if you'd rather) with a glorious tub of marshmallow fluff that surprisingly ensures that everything stays fluffy and smooth.
Who doesn't love this delightful sweet and salty combination? Crunchy pretzels are an absolutely spellbinding addition to a classic, gooey chocolate treat.
Craving something a little fruitier? Try this fresh version that's tasty with just about any dried fruit. Blueberries? Mango chunks? They are all a perfect match!
Only five ingredients, and two of them are different-flavored candy chips. Note: If you don't have rum extract, you can sub it out for vanilla extract, actual rum (or cook it down a little to let out the harsh alcohol taste if you prefer) or whiskey.
Crushed sandwich cookies make just about every dessert better, don't they? This recipe only requires three ingredients, and it really couldn't get any easier. So go ahead and knock yourself out with this one, especially if you forgot to go grocery shopping but need something to serve to guests pronto!
Want something a little darker? With velvety dark chocolate, crunchy buttery toffee and flaked sea salt, you'll adore this easy five-ingredient fudge that would be just fabulous with a nice coffee.
The best sandwich ever, back to life as a fabulous dessert that will please kids and adults alike! Not into jelly? You can use chocolate (or similar) ganache or even a dollop of Nutella instead.
Featured Photo Credit: Katie/Flickr
Tags:
dessert recipe
,
easy dessert
,
easy fudge
,
fudge recipes
,
weekend dessert recipe
9 Adorable, Craveable Cake Pop Recipes
category:
By Cooking Panda
We just can't get enough of cake pops! Sweet, moist and rich, decadent and tiny, these adorable treats make the perfect single-serving dessert that works amazingly well as an easy dessert when you're having company over and want to free up the kitchen.
Then again, we also think they are a great dinner to accompany your night in and Netflix marathon. They're perfect for any occasion!
Cake pops are incredibly easy to make! Go ahead and use this recipe as your base and switch around the flavors and textures as much as your heart desires.
We think these count as cake pops as long as you put them on a stick, but it's hard to know for sure. One thing we do know is that there is absolutely no way that you're going to complain after you try these fried pieces of heaven.
​
Decorating cake pops can be tricky as a normal human, but these adorable yet simple Quidditch pops are honestly as easy as it gets. You can't mess these up.
If you're looking for a cake pop that is festive and sweet yet sophisticated and complex, champagne cake is the way to go! You'll just love the light, crisp flavor they have.
If there is a better excuse to eat cake pops for dinner than dressing them up as corn dogs, we can't think of it.
Can't get enough of those cinnamon sugar cakey flavors? We don't blame you one bit.
The rainbow trend is very real! Your guests will be nothing if not impressed when they bite into these and notice the stunning interior, too.
It's a pretty well-known fact that everybody loves cookie dough, and you really can't go wrong here. But what really makes these treats worthwhile is that you don't need to bake a single thing! That's right, you can make cake pops while totally eliminating the seemingly necessary hassle of baking a cake.
Alternately, if you're looking for another hassle-free cake pop option, consider this Oreo version. You can adapt these to your taste using any flavor you want — Golden Oreos will make a great base for "yellow cake" pops, for example.
Featured Photo Credit: Kelly Senyei/Just A Taste
Tags:
Cake Pops
,
easy dessert
,
no bake dessert
,
quick dessert recipe
,
weekend dessert recipes
8 Adorably Delicious Mini Desserts (Recipes)
category:
By Cooking Panda
Mini desserts just mean you can eat more of them, right?
Seriously, why does everything taste better when it is bite-sized? Little desserts are super adorable, and the best part is that nobody will know how many you make, so it's a lot easier to sneak a bite on your way to a party than, say, a big cake.
We can see no reason why you shouldn't make all of these delicious treats:
With just four ingredients and a microwave, desserts don't get much easier than this. Or tasty.
​
Make the most of your muffin tin! These little cakes are so stunning with a slice of clementine on top that makes for an effortlessly awesome (and delicious) presentation.
Only a few minutes of work and you'll have mini versions of your favorite full-sized desserts! It's like magic!
​
Everybody loves a good apple pie — and the bite-sized versions are no exception … but have you ever tried crumbling a bit of bacon into the pie filling for a bit of added smoky, savory richness? If not, do so immediately. Warning: this might change your life.
Basically, these are like cinnamon rolls but way easier to make, using … well, whatever type of bready dough you have on hand, really. These muffins aren't picky!
Mini pies are adorable perfection, and the best part is that there really are no rules when it comes to adding your favorite fillings. It can be a little tricky though, but that recipe will give you all the tips and tricks you need to help you figure out the easiest way to make adorable little lattices or whatever else tickles your fancy.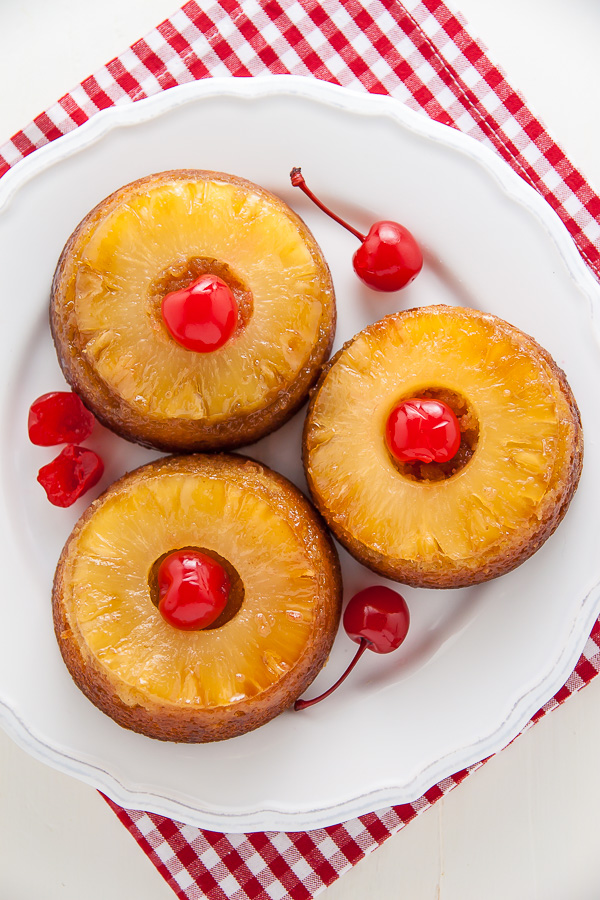 What else would you possibly use a can of pineapple rings for???? And why would you possibly make anything else when this recipe exists?
We have a feeling that you could dredge anything in brown sugar whiskey caramel sauce and it would come out fabulous. But pair that magic sauce with crusty-on-the-outside, moist-on-the-inside bread pudding and we're in heaven.
Featured Photo Credit: Drizzle and Dip
Tags:
bite sized dessert
,
dessert recipes
,
easy dessert
,
mini desserts
,
weekend dessert recipe
Step Up Your Snacking With 8 Sweet Popcorn Upgrades
category:
By Cooking Panda
Buttered, salted popcorn is a classic, and it will always have a place in our hearts. Seriously, it's always so hard to pass up splurging on movie theater popcorn; the buttery, savory aroma hits you all at once.
But don't let that limit you! Popcorn is not only super delicious, but it's also incredibly versatile and lends itself amazingly to a bunch of desserts that are pretty easy to make and will challenge you not to eat the whole dang bowl by yourself.
Kick your feet up this weekend and lay off the extensive baking — instead, drizzle some goodness right on top of your favorite popped snack and go to town.
This recipe uses melted white vanilla almond bark to bind the crushed cookies to the popcorn, but feel free to use your favorite fudgy flavor.
Can't get enough pumpkin spice in your life? Make sure it's not for lack of trying.
This craveworthy recipe is the perfect use for the unprecedented event that you ever have a couple slices of leftover red velvet cake…though we aren't totally sure that "leftover red velvet cake" is actually a real thing that exists. Let us know if you get to the bottom of this mystery.
Ohhh yeah… It's every bit as good as it sounds, too. Plus, there's a pretty easy basic caramel recipe on here that you might want to keep around for other purposes.
We'd never dream of badmouthing Rice Crispy Treats, but we do have to admit that it's nice to have a change of pace. Plus, the earthy chopped walnuts and smooth, deep sweetness of maple syrup are a divine combination with butter and marshmallows, and they are super cute, too!
We love caramel, we love hazelnut chocolate spread, and just like that, they were married.
Yes, this is real, and it's no bake! Just mix up popcorn, candy, pretzels and melted marshmallows and mold it into your favorite cakey shape.
If you are in the mood for a little more intensive baking, try this yellow cake topped with SALTED CARAMEL ITALIAN MERINGUE BUTTERCREAM (yes, that needed to be SHOUTED in all caps because it is THAT GOOD) and salted caramel corn. Feeling lazy? Just make the salted caramel corn and skip the middle man. No judgment here.
Featured Photo Credit: Cookies and Cups
Tags:
easy dessert
,
healthy dessert
,
National Popcorn Month
,
Popcorn
,
weekend dessert recipe
Mull Over These 8 Perfect Fall Desserts
category:
By Cooking Panda
Now that fall is in full swing, it's time to grab a mug full of something warm and spicy, curl up by the fireplace with a nice book and argue to the death about pumpkin spice.
Sound about right? Good. Whether or not you love fall — admit it, you love wearing sweaters and watching the leaves change — then you'll need to check out some of our favorite desserts featuring all the good stuff that's in season right now.
Sept. 30 is National Hot Mulled Cider Day, and we feel it is important to celebrate! There's just something so warming yet underrated about hot mulled cider, and you should absolutely check out what mulling spices have to offer.
This is a particularly great excuse to gorge on dessert when you're feeling under the weather or fighting off a pesky fall cold, since the ginger, honey and vitamin C will sort you right out in no time.
Try your best to find muscadines (wine grapes) if possible, but if you are unable, this recipe would be pretty nice with red currant or pears too.
If you love apple pie but want to spice up your tried-and-true recipe, give this super flavorful alternative, complete with lemon zest and a few spices that do wonders to the apple filling without totally overpowering it.
Have some cherries leftover from summer? Sweet dessert wine with fresh or frozen cherries create a complementary sweet, tangy and complex sauce that is just divine when served atop a bed of ricotta cheese.
Besides the insanely delicious sweet-creamy-tangy-caramel combo, you get to flip this bad boy upside down, which means you don't have to go through all that cheesecake cooking nonsense and worry about how it's going to look.
Chewy cookie bars get a spiced twist with cinnamon, ginger, molasses and cloves. Delicious!
This is basically pecan pie filling poured over bread and turned into pudding. So not only is it moist, flavorful and delicious, but it's also waaaay easier than baking an actual pie.
Featured Photo Credit: We Eat Together
Tags:
easy dessert
,
FALL
,
mulling spices
,
seasonal
,
spiced dessert
,
weekend desserts
Fool Your Friends With These 9 Impossibly Easy But Delicious Pies
category:
By Cooking Panda
Pie is really one of the best desserts ever. It's so good, we are constantly singing its praises.
Literally. We love pie as much as any human on this earth, but sometimes the whole idea of whipping something up from scratch, taking up half the day and making a mess in the oven can put us off the whole idea. But here's the beautiful thing about it: Pie can actually be super easy to make.
Like super easy.
Here are 9 awesome pies that are simple enough even for summer laziness. You have no excuse not to whip them up!
It only takes five minutes until you can eat this pie and enter ultimate bliss. Want to make the Oreo crust on your own? Here's how.
You should never have to choose between cinnamon rolls and apple pie. Have both. (Pro-tip: Use canned apple pie filling if you want to take even more shortcuts.)
The name doesn't lie! This pie is so easy and cheap to make that even a student could do it. No one will ever know it took you only a few minutes to whip up.
This decadent, no-bake recipe is a must for Snickers lovers, and it's ready in a flash!
Super easy, with only four ingredients in the filling. Making the pie crust yourself? Here's the easiest way. If you're doing it from scratch, here are some super quick tricks to make decorative crust that looks like it took you ages. Fool them all.
This awesome pie is light yet creamy, and it tastes like it took way more time and ingredients than it actually did. If you want to go above and beyond, you can make the graham cracker crust yourself — it's really pretty simple. Here's how.
Bring the campfire home! To make it even simpler, use boxed chocolate pudding for the filling.
If you use a pre-made graham cracker crust, all you need is one bowl to mix everything in, then just bake for a few minutes and you're all ready to enjoy this magnificently simple, sweet and tangy pie. The secret? Thick, sweet condensed milk.
Just mix, fill and freeze!
Enjoy!
Featured Photo Credit: Cooking Panda/Facebook
Tags:
dessert recipes
,
easy dessert
,
pie
,
pie recipe
,
summer dessert
10 Simple Muffin Tin Desserts For The Weekend
category:
By Cooking Panda
Are you looking forward to making something sweet this weekend, but a whole huge cake or pie seems like a little too much? Want to make cheesecake but lost your springform pan? We got your back. Here are some quick treats you can whip up in a muffin tin.
1. Oreo and Peanut Butter Brownie Cakes
Grab some brownie mix, Oreos and peanut butter, and you're all set! Don't have brownie mix? Here's a super easy way to make it yourself.
2. White Chocolate Pumpkin Cups
Got a can of leftover pumpkin puree from Thanksgiving? Turn it into a decadent white chocolate dessert. No oven needed.
3. Cookies and Cream Cheesecakes
If you're craving cheesecake but don't want to spend your whole day whipping it up, make these instead. You'll get all the cheesecakey goodness with none of the fuss.
4. Mini French Silk Cookie Pies
A cookie crust with light, smooth chocolate filling? Count us in.
5. Clementine Upside Down Cakes
You'll love these mini buttery pound cakes baked with clementine slices. They taste great with pineapple, too.
6. Almost No Bake Mini Chocolate Peanut Butter Pies
Everyone will think you spent hours on this decadent dessert with a creamy peanut butter filling, smooth chocolate ganache and a toffee graham cracker crust, but guess what? It takes less than 30 minutes to make.
​
These mini pecan tarts are every bit as delicious as a full-on pie but with so much less hassle.
8. Mini Apple Pies With Streusal Topping
If apples are more your thing, give these guys a try.
These adorable, rich chocolate pastries are just right when you want to curl up with a comforting treat. The pretzel handles are super cute, but if you don't want to go through the trouble, they'll taste just as good without them.
10. Peanut Butter S'Mores Cookies
Love s'mores? These soft peanut butter cookies packed full of Nutella and marshmallows will float your boat.
Photo credit: The Gunny Sack
Tags:
dessert
,
dessert recipe
,
easy dessert
,
muffin tin
,
quick recipe