Krispy Kreme's New Premium Donuts Will Give You Life (Photos)
category:
By Cooking Panda
Good news, doughnut lovers! If you're totally over the (admittedly delicious) standard glazed doughnut at Krispy Kreme, but still want to satisfy your sweet tooth and dessert cravings, the chain has stepped up its game and is debuting a slew of decadent new doughnuts!
Krispy Kreme Japan has launched a new premium line of doughnuts and these babies are gunning to whet the appetite of foodies everywhere.
The chain has come up with four luxurious new flavors, which are being referred to as "miniature cakes" and are available just in time for Easter.
The Krispy Kreme Premium Brulee Glazed Cream features a whipped custard cream that is sandwiched between a sliced doughnut covered with a brulee glaze. The doughnut is also caramelized with a light coat of the custard.
Next up is the Premium Latte Bunny, which is a doughnut chock full of thick latte-flavored milk cream frosting. Because Krispy Kreme Japan is super cute, it also comes adorned with a pair of biscuit ears and a dash of roasted almond flakes sprinkled on top.
The Premium Matcha Adzuki is sure to appeal to green tea fans everywhere — think whipped cream infused with green tea and a sweet adzuki red bean paste filling. Next comes the matcha green tea glaze topping, as well as a fancy gold powder dusted on top of the doughnut.
Finally there's the Premium Sakura, which has a sweet-sour flavor and is supposed to represent the cherry blossom season. You'll find a tart cherry paste along with a strawberry-raspberry-cranberry puree on the inside, all topped with whipped cream. Finally, the doughnut gets coated with a pink cherry icing glaze.
Sources: Krispy Kreme Japan, Food and Wine / Photo Credit: Krispy Kreme Japan, Krispy Kreme Japan via Food and Wine
Tags:
donuts
,
doughnut
,
krispy kreme
,
krispy kreme japan
,
premium doughnut
Bring Leftover Donuts Back To Life With These 9 Recipes
category:
By Cooking Panda
what to do with leftover donuts?
Since there's a good chance that you'll buy way too many donuts for National Donut Day and won't be able to eat them before they go stale, we have some excellent ways to revitalize them by turning them into a whole new dessert. Leftover donut bread pudding takes your uneaten glazed donuts and turns them right into a scrumptious dessert. Let's just call it fusion food. Here's what you should be made with leftover glazed donuts:
Because donuts and coffee are a match made in heaven. Upcycle your leftover mini donuts, or follow the recipe to make your own.
You don't necessarily HAVE to make your own marshmallows, but you absolutely should because beer.
Donuts. Ice Cream. Coffee.  Never have to choose again.
The perfect sweet-savory combination. Note: You can make grilled cheese with donuts too.
It's pretty much the same as regular French toast, except YOU CAN MAKE IT WITH DONUTS.
Any type of donut hole will work for this, or even regular-sized stale glazed donuts ripped into bite-sized pieces.
Got a waffle maker? Use it to bring stale glazed donuts back to life.
​
Seriously, you can substitute donut holes for lady fingers for a cool twist on tiramisu.
If you don't have a panini press, use a hot pan or griddle and weigh it down with something heavy like another pan.
Featured Photo Credit: 
Sugar Hero
Tags:
dessert recipe
,
donut
,
doughnut
,
leftover
,
leftover donut recipe
,
leftover donuts
,
leftover donuts dessert
,
made with leftover donuts
18 Glorious Donut Gifs For Hump Day
category:
By Cooking Panda
We can't lie — we have a major food crush on donuts.
It's a bit of a weakness. But seriously, take a look at this gorgeous fried cake. There's a reason everybody loves donuts.
They are so mesmerizing.
Crunchy on the outside, soft on the inside, doughy and sweet, topped with decadent frosting. They really are the perfect dessert.
Look at the delectable way the wall of glaze effortlessly slides of the donuts, giving them the perfect coating.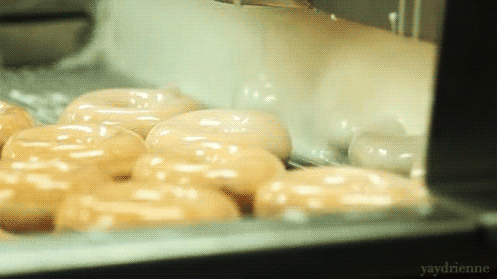 Why are glazed donuts so beautiful?
Look at these perfect, hypnotic rings.
Donuts might start out as humble dough, but it's important not to forget their origins.
Shower them with sprinkles!
Or maybe you're more into the jelly-filled stuff:
Are you a nutella fiend? Watch how the chocolate filling oozes out from the center.
We're down with adorable mini donuts too.
There's something mesmerizing about the way the frosting pipes atop the gorgeous dessert.
We're totally transfixed.
Honestly, we could stare at this for hours.
Watching a donut get unglazed has never looked so good.
Go ahead, have a bite! Or several!
We know what you really want, and we won't keep you from it any longer.
Featured Photo Credit: alldaydonuts/Instagram
Tags:
donut
,
doughnut
,
foodporn
,
gif
,
Hump Day
Enjoy The $150 Patron Platinum Donut, This Week Only! (Photos)
category:
By Cooking Panda
Available for a limited time only, those who live near New York City and have a significant amount of disposable income can enjoy the $150 Patron Platinum Donut.
Bjorn DelaCruz, executive chef and co-owner of Manila Social Club in Brooklyn, New York, decided to up the ante with this luxury treat.
In January, DelaCruz created the Golden Ube Cristal Donut, a $100 dessert filled with a champagne jelly and an ube mousse and topped with Cristal champagne icing and edible 24-karat gold.
From May 2 to May 8, the Patron Platinum Donut will be available to enjoy in the Brooklyn location.
Inspired by Patron's margarita of the year, the Rosa Picante, this decadent treat consists of a rose-petal doughnut filled with cream and a ginger-jalapeno margarita jelly. Covered in a sweet tequila frosting and topped with sheets of edible silver and platinum, this pricey dessert is absolutely breathtaking.
"It's not like any other doughnut you've ever had before," DelaCruz told Business Insider. He explained that this treat is not a "margarita doughnut," but rather a unique flavor experience consisting of the deconstructed flavors of a margarita.
Inside, similar to the other doughnuts made by the restaurant, is a dark purple dough with light purple mousse. Manila Social Club is known for their doughnuts made with ube jam, which comes from purple yams used in Filipino desserts.
The lucky taste-testers at Business Insider described this treat as having "a very light rose taste with lingering hints of jalapeno spice and the subtle tang of tequila."
The proceeds from this "fragrant" dessert with a "sweet finish" are being donated to the American Cancer Society.
If you live near the restaurant and can genuinely contemplate purchasing such a decadent treat, head to Manila Social Club by May 8.
Sources: Business Insider (2) / Photo credit: Raisa Bruner/Business Insider, manilasocialclub/instagram via Business Insider
Tags:
donut
,
doughnut
,
Golden Cristal Ube Donuit
,
Manila Social Club
,
Patron Platinum Donut