Apple Pie Donuts
category:
By Cooking Panda
Chocolate Hazelnut Stuffed Donuts
category:
By Cooking Panda
By Cooking Panda
Strawberries N' Cream Donut
category:
By Cooking Panda
Talk Like A Pirate, Get A Free Krispy Kreme Doughnut; Dress Like One, Get A Dozen!
category:
By Cooking Panda
If you see a bunch of people walking around in pirate gear today, here's why:
Brand Eating reports that on Sept. 19, Krispy Kreme is holding a promotional deal for its sweet-toothed fans: the doughnut chain will offer a free Original Glazed Doughnut to anybody who drops into a participating location in the U.S. and Canada and "talks like a pirate."
Of course, if throwing a few arrr's and matey's into your daily vernacular doesn't feel like enough, you can up the ante and go into a participating location dressed like a pirate. That extra effort will earn you a dozen Original Glazed Doughnuts for free — which might just please your coworkers enough that they'll neglect to ask why you're dressed up as a pirate in the first place.
There are qualifiers, however: if you dress up, make sure your costume meets Krispy Kreme's three pirate item minimum (and no, I don't think an open bottle of rum counts).
Too shy to talk like a pirate or dress up, but don't want to miss out on the deal? No worries, this is 2016 — Snapchat has you covered.
Customers can also digitally "dress" like a pirate using Krispy Kreme's custom Snapchat pirate filter. Bring evidence of your photo into a participating shop to earn your free dozen that way.
While I'm not positive why the chain has chosen pirates to be it's thing this month, in honor of the occasion Krispy Kreme is offering two pirate-themed doughnuts for the promotion: the Pirate Doughnut and the Skull and Crossbones Doughnut.
The Pirate Doughnut is a filled yeast doughnut decorated with a pirate face, while the Skull and Crossbones doughnut is a chocolate-filled yeast doughnut, topped with chocolate icing and decorate with white icing, as well as a skull candy piece.
Happy pirate-ing!
Source: Brand Eating / Photo credit: Krispy Kreme via Brand Eating
Tags:
donut
,
glazed
,
krispy kreme
,
pirate
,
promotional offer
,
snapchat
Krispy Kreme Rolling Out Reese's Peanut Butter Cup Doughnuts — But There's One Catch
category:
By Cooking Panda
Oh my gosh.
Can we all please just take a second to admire Krispy Kreme's newest flavor offering?
The popular doughnut chain has gone and combined everybody's favorite candy with everybody's favorite morning pastry, resulting in one of the most gorgeous creations the chain has put forth to date.
Behold the new REESE'S Peanut Butter Krispy Kreme Doughnut!
As you can see, the doughnut is filled with the classic, creamy Reese's PB sauce, and then dipped in a bath of chocolate icing. Afterward, it's topped with Reese's PB chips, vanilla biscuit crumbles, and then finished off with a light and sumptuous chocolate drizzle, per the Krispy Kreme Australia website.
Are you drooling, yet? Us, too. But there's just one catch: Unfortunately, for those of us stuck in the United States, the doughnut is only available in Australia.
Introducing the new REESE'S ® Peanut Butter Krispy Kreme Doughnut! pic.twitter.com/xO4kc1I3Yy

— Krispy Kreme (Aust) (@friendsofkrispy) August 23, 2016
Fingers crossed that the Krispy Kremes stateside copy out friends down under soon!
Source: Delish, Krispy Kreme Australia / Photo credits: Krispy Kreme via Delish, Krispy Kreme Australia/Twitter
Tags:
Australia
,
donut
,
krispy kreme
,
reese's peanut butter cup
What The World Needed: The Croissant Donut Ice Cream Cone
category:
By Cooking Panda
If you love food, chances are that you have heard of the Cronut—Dominique Ansel's mouthwatering croissant-donut hybrid. As anyone who is lucky enough to have tried a Cronut will tell you, the confection is unbelievably delicious, combining the sweet fried shape of a donut with the buttery, laminated layers of a croissant.
Believe it or not, however, there now exists a dessert that is more decadent (and delicious) than the Cronut. According to Metro, a donut shop in London recently debuted a croissant-donut ice cream cone called the "Crone."
If the mere thought of a Crone is making your mouth water, prepare for a full-on fainting spell.
In addition to being made of croissant donut dough, the Crone is also filled with a combination of ice cream, fruit and Nutella.
That's right. A croissant-donut ice cream cone filled with Nutella now exists in the world.
The Crone is currently being sold exclusively at Dum Dum Donutterie in London, England. Considering the fact that the pound is currently at a 31-year low against the American dollar, we think that now would be an excellent time to book a flight to England and try the Crone for yourself!
Check out all of the glorious images below, and then start daydreaming about your (if-only-hypothetical) upcoming tip. There's nothing better than a dessert-filled summer vacation, after all!
Sources: Metro, BBC News / Photo credit: Dum Dum Doughnuts/Instagram
Tags:
Croissant
,
Crone
,
donut
,
Dum Dum Donutterie
,
Ice Cream Cone
There Is Actually A Donald Trump Doughnut, Would You Eat It?
category:
By Cooking Panda
Who would have guessed that the Australians would invent a better way to celebrate Fourth of July than the Americans?
Australian doughnut chain Doughnut Time introduced a Donald Trump-themed doughnut in honor of American Independence Day, and it is just as hilarious as you might imagine. Named the "Hair Dependence Day" doughnut, the glorious confection consists of a vanilla doughnut, filled with American peanut butter and jam, and topped with cotton candy to emulate Trump's infamous coif.
The end result looks surprisingly like Trump himself — a fact that only adds to the combination of horror and humor that seems to follow the candidate everywhere. While Americans are still reeling at the fact that the orange-haired mogul is the presumptive Republican nominee, the Australians have clearly found humor in the entire situation.
As life-long doughnut devotees, we must admit that the Hair Dependence Day sounds pretty darn delicious. Even better, however, is the fact that eating one would allow you to imagine biting into Trump's signature hair and devouring his ever-talking head.
While the Trump doughnut is only available in Australia, we suggest that you add cotton candy and peanut butter to your next doughnut to emulate the experience (and increase the deliciousness) of your favorite dessert. If enough people follow the trend, maybe we can even make America great again!
Source: Metro / Photo credit: Doughnut Time/Instagram
Tags:
donald trump
,
donut
,
fourth of july
,
Hair Dependence Day
Bring Leftover Donuts Back To Life With These 9 Recipes
category:
By Cooking Panda
what to do with leftover donuts?
Since there's a good chance that you'll buy way too many donuts for National Donut Day and won't be able to eat them before they go stale, we have some excellent ways to revitalize them by turning them into a whole new dessert. Leftover donut bread pudding takes your uneaten glazed donuts and turns them right into a scrumptious dessert. Let's just call it fusion food. Here's what you should be made with leftover glazed donuts:
Because donuts and coffee are a match made in heaven. Upcycle your leftover mini donuts, or follow the recipe to make your own.
You don't necessarily HAVE to make your own marshmallows, but you absolutely should because beer.
Donuts. Ice Cream. Coffee.  Never have to choose again.
The perfect sweet-savory combination. Note: You can make grilled cheese with donuts too.
It's pretty much the same as regular French toast, except YOU CAN MAKE IT WITH DONUTS.
Any type of donut hole will work for this, or even regular-sized stale glazed donuts ripped into bite-sized pieces.
Got a waffle maker? Use it to bring stale glazed donuts back to life.
​
Seriously, you can substitute donut holes for lady fingers for a cool twist on tiramisu.
If you don't have a panini press, use a hot pan or griddle and weigh it down with something heavy like another pan.
Featured Photo Credit: 
Sugar Hero
Tags:
dessert recipe
,
donut
,
doughnut
,
leftover
,
leftover donut recipe
,
leftover donuts
,
leftover donuts dessert
,
made with leftover donuts
18 Glorious Donut Gifs For Hump Day
category:
By Cooking Panda
We can't lie — we have a major food crush on donuts.
It's a bit of a weakness. But seriously, take a look at this gorgeous fried cake. There's a reason everybody loves donuts.
They are so mesmerizing.
Crunchy on the outside, soft on the inside, doughy and sweet, topped with decadent frosting. They really are the perfect dessert.
Look at the delectable way the wall of glaze effortlessly slides of the donuts, giving them the perfect coating.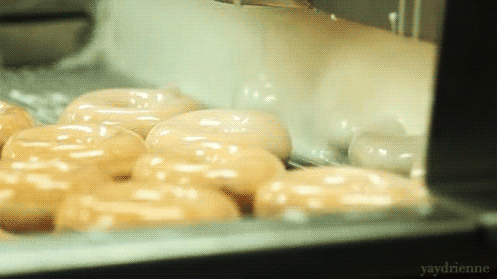 Why are glazed donuts so beautiful?
Look at these perfect, hypnotic rings.
Donuts might start out as humble dough, but it's important not to forget their origins.
Shower them with sprinkles!
Or maybe you're more into the jelly-filled stuff:
Are you a nutella fiend? Watch how the chocolate filling oozes out from the center.
We're down with adorable mini donuts too.
There's something mesmerizing about the way the frosting pipes atop the gorgeous dessert.
We're totally transfixed.
Honestly, we could stare at this for hours.
Watching a donut get unglazed has never looked so good.
Go ahead, have a bite! Or several!
We know what you really want, and we won't keep you from it any longer.
Featured Photo Credit: alldaydonuts/Instagram
Tags:
donut
,
doughnut
,
foodporn
,
gif
,
Hump Day
Enjoy The $150 Patron Platinum Donut, This Week Only! (Photos)
category:
By Cooking Panda
Available for a limited time only, those who live near New York City and have a significant amount of disposable income can enjoy the $150 Patron Platinum Donut.
Bjorn DelaCruz, executive chef and co-owner of Manila Social Club in Brooklyn, New York, decided to up the ante with this luxury treat.
In January, DelaCruz created the Golden Ube Cristal Donut, a $100 dessert filled with a champagne jelly and an ube mousse and topped with Cristal champagne icing and edible 24-karat gold.
From May 2 to May 8, the Patron Platinum Donut will be available to enjoy in the Brooklyn location.
Inspired by Patron's margarita of the year, the Rosa Picante, this decadent treat consists of a rose-petal doughnut filled with cream and a ginger-jalapeno margarita jelly. Covered in a sweet tequila frosting and topped with sheets of edible silver and platinum, this pricey dessert is absolutely breathtaking.
"It's not like any other doughnut you've ever had before," DelaCruz told Business Insider. He explained that this treat is not a "margarita doughnut," but rather a unique flavor experience consisting of the deconstructed flavors of a margarita.
Inside, similar to the other doughnuts made by the restaurant, is a dark purple dough with light purple mousse. Manila Social Club is known for their doughnuts made with ube jam, which comes from purple yams used in Filipino desserts.
The lucky taste-testers at Business Insider described this treat as having "a very light rose taste with lingering hints of jalapeno spice and the subtle tang of tequila."
The proceeds from this "fragrant" dessert with a "sweet finish" are being donated to the American Cancer Society.
If you live near the restaurant and can genuinely contemplate purchasing such a decadent treat, head to Manila Social Club by May 8.
Sources: Business Insider (2) / Photo credit: Raisa Bruner/Business Insider, manilasocialclub/instagram via Business Insider
Tags:
donut
,
doughnut
,
Golden Cristal Ube Donuit
,
Manila Social Club
,
Patron Platinum Donut
How To Make Your Own Krispy Kreme Donuts
category:
By Cooking Panda
Everybody loves soft, gooey glazed donuts from Krispy Kreme, but did you know that you can make them at home with everyday ingredients?
You can get piping hot, fresh donuts at home while controlling what ingredients go in.
Here is the recipe, courtesy of Nicko's Kitchen:
Photo Credit: Screenshot/YouTube
Tags:
copycat
,
donut
,
glaze
,
krispy kreme
,
recipe