Caramel Apple Cream Cheese Dip
category:
By Cooking Panda
Easy French Dip Sandwiches
category:
By Cooking Panda
Jalapeno Chicken Dip
category:
By Cooking Panda
By Cooking Panda
These 11 Crazy Good Game Day Snacks Are Missing From Your Life
category:
By Cooking Panda
Are you ready for game day? We sure are! We may not know what team is playing, but tell us to show up with our favorite app and we are THERE. We're all only human, you know…
Tell your friends that you are making any one of these game day appetizers and watch them run to your house and show up early for the game.
How can you go wrong with rich, creamy queso dip made from two different kinds of cheese and a bunch of other good stuff, plus chopped mushrooms, chorizo and evaporated milk? Spoiler alert: you can't.
Want to take some shortcuts? No problem. Whip up this version in a flash if guests are coming and you totally forgot to make the dip! They'll never know.
If you can't stand Cheese Whiz and are more of a widdout person (how dare you), you can melt in a little of your favorite cheddar or American cheese, thinned out with milk. Or just…do whatever you want.
Zucchini might sound weird in a dip, but you'll be eating your words after you try this creamy, savory goodness.
There's a good chance that this oozy, toasted bread will not see the second quarter.
The ultimate! Bonus: It's super easy, especially if you have leftover chicken.
You can't go wrong with mini waffles, chicken tenders and syrup on the side. This is a great one if you're in a rush and forgot to make something.
Totally going to start saying I'm paleo just so I can eat this all the time.
Mozz sticks are the best, but did you know you can cut out a ton of the work and fry them in wonton wrappers instead of batter? Delicious.
These brownies are more than just moist, fudgy, caramelly and nutty — they are also super adorable with those awesome football pretzels.
They're bite-sized, which means that you can eat as many as you want, right?
Featured Photo Credit: Kirbie's Cravings
Tags:
appetizers
,
dip
,
game day
,
Superbowl snacks
,
Tasty Tuesday
By Cooking Panda
14 Awe-Inspiring Gifs Of The Wonder That Is Chips And Dip
category:
By Cooking Panda
It is a well-known fact that gooey cheesy warm dip is the actual best thing in the world: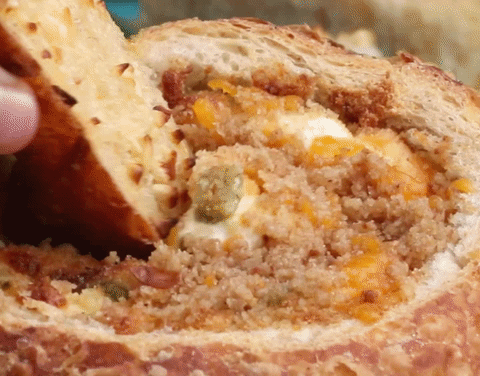 It's true — we have a thing for dip. It's the ultimate comfort food, and we're totally fantasizing about it today.
Just look at that fat cheese string falling off the chip.
We could eat chips in dip all day, if we could get away with it.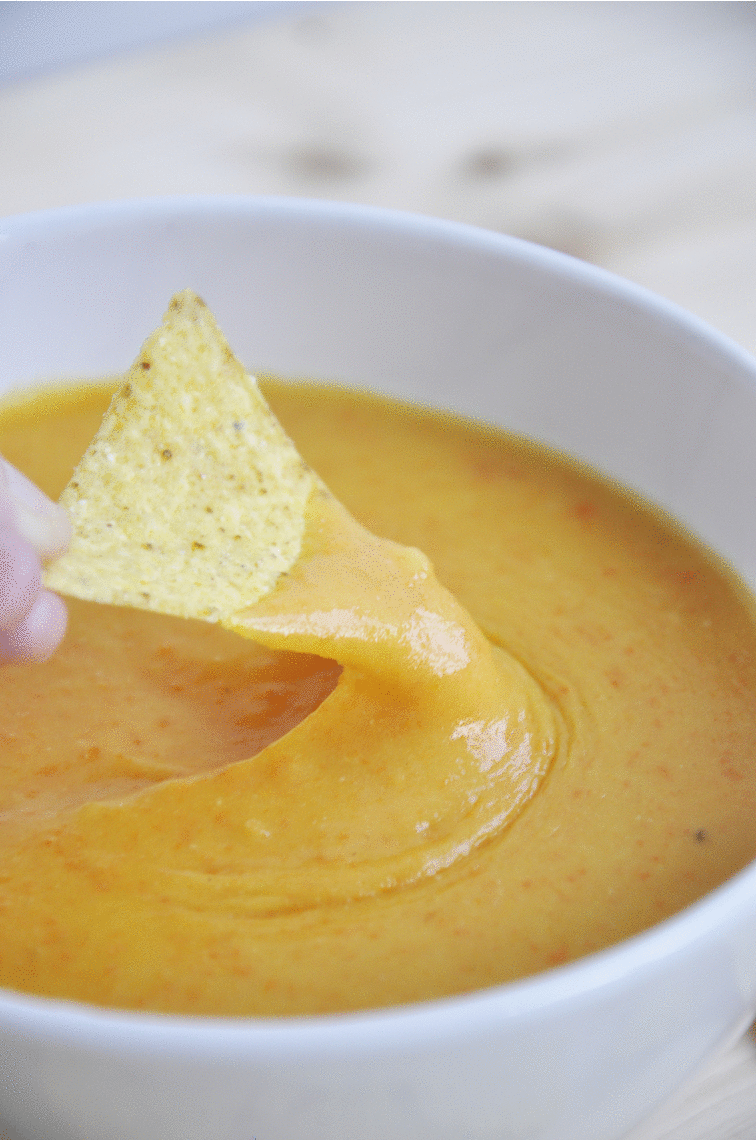 A tortilla chip is the perfect vessel for such a creamy, cheesy delight.
Dunk it like you mean it.
Did someone say pizza dip?
Honestly, though, you might as well just pour all that into your mouth and devour it all at once. As if you're going to have leftovers.
Look at this heaping pile of goodness:
The dip bubbles so sensuously.
Finally, it's time to break through the gorgeous crust:
The sheer cheesy thickness of this dip is astounding: Is that a cheese block dipped in cheese dip? If so, we're on board.
Dip away, friends.
Featured Photo Credit: Tumblr
Tags:
dip
,
dip gifs
,
food gifs
,
foodporn
,
Hump Day
Personalized Salsa Cups
category:
By Cooking Panda
This Cannoli Cheeseball Is A Fun New Way To Eat A Classic Dessert
category:
By Cooking Panda
Get ready to take cannoli's to a whole new level with this delicious cannoli cheeseball.
This creamy, chocolatey dip is made with ricotta cheese, cinnamon, powdered sugar and chocolate chips. All you need to do is combine the ingredients, form a ball, cover it in chocolate chips and let it set for an hour.
Once it's set, serve with vanilla wafers or graham crackers and enjoy this fun take on an Italian classic.
Ingredients:
1 (8 ounce) cream cheese, softened
½ cup ricotta
½ cup powdered sugar
1 teaspoon cinnamon
⅛ teaspoon allspice
2½ cups mini chocolate chips, divided
Vanilla wafers, graham crackers, for serving
Directions:
In a medium sized mixing bowl combine cream cheese, ricotta, powdered sugar, cinnamon, allspice, and 1 cup mini chocolate chips. Form the cheese mixture into a ball and wrap in plastic. Refrigerate for an hour until set.
Roll the cheeseball in remaining chocolate chips. Serve with vanilla wafers and graham crackers.
Source: The Recipe Critic / Photo credit: The Recipe Critic
Tags:
better
,
cannoli
,
cheeseball
,
dip
,
recipe