Celebrate Summer's End With 15 Fruity, Creamy Desserts (Recipes)
category:
By Cooking Panda
In the summer, the right desserts can take you from overheated and famished to elated and relaxed. They're cool, creamy and fruity — with the perfect balance between sweet and refreshing.
Celebrate (or if you're really sad about it, mourn) the fleeting days of summer's end with these 15 light and luscious treats. After all, you'll need to load up on warm-weather fruits before the reign of pumpkin spice begins.
Three milks — evaporated, sweetened condensed and heavy cream — take a vanilla cake from tasty to positively delicious and perfectly soaked in creamy liquid. Fresh berries speckle the frosting for a bit of tartness in each sweet bite.
This cake is a triple threat. Its base consists of chewy, buttery, brown sugary peach blondie. Its center is made of cool and creamy caramel cheesecake. And it's all topped off with finishing touches of peaches soaked in cinnamon brown sugar and rum, studs of whipped cream and a healthy drizzle of caramel.
Betty Crocker's pie crust is unique in that it's made extra rich with egg yolks, and in addition to butter flavor, it's enhanced with vanilla bean and limoncello. The bodacious crust is filled with mascarpone cheese and whipped cream — a delightfully luscious topping with the essence of yet more vanilla and lemon. The final creation is vibrantly decorated with raspberries and spread with raspberry jam for glossiness.
Egg whites do marvelous things when beaten with sugar and baked — like form this delicate, airy disc of sweet deliciousness. It's spread generously with sweetened whipped cream and piled high with fresh berries, which have been tossed in Ina Garten's triple raspberry sauce. It's incredible already, but since my mom and I are gluttons, we like to add Nutella.
Pound cake is cut meticulously to get rid of any evidence of crust. It's then layered with a lemon curd mascarpone cream and blueberry sauce. It's frozen until set so each slice shows layers that even the most self-deprecating of bakers would be proud to have created.
Bring the flavors of Disney World to your home for cheap with just three ingredients: frozen pineapple, pineapple juice and vanilla ice cream. Serve it on its own, as a float with extra pineapple juice or soda, or as the star ingredient in a wonderful dessert cocktail situation.
Crumbly butter cookies mingle blissfully with vanilla ice cream that's nearing the melted stage, especially when thoroughly stirred with tart yet sweet strawberries, warm and roasted in a sticky mixture of balsamic vinegar and maple syrup.
Heavy cream forms a gelatin-like custard in the classiest of ways when enhanced with the essence of vanilla bean. The world's easiest berry compote comes together in minutes with frozen berries and sugar for a tart contrast with the cool, mild panna cotta.
If you can make sugar cookies, you can make these easy-as-pie (well, easier than pie) bars. Their cookie crust is smeared with a white chocolate cream cheese frosting before frozen and bejeweled with ruby red strawberries.
Cocktail or sundae? It's a perfectly boozy, layered concoction of ice cream, whipped cream, vodka-infused blueberry filling with a mint leaf on top. Enjoy it as a dessert or as the perfect happy hour treat for you and someone very cool.
White cupcakes resembling the finest of soft snow are cut in half and filled with yet more airy wonder: fluffy whipped cream, plus slivered strawberries.
White rice cooks slowly until it soaks up the moisture from almond and coconut milks, along with the flavors of vanilla and honey and the texture of coconut flakes. Chunks of fresh mango add fruitiness to every bite, while toasted coconut lends a welcome crunch.
This ethereal, cloud-like dessert must be the true stuff of angels. The trifle-like concoction begins with angel food cake, made even lighter when cut into cubes and folded into cream cheese and evaporated milk. The creamy cake mixture is layered with sweetly tart blueberry filling and whipped cream. Eat this when you need a mental vacation somewhere high in the sky.
You'll be sad when the strawberry cheesecake — made light-ish with Greek yogurt — portion of these popsicles is gone, but with a good inch of buttery graham cracker crust, the ending sure is sweet.
These guilt-free ice cream sandwiches come together with not one, but two flavors of the country's trendiest ice cream: Halo Top's lemon cake and strawberry flavors, sandwiched simply between two graham crackers.
Featured Image: Eric/Flickr
Tags:
Berries
,
blueberries
,
desserts
,
recipes
,
Strawberries
,
summer
The Best Dang Things You Can Put Between Biscuits (Recipes)
category:
By Cooking Panda
What can I Eat with Biscuits?
Biscuits have paid their dues as a buttered side to entrees like fried chicken or scrambled eggs, and it's high time they were appreciated for their main-event potential. Soft, buttery, flaky and stuffable with goods both sweet and savory, they're ready to become an essential ingredient in your favorite lunches, dinners and desserts. Sometimes you should change your morning eating habits and take breakfast biscuits as a diet, when you want a different taste and think, what to eat with biscuits?
what to eat biscuits with?
what goes good with biscuits?
what do biscuits go with?
what to serve with biscuits?
Here are the absolute tastiest biscuit toppings and things to eat with biscuits or you can put between two hot biscuits. We're sure you'll love to try these biscuit topping ideas! (Don't read this hungry, or you'll suddenly find yourself devouring everything in your pantry.)
The fat from spicy sausage does really delicious things when cooked with milk and flour. The result is a rich, creamy, meaty gravy that you'll want to eat by the spoonful, but should definitely save for hot buttermilk biscuits.
Anything is good when spread with a mixture of butter, hot sauce, honey and cayenne pepper — especially when it's a garlic fried chicken biscuit sandwich.
Relive your best childhood memories of PB&J — but spread between biscuits and topped with powdered sugar. The sweet and nutty mixture seeps into the biscuits as they bake, creating an irresistibly gooey texture.
Lobster is the best topping for biscuits, You could have a classic lobster roll, but a buttery lobster cheddar biscuit sounds so much better, doesn't it? Fresh lobster, cooked with a simple combination of butter and chives, is a match made in heaven with homemade cheddar biscuits.
Not your run-of-the-mill chicken salad, this one is pimped out with bacon, white cheddar, pimientos and arugula. But it gets even more Southern when it's thrown on a honey butter biscuit with pickles. Sweet, salty, crunchy, creamy and flaky, this will ruin all other chicken salad sandwiches for you for life.
Once you sandwich easy-to-make fluffy biscuits with sugar-dusted strawberries and vanilla bean whipped cream, you'll never go back to normal shortcake.
This biscuit breakfast sandwich goes the extra mile with an egg casserole, baked with heavy cream, seasoning and a thick cheesy crust. When it's done in the oven, slice it into squares for individual sandwiches. Having a breakfast casserole with biscuits will give a delicious start to your day, finish the biscuits with casserole and crispy bacon, eat up, and save the rest in the freezer for breakfast all week.
This Pillsbury recipe comes together in a pinch with typical ingredients. Lay Swiss cheese and deli ham over their flaky biscuit dough, bake, and drizzle with honey for lunch or a hearty snack.
Butter, powdered sugar, honey and cinnamon come together to create a blissfully sweet spread that you should absolutely drizzle over hot biscuits until positively oozing with cinnamon flavor.
Upgrade the classic BLT with pimiento cheese and three-ingredient cheddar biscuits. The crunchiness of the bacon, creaminess of the cheese, juiciness of the tomato and flakiness of the biscuit create a symphony of flavors and textures.
Peach pie becomes cheesy with creamy brie — and handheld when formed into small biscuits. The only problem with them is that they won't magically reappear when devoured voraciously.
This bacon cheeseburger is kind of like the Uncrustable of burgers — stuffed into a forward thinking biscuit bun.
British meets Southern when classic teatime toppings like jam and clotted cream are generously dolloped over buttermilk biscuits. Pair with coffee or tea for your new go-to Sunday breakfast.
Featured photo credit:
jeffreyw/Flickr
Tags:
best topping
,
biscuit toppings
,
biscuits
,
breakfast sandwich
,
burgers patty
,
cheese chicken salad
,
chicken cheese salad
,
chicken salad
,
clotted cream
,
desserts
,
eat biscuits
,
eat with biscuits
,
fried chicken
,
garlic fried chicken
,
Ham
,
homemade biscuits and gravy
,
honey and ham
,
jack cheese
,
jelly peanut butter with jelly
,
lobster
,
Peach
,
peach pie
,
peach pie filling
,
peanut butter
,
Peanut Butter and Jelly
,
Pepper Jack Cheese
,
pimento cheese
,
pimiento
,
pimiento cheese chicken salad
,
recipes
,
sandwiches
,
sausage gravy
,
Southern Food
,
spicy honey butter
,
things with biscuits
,
Whipped Cream
Why, Yes, You Can Deliciously Mix Chocolate And Cheese (Recipes)
category:
By Cooking Panda
In July, a Twitter user grossed out the internet with her chocolate and cheese toast. To be fair, her combination of white bread, chocolate spread and shredded cheese looked neither appetizing nor aesthetically pleasing. It did, however, open up an excellent opportunity to explore the vast world of chocolate-and-cheese combinations. And, boy, is that world full of wonder.
From familiar recipes like chocolate cheesecakes to surprising ones like chocolate grilled cheeses, this list is sure to expand your mind in the realm of chocolate and cheese, though we still can't guarantee it will make you want to try chocolate and cheese toast.
Tart cream cheese, sweet toffee and chocolate chips, and buttery pecans have a blissful marriage in this texture-rich cheese ball, perfect when spread generously on graham crackers, shortbread or Ritz.
Fill ravioli with mascarpone cheese and raspberry-chocolate goat cheese, fry them, serve them with raspberry and chocolate sauces, and you won't be sorry. This recipe calls for homemade ravioli and store-bought raspberry-chocolate goat cheese, but you could buy premade ravioli and stir raspberries and chocolate into your goat cheese of choice.
I'd suggest wearing a bib before consuming this spectacularly messy sandwich, in which the flavors of tart strawberries, creamy brie and rich dark chocolate combine to a degree of deliciousness you'd never thought possible.
When your day involves a crumbly graham cracker crust, piled high with fluffy cream cheese and sugar, crowned with oozing hot fudge and gooey toasted marshmallows, it's a good day.
Bring skim milk, a bitter hot chocolate bar and aromatic cinnamon and cloves to a boil, divide the mixture into mugs and drop cubes of halloumi or mozzarella inside. Spend a couple of obligatory minutes playing with the melting cheese strings, then enjoy and fall in love with the traditional Colombian sweet.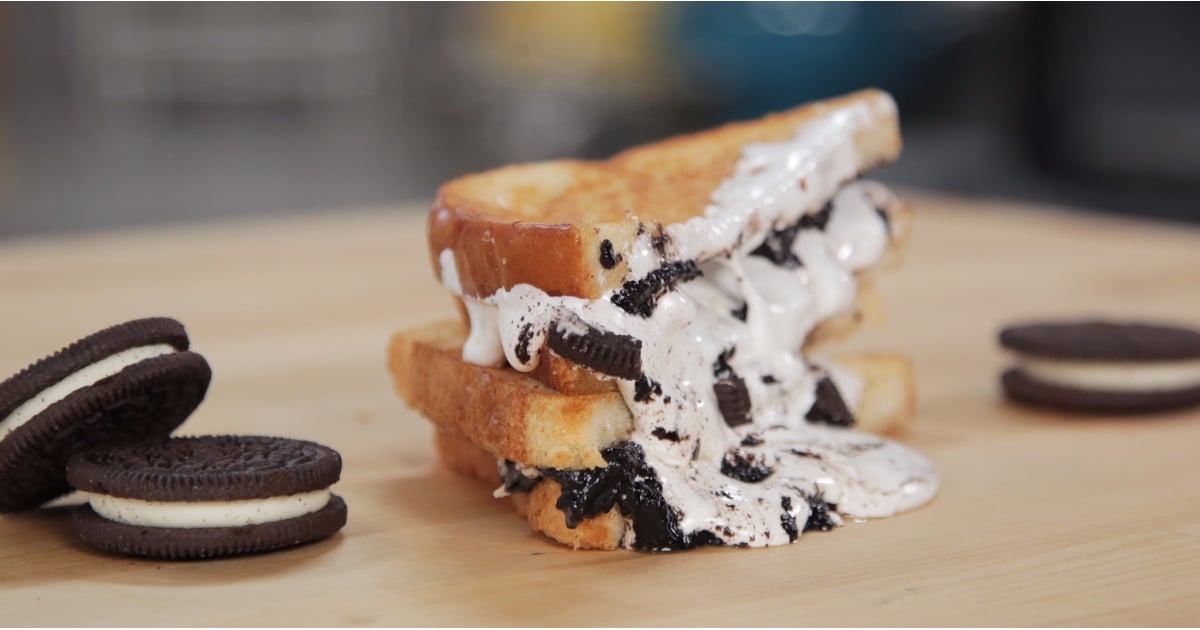 Slather two slices of buttered bread with homemade Oreo cookie butter, marshmallow fluff, mascarpone cheese and Oreo pieces (Double Stuf, because duh), and grill until oozing and golden brown. It's not clean eating, but it sure is fun.
Blue cheese and dark chocolate have equally bold flavors, so it's no wonder the smoothness of bitter dark chocolate pairs wonderfully with the creaminess of earthy blue cheese.
In these ultra-moist pudding cookies, cream cheese adds an element of thickness and richness that is simply unparalleled. If you like your cookies chewy on the outside and extraordinarily tender on the inside, cream cheese is the secret weapon for you.
Featured image credit: Pixnio
Tags:
cheese
,
cheesecake
,
chocolate
,
desserts
,
food pairings
,
recipes
,
truffles
Time To Get Your Hands On Haagen-Dazs' Boozy Ice Cream!
category:
By Cooking Panda
Move over, wine ice cream, there's a new, boozier kid on the block: Haagen-Dazs Canada's Spirits line, a collection of five ice creams containing premium alcohol.
In order of best to worst online reviews (though all have earned at least four out of five stars on the Haagen-Dazs product page), here are the indulgent flavors.
With a 5/5 rating is Rum Ginger Cookie, a rum-infused ginger ice cream flecked with pieces of ginger cookies. Fans say the ice cream is smooth and sweet with a genuine ginger flavor, while the cookies remain perfectly crunchy.
In a close second is Vodka Key Lime Pie, a key-lime ice cream infused with vodka and rippled with a graham-cracker swirl, and people are loving it. They say the ice cream has just the right tart and refreshing taste of key lime, and the crust is so sweet and crunchy that you'll want to eat the whole tub at once.
The Irish Cream Coffee and Biscotti variety has a velvety Irish cream base, blissfully interrupted with biscotti bits and a coffee swirl. Proponents of this flavor can't get enough of its rich and creamy coffee taste, cut with the crunchiness of biscotti.
Up next is Whiskey Chocolate Truffle, a mix of chocolate and white mousse ice creams infused with whiskey and speckled with truffle pieces. It's as rich and deep in flavor as its intense chocolaty color would lead you to expect.
Finally, Rum Vanilla Caramel Blondie combines a rum-infused vanilla ice cream with blondie chunks and caramel. Sweet rum and caramel interact with the gooey, chewy blondies for an insane melt-in-your-mouth experience.
Available at Canadian Walmart stores, these 1 percent alcohol ice creams may not get you tipsy, but that doesn't mean you can't enjoy them paired with a glass of your favorite liquor — or, better yet, in a boozy milkshake. For a treat with more of a kick, simply blend your Spirits flavor of choice with a shot of its matching alcohol. I'm usually not inclined to drink whiskey shots, for example, but if you stirred it with a fat scoop of the Whiskey Chocolate Truffle, I could be persuaded.
While the Spirits line isn't available in the U.S., its popularity indicates that it could very well make its way down south in the future. At least, that's what I'm hoping.
Source: Haagen-Dazs / Photo credit: Max Pixel
Tags:
alcoholic ice cream
,
Boozy Ice Cream
,
desserts
,
haagen-dazs
,
ice cream
,
new products
13 Unholy But Delicious Things To Do With Potato Chips (Recipes)
category:
By Cooking Panda
It's no secret that potato chips — smooth or ridged, plain or barbecue — are delicious straight out of the bag. Less celebrated, and shamefully so, is their ability to add an unexpected touch of whimsy to just about any dish. Here are 13 crunchiness things to eat with potato chips with an ideal combination of flavors in different ways to appreciate the salty, delicious things to do with potato chips, crispy, lays,  powerful potato chip in everything from snacks to desserts. Potato is an important vegetable which covers a lot of dishes and we're on the lookout to add more recipes that use potato chips, once found we'll add those here too. If you want to know about things to do with chips, are thinking about what to do with potato chips or looking for recipes with lays chips, we have collection of recipe using potato chips:
cooking with potato chips and recipe with crushed potato chips!
Three-cheese pasta with crispy bacon, mushrooms and peas sounds great on its own. Try it baked with a parmesan and crushed potato chip crust, though, and you'll wonder why you ever made mac and cheese without a bag of Lay's.
Because everything tastes better with butter, sugar and chocolate.
These salty nachos are topped with far better than plain ol' shredded cheese. They're drizzled with a cheese sauce made from steak drippings, white wine, butter, cream and, oh yes, a mixture of blue and Gruyere cheeses. It's poured carefully over the chips, followed by a generous helping of juicy steak and green onions, until each bite is laden with meaty, cheesy bliss.
Coated with kettle chips and panko breadcrumbs, these quick and easy oven-fried tenders have a guaranteed crunch factor.
A buttery, salty potato chip crust balances handsomely with a sweet chocolate and coconut cream filling. It's rich, it's sleek, it's magnifique.
This warm chicken salad goes far beyond the classic mix-ins of celery and mayonnaise. It's tossed with a flavorful seasoning mix, cheddar cheese and cooked bacon — and topped with potato chips and baked until crispy yet gooey. Eat it on your favorite bread, over a bed of greens or straight from the pan.
Inspired by onion dip, this surprisingly delicious appetizer gets creaminess from cream cheese, flavor from chopped chives and softened spring onions, and contrast from crunchy crushed chips. For a simple and elegant look, garnish it with whole chives before baking. To mimic the appearance of dip, spread it with sour cream, chives and extra chips.
These brownies cover every texture in the book: chewy fudginess from the brownie base, buttery silkiness from the chocolate topping, creaminess from Reese's cups, and, of course, crunchiness from pretzels, Oreos and potato chips.
There's nothing sad about this gloriously Southern combination of cheesy potatoes, cream of chicken, sour cream and crushed potato chips.
This addictive appetizer comes together with a bag of kettle chips, tossed on a pan and topped with brown sugar, maple syrup, cheddar cheese, bacon and cayenne, then baked. It's so simple, I'm not sure if it sounds easier to make or easier to devour in one sitting.
Combine two essential party snacks into one with this sweet and salty bake.
Chips make a great side for sandwiches — until they get knocked off your plate. They serve a far better purpose inside of a sandwich. In this case, their saltiness cuts through the richness of cheese, and their crunchiness adds another dimension of texture to a tried and true treat.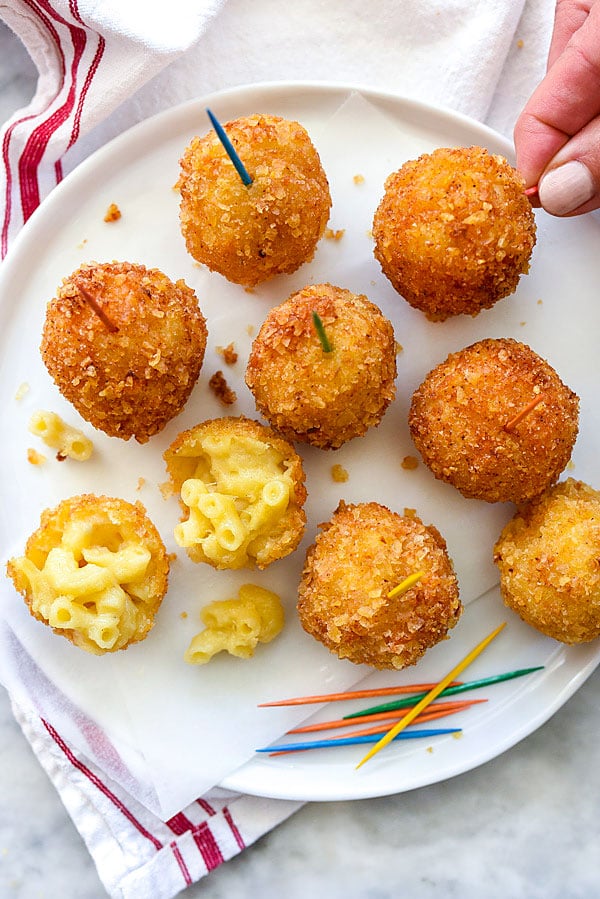 We started with mac and cheese, so let's end with it, too. These golden brown babies combine the soft creaminess of cheesy mac with the crisp saltiness of potato chips into one (OK, maybe two or three) glorious bite.
Featured image credit:
Pixabay
Tags:
Appetizer
,
appetizer with potato
,
brownies
,
buffalo chicken salad
,
cheese pasta
,
cheesy bacon
,
cheesy potatoes
,
chicken salad
,
chicken salad recipe
,
chicken tenders
,
chips
,
chips chicken tenders
,
chips recipe
,
chips toffee
,
chive cheesecake
,
cook potato chips
,
cookies
,
crack
,
crispy bacon
,
crunchy
,
crushed potato chips
,
desserts
,
do with potato chips
,
easy dinner
,
fired mac and cheese balls
,
Fried Snacks
,
Funeral
,
funeral potatoes
,
gorgonzola
,
grilled cheese
,
holiday crack
,
hot chicken salad
,
kettle chips
,
kitchen crack
,
mac and cheese
,
mac and cheese balls
,
panko breadcrumbs
,
potato chip grilled cheese
,
potato chip nachos
,
Potato Chips
,
potato chips chicken
,
potato chips chicken tenders
,
potato chips crust
,
potato chips recipes
,
potato chips toffee
,
potato cookies. potato chips cookie
,
potatoes
,
recipes
,
recipes with lays
,
salty
,
salty chocolate
,
salty chocolate tart
,
salty nachos
,
savory chive cheesecake
,
steak
,
steak and gorgonzola
,
things with potato chips
,
toffee
Patti LaBelle's Banana Pudding Looks Amazing
category:
By Cooking Panda
If you love Patti LaBelle's cakes, pies and cobblers as much as you love her singing, you're in luck!
Brand Eating reports that LaBelle is releasing a new Banana Pudding dessert exclusively available at Walmart. The dessert comes in a 36-ounce tub, and features banana pudding mousse and crumbled vanilla wafer cookies, with 12 whole wafers on top, along with a sprinkling of even more crumbled wafers, making for a nice crunchy vanilla crust topping.
The new pudding will be available at Walmart stores nationwide for $9.98. While you're shopping for this new dessert, make sure and try some of her others, too. That is, if you haven't already. Her other hits include sweet potato pecan pie, peach and apple cobblers, sweet potato pound cake, caramel cake, vanilla pound cake, berry cobbler and sweet potato pie.
According to Walmart, LaBelle's 1-pound, 15-ounce apple cobbler is baked with two crusts and packed full of Fuji apples. The berry cobbler is filled with raspberries, blueberries, blackberries and boysenberries for a sweet and tangy pie treat, and an authentic berry taste. The peach cobbler was reportedly inspired by one of her most popular recipes; it has a top and bottom crust and, of course, it's packed full of delicious cooked peaches!
The caramel cake consists of three layers of yellow cake filled with caramel buttercream, and is topped off with caramel icing. The 21-ounce sweet potato pie is made with California-grown sweet potatoes, and a healthy serving of butter and spices. Yum! The vanilla pound cake comes in bundt form and is topped with poured vanilla icing. This one is perfectly and scrumptiously simple!
I could go on all day describing each of the delicious-sounding desserts in Patti LaBelle's line, but descriptions won't do them justice. You'll have to actually go and taste them for yourself! You'll be able to find the Patti LaBelle selection in the bakery section of your local Walmart. Go and see what you think!
Sources: Brand Eating, Walmart (2) / Photo Credit: Walmart
Tags:
Banana Pudding
,
desserts
,
Patti LaBelle
,
Walmart