Would You Try This Cotton Candy Ice Cream Burrito? (Video)
category:
By Cooking Panda
Just when you thought you'd seen it all in the world of wacky desserts (we're looking at you, pizza-flavored ice cream) here comes another bizarre dessert creation that will blow your mind.
Behold, the Cotton Candy Burrito.
Sugar Sugar, a dessert shop in Sarnia, Ontario, Canada, has meshed two foods you would have never dreamt would be joined together: cotton candy and burritos.
I mean seriously, what's next? Jellybean sushi? Fruit Roll-Ups pasta?
Honestly, when I first heard about it, I couldn't even begin to imagine how this thing is made, much less what it tastes like. I mean, could you?
If your imagination fails you in regards to this strange creation, let me illuminate you.
Just like a regular burrito, the Cotton Candy Burrito involves a tortilla stuffed with filling.
But we're not talking about a regular old flour tortilla. The "tortilla" used in the Cotton Candy Burrito is made from a flattened mound of cotton candy, according to Foodbeast. And the stuffing of this special burrito is not just regular old rice and beans (ew, could you imagine that wrapped in cotton candy?)
Wrapped snuggly inside this cotton candy tortilla is ice cream. That's right. And not just any normal flavors either … The ice cream flavors include Bubble Gum, Birthday Cake and, of course, Cotton Candy.
Oh, and the ice cream scoops are topped with sugary purple "unicorn dust" before they're rolled up in the cotton candy tortilla. Just to add that extra sugary, crunchy pizzazz, in case a cotton candy ice cream burrito doesn't have enough of that already.
If you don't believe me, just check out this video posted by Food Beast:
Luckily, the ice cream's moisture doesn't dissolve the cotton candy, according to Foodbeast. We definitely wouldn't want the cotton candy melting away in our hands, since then we'd just be left holding a scoop of ice cream, which is no fun.
I can imagine it'd be good if the cotton candy were a little crunchy, but still, it's definitely an interesting combination of textures.
If you've got adventurous taste buds, this is definitely something you'll want to try.
So, would you?
Source: Foodbeast / Photo credit: Usien/Wikimedia Commons
Tags:
cotton candy
,
ice cream
Quick Cotton Candy Bark
category:
By Cooking Panda
Cherry Blossom Cotton Candy Pizza? Yup, It's Real
category:
By Cooking Panda
Some foods sound a little too crazy to be good, and in my opinion, this is one of them. Cherry blossom cotton candy? Okay, maybe. Cherry blossom cotton candy on pizza? No, thank you.
RocketNews24 reports that a brew pub in the Kanda district of Tokyo has decided to combine three beautiful classics, cherry blossoms, cotton candy and pizza, into one product all its own. It's called the sakura (Japanese for cherry blossom) cotton candy pizza, and you can order it in Tokyo right now, if you're interested.
The small chain of pubs that offers this "pizza" is called Schmatz Beer Dining, and there are three locations around Tokyo that carry the new menu item. It's a thin-crust, three-cheese pizza served with honey ginger sauce on the side, which is to be drizzled over the top of the cotton candy before diving in to enjoy. The side of honey ginger sauce also features a little floating cherry blossom, to bring it all together. While I don't find the meal appealing in an appetizing way, I do have to admit that it looks nice.
With the cherry blossom season in full swing, it only makes sense that restaurants want to celebrate the beauty of springtime. Cherry blossoms are just special enough to deserve a dish in their honor, after all. But what do they taste like? Are we supposed to eat them?
None of that really matters. The sakura cotton candy pizza is only here for a limited time, just like the flower it's named after. If you're going to be in Tokyo during this short window of opportunity, between March 27 and April 2, by all means go and try the sakura cotton candy pizza.
While you're at it, visit the cherry blossom festivals and parties. You can't honor the great tree only by eating some weird cotton candy concoction; it might not even do the blossom justice! Try it for the sake of trying it, and then celebrate spring by eating Cadbury Eggs or Peeps or something — under a great cherry blossom tree.
Source: RocketNews24 / Photo Credit: Schmatz Beer Dining/Twitter
Tags:
Cherry Blossoms
,
cotton candy
,
Pizza
,
Sakura Cotton Candy Pizza
,
Tokyo
Disneyland Is Selling Dole Whip Cotton Candy! (Photos)
category:
By Cooking Panda
Everybody knows that a trip to Disneyland is basically just an excuse to indulge the fantastic inner child dwelling inside each of us. It's called the most magical place on earth for many reasons: the whimsy, the food, the adventure, the favorite childhood characters that come to life (photos below).
And it just keeps getting more magical, because now Disneyland is serving pineapple Dole Whip cotton candy at kiosks for a limited seasonal option.
Basically, this is what would happen if you took frozen pineapple soft serve (a tangy, sweet, tart and addictive frozen treat) and found a way to whip it up into a delectable and fluffy sweet wad like cotton candy.
Voila! That's Dole Whip cotton candy.
Do you want to try this stuff out?
Source: PopSugar / Photo Credit: Debbie Wilson/Instagram
Tags:
cotton candy
,
disney food
,
Disneyland
,
Dole Whip
,
pineapple
15 Mesmerizing Cotton Candy Videos
category:
By Cooking Panda
We majorly <3 cotton candy.
A LOT. There is just something thrilling and novel about shoving a handful of the light, airy and usually brightly colored sweet stuff into your mouth and feeling the sweet candy cloud melt instantly that is just delicious and super satisfying. December 7 is National Cotton Candy Day, and you are cordially invited to join us in celebration! Let's start by examining what is possibly the most fun dessert out there.
Sometimes, it's nearly too beautiful to eat, like this adorable creation …
And then you have this awesome flower, which we can only imagine is as stunning as it is delicious.
Look at how gorgeous!
And this guy.
Of course, cotton candy is the best-ever dessert topping, too.
We would really love to just plunge our hands into one of those machines and eat it by the handful though.
If you want to really impress us, throw some candy floss on a milkshake.
Take another look:
We'll drink to that!
Here's how to make your own:
Would you prefer something alcoholic? We got you covered. If you've never had a cotton candy cocktail, you are MISSING OUT. I mean look:
MAGIC FOOD.
Or pour some espresso over the top, if you're in a need of a super sweet pick-me-up.
However you like it, one thing's for sure: cotton candy is a delightful treat for kids and adults alike, so relax, unwind and get yourself a huge cloud of candy floss. Enjoy!
Featured Photo Credit: Pouf Cotton Candy Art/Instagram
Tags:
cotton candy
,
cotton candy art
,
cotton candy milkshake
,
food videos
,
foodporn
These 12 Magical Cotton Candy Gifs Will Bring Out Your Inner Child
category:
By Cooking Panda
There's really nothing like fluffy, delicious, whimsical cotton candy to bring you back to your childhood.
The torch-shaped candy stands like a beacon to all those fond of sugary treats.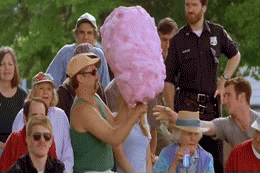 And what is more of a welcome sight then someone rolling up colorful fluffed sugar?
We'll never not be thrilled when we see someone doing this.
Or this, because this man has serious swagger.
Cotton candy makers are ARTISTS. LOOK AT WHAT THIS MAN IS DOING.
WATCH THIS DELICIOUS SORCERY.
That man is a wizard, and cotton candy is a 100% magical food. Look what happens when you pour liquid over it:
SERIOUSLY. THIS IS A THING.
Maybe one day, we'll get lost in a fluffy cotton candy cloud and all our dreams will come true.
Cotton candy, we love you forever.
Featured Photo Credit: Tugce Simsek/Instagram
Tags:
cotton candy
,
cotton candy gifs
,
food gifs
,
foodporn
,
Hump Day