Whip Up These 7 Impossibly Easy, 1-Pan, Healthy Dinners
category:
By Cooking Panda
Oct. 24 is perhaps the most important food holiday of the year! It's National Food Day, and we are super excited to celebrate.
Food Day is all about eating real, healthy, sustainable food. But eating healthy doesn't have to be tough! There's no need to spend hours of prep and mess up your whole kitchen just to eat a few whole foods. We know how busy you are on weeknights. That's why we've come up with some easy,real food recipes that you can cook up using only one pan. Seriously! Check these out:
Just an easy dinner using your favorite kind of egg noodles. If you want to be even healthier, you can use whole wheat or soba noodles.
Sweet fruit and pork are so good together, and this dish really could not be any easier. We recommend eating this with some healthy carbs like #3:
Warming up the kale just a bit makes it so much easier to eat and enjoy. Toss it with balsamic vinegar, butter, and your favorite veggies — plus anything else you have on hand, like fresh basil, grilled salmon, brown rice, dried fruit…
We won't tell if you want to make life easier on yourself and use store-bought meatballs, although they aren't too tough to make from scratch. If you are making them by hand, try mixing in a boatload of finely chopped mushrooms in addition to your breadcrumbs. Not only will this give you an extra savory flavor and a nice, tender texture, it will also pack in some vitamins and help you stretch out that ground meat.
Sautee some chicken, sweet potatoes, beans and your favorite vegetables for a super easy weeknight treat that you can serve with rice, tortillas or any which way.
As the weather cools off, soup becomes more and more appealing. It's also healthy, hearty and a great way to fill up on veggies, particularly with this super flavorful, filling rendition.
Because who doesn't love a classic chicken and potato roast? Bonus: throw some asparagus or green beans onto your sheet pan for an extra delicious, fully balanced meal.
Featured Photo Credit: The Cookie Rookie
Tags:
clean eating
,
easy weeknight dinner
,
healthy dinner
,
one pot meal
,
one-pan meal
Help The FDA Define What 'Healthy Eating' Really Means
category:
By Cooking Panda
Most people have their own idea about what constitutes healthy eating.
For many, calories, nutrients, and portion size are all crucial variables to consider when determining whether or not a specific item is a healthy choice.
At the moment, the FDA is working on making sure that food labels in grocery stores accurately reflect the public's evolving understanding about nutrition. As a preliminary step, they're asking you, the public, to help them by answering a range of questions about what the term "healthy" should actually mean from a nutrition perspective.
The FDA's Douglas Balentine wrote in a blog post:
For instance, the most recent public health recommendations now focus on type of fat, rather than amount of fat. They focus on added sugars, which consumers will see on the new Nutrition Facts label. And they focus on nutrients that consumers aren't getting enough of, like vitamin D and potassium. …

As a first step, we are asking for public input on a range of questions about what "healthy" should mean from a nutrition perspective and how consumers understand and use "healthy" food label claims. …

What do consumers expect of foods that carry a "healthy" claim? What factors and criteria should be used for the new definition of "healthy"? We are also planning to hold public forums to get additional input and inform us of what a broad range of stakeholders and consumers think. This may take some time, but we want to get it right.
If you would like to submit comments and information, you can submit electronic comments on http://www.regulations.gov to docket folder FDA-2016-D-2335.
Submit your written comments to:
Division of Dockets Management (HFA-305)
Food and Drug Administration
5630 Fishers Lane, rm. 1061
Rockville, MD 20852
All comments should be identified with the docket number FDA-2016-D-2335.
Source: FDA / Photo credit: Healthination
Tags:
clean eating
,
FDA
,
healthy food
,
opinion
,
surveys
It Turns Out A Clean Diet Won't Help You Much If You're Too Super Stressed Out
category:
By Cooking Panda
We all know that a diet filled with the healthy and "good" kinds of fats, proteins and carbs is meant to make us feel better, both physically and emotionally.
A new study from Ohio State University suggests that while all of those factors hold true typically, sometimes the benefits of good fats can still vanish if you're too stressed out.
Jan Kiecolt-Glaser, the lead author of the study and a professor of psychiatry and psychology, fed unstressed and stressed women the same breakfast of biscuits and gravy. However, half of the meals were made mostly with saturated fats, while the other half ate an identical breakfast made primarily with monounsaturated sunflower oil.
Unstressed women who ate the saturated fat version fared worse in blood tests looking for precursors to diseases than did the sunflower oil women. However, when stressed out women ate the two breakfast versions, the women who ate the healthy fat choice didn't reap any of the benefits.
"It's more evidence that stress matters," Kiecolt-Glaser told OSU.
Stress raised the levels of all four unhealthy blood markers in the sunflower oil group, but it did not have an effect on those who were already eating saturated fat.
Don't confuse what this study suggests, though. There is no such thing as mind over calories; if you continuously consume unhealthy meals composed of bad-for-you ingredients that are high in calories, chances are you will gain weight, and probably end up feeling less well in the long run.
All this study suggests is that stress can be counteractive to living your best and most healthy lifestyle. So it's important to find different health methods and lifestyle opportunities to minimize stress and reap the full benefits of your other healthy lifestyle choices.
Source: OSU / Photo credit: Pillsbury
Tags:
biscuits and gravy
,
clean eating
,
good fats
,
Stress
10 Hacks That Take The Stress Out Of Healthy Eating
category:
By Cooking Panda
1. Keep it simple.
Diets come and go, but a healthy diet doesn't have to be complicated. Instead of following trends, focus on eating high quality, wholesome food, like lean protein and complex carbohydrates. Load up on fruits and vegetables — they should take up half of your plate.
2. Eat more fat.
It might seem counterintuitive, but snacking on healthy fats will keep you feeling full and satisfied, which will ultimately help you eat less. In other words, munching on a handful of almonds can help you stay away from that bag of chips.
3. Make your meals in advance.

Preparing several meals once a week will save a lot of time in the long run and will make it easy to eat homemade, healthy meals instead of takeout.
4. Drink more water.

Drinking more water will help curb your appetite and keep you energized. Keep a water bottle within reach, and remember that water-heavy foods and drinks like watermelon or tea count.
5. Buy your groceries once a week.
Going to the grocery store on a daily basis can drain valuable time and energy; even worse, shopping when you're hungry and in a rush can leave you vulnerable to temptation.
6. Follow a shopping list.
When you plan your meals and create a list, not only do you save money by buying only what you intend to use, you are also less likely to go for the unhealthy impulse buys.
7. Use the salad bar to your advantage.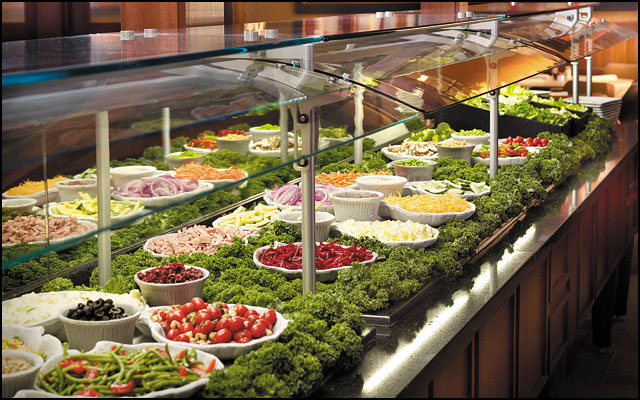 If your veggies have a tendency to go bad, or you only need a small portion for a recipe, head to the salad bar and only take what you need.
8. If you can't eat them, drink them.
Smoothies are a healthy, efficient, and refreshing alternative to the same old salad. Green Thickies recommends blending liquid, greens, fruit, and optional fillers like oats, coconut, or nuts.
9. Stick to a schedule.
Eating when you are hungry will keep you from feeling like you are starving, so you'll be less likely to give in to cravings.
10. Get your beauty rest.

Sleep helps regulate hormones, which means that people who regularly get enough of it tend to make better food choices.
Sources: My Fitness Pal, Green Thickies / Photo Credit: Fight Camp Conditioning, Eating Well, Foodlosophy, Jane Can, Skinny Mom, English Worldwide, Hampton Roads, Innovative HP, Angela Ambroise, Sleeping Little Dreamers, On The Tip Of Your Fork
Tags:
better eating
,
clean eating
,
hacks
,
healthy