Starbucks Topped Its New Frappuccino With Chocolate Cake (Photos)
category:
By Cooking Panda
In another case of Asian Starbucks stores being far superior in the realm of Frappuccinos, cake-topped Fraps have hit select Starbucks Japan locations for a limited time, according to Brand Eating.
They're cold, they're creamy, they're topped with discs of fudgy chocolate cake; they're the Chocolate Cake Top Frappuccinos — available in both coffee and matcha flavors.
Both varieties begin with a base of Creme Frappuccino, blended with almonds for a nutty boost of thickness. Then they're topped with a round piece of chocolate cake and a generous dollop of whipped cream.
The Cake Top Frap seems to draw inspiration from its pie-topped predecessor: the American Cherry Pie Frappuccino from Japan. The beverage also combines drink with dessert with its cherry and vanilla base and pie-crust dome.
You can enjoy the cake drink however you want. The cake looks so appetizing on its own, some might be tempted to put it on a separate plate and enjoy alternating bites of chocolaty dessert with sips of sweet Frappuccino, like a Starbucks version of high tea. The intention, though, is for beverage lovers to break up the cake with an accompanying oversize straw, stirring the pieces into the drink until they're softened and drinkable, resulting in a cakey, shake-like experience.
The embellished libation caters to two different cravings: one for coffee and one for matcha. The Coffee Shot version comes with a coffee sauce, which contrasts beautifully in color with the dark chocolate cake, and a sprinkling of dark mocha powder. The Matcha Shot variety is drizzled with a striking matcha green tea sauce and dusted with matcha powder.
If you feel like you've seen matcha popping up all over the place, you're not imagining it. The trendy ingredient has made its way into other Starbucks products, like their mini matcha pudding cups and the secret menu's Matcha Pink Drink. The finely ground green tea powder has gained buzz for its possession of antioxidants, caffeine and, of course, photo-worthy bright color.
If you're worried about being too indulgent, rest a little easier knowing that the drink is only available in a tall size. Plus, you can always share it with a friend.
Source: Brand Eating / Photo credit: Pixabay, Starbucks Japan via Brand Eating
Tags:
chocolate cake
,
coffee
,
frappuccino
,
Matcha
,
Starbucks
,
starbucks japan
10 Outstanding Chocolate Cake-Inspired Desserts (Recipes)
category:
By Cooking Panda
January 27, 2017, is a very special day!
It's Chocolate Cake Day! No matter how you feel about gratuitous food holidays, I'm pretty sure we can all agree that this is a very wonderful occasion and something that everyone should celebrate.
From light, fluffy cakes to rich, moist, heavy dark chocolate ones and everything in between, chocolate cake has always been there for us. We're going to go all out celebrating this one. Here are some of our favorite chocolate cake-inspired dessert recipes:

People swear by this super easy recipe. What's the secret? A sprinkle of espresso powder to elevate and deepen the taste. Shh! Don't tell!
We can never decide if the best thing about poke cake is that you get to stab your cake repeatedly with the end of a spoon or the incredibly moist, delicious results you get with minimal effort. We'll stick with both. Both are good.
This milkshake is pretty simple but super easy to change around and customize as you see fit. Any of the following mix-ins would be just smashing: caramel sauce, flavored vodka, a pinch of sea salt and/or your favorite crushed-up candy bar. Go wild!
Cake is perfect. Cake is life. But sometimes making it is just too much work, and you want something a little easier. Right? Enter the simple, perfect truffle that will send you straight to heaven any time you are craving something rich and smooth.
Follow all the other recipes to your heart's content, but if you need to take a shortcut with your ganache, this is 100% the way to do it. With only two ingredients, this really doesn't get any easier. Save all that time mixing up the perfect batter … or just make ganache by itself and eat it straight out of the bowl.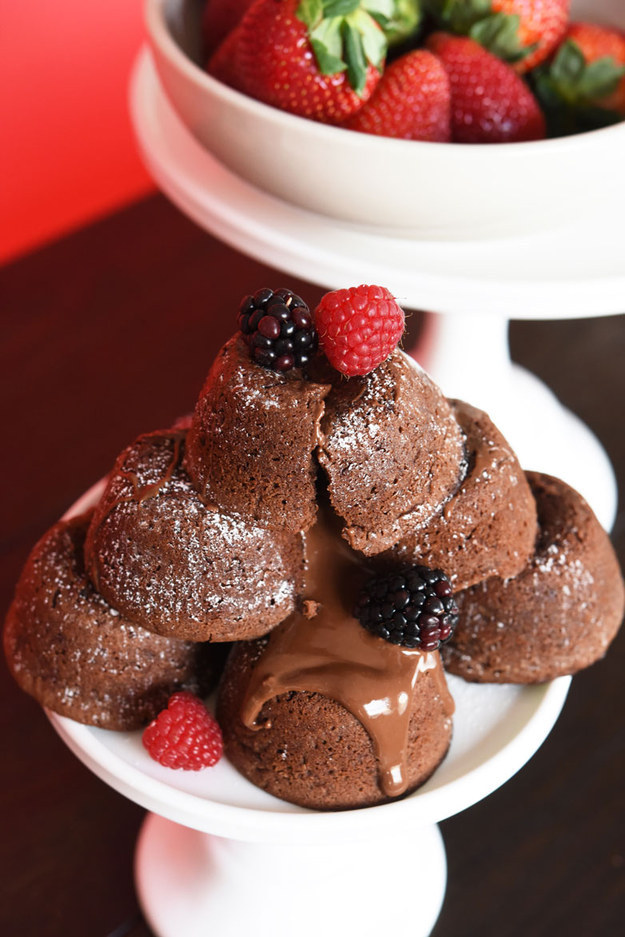 Seriously, what's better than a chocolate lava cake? Who can resist that gooey center that oozes out when you jab your fork in? This is probably the easiest but also most foolproof/delicious version out there, so you have no reason not to get moving on this one.
Ok, you can leave out the edible gold dust if you must, but that's half the fun! Do try to find chestnuts, though. The sweet, starchy, earthy flavors they bring complement the cake just perfectly.
It might sound weird, but sour cream brings the perfect zippy, rich tang to this recipe, kind of like cheesecake. Once you add generous portions of thick, dark, sweet fudge and crumbled, buttery toffee, you have the perfect flavor harmony.
Cake cookies? Yep! This is not a drill. You seriously can make cookies (super easy ones at that) with a box of devil's food cake mix and just a few other ingredients. Bookmark these the next time you need a super quick dessert!
Obviously, if you have leftover cake, this is what you need to do with it. Obviously.
Featured Photo Credit: Speedo Foods & Flavours
Tags:
cake recipes
,
chocolate cake
,
easy chocolate desserts
,
easy dessert recipe
,
weekend dessert recipes
By Cooking Panda
Chocolate Truffle Cake
category:
By Cooking Panda
13 Droolworthy Chocolate Cake Gifs For Hump Day
category:
By Cooking Panda
It's Hump Day, and you can probably use a pick-me-up right about now. We get it, and we're here for you.
How about something sweet?
There's one thing we know for sure: you need more chocolate cake in your life. I mean, just look at how scrumptious that oozing cake is.
You're in for a treat that you can really sink your teeth into. These amazing chocolate cake gifs are everything. Take a look.
1. Just look at the way that beautiful icing swirls across the top of that cake.
2. Safe to say we're in love with chocolate. Can we drink that warm chocolate sauce? Is that ok?
3. There's no shame in eating a big bowl of frosting, ok?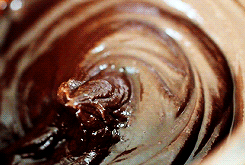 4. The way those white chocolate shavings sprinkle on top is pure art, and we can't take our eyes off it.
5. Red Velvet is still technically chocolate cake, and the way that hot, red center just melts was too beautiful to pass up. We don't want to discriminate.
6. We can't handle the way this melty, gooey chocolate sauce spills right over the top.
7. We're super jealous of that hand.
8. Where can we buy this machine?
9. Well… looks like it's time to bake a big chocolate cake.
10. Here, have a slice.
11. There you go.
12. Ladies and gentlemen, in all its glory: CAKE!
13. Or maybe you'd like a lava cake instead? Here, have a bite.
Happy Hump Day!
Sources/Photo Credit: Everything I love/Instagram, Huffington Post, BuzzFeed (2) (3), Giphy (2)
Tags:
chocolate cake
,
foodporn
,
gifs
,
Hump Day